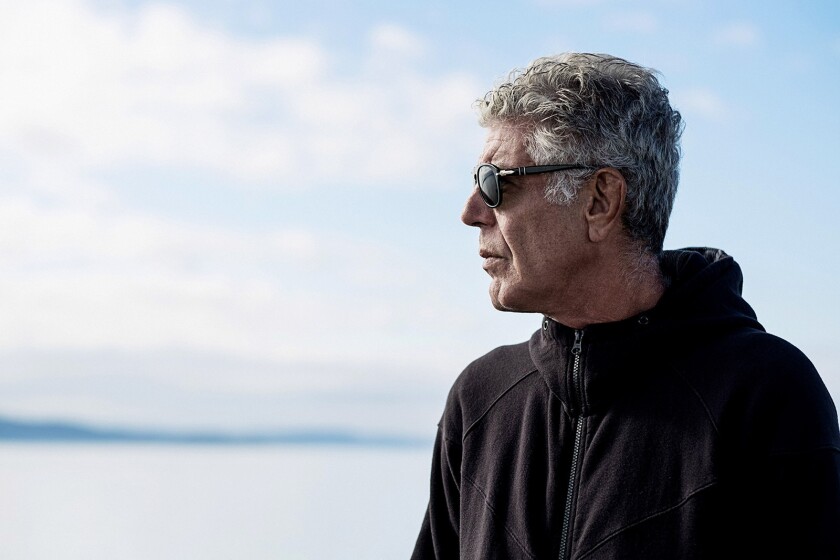 SUNDAY
The 12th and final season of "Anthony Bourdain: Parts Unknown" begins with an expanded episode that finds the celebrity chef, who died in June, visiting Kenya with "United Shades of America's" W. Kamau Bell. 6 and 9:15 p.m. CNN
The docu-series "This Is Life With Lisa Ling" is also back with new episodes. 7:15 and 10:30 p.m. CNN
Your other favorite red-headed orphan (Ella Ballentine) returns in the new TV movie "Anne of Green Gables: Fire & Dew." With Martin Sheen. 7:30 p.m. KOCE
"9-1-1," what is your emergency? New cast member Jennifer Love Hewitt will be taking those calls as the drama starts a second season. With Angela Bassett and Peter Krause. 8 p.m. Fox; also Mon., 9 p.m.
The shocking case of a teen who committed suicide after repeated texts from his girlfriend urging him to do so is dramatized in the new TV movie "Conrad & Michelle: If Words Could Kill." With Austin P. McKenzie and Bella Thorne. 8 p.m. Lifetime
MONDAY
The end is nigh! "The Big Bang Theory" begins its 12th and final season. Teller, Kathy Bates, Neil deGrasse Tyson and Bill Nye guest star. 8 p.m. CBS; also Thu.
Golden girl: Oscar winner Jennifer Hudson is back as a coach as "The Voice" begins its 15th cycle. With Adam Levine, Blake Shelton and Kelly Clarkson. 8 p.m. NBC; also Tue.
John Schneider from "The Dukes of Hazard," Nancy McKeon from "The Facts of Life" and Mary Lou Retton from the 1984 Olympics are among the celebs competing on a new season of "Dancing with the Stars." 8 p.m. ABC; also Tue.
Is there a doctor in the house? Yes, two in fact. Matt Czuchry is "The Resident" while Freddie Highmore is "The Good Doctor" as these medical dramas returns for their second seasons. 8 p.m. Fox; 10 p.m. ABC
The new documentary "Jane Fonda in Five Acts" gets up close and personal with the Oscar-winning actress, activist and one-time aerobics instructor. 8 p.m. HBO
The 'stache-less Jay Hernandez is the new "Magnum P.I." in a reboot of the vintage Tom Selleck series. 9 p.m. CBS
There's spookiness in every bite on a new edition of "Halloween Baking Championship." 9 p.m. Food Network
No "Bull." The Michael Weatherly legal drama is back for a third season. 10 p.m. CBS
This is your captain speaking: We should have you at the gate about, oh, 5½ years behind schedule in the new mystery drama "Manifest." 10 p.m. NBC
The heroic healthcare workers who fought the good fight against the Ebola epidemic in their home country of Sierra Leone are saluted in the documentary "Survivors" airing on a new "POV." 10 p.m. KOCE
The new documentary "No Greater Law" examines the controversy in one Idaho community over a religious sect that practices faith healing. 10 p.m. A&E
Jerry O'Connell calls "Bravo's Play by Play" in this new "SportsCenter"-style show featuring clips from the network's myriad unscripted series. 10 and 10:30 p.m. Bravo
TUESDAY
Everything you ever wanted to know about Naismith's game but were afraid to ask is revealed in Dan Klores' exhaustive new docuseries "Basketball: A Love Story." With LeBron James, Magic Johnson, et al. 6, 8 and 10 p.m. ESPN2; also Thu.
Gibbs (Mark Harmon) gets bumped up to acting director on the season premiere of "NCIS" and still has time to put in a crossover appearance on the return of the spinoff "NCIS: New Orleans." 8 and 10 p.m. CBS
"Empire's" Grace Byers plays a mutant you don't want to mess with as the sci-fi drama "The Gifted" returns for Season 2. With Stephen Moyer and Amy Acker. 8 p.m. Fox
"The Great American Read" remembers the protagonists of books ranging from "Don Quixote" to "The Hunger Games" in the new episode "Heroes." 8 p.m. KOCE
Wither Efrem Zimbalist, Jr.? Jeremy Sisto and "Rookie Blue's" Missy Peregrym head the cast of the new Dick Wolf series "FBI." 9 p.m. CBS
Stock up on tissues, the heart-tugging family drama "This Is Us" is back for a third season. With Mandy Moore, Milo Ventimiglia and Emmy winner Sterling K. Brown. 9 p.m. NBC
Murtaugh (Damon Wayans) gets a new partner ("American Pie's" Seann William Scott) as the cop drama "Lethal Weapon" starts its third season. 9 p.m. Fox
The new documentary "The Mayo Clinic — Faith — Hope — Science" charts the 150-year history of the pioneering medical-research facility and hospital in Rochester, Minn 9 p.m. KOCE
"The Blacklist's" Ryan Eggold is the doctor in the house in the new medical drama "New Amsterdam." 10 p.m. NBC; also Fri.
Dirty deeds, done dirt cheap: An acerbic Aussie hitman (Scott Ryan) tries to balance his personal and professional lives in the new imported drama "Mr Inbetween." 11:30 p.m. FX
WEDNESDAY
A new season of "Survivor" beginneth — turn, turn, turn — and another season of "Big Brother" endeth. 8 and 9:30 p.m. CBS
Deep dish: "Chicago Med," "Chicago Fire" and "Chicago PD" all return on the same night. 8, 9 and 10 p.m. NBC
"The Goldbergs," "American Housewife" and "Modern Family" return, joined by "Single Parents," a new sitcom starring "SNL's" Taran Killam and "Gossip Girl's" Leighton Meester. 8, 8;30, 9 and 9:30 p.m. ABC
The music-biz dramas "Empire" and "Star" are also back with new episodes. 8 and 9 p.m. Fox
See why you should tick the box that says "organ donor" when renewing your driver's license in the episode "Transplanting Hope" on a new "Nova." 9 p.m. KOCE
Ron Livingston, Romany Malco, David Giuntoli and "Psych's" James Roday play Boston pals sharing life's ups and downs in the new drama "A Million Little Things." 10 p.m. ABC
Trey Parker and Matt Stone's irreverent animated series "South Park" returns for a 22nd season. 10 p.m. Comedy Central
THURSDAY
The swear-free fantasy comedy "The Good Place" is back with an hourlong third-season premiere. Kristen Bell and Ted Danson star. 8 p.m. NBC
"Grey's Anatomy" and "Law & Order: Special Victims Unit" return for their 15th and 20th seasons, respectively. 8 p.m. ABC; 9 p.m NBC
The Anna Faris-Allison Janney sitcom "Mom" also returns. 9 p.m. CBS
Candice Bergen is the once and future "Murphy Brown" as this sitcom reboots two decades later. With Faith Ford, Joe Regalbuto and Grant Shaud and new cast member Tyne Daly. 9:30 p.m. CBS
Viola Davis is on the case for a fifth season of the legal thriller "How to Get Away With Murder." 10 p.m. ABC
FRIDAY
Could be wolves, could be something weirder that's doing all the killing in a remote Alaskan village in the new thriller "Hold the Dark." With "Westworld's" Jeffrey Wright, "True Blood's" Alexander Skarsgård and Riley Keough. Any time, Netflix
"Who is it that can tell me who I am?" says Anthony Hopkins as "King Lear" in a new modern-dress adaptation of Shakespeare's tragedy. With Emma Thomson, Emily Watson and Jim Broadbent. Any time, Amazon
"Macgyver," "Hawaii Five-O" and the aforementioned Tom Selleck's cop drama "Blue Bloods" all return. 8, 9 and p.m. CBS
"Last Man Standing's" Tim Allen is the, uh, "Last Man Standing" as this previously canceled sitcom is revived on a new network. 8 p.m. Fox
You're never too old to be one of "The Cool Kids" in this new sitcom set in a retirement community. With Martin Mull, David Alan Grier, Leslie Jordan and Vicki Lawrence. 8:30 p.m. Fox
The Gordon Ramsay-hosted culinary competition "Hell's Kitchen" serves up a new season. 9 p.m. Fox
A new installment of "Art in the Twenty-first Century" scopes out the Bay Area art scene. 9 p.m. KOCE
Reggaeton singer Karol G and break-dancing legend Richard "Crazy Legs" Colón are among the honorees for this year's "Hispanic Heritage Awards." From Washington D.C. 10 p.m. KOCE
SATURDAY
Daniel Day-Lewis will have you in stitches, pun intended, as a high-end dressmaker in 1950s Britain in Paul Thomas Anderson's rather serious 2017 period drama "Phantom Thread." With Vicky Krieps and "Harlots' " Lesley Manville. 8 p.m. HBO
May the Force be with them: "Star Wars' " Adam Driver takes a second turn as host and Kanye West returns for a seventh time as the musical guest when "Saturday Night Live" kicks off Season 44. 8:29 and 11:29 p.m. NBC
B&B owners Jenny and Brian (Lacey Chabert Brennan Elliott) are fixin' to get hitched, finally, in the new TV movie three-quel "All of My Heart: The Wedding." 9 p.m. Hallmark Channel
Customized TV listings are available here: www.latimes.com/tvtimes
Click here to download TV listings for the week of Sept. 23 - 29, 2018, in PDF format
---