In 'The Carmichael Show,' Jerrod Carmichael takes on today's issues
When Jerrod Carmichael was 13, he told his brother about dreams of having a television show. He wanted a sitcom on NBC and it to air on the then-coveted spot of Thursday nights.
Fifteen years later, two out of three of those wishes have come true.
After a recent day of rehearsals on the 20th Century Fox studio lot in Century City for "The Carmichael Show," the 28-year-old comedian scanned a list of production emails on his phone as he sat in a barber chair, getting a trim. Carmichael was preparing to shoot an episode the next day for his own show, on NBC.
The one hitch: It airs Sundays, not Thursdays, although nowadays Sunday is considered the more prestigious night.
See more of Entertainment's top stories on Facebook >>
Carmichael's comedy sitcom series, now kicking off its second season on Sunday, mixes the rigors and joy of family life with heavy-duty issues pulled straight from the headlines.
This time around the show will feature episodes on how the family adjusts to a Muslim couple moving in next door, how they feel about the morning-after pill when Jerrod and his girlfriend (Amber Stevens West) have a pregnancy scare, and their unedited view of Bill Cosby's damaged legacy after a year in which he was accused of sexual assaults against women over several decades.
When television challenges people, said Carmichael as he played Kanye West's latest album in the background, the medium is at its best. "Its biggest contribution is what it does to those around us," he said. "If we can contribute to that, then we've done more than our job."
The show, which is created, produced and written by Carmichael, also stars West as his live-in girlfriend, Maxine, David Alan Grier and Loretta Devine as his wacky parents, and comedian Lil Rel Howery as his younger brother, Bobby. Tiffany Haddish plays Bobby's very present ex-wife, Nekeisha.
The inspiration for the show came from Carmichael's real-life family. The Winston-Salem, N.C., native, who grew up watching reruns of Norman Lear's "All in the Family" and "The Jeffersons," said his family encouraged him to weigh in on just about any topic — religion, entertainment, politics — no matter how controversial. He's hoping to bring some of that back to television.
"There wasn't a lot [of shows], especially in this format, of people just speaking honestly and reflecting real life," he said about how television has changed since Lear's days. "It started becoming just these watered-down, really contrived situations. It wasn't reflecting how people talk every day. It wasn't reflecting the conversations I was having."
There wasn't a lot [of shows], especially in this format, of people just speaking honestly and reflecting real life.
— Jerrod Carmichael, comedian
"The Carmichael Show" comes at a time when audiences are calling for film and TV to have productions made by and starring people of color. Carmichael, who rose to prominence after a breakout role in 2014's "Neighbors," landed his show after becoming known for a laid-back yet subversive comedic approach to a variety of social issues in which race and class intersect.
As showcased in his 2014 HBO special "Jerrod Carmichael: Love at the Store," directed by Spike Lee, he deftly jokes about the death of Trayvon Martin, police brutality, things Republicans say about welfare, and female empowerment.
The same can be seen in the sitcom when the working-class family took on, in its first season, transgender issues — with a Caitlyn (or "Carol Ann") Jenner name drop — the #BlackLivesMatter protests and organized religion.
"We are looking for topics that make the writers in the room get excited, argue, have interesting discussions and debates," said Danielle Sanchez-Witzel, who serves as the series' show runner and an executive producer. "Rather than coming from a plot angle, we're from a 'What's an interesting discussion' angle or 'What's hard to talk about?' And then we try to build a story around that."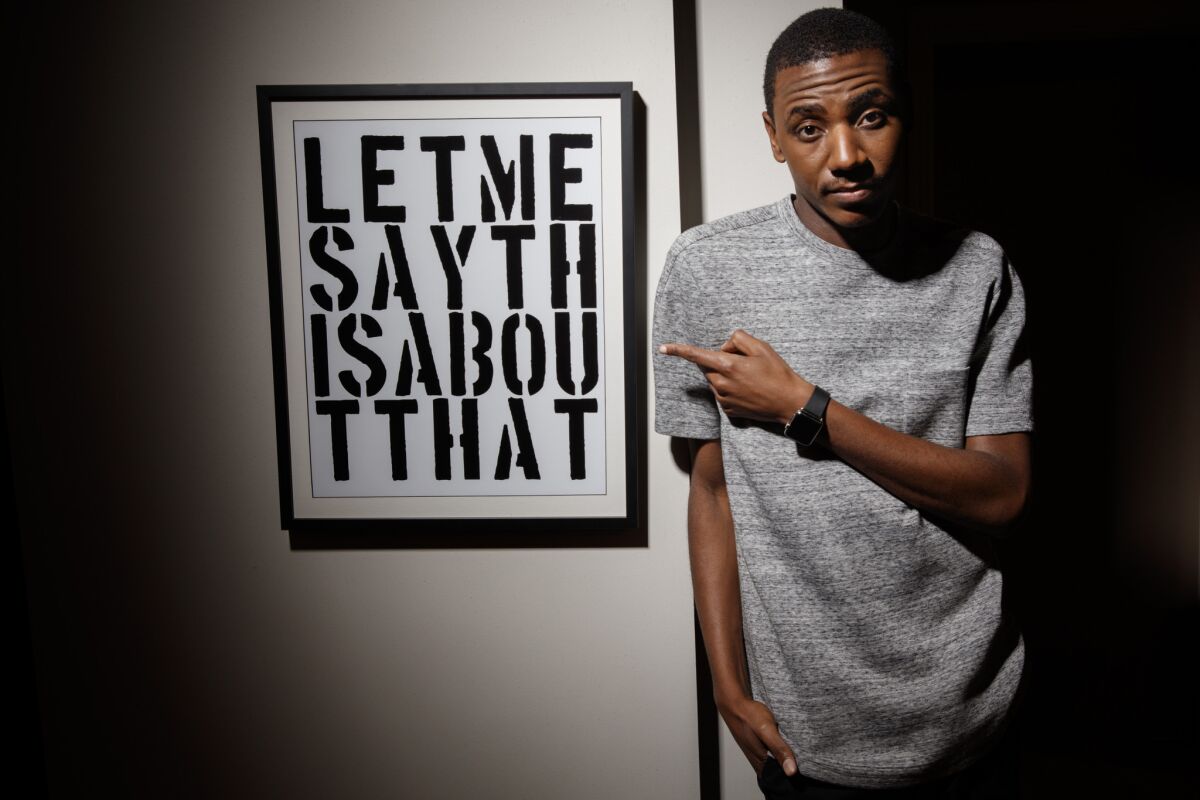 The goal, Sanchez-Witzel said, is to put forth "stories that people can identify with." "I would never call us an issue-based show," she said. "[But] if our characters have something to say, then we'll do that episode."
The topics that the show has and will address however have the potential to offend. Carmichael, however, much like his comedy suggests, isn't concerned with people's feelings, per se.
"What does it mean to be offended?" he asked. "That you're made aware of a thought? That I brought this to your attention? If you're offended and it makes you want to make something better or articulate a point or dig deeper in your own mind, then great. Then you should be happy you're offended too."
The hope though, said executive producer Ravi Nandan, is that all sides of a discussion will be represented through the different characters.
"I think that's the high-wire act of the show," he said. "While people are going to be offended, they're probably going to agree with another character. When we do it right, [the perspectives on the show] should make up the entire conversation we're having in the country."
The show's return for a second season comes as a surprise to many considering how it first played last summer. The network originally slated it to run side by side with Craig Robinson's now-canceled "Mr. Robinson." That plan was changed so that both shows were rescheduled to run consecutively for three weeks each, two episodes at a time.
"I think it worked to our advantage," Carmichael said about the switch up during NBCUniversal's session at the Television Critics Assn. press tour in January. "Growing a new show, I think that the marketing plan worked, and it grew an audience and allowed people to receive enough of the content to gauge whether or not they like the show."
Additionally, Sanchez-Witzel said, many seemed to stumble upon the show (all six episodes are available for free online) through social media sharing. She credits such word of mouth with the show being picked up again, now with a 13-episode order and a spring premiere date.
Back on set, Carmichael discusses how he manages to wear the many hats that he does on the show, while also continuing to perform stand-up acts.
"I don't think about it," he said. "When you start being too aware, you've given yourself a problem. I don't like to give myself a problem. It's nothing to balance. I just know I'm not free Saturday, and I wouldn't have it any other way."
He shrugs off the perceived pressure and the title he's received in recent months as television's "sitcom savior."
"I do think that we're bringing a unique voice and a voice that a lot of people shy away from and you haven't seen in a very long time," he said. "Now, whatever label people want to attach to that, I'm all right with."
I do think that we're bringing a unique voice and a voice that a lot of people shy away from and you haven't seen in a very long time.
— Jerrod Carmichael
But don't mistake his modesty for naivete. Carmichael is very much aware of the optics around his multifaceted role and "The Carmichael Show." After all, it carries his moniker.
"I did that so I could be held responsible for it," he said. "If the welcome mat in your home had your last name on it, you'd shake it off a little more. You see you in it, literally. It's my name on [this show], but it's not for vanity. It really is [that] I need this to be good because I don't want my name to be associated with anything bad."
If the show's reception is any indication, his name remains unsoiled.
Twitter: @TrevellAnderson

Get our L.A. Goes Out newsletter, with the week's best events, to help you explore and experience our city.
You may occasionally receive promotional content from the Los Angeles Times.