After historic Emmy win, Lena Waithe aims to open minds with Showtime's 'The Chi'
Lena Waithe, the actress-writer best known for her work on Netflix's "Master of None," is perched in front of a Silver Lake Boulevard cafe ruminating about the first time she felt she saw herself — in the abstract sense — on television.
"Vintage Whoopi Goldberg," she offers flat out.
Waithe was a child when she was introduced to the TV special of Goldberg's career-sparking one-woman production, "The Spook Show," and found herself in awe.
"When she first was coming out she was doing prophetic work," Waithe explains, leaning forward onto the iron patio table. "She was so raw and so honest that Hollywood came to her, not the other way around. I don't know, there was something so dynamic about that special — her hair, her characters, just the way she moved her body, the way she changed her voice to step into a new character. I just remember thinking as a kid, 'Oh, she knows me. But she's never met me.' And that to me, as a little black kid, was really phenomenal."
Now, at 33, the Chicago native is hard at work paying it forward. This is not a woman interested in being the voice of a generation. After cutting her teeth working on shows such as "Bones" and films like "Dear White People," Waithe is forging a path in Hollywood as a voice for the overlooked.
Last year was a huge one for Waithe. She co-wrote the standout "Thanksgiving" episode in Season 2 of "Master of None" that was inspired by her own coming out experience and was lauded by critics and fans alike for its deft portrayal of a queer black woman, her character Denise. The episode landed Waithe her first Emmy and the distinction of being the first black woman to win an Emmy for writing in a comedy series.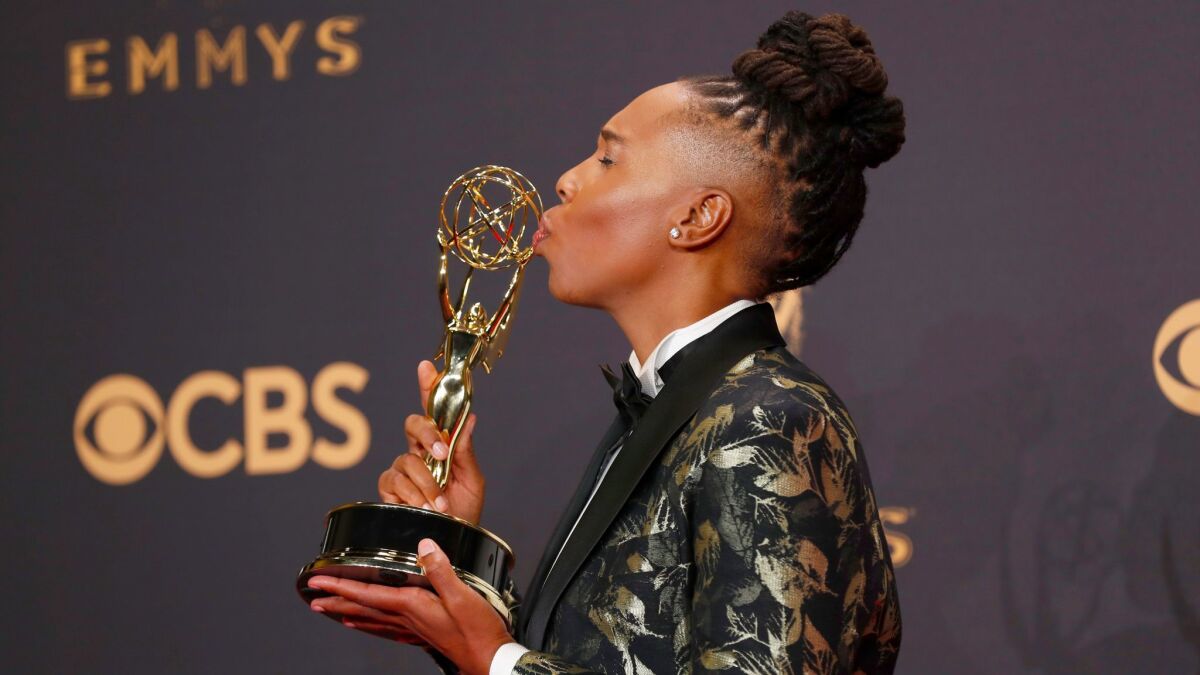 Next up is "The Chi" (pronounced shy), the show she created and is executive producing for Showtime. Set in her hometown, it aims to fill in the missing shades of humanity that can often get lost in the sensational coverage of turbulence in poor neighborhoods.
The series, which premieres Sunday, revolves around a group of people living in the South Side of Chicago whose lives become linked by coincidence and violence. The cast includes Jason Mitchell ("Straight Outta Compton," "Mudbound"), Sonja Sohn ("The Wire"), Alex R. Hibbert ("Moonlight"), Yolonda Ross ("The Get Down"), Jacob Latimore ("Sleight"), Ntare Guma Mbaho Mwine ("Queen of Katwe") and Tiffany Boone ("The Following").
"The Chi" was born out of Waithe's determination to show a community that more closely resembled the one she grew up in — not the one that fits neatly into a TV news segment when trouble strikes.
"I remember watching the news a few of years ago — I was living in the San Fernando Valley," Waithe says. "And there was this story about Chicago. And I'm seeing these young black kids be interviewed about gun violence … and I'm sitting there watching this young white man ask them these questions — no disrespect, but it made me upset. Like, they don't know these people. Like, these people are not the problem, the system is. And it got me fired up. I wanted to show the people. I know who they are. They're hard working. They're funny. They're human. They're swaggy. They're hustlers. The kids are like little grown-ups because of the world they live in. So I started writing. It was a thing that was in my body and my spirit."
Waithe notes that Barack Obama was president at the time she wrote the pilot. And she was reading a lot of James Baldwin and feeling the inspiration to tackle the issues and themes of the black experience just as he did. That the series will make its debut all these years later, in Donald Trump's America, is destiny at work, Waithe says.
"The show should come out under a Trump presidency because, at a time when the world wants to dehumanize us and kill us, we rise," she says. "This is about showing us as people. Not perfect people. But as human beings. People who make mistakes. People who hurt. And to show why people do the things they do."
This is about showing us as people. Not perfect people. But as human beings. People who make mistakes. People who hurt.
— Lena Waithe, the creator of Showtime's "The Chi"
Outfitted in a gray sweatshirt and sweatpants, Waithe, who lives in nearby Echo Park with her girlfriend, speaks with the same level of intensity and unflinching focus no matter the topic. She'll breathlessly explain her fanaticism for Whitney Houston (she has ideas for a story about the toll an overwhelming talent can have on a person's life) or impress the importance of paying dues as a young writer.
"You gotta be patient," she says. "It's not just about writing well, it's about knowing how to play your position, knowing how to play this human game of chess, knowing when to wait it out — because not everybody can stomp their feet and be mad about the injustice in this town. Everybody doesn't have to have that love for you. Sometimes you gotta sit and shut up and wait until your talent overshadows the [nonsense], which it basically will."
Waithe has been waiting patiently since she was 7 years old — the age she realized she wanted to be a TV writer.
Her parents divorced when she was 3, and her mother raised Lena and her sister on the South Side of Chicago. But it was the time spent with her grandmother that led to an obsession with television. Waithe cites "The Mary Tyler Moore Show," "A Different World," and "The Cosby Show" as early influences. A knack for writing came early, too, as a student at Turner-Drew, a magnet elementary school.
"I wasn't this extracurricular kid," Waithe says. "I would always run home and go watch TV or watch movies. I wasn't doing sports — though, to this day, everyone thinks I play basketball."
Waithe would go on to major in TV writing and producing at Columbia College Chicago. She worked at Blockbuster, Best Buy and the local movie theater as a means of staying immersed in TV and film. Her journey west to Los Angeles came via a semester-away program during her final year of college.
Sometimes you gotta sit and shut up and wait until your talent overshadows the [nonsense], which it basically will.
— Lena Waithe, the creator of Showtime's 'The Chi"
She wrote spec scripts while interning and working odd jobs. She transcribed reality television (e.g. "The Real World: Sydney"), helping editors pick which footage to use; she worked at a literary agency. She eventually landed a job as director Gina Prince-Bythewood's assistant on "The Secret Life of Bees," and later became the assistant to a then-unknown Ava DuVernay, on her directorial debut, "I Will Follow."
But Waithe knew if she wanted to write for TV, she'd have to create her own opportunities. She wrote and directed the short film "Save Me" and co-created the Web series "Hello Cupid" before landing a producing job on the independent film "Dear White People."
The most-read Entertainment stories this hour »
Justin Simien, who wrote and directed "Dear White People" and is Waithe's best friend, praises her drive.
"She's got this ability to stay really positive no matter what," he says. "When I quit my job to make the film, stuff got really dark for me financially. She'd remind me of what I was working toward. And there were times when she was on her last paycheck trying to make it happen. And she just never despaired."
By 2014, she had written the pilot script for "The Chi," which nabbed her a staff writing position on "Bones."
"It was her first effort at drama," Hart Hanson, the creator of "Bones," recalls of reading the early version of what was then-titled "Chiraq." "The writing was so human and it just seemed to come from her eyeballs and her heart. She was obviously somebody who was going to be a force. She writes from a point of view — and I don't even mean from an African American or queer point of view. She just has a point of view, no matter what she's writing."
The way Grammy-winning artist Common, also a native of Chicago and an executive producer on "The Chi," explains it, Waithe has a way of exposing the soul.
"She's able to convey these emotions and experiences in ways that you laugh, in ways that you cry, in ways that you feel the fears," he says.
And the industry has taken notice.
Currently co-running Apple's reboot of the 1980s sci-fi anthology series "Amazing Stories," Hanson says one of his first calls was to see if Waithe would be available to do a script — potentially deepening her ties to Steven Spielberg, whose production company is behind the series. Waithe, come March, will make her major-studio film debut as an actor in Spielberg's "Ready Player One." ("He is the father figure I never knew," Waithe says of what it was like working with Spielberg.)
And while Waithe identifies first as a TV writer, she enjoys stretching her acting muscles. On this day, she's eager to head to the Valley to finish work on her recurring arc on Season 2 of Netflix's TV adaptation of "Dear White People." She'll play P Ninny, the star of a "Love & Hip Hop"-type reality series within the show called "Trap-House Tricks."
She's able to convey these emotions and experiences in ways that you laugh, in ways that you cry, in ways that you feel the fears.
— Common, an executive producer on Showtime's "The Chi"
Then there's her other passion project, the semi-autobiographical pilot, "Twenties," that she's trying to get off the ground. So if you think the Emmy win has her resting easy, you'd be wrong.
"That win wasn't about me," Waithe says. "But the symbolism it represents is important. It was representation of that room, all those important people in that room standing up saying, 'We embrace you.' But also of me not needing them to embrace me, for me to embrace me. When 'Moonlight' won the Oscar, that was extremely impactful. Halle Berry winning was huge because it said something. A little black kid who has a dream of being an actor, a director, a writer, they see those moments and think, 'Oh, I have a shot.' And that is huge."
"This isn't the time for me to relax," Waithe continues. "Now, I got to work even harder to prove that I've deserved that, being a vessel for that moment. I keep it high on my shelf in my living room where I can't see it. It's not at eye level. I don't want to look at it every day. Because if you look at it, it's sort of like, 'Ah, that's who I am.' Nah, it's a part of my journey, but it's not who I am. It's not where the journey stops."
'The Chi'
Where: Showtime
When: 10 p.m. Sunday
Rating: TV-MA (may be unsuitable for children under the age of 17)
Twitter: @villarrealy
Get our L.A. Goes Out newsletter, with the week's best events, to help you explore and experience our city.
You may occasionally receive promotional content from the Los Angeles Times.