Why there is less reality TV on television this fall
In the fall, reality television takes a hit, losing broadcast prime-time hours to scripted shows.
If viewers are looking for "The Amazing Race" this fall, they can stop. Although the 29th season of the globetrotting series was filmed this summer, it is not on CBS' fall schedule for the first time in 12 years.
The critically acclaimed, Emmy-winning show is the latest victim of the erosion of reality television this fall on broadcast networks.
Of the 87 broadcast prime-time hours airing each week this season, just nine are reality TV — and three are NBC's "The Voice" alone. That's down from 12 hours last fall, and 14 in 2014.
The decline has been steady. ABC's "Dancing With the Stars" excised its results show in 2013, the CW's "America's Next Top Model" was canceled last year, and new attempts such as Neil Patrick Harris' "Best Time Ever" and Fox's "Utopia" quickly failed.
What's happening? Fear has taken over.
"Everyone wants to be innovative, but they're also really, deeply afraid to fail," according to Tim Duffy, who co-founded the production company Ugly Brother Studios after nine years as senior vice president of original series at Spike.
See the most-read stories in Entertainment this hour »
"A confusion and fear coming from the top down and bottom up" is "getting in the way of trying new things; it's getting in the way of good content rising to the top," said Jay Blumenfield, whose production company the Jay and Tony Show has produced reality for broadcast as well as basic and premium cable, such as CNBC's "Follow the Leader" and Showtime's "Gigolos."
As is often the case, reality television was at the top of the ratings this summer, consistently dominating the top 20 among the coveted 18-49 age demographic and total viewers, including NBC's "America's Got Talent" and CBS' "Big Brother."
Rob Mills, ABC Entertainment's senior vice president of alternative and late night, who had success this summer with "The Bachelorette" and game show revivals including "The $100,000 Pyramid," noted that reality shows like "Survivor" and "American Idol" aired their first seasons in summer because "after a year of scripted [shows], you're ready for something a little different."
By fall, though, desires flip. "TV watchers, myself included, are all creatures of habit. It's been, literally since birth, that fall has meant scripted shows," said Mills. "It's really difficult for unscripted to cut through."
So the decreasing amount on the fall schedule may just be a reset to the status quo from before the reality TV boom of the early '00s. Yet new reality TV shows across television are still struggling.
"It's very hard to come up with something that feels breakthrough or original," said Jon Murray, who created "The Real World" — the template for modern reality TV — with his late producing partner Mary-Ellis Bunim.
Hollywood's tendency to copycat may be to blame. Marjorie Kaplan, Discovery Networks International's president of content, said, "We talk a lot about how the world is changing, and the business is changing, and we need to change, and where is the audience going. But most of the stuff we do is exactly the same."
She called it the "typical innovator's dilemma: We have a super, super successful business that we know is changing dramatically, and so we have to find a way to feed this linear beast and at the same time, imagine a different future."
Early breakout shows such as CBS' "Survivor" and ABC's "The Bachelor" remain strong top-10 hits during the regular season, which means there's less room for a new show. Creating new hits is especially hard, one former broadcast network executive said, because reality doesn't repeat well, nor do the ratings rise with DVR playback factored into the equation. New shows are bigger gambles.
For a documentary-style reality show to even be greenlighted by a network, producers are often required to map out a season's story lines in advance. Instead of just filming, say, a group of coworkers, producers have to plan every scene — and that leads some shows to script scenes or use manipulative editing that distorts reality. That artificiality doesn't breed unexpected and authentic moments.
You have to take chances that you're going to document real things and they might not have a satisfying ending, or be satisfying enough for a network to air it
— Tony Marsh, the Jay and Tony Show
"You have to take chances that you're going to document real things and they might not have a satisfying ending, or be satisfying enough for a network to air it. If you don't take those chances, you might not ever find those beautiful moments," the Jay and Tony Show's Tony Marsh said. His company's eponymous podcast is one of the few places where the genre's struggles — and strengths — are discussed openly.
"If you do a scripted show, at least you know there's going to be a payoff; you've signed off on an ending, you know how a story goes," he said. With reality TV, "the chance might be that it doesn't work, and it's not worth airing."
While scripted television shows are allowed to challenge their audiences — with the dense language and myriad characters of "Game of Thrones" or the disorientation of "Mr. Robot" — reality TV increasingly does the opposite. Before an episode even starts, there's a preview of the most dramatic moments, and after each commercial break, the same footage is repeated. In interview segments, cast members narrate what we're seeing on screen, an odd redundancy.
All of that makes reality TV feel cheap compared with prestige dramas, which do the opposite. Meanwhile, scripted shows such as "Modern Family" and "The Office" borrowed the language of reality television and documentary.
Discovery's Kaplan — who transformed Animal Planet from low-rated nature programming to human-driven, popular reality TV such as "Whale Wars" — said, "We saw some really interesting research where people talked about the fact that they felt like the things that were happening in scripted television were more real than what they were seeing in reality TV. They had a better view of what it meant to be human, of human emotions, of the complications of being human."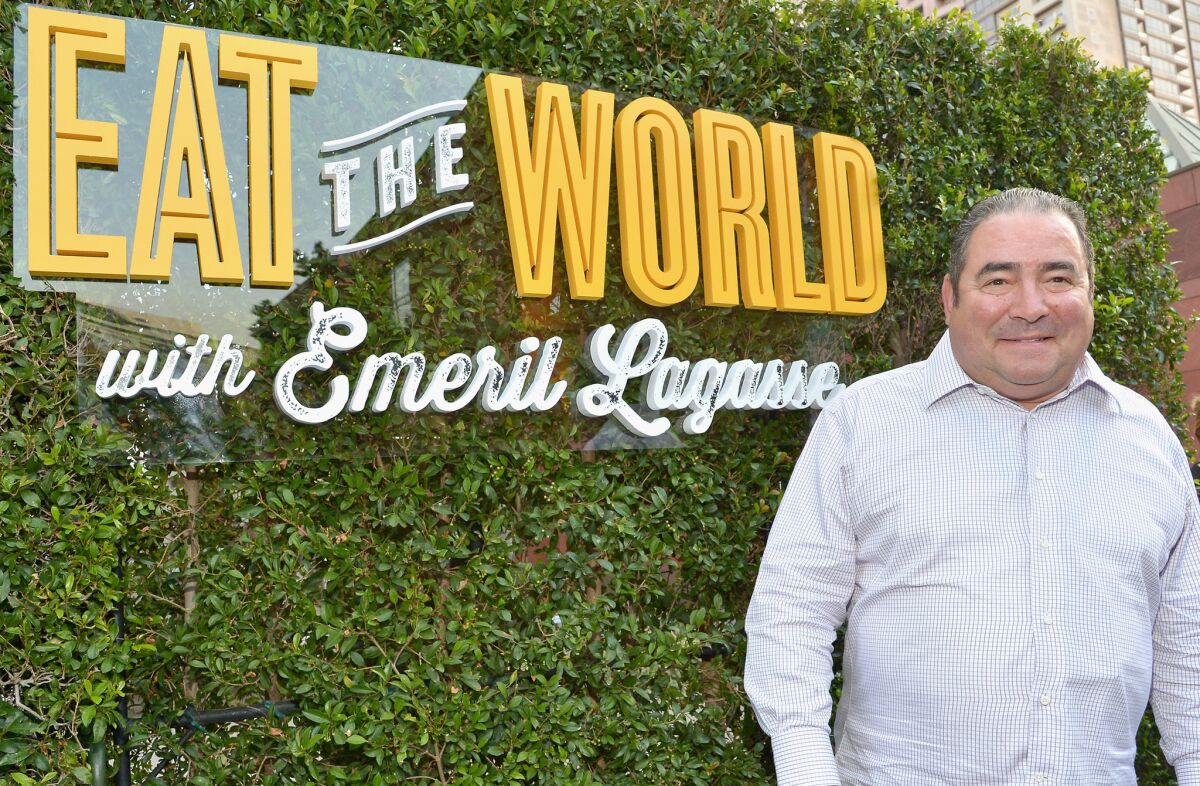 As Netflix, Amazon Studios and premium cable outlets raise the bar in scripted television, they are also offering hope and creative freedom to those who work in the unscripted arena.
Because they're not ratings- or ad-driven, "the definition of success is entirely different," Kaplan said. "Any time you break a paradigm, it can enable a new kind of creativity to emerge."
Duffy said those outlets are "all seeking a premium style of story and that requires a great deal of expertise." His company produced Amazon's third unscripted series, "Eat the World With Emeril Lagasse," in which Lagasse travels with other chefs to explore cuisines. Unlike food reality shows on cable with their studio sets and heart-pounding action, the show has a leisurely pace and lingering establishing shots of locations such as a remote South Korean temple.
"No broadcast or cable network would have allowed us to execute this style of show, where the visuals are as refined as they are, where the pacing of the story is as respectful to the audience as it is," he said.
Less-refined storytelling may simply be a product of reality TV's rapid success. The format's rapid proliferation meant that, on both the network and production side, people with limited experience in television advanced quickly.
"When you're a scripted exec at a broadcast network, you have decades and decades and decades of understanding of how to execute a one-hour drama," Duffy said. "[Reality] producers and executives have been put into a position of having to be masters of all of these sub-genres," since the big tent of reality covers such diverse offerings as game shows and cinéma vérité documentary, "Keeping Up With the Kardashians" and "Making a Murderer."
"How can we expect executives to be brilliant innovators when they're overseeing such huge categories of content?" Duffy added. "And the answer to this problem, always, is go back to great content, go back to great storytellers."
The Jay and Tony Show's Marsh agrees. "We need to embrace what is truly special about what we do: documenting real people doing real things. That is fascinating, and it always will be, but it has to be able to breathe, and live — not be confined and mapped out and OK'd by a network," he said.
"We need to enjoy the truth, the authenticity, the power of things that are not scripted. That is not easy to do. Things might go slower, they might be messier, they might not have things tied up the way you want them to. That's life." And reality.
ALSO
'American Horror Story' to return for secretive seventh installment
Will Arnett and ABC are reviving the '70s quasi-talent show 'The Gong Show'
All the burning questions raised in the 'Westworld' premiere
Get our L.A. Goes Out newsletter, with the week's best events, to help you explore and experience our city.
You may occasionally receive promotional content from the Los Angeles Times.