Why 'Wonder Woman' director Patty Jenkins returned to TV for the L.A. noir 'I Am the Night'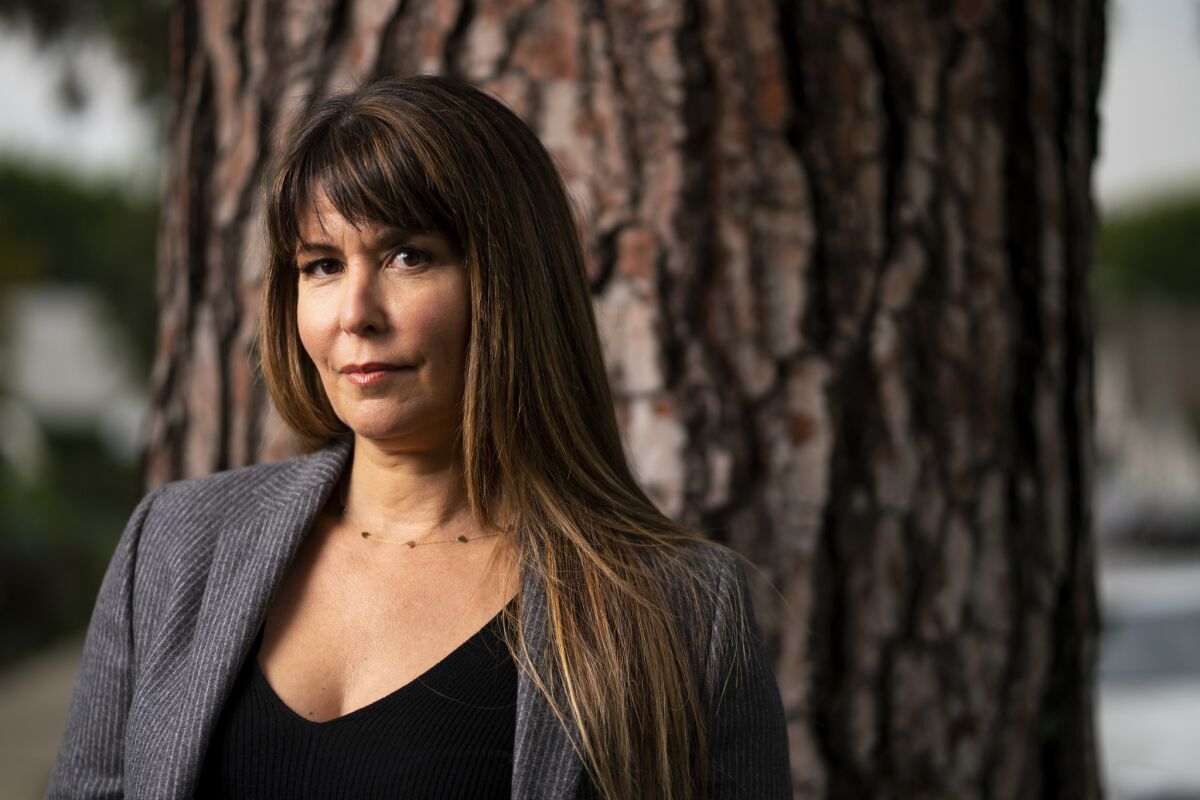 "Some stories you can't tell," one reporter grimly warns another over drinks in an early scene of the TNT series "I Am the Night," debuting Jan. 28. "Some stories will eat you alive."
It's the kind of hard-boiled dialogue that helped establish a tradition of L.A. noir that includes Raymond Chandler and James Ellroy. As envisioned by Patty Jenkins, best known as director of "Wonder Woman," this miniseries continues that legacy with a compelling new angle on the grisly unsolved 1947 killing of a woman who became known as the Black Dahlia.

For the record:
12:10 p.m. Jan. 11, 2019An earlier version of this story said that Patty Jenkins directed all six episodes of "I Am The Night." She directed the first two. Additionally, Elizabeth Smart was killed in 1947, not 1949.
"This [story] really rocked me," says Jenkins, who directed the first two episodes of "I Am the Night" before starting work on the blockbuster superhero sequel-in-waiting, "Wonder Woman 1984." "I actually fully and really believe this is the truth of what happened."
Adapted by Jenkins' husband, Sam Sheridan, the series tells the story of Fauna Hodel, whose 2008 memoir "One Day She'll Darken" mixes elements of race, identity and one of the most famous homicides of the 20th century in a way that consumed Jenkins in such a way she was initially a bit wary as well.
"I met [Hodel] years ago, and she sat down and told me her story, and it so blew me away," Jenkins says, speaking by phone just before the new year. "I was a little freaked out by it because it was so dark and kind of scary, and I had a very young child at the time and was like, 'Oooh, do you want to take this on?'"
Winter TV preview: Reboot fever drags us back to reality TV and 'Temptation Island' »
Hodel grew up Patricia Ann Greenway and was raised by a black family in Sparks, Nev. Believing her biological father was African American, Hodel experienced the racism and segregation integral to the black experience in America, especially in the early 1960s, when much of "I Am the Night" takes place. Not long after high school, Hodel learned her actual birth name and fled an abusive home to Los Angeles to connect with her biological grandfather, George Hodel.
A prominent L.A. physician, Dr. Hodel came under scrutiny in 1949 amid accusations that he molested his daughter, Tamar Hodel — Fauna's mother. He was acquitted, but the LAPD considered him a suspect in the killing of the aspiring young actress Elizabeth Short. The brutal and disturbing circumstances of Short's death captured tabloid headlines and led her to be dubbed the Black Dahlia in one of the most famous true crime mysteries of the 20th century.
The stakes are so high on 'Wonder Woman' and the money is so high, but the stakes are high in a different way when you're telling someone's true life story.
— Patty Jenkins
Jenkins describes herself as "mesmerized" by Hodel's story, but she envisioned it as something larger in scope than another Black Dahlia-tilted feature film. As time went on, the likelihood of working with Hodel on her story appeared to grow slim, especially as Jenkins' schedule grew crowded with the next "Wonder Woman" installment.
"Fauna was calling me and trying to get my advice about doing the project with someone else and saying to me, 'But I still wish it was you,'" Jenkins remembers, "and I was saying, 'Fauna, I'm just too busy. I don't want you to have to wait for me.' But I was telling the story to ['Wonder Woman' costar] Chris Pine, and he just freaked out: 'You have to do that story. That story's incredible.'"
Pine soon came on board to portray Jay Singletary, a troubled, PTSD-haunted newspaper reporter whose career was derailed by pursuing Hodel in the Dahlia case, and Jenkins and Sheridan soon found themselves creating "I Am the Night" in the tight window between "Wonder Woman" movies, with India Eisley cast as Fauna.
Winter TV Preview: These are the 8 new shows our TV critics are anticipating the most this winter »
But just before filming began, Hodel was diagnosed with cancer and, in 2017, died, a development Jenkins still calls "shocking." (Daughters Rasha and Yvette were frequently on set, however, and Jenkins says they were "integrally involved" in the miniseries.)
Though Jenkins' career began with the 2003 feature "Monster," this miniseries marks a return to familiar ground on a few levels. Before "Wonder Woman," she directed episodes of "Arrested Development," "Entourage" and, in another dip toward the world of homicide, the first season of Veena Sud's "The Killing."
"I like to work, and I like to experiment with other things," she says. "I don't want to have to be waiting for my next feature to get to work and try different things and tell different kinds of stories."
Though she doesn't consider herself a dark person, Jenkins recognizes a tendency toward stories that approach the worst in human behavior. "I think it's because I am very captivated by truth and I'm comfortable dealing with whatever I find there," she says. "I'm not super into escapist/alternate realities of what mankind is. Even in 'Wonder Woman,' I'm very interested in embracing the darkness and the light of mankind."
That approach lends itself nicely to the gray shadows of "I Am the Night," which with its story of dogged investigators, powerful people and the secrets hidden in hillside mansions taps a cinematic bloodline for the city that runs from "The Big Sleep" to "Chinatown." It was a lineage that Jenkins was eager to join.
"To add to the voice of L.A. noir was super cool because that's something that's been shot many times and has all of these specific things that are associated with it," she says. "So instead of being the '40s, you're in the '60s and trying to completely embrace that time period and what it felt like. But then to fold it into a style that fits with noir in a new way was really awesome."
Going back to TV would seem to mark a change of pace from "Wonder Woman," which earned more than $800 million and set a high bar for the sequel due in 2020. But in terms of her creative process, Jenkins doesn't draw much of a distinction between one medium versus another.
"I am so ambitious with my work being worthwhile that it never feels a whole lot different for me, frankly," she says. "The stakes are so high on 'Wonder Woman' and the money is so high, but the stakes are high in a different way when you're telling someone's true life story and it's a miniseries like this. [Stakes are] never not high that you're not wasting people's time and not making something beautiful."
While the ongoing, seemingly endless ascent of Peak TV led to Jenkins being able to tell Fauna Hodel's story with a broader palette than a movie allows, she doesn't see that as a threat to the long-term prospects of feature film. She does, though, see television as a form that offers greater flexibility.
"It's a quick-run, more fluid medium to try and mess around with other interesting stories," she says. "But people still want to go to the movie theaters, and they're gonna want to go to the movie theaters forever as far as I believe.
"I feel we're in a wonderful time where the great tradition of storytelling has found new outlets, some of which are really thriving in television," Jenkins adds. "Like the more complicated story that doesn't fit into two hours like this one. I feel like where indie features used to have a real life, that's now moved to television."
Follow me over here @chrisbarton.
---
Get our L.A. Goes Out newsletter, with the week's best events, to help you explore and experience our city.
You may occasionally receive promotional content from the Los Angeles Times.