Q&A: Sunday Conversation: Alexandra Billings on her expanding role on 'Transparent' and what she'd say to Trump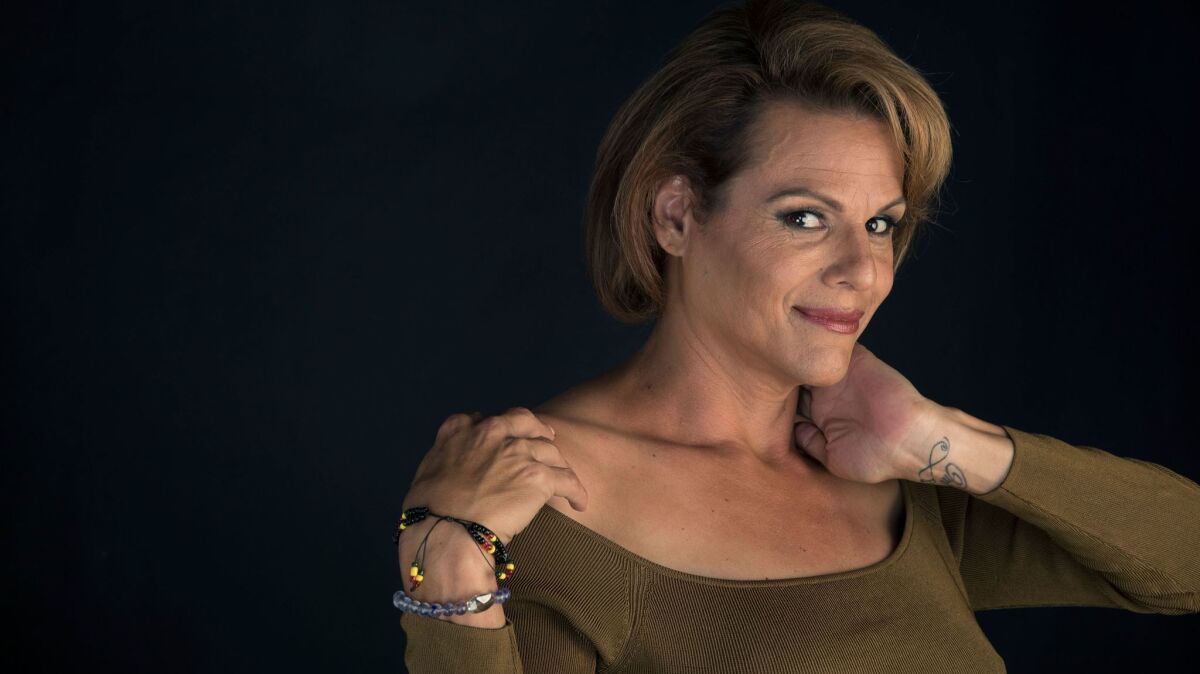 Before Alexandra Billings commits her full attention to the task at hand — discussing her role on Amazon's "Transparent" — she pauses to open Instagram on her phone to document the moment.
She has taken a liking to the social media platform's feature in which users post photos and videos with the comfort of knowing it will disappear in 24 hours. Billings posts multiple times a day — offering motivational musings, peeps of her cat and snippets of her lip-syncing abilities. However trite it may seem, Billings revels in the ability to be seen.
"I can be me in all my glory," she says. "It sounds so simple, but there's something to that."
With some nudging, Billings sets out to add to that idea of being more fully seen with her "Transparent" character, Davina, who is a friend and mentor to Maura (Jeffrey Tambor), in a new season of the drama that premiered earlier this month.
Davina gets a back story this season. How important was that for you — to find out her roots?
Trace Lysette, who is a spiritual warrior [and Billings' costar on "Transparent"], said to me last year, "We need to be heard. We gotta be heard." I'm such a dummy. I was like, "Aren't we being heard?" She's like, "No, Alex, we're not." She suggested we talk to the writers and I thought it was a brilliant idea. Nobody's ever died from conversation. We decided to have a list of things that our characters could do and go through and experience. And the writers came up with some ideas that I liked and were from my own life. I felt like the writers heard me. It really was born from a sense of truth, that here's a trans person playing a trans character, so let's talk about what actually happens to trans people. Davina has HIV anyway, so I wanted to explore that too, because we don't talk about AIDS anymore. It's not interesting to people. I've said that to some students of mine years and years ago and they've said, "Oh, you mean that '80s disease?" They think it's like malaria or something. So yeah, it's thrilling and it's terrifying.
I also imagine, starting out in Hollywood, that you never thought you'd be playing a character for multiple episodes, let alone one who merits a back story.
It was not even something I could dream of because it felt out of the realm of possibility.I still can't believe it. I don't really. Ask me in a month.
The person that plays the young version of Davina is actually a student of mine who is genderqueer and who I had been teaching for about two years. I was teaching at Cal State Long Beach at the time they were looking. The first person I thought of was Jaime [Navarro]. We were so close anyway and we look similar. It was very strange. We're the same.
You also have a full-frontal nude scene this season.
Yeah, and I think it may be the first time where you see a pre-op trans body. I just wanted to go there — to show it. To show that this is a human body too.
When I first started out, I was either always in the hospital or I was leaving the hospital or getting ready to go to the hospital.

— Alexandra Billings, "Transparent"
How are the roles you're being offered now different than when you first started acting?
Oh, vastly different! When I first started out, I was either always in the hospital or I was leaving the hospital or getting ready to go to the hospital. I was wearing so many blue gowns. It was so weird! It was like, what is going on? Why? So yeah, I remember I told my manager, I said, "I'm not going to wear any more hospital gowns."
And I didn't know until recently that you had been offered the part in "Transamerica," which went to Felicity Huffman. Have you run into her? Does she know?
Yes, weirdly! Yes, and meanly I told her. I shouldn't have said anything. She was a great sport about it. We randomly got seated at the same table at the Artios Awards, which are the awards for casting directors. I was there for "Transparent." So I mentioned it to her and she really was mortified. She was like, "Oh, my God, I'm so sorry." Look, she was excellent, and the movie was so well-written and so beautiful. But, you know, she was a cis woman, and even back then I was like, "This is making me mad." But not mad at her, mad at the system.
Duncan [Tucker, the screenwriter] was very sweet and he said, "Alex, I can't get my movie made." And he said to me — I'll never forget this — he said, "We have a choice: We can either put you in it and no one will see it, or I can put Felicity in it and everyone will see it." He was right. He was absolutely right, because everyone saw it because she was in it.
Did you have initial reservations about Jeffrey taking on the role of Maura?
Very much. I was not happy at all. And I told that to Jill [Soloway, the creator of "Transparent"]. This was five years ago. So now it's an even bigger deal. I don't even think you could do it anymore. You couldn't get "Transparent" made with Jeffrey as the lead now— thank God. And I remember Jill saying to me, "I understand your feelings, I understand your reservations, wait until you work with him." And I was like, "Yes, I know he's a brilliant actor but this is a whole other thing that you guys don't get." But she was right. I've never seen anything like this before. It's not a transformation … I've been trying to explain this for the last five years. It's an opening up in the center of his life experience that is channeling some kind of event, that holds hands with the trans experience. It's not the trans experience, but it is so close. He's not acting, he's not pretending to be a trans person, he doesn't act like a trans person. He's just sort of telling this story in the funniest, weirdest, darkest, most joyful way.
You're vocal about trans issues and your opposition to some of the policies under the Trump administration. What would you say if you had the opportunity to meet with Trump for an hour?
I would love that opportunity. I would remind him that we are not a fad or fashion. That we are not behavior. That what we are is genetic. And then I would say, "Here's what I think Donald, here's a suggestion. Every time you send out one of those tweets, or decide to write a new bill, or go in and ask Congress to do A, B, and C for you, I want you to pause for a minute and then take a piece of paper out. And write down these three questions. Is it necessary? Is it helpful? Is it kind? Answer them and then make the decision that you're going to move forward. Do that."
I don't watch a lot of TV, strangely, because I'm super busy grading papers. [Billings is an assistant professor of acting at USC.] But I just watched "The New Yorker Presents," which is really interesting, on Amazon. I also have great affection for "Mom" on CBS. I think it's hilarious.
I just read a book called "The Music of Your Life." It's all about how your life is musical and how the reverberations of the universe have been around since the beginning of time. They talk about language and why we're so hooked on, like, "Speak the thing that I understand," and how it's all about fear of newness, but that sound is universal.
Twitter: @villarrealy
Get our L.A. Goes Out newsletter, with the week's best events, to help you explore and experience our city.
You may occasionally receive promotional content from the Los Angeles Times.