From 'Full Frontal' to 'Fleabag,' it was a fertile year for television
It's unlikely to go down as a banner year in American history, but 2016 has undeniably been a fertile period for television, which continues to be the most exciting, dynamic medium in contemporary pop culture, and the one most attuned to the current mood.
Over the last 12 months, much of TV, from Netflix's techno-dystopian anthology "Black Mirror" to HBO's caustic political satire "Veep," offered not so much an escape from reality as a reflection of it. And with Peak TV showing no signs of stopping, staying on top of one's DVR sometimes felt like a chore, though thankfully some of this year's finest shows were limited-run dramas and half-hour comedies. With that in mind, here is a necessarily incomplete list of the shows I consumed most eagerly in 2016.
"Full Frontal With Samantha Bee" (TBS)
In less than a year on the air, Samantha Bee has already become an essential voice in late night. Unapologetically feminist, brimming with righteous fury (see: her post-Orlando episode), and laser-focused on issues ignored elsewhere in the male-dominated world of topical comedy (especially reproductive rights), she will only be more so under a Trump administration.
"Crazy Ex-Girlfriend" (CW)
This delightfully madcap, sharply observant musical comedy is the kind of show that we'll look back on one day and think, "I can't believe that was on network television." Anchored by Rachel Bloom's fearless performance as the obsessive Rebecca Bunch, the show switches tones and genres with acrobatic nimbleness. And though it conforms to virtually none of the clichés of prestige television – it even looks bright and cheery -- it brims with more insight into human nature than just about anything on the air right now. In its second season, the show has continued to take major risks, ditching the central love triangle to focus on Rebecca's personal growth (or lack thereof), and the complexities of female friendship.
"The Great British Baking Show" (PBS)
Proving that reality television needn't be exploitative or soul-deadening, "GBBS" is escapist entertainment at its sweetest, a meritocratic competition in which people are judged not by the color of their skin or their willingness to act out on camera, but by the tastiness of their crème anglaise. If only the rest of the world were more like it.
"Orange Is the New Black" (Netflix)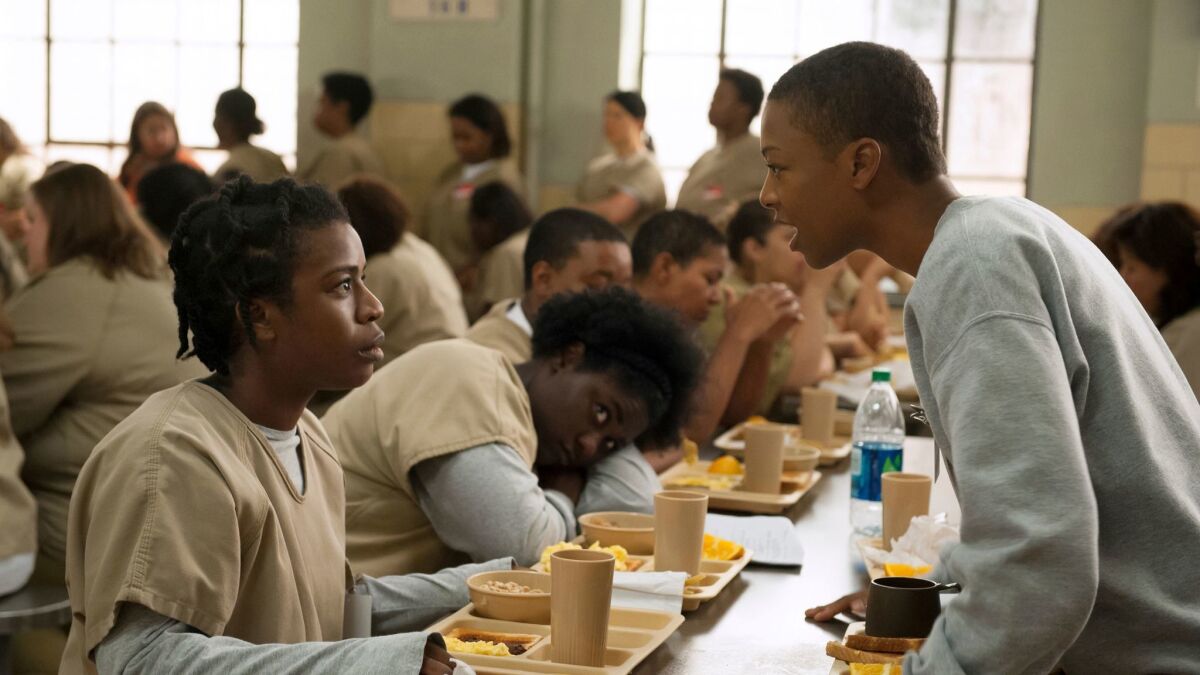 Jenji Kohan's dramedy set in a women's prison went to even darker places in its fourth season, which culminated with the death of a beloved character at the hands of a bumbling and undertrained correctional officer. It was one of many shows this year to address the Black Lives Matter movement, and probably the most effective, turning what might have felt like ripped-from-the-headlines didacticism into empathetic and deeply human storytelling.
"Game of Thrones" (HBO)
Resurrected Jon Snow may have gotten most of the attention, but this was truly the Year of the Woman in the Seven Kingdoms, the season that Cersei Lannister, Daenerys Targaryen and Sansa and Arya Stark rose up to enact spectacularly gruesome acts of vengeance. After five seasons of misery, it felt cathartic.
"O.J.: Made in America" (ESPN) and "The People v. O.J. Simpson: American Crime Story" (FX)
O.J. Simpson was once again at the center of collective imagination in 2016, thanks to two competing yet complementary miniseries that cast new light on one of the most well-chronicled figures of the last quarter-century. In Ezra Edelman's 7 1/2-hour documentary, Simpson was the focal point of a sprawling exploration of race, celebrity and justice in America. Ryan Murphy's drama re-created the so-called trial of the century through 10 episodes that played like individual character studies. Both reminded us that, 21 years after Simpson's exoneration exposed an enormous racial divide, far too little has changed.
"Fleabag" (Amazon)
This compact series created by and starring Phoebe Waller-Bridge (and adapted from her stage play) starts off as yet another raunchy, confessional single-gal comedy, but gradually reveals itself to be something much more profound – a devastating, darkly funny exploration of grief, guilt and intimacy.
"Catastrophe" (Amazon)
This not-especially-romantic comedy started as a serialized version of "Knocked Up," but in its second season morphed into a funny version of Richard Linklater's "Before" trilogy. The action skipped forward several years to find the once hot and heavy Rob and Sharon (writers Sharon Horgan and Rob Delaney) deep in the marital muck, dealing with career woes, baby blues and forgotten breast pumps with biting humor and bracing honesty. The only problem with "Catastrophe" is that there isn't more of it.
"The Night Manager" (AMC)
Impeccably directed by Susanne Bier, this lavish adaptation of John le Carre's 1993 novel followed the cat-and-mouse game between a wickedly charismatic arms dealer (Hugh Laurie) and an enigmatic hotel manager-turned spy (Tom Hiddleston). Despite a contemporary update to the Middle East, the series had a timeless appeal, based on taut, character-driven suspense and good old-fashioned Hollywood glamour. All that, plus a super-duper pregnant Olivia Colman as the story's moral center. What's not to love?
Other favorites:
"The Good Place"(NBC), "Insecure" (HBO), "Jane the Virgin" (CW), "The Crown" (Netflix), "Transparent" (Amazon), "Stranger Things" (Netflix), "The Night Of" (HBO)
See the most-read stories in Entertainment this hour »
Follow me @MeredithBlake
ALSO:
'Atlanta,' 'Baskets' and 'Insecure' among the best on TV in 2016
---
Get our L.A. Goes Out newsletter, with the week's best events, to help you explore and experience our city.
You may occasionally receive promotional content from the Los Angeles Times.