New series I loved in 2016: 13 shows in 10 items, in no particular order.
"Baskets" (FX) / "Atlanta" (FX)
Zach Galifianakis and Donald Glover find themselves back home and struggling in these personal, downbeat, guardedly hopeful, suddenly beautiful comedies. Louie Anderson, as Galifianakis' mother, is the first series' big surprise and revelation; Brian Tyree Henry, as Glover's rapper cousin, the latter's.
"Insecure" (HBO)
Issa Rae plays a woman stuck in place, grappling with love, friendship, work and identity in and around Inglewood. As above: personal, guardedly hopeful and suddenly beautiful, and a little bit downbeat.
"Better Things" (FX)
Pamela Adlon raising daughters in Hollywood, with love, exasperation and attitude.
"Stranger Things" (Netflix)
This dual-worlds, science-gone-too-far serial, set in the 1980s, is allusive nearly to a fault. But it's fully itself in the end, raised to another level by some fine performances, none more crucial or uncanny than that of Millie Bobby Brown as a little girl raised with a number for a name, on whose shoulders the whole business rests.
"Crash Course: Philosophy" (YouTube)
Vlogger Hank Green helps you learn to think in this sprightly but substantial romp through the history and forms of inward- and outward-looking reflection. "Only when you challenge your understanding of how some people view the world can you decide for yourself if theirs is a view worth having." Just what you might need now.
"Full Frontal with Samantha Bee" (TBS)
The new American moment has brought out the best in a host of talk and topical comedians. But with her punk stand and speed, her unapologetic partisan rage, Bee is a warrior queen, the leader of the pack.
"The Good Place" (NBC)
Ted Danson, Kristen Bell and William Jackson Harper bend the rules of heaven in an afterlife comedy made in the old NBC Thursday night spirit. When I say "old," I mean last year, before "Parks and Recreation" split.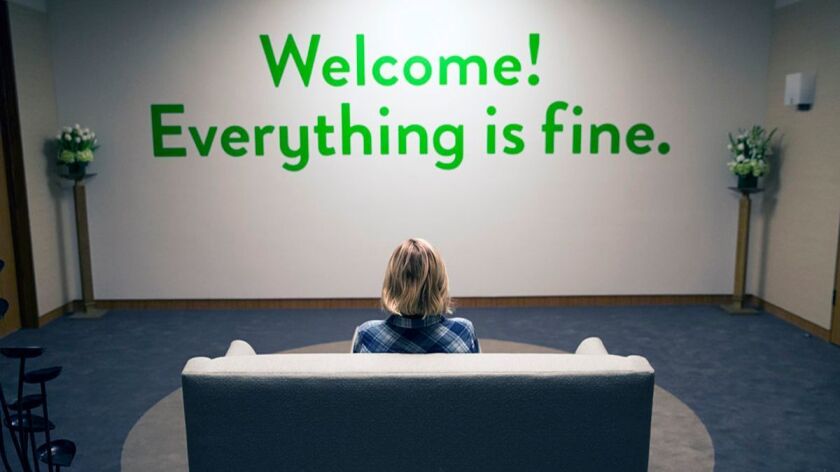 "Berlin Station" (Epix)
Sleek but not slick contemporary, continental, no-nonsense spy thriller features Richard Armitage, Michelle Forbes and Rhys Ifans as American agents looking to plug a leak in chilly, new-Cold War Germany. From earlier this year, when the CIA still counted.
"Lady Dynamite" (Netflix)/ "Dice" (Showtime)
Comics in straitened circumstances. Maria Bamford is the star of "Lady Dynamite," a bipolar surrealist farce set in three mental states. "Dice" is Andrew Dice Clay, more complicated than you might remember him, scuffling in Las Vegas, with dry support from Natasha Leggero and Kevin Corrigan.
"Easy" (Netflix)/ "High Maintenance" (HBO)
Serial anthologies that move through tangentially linked sets of characters and share a sympathetic view of human difference and frailty. "Easy," from indie filmmaker Joe Swanberg, centers on Chicago creative types; "High Maintenance," set in New York, has pot delivery as its spine.
Follow Robert Lloyd on Twitter @LATimesTVLloyd
ALSO
In 'The Good Place,' Kristen Bell is a troublemaker in the afterlife
Donald Glover's new FX series, 'Atlanta,' is a beautifully played comedy of place and character
Spy thriller 'Berlin Station' deftly balances character and plot
Andrew Dice Clay is flawed, fearful and much more likable in 'Dice'
Your next Netflix binge: Maria Bamford's inventive and intimate 'Lady Dynamite'
---