"The Assassination of Gianni Versace: American Crime Story" FX, Jan. 17
Ricky Martin. Penélope Cruz. Another '90s-era, true crime drama involving celebrity tragedy. There's no downside here. The FX drama, out Jan. 17, explores the 1997 murder of designer Gianni Versace by serial killer Andrew Cunanan. It's the second installment of Ryan Murphy's "American Crime Story" anthology, a series that kicked off with 2016's "The People v. O.J. Simpson." Like that award-winning drama, this nine-part series looks at the role culture and class played in the rise of Versace, and explores how discriminatory attitudes toward the gay community hindered the investigation. Based on Maureen Orth's book "Vulgar Favors: Andrew Cunanan, Gianni Versace, and the Largest Failed Manhunt in U. S. History," it promises to be another high-end, celebrity-studded addition to the true crime genre. (Lorraine Ali)
"The Alienist" TNT, Jan. 22
This series combines two of the most enduring genres on television — the period piece and the serial killer drama. First published nearly a quarter century ago, Caleb Carr's bestselling novel, set in grimy, turn-of-the-last-century New York City and rich in gore as well as historical detail, has languished in development hell ever since. During that time, numerous big-name Hollywood producers and screenwriters tried — and failed — to adapt it as a feature film. Now re-imagined as a 10-part miniseries with a reported price tag of $5 million an episode, "The Alienist" represents an ambitious swing from a network formerly known for lightweight procedurals. It stars Daniel Brühl as a pioneering alienist — a.k.a. psychiatrist — Dakota Fanning as a feisty police secretary and Luke Evans as a newspaper illustrator on the trail of a murderer preying on boy prostitutes. (Meredith Blake)
"Waco," Paramount Network, Jan. 24
True stories have provided no shortage of gripping moments for television. "Waco's" subject matter is enough to intrigue on its own. But knowing Michael Shannon stars as an FBI agent is a sure-fire way to make people search their cable providers for the Paramount Network. The six-part miniseries revolves around the true story of the 1993 siege between federal law enforcement agents and Branch Davidian cult leader David Koresh in Waco, Texas, that ended with a fatal shootout and fire that consumed the sect's compound. More than 70 Branch Davidian members, including 17 children under age 10, died. "Friday Night Lights" alum Taylor Kitsch plays Koresh, while Shannon plays FBI negotiator Gary Noesner. The project is based on two biographies, "A Place Called Waco," by David Thibodeau, one of the sect's members who survived the fire, and "Stalling for Time: My Life as an FBI Hostage Negotiator," written by Noesner. "Waco" is one of the projects spearheading the launch of the Paramount Network, a rebranding of Viacom's Spike channel. (Yvonne Villarreal)
"Altered Carbon," Neflix, Feb. 2
Based on Richard Morgan's 2002 hard-boiled sci-fi detective novel, this 10-episode series is set in a far future San Francisco — the city of Sam Spade — in a time when personality is stored in removable gizmos that can be traded from body to body, enabling people with means to live forever. Joel Kinnaman stars as a re-animated interstellar warrior hired by formerly dead rich guy James Purefoy to discover who might have killed him. The series, which features flying cars and shape-shifting exotic dancers, should go some way to satisfying those longing for a second "Blade Runner" sequel, but best of all is the return of the lanky, laconic Kinnaman — Holder on "The Killing" — to detective work. I have missed that flip, weary voice. (Robert Lloyd)
"Good Girls," NBC, Feb. 26
When your main cast includes the formidable trio of Retta (priceless on "Parks and Recreation"), Christina Hendricks (timeless on "Mad Men") and Mae Whitman (pitch perfect from a young age in films and shows like "Arrested Development" to "Parenthood") and your tagline is "They're done playing nice," you could probably just point and shoot and score. But this dramedy, about three desperate moms who decide to rob a grocery store, also counts Jenna Bans ("Scandal," "Grey's Anatomy") as its creator and Dean Parisot ("Justified," "Curb Your Enthusiasm") as an executive producer-director, two people who know a thing or two about dark and twisty and tricky tonal balancing. Throw in an ensemble that includes Matthew Lillard ("The Bridge") and the underrated Reno Wilson ("Mike & Molly"), and you have, on paper, something that sounds like it will hopefully work on TV. (Sarah Rodman)
"The Looming Tower," Hulu, Feb. 28
Since 9/11, the fight against terrorism has been a fixture of pop culture from "Homeland" to "Zero Dark Thirty." "The Looming Tower" takes a different approach to the subject. The limited series looks back at the rise of Al Qaeda in the late '90s and makes the provocative case that bureaucratic infighting and intelligence turf wars may have led to an avoidable tragedy. At the center of the story are Jeff Daniels and Tahar Rahim as a pair of seemingly mismatched FBI agents — one a hard-drinking counterterrorism expert with a messy private life, the other a patriotic young Muslim — attempting to thwart Osama bin Laden while butting heads with an arrogant CIA analyst played by Peter Sarsgaard. Based on Lawrence Wright's Pulitzer Prize-winning nonfiction expose, the project represents the latest prestigious adaptation from Hulu after the Emmy-winning "Handmaid's Tale." Adding to the cachet are showrunner Dan Futterman, the Academy Award-nominated screenwriter of "Capote" and "Foxcatcher," and executive producer Alex Gibney, who directed the pilot episode and previously turned Wright's "Going Clear" into a gripping documentary for HBO. (M.B.)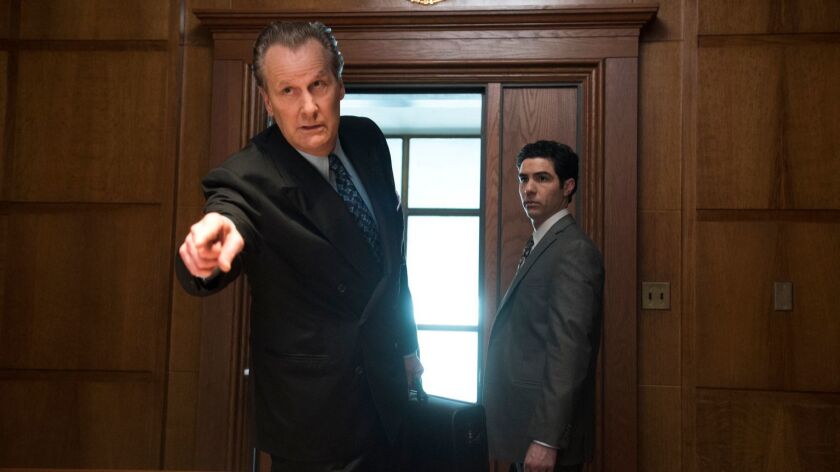 "Instinct," CBS, March 11
Alan Cumming, an irresistible scene-stealer as shady political operative Eli Gold on CBS' "The Good Wife," is expected to bring his mischievous and witty charisma to this new drama about a former CIA operative who has retired into a safer line of work as an author and university professor. He, naturally, is lured back by the NYPD to help track a serial killer who is using Reinhart's first book to leave clues.
The series, based on the novel "Murder Games" by mystery author James Patterson and featuring Bojana Novakovic and Sharon Leal, is, according to executive producers, the first hour-long drama on a broadcast network to feature a gay character as the lead. (Greg Braxton)
"Barry," HBO, March 25
TV and movies are filled with stories of stone-faced assassins, but only this one comes from the exceptionally odd comic mind of "Saturday Night Live" alumni Bill Hader. Co-created with "Silicon Valley" executive producer Alec Berg, the dryly comic half-hour series centers on the story of a disenchanted hitman (Hader, who also makes his TV directing debut) who reaches a career crossroads after falling under the spell of a San Fernando Valley acting class (taught by a rumpled and pitch-perfect Henry Winkler). Given Hader's involvement in the obsessively detailed "Documentary Now!," it's no surprise that "Barry" showcases a keen eye for the little things in depicting both striving actors and hired killers in a pilot that occasionally recalls the best of the Coen Brothers, but what may be unexpected is the earnest heart the show displays with a wryly off-kilter perspective that resists pursuing the easy laughs. (Chris Barton)
"The Terror," AMC, March 26
Terror has long been a staple on AMC, thanks to its hit zombie series "The Walking Dead" and spin-off "Fear the Walking Dead." This spring, the cable network launches "The Terror," which promises more realistic scare factors.
The 10-part, 19th century-set series follows the Royal Navy's Arctic journey to discover the Northwest Passage, a faster route between the Atlantic and Pacific oceans. However, their quest is endangered by a "monstrous predator" that causes all sorts of dark mayhem. The isolated men are forced to confront the treacherous elements, and each other.
Inspired by true events, "The Terror," filmed in Hungary, is adapted from a bestselling novel by Dan Simmons and stars Jared Harris ("The Crown," "Mad Men") and Tobias Menzies ("Outlander," "Game of Thrones"). (Greg Braxton)
"Roseanne," ABC, March 27
In this age of revivals, with "Fuller House," "Will & Grace" and "Twin Peaks: The Return" coming back to finish business some viewers might not have considered unfinished, no series cries more for a second swing than "Roseanne," returning to ABC after 21 years. The previously final season of one of television's funniest, deepest and most radical comedies was an off-the-rails mess of weirdness, metafiction and retcon that ended by declaring it had all been the invention of its main character. It also left John Goodman's Dan Conner dead. Well, he's alive again for a belated 10th season that features all the main cast back again, including both Beckys. Working-class people had often been laughed at on television, but the Conners did the laughing. They knew themselves, one another and their world; laughter was their weapon, their medicine, their glue. America responded once — may it find reason to do so again. (Robert Lloyd)
---