After five years on the job, Jimmy Fallon sees 'The Tonight Show' as a laboratory for fun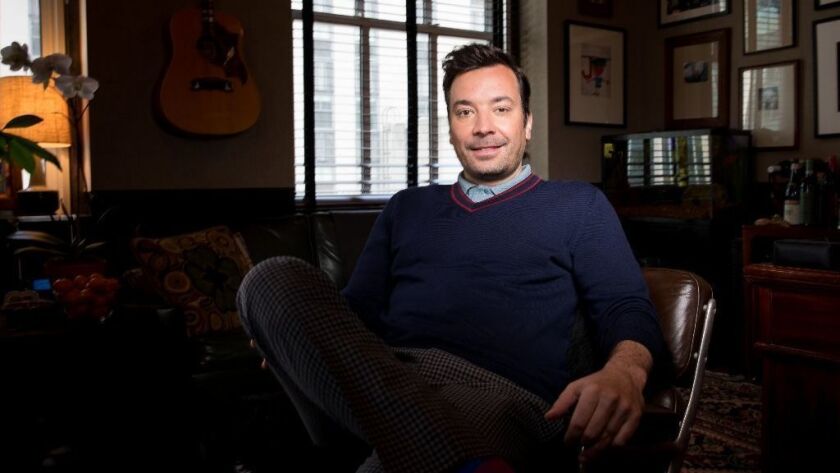 Reporting from New York —
On a recent Monday afternoon, Jimmy Fallon sat in the dark, whispering seductively into a microphone.
"You may run a city but what makes you think you can measure up to the president? Aren't you worried about … performance anxiety?" he said, giggling as the camera shifted to focus on Democratic presidential contender and South Bend, Ind., Mayor Pete Buttigieg, who was perched on a stool 10 feet behind him.
In Studio 6B at 30 Rockefeller Plaza, home of "The Tonight Show," Fallon was rehearsing one of his signature bits, "Slow Jam the News," a recurring segment where politicians and other newsmakers provide sober commentary on the headlines while the host makes PG-13 puns in a velvety Barry White purr as his house band, the Roots, pumps out a sultry R&B rhythm.
FULL COVERAGE: Get the latest on awards season from The Envelope »
As his husband, Chasten, watched from behind the cameras, Buttigieg sailed through his slow-jamming session on the first try. After rehearsal, Fallon shook hands with the 37-year-old candidate and shared an amusing anecdote about another youthful politician, Barack Obama, who slow-jammed the news twice — first as a newly inaugurated president afraid of seeming less than serious, and later near the end of his second term in office when he was maybe too eager to cut loose.
"You've had eight years of a pretty flawless presidency," he recalled telling Obama. "Don't ruin it now."
Hamming it up with a leading presidential contender is just one item on a typically busy agenda for Fallon, who started his day with a sketch at NBCUniversal's upfront presentation for advertisers at Radio City Music Hall, then dashed upstairs for a series of creative meetings and rehearsals before taping at 5 p.m. The audience squealed with delight during Buttigieg and Fallon's performance, a bit that captures the spirit that has defined "The Tonight Show" since Fallon took over five years ago.
A few days later, Fallon gave Buttigieg — the first slow-jamming candidate of the 2020 election — a rave review. "You never know if [a candidate] can handle it, if they can do a comedy sketch or a bit. But he got a big laugh."
The host is seated — for now — on a green leather couch in his office, a cozy man cave tucked away on the sixth floor of Rockefeller Center. But the 44-year-old is not the type to sit still for long, instead jumping to his feet midsentence throughout the conversation, like when he points out a window that faces his desk. A block west, David Letterman's bespectacled eyes glare from a towering billboard for his Netflix talk show — a visual reminder, Fallon says, to stay on mission.
While Fallon's late-night neighbors have grown increasingly political in the Trump era, he has stayed true to his show's party vibe, balancing gentle topical humor with deft musical parodies, playful celebrity antics and genial interviews.
We really want this to be a show everyone can watch.
— Jimmy Fallon
"We really want this to be a show everyone can watch," he says.
That may be difficult as the country heads into what is bound to be another contentious election season. But the former anchor of "SNL's" "Weekend Update" is excited to get to know the new presidential hopefuls and their various quirks, like Beto O'Rourke's penchant for jumping on things. "We're excited because it's something different, instead of telling the same Trump joke every day," he says, noting that "Tonight" will air live the week of the first Democratic debate later this month "just to see how much we can kill our crew."
The live shows are just one example of how Fallon has "bent the rules a little bit" as he's grown more comfortable on the job. He celebrated his fifth anniversary at "Tonight" not with the customary clip retrospective but with an entirely scripted spoof of "The Larry Sanders Show." A March episode of "Tonight" was filmed entirely on a smartphone. And in January, a core group of 30 staffers went to Puerto Rico for an episode that coincided with "Hamilton's" limited run on the island and helped raise awareness around the ongoing relief efforts following Hurricane Maria — an experience that Fallon says "changed me a little bit."
"People were just coming up and crying, openly just crying, going, 'Thank you for what you're doing, this means so much to us,'" Fallon recalls.
The goal of this experimentation is to "see how far we can stretch 'The Tonight Show' and see what we end up with," he says. "In another year, it might be all animated. I might be a robot."
A self-described "emotional guy," Fallon is talking about how having children inspired him to take more public stances, particularly on the issue of gun violence — he participated in the March for Our Lives last year — when suddenly a shade comes loose from a light in the corner, as if a ghostly publicist is trying to send him a warning.
"Me talking about politics — this is what happens," he laughs.
The reluctance is understandable: Fallon has learned the hard way that politics and comedy can be a fraught mix and still seems wounded by the controversy over the Hair Fluff Heard 'Round the World. "I understand that people got mad," he says of the accusations that his teasing gesture with Donald Trump's famous hair helped "humanize" the then-candidate.
"But everyone was angry at everything, so they just picked something to get angry about. I had to let people vent." Fallon would "of course" have Trump on the show again, but "it would be a different conversation than what we had last time — more serious questions," he says.
Stephen Colbert's politically barbed "Late Show" now comfortably beats "The Tonight Show" in overall viewers, but the two programs run neck-and-neck in the 18-to-49 demographic. "I just never cared about ratings, ever," Fallon says. "If you said to kids, 'Did you hear that Jimmy Fallon's gone down in the Nielsen ratings?' they'd go, 'What? This makes no sense.'" He points to "Tonight's" popularity on YouTube, where it has 21 million subscribers (more than three times as many as "The Late Show").
Music remains vital to "Tonight's" appeal, and Fallon gets visibly excited talking about helping break artists such as singer-songwriter Alessia Cara, who appeared on the show before she had a record deal, or singing in the streets of Old San Juan with reggaeton star Bad Bunny.
This past year, Fallon crossed a major item off his "Tonight Show" bucket list when Bob Dylan appeared on the show (in a wordless bit watching circus acrobats). And he says he'd love to write "an actual song" and put it out in the world — perhaps a bubbly summer single or a cut for an animated movie. "Why not?" he figures. "There are so many things to do here. It's like a laboratory for every idea we can try. It's pretty awesome."
Follow me @MeredithBlake
---
The complete guide to home viewing
Get Screen Gab for weekly recommendations, analysis, interviews and irreverent discussion of the TV and streaming movies everyone's talking about.
You may occasionally receive promotional content from the Los Angeles Times.