'Crazy Ex-Girlfriend' goes from small screen to small stage in Covina
"Crazy Ex-Girlfriend" star Rachel Bloom for the last month has been taking the show on the road. On Wednesday, "Crazy Ex-Girlfriend Live" landed in Covina, which is next-door to West Covina, where the CW musical dramedy is based.
And with performances of songs from the show such as "We Should Definitely Not Have Sex Right Now," "Gettng Bi" and "Let's Have Intercourse," both cities may never recover.
Accompanied by Vincent Rodriguez, who plays her ex-boyfriend Josh Chan, and other cast members, Bloom drew loud ovations from the exuberant fans who packed the 145-seat Covina Center of the Performing Arts for a concert version of the show. The presentation had no set, no band, no costumes — unless you count cat ears and inflatable instruments.
"I would like to take this moment to welcome the City Council," Bloom said to the audience after the hip-thursting anthem "We Should Definitely Not Have Sex Right Now," which ended with her and Rodriguez in fake orgasm mode. "There's quite a few of them, including the mayor."
Unrestricted by the rules of network television, the two-hour concert was filled with coarse banter, raunchy songs and playful pokes at the San Gabriel Valley and at West Covina. (Since West Covina doesn't have a theater, the show was presented in Covina.)
"Crazy Ex-Girlfriend" was hailed by many critics for its freshness and innovative format incorporating original music and production numbers when it premiered in 2015. Although the show's ratings have been lackluster, the series has continued to attract a loyal following and was recently renewed for a fourth and final season.
The show focuses on Rebecca Bunch (Bloom), a successful New York lawyer who learns that her ex-boyfriend Josh (Rodriguez) is moving back to his hometown of West Covina. She decides to upend her life and follow him — without his knowledge.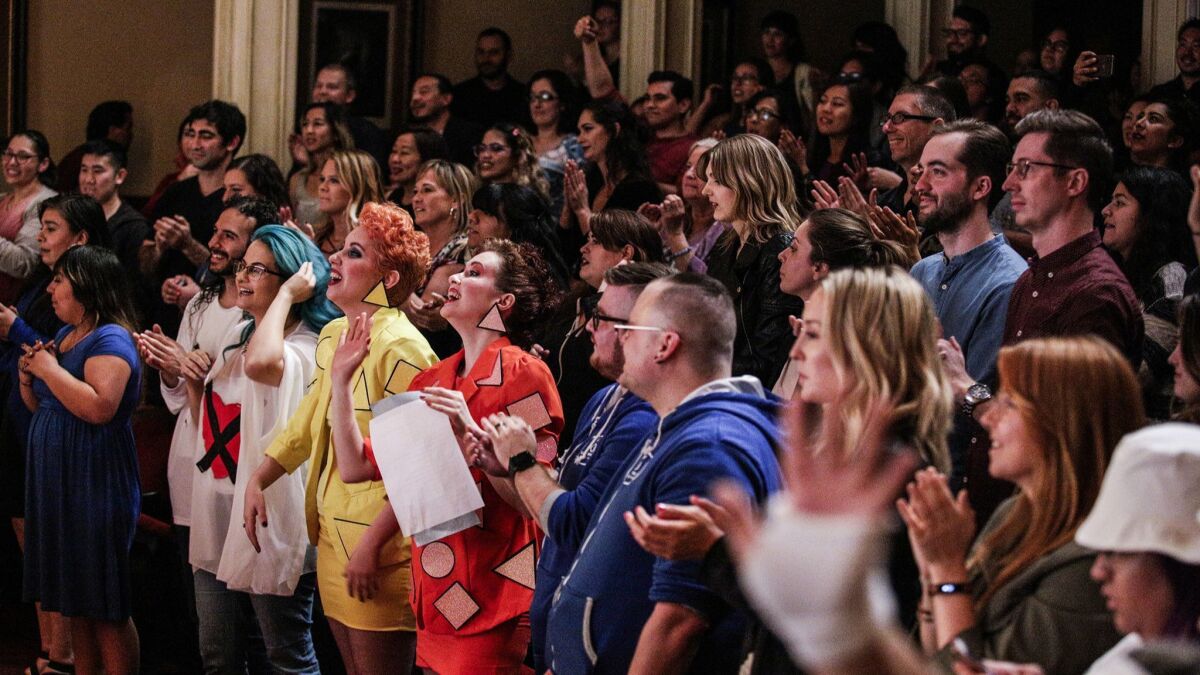 Although the show's tone is largely light, obsession, stalking and mental health issues such as borderline personality disorder are key themes, depicted with as much crassness and raw language as the network will allow.
Before the end of the third season, Bloom announced that she and other producers were developing a concert version of the series. The Covina performance was the last of nine dates that took her and the cast to cities including Portland and Chicago. In Philadelphia devotees filled the 1,200-seat Trocadero Theatre.
In a phone interview earlier in the week, Bloom said she wanted to bring the show full circle and get a chance to interact with audiences spontaneously.
"My frustration with musical theater was the rigidity," Bloom said. "The thing I told the cast is when you mess up, the audience loves it, because it's human, it's alive, it's real."
Audience members wore costumes in homage to their favorite songs and snapped, sang and clapped along. At times, the response from the crowd was so robust that it drowned out some of the lyrics.
In between songs, Bloom talked about her struggle with anxiety and depression and reminisced about the first time she visited West Covina.
And there was plenty of back-and-forth between the performers and the audience in the intimate venue. Early in the show Bloom jokingly warned, "I can humiliate every single one of you."
Some audience members walked away with souvenirs, including a white lace thong pulled out of Bloom's pants. When Gabrielle Ruiz, who played Josh's girlfriend Valencia, sang "I'm So Good at Yoga," some audience members joined in with their own moves.
And when Bloom removed her sweater and tank top to perform "Heavy Boobs," one male audience member shouted from the balcony, "I"m the same size!"
Jennifer Hernandez, 20, who drove in from Torrance, brought a large inflatable pretzel in tribute to the series' opening number, "West Covina." She praised Bloom's effort to give back to the community.
"There's some artists who are, like, 'Whatever, someone bought my ticket, it doesn't matter,'" she said. "I think she cares a lot."
Caitlin Holland and Rose Wallace, who hosted weekly potlucks to watch "Crazy Ex-Girlfriend," got some personal attention from Bloom when she invited them to the edge of the stage to dance along with the cast.
"I felt like I was going to pass out the whole time, but in a good way," said Wallace, 27, from Claremont. "It was exhilarating and really surreal because we watched so many episodes at home, and here they are 5 feet away from you. My face hurts from smiling."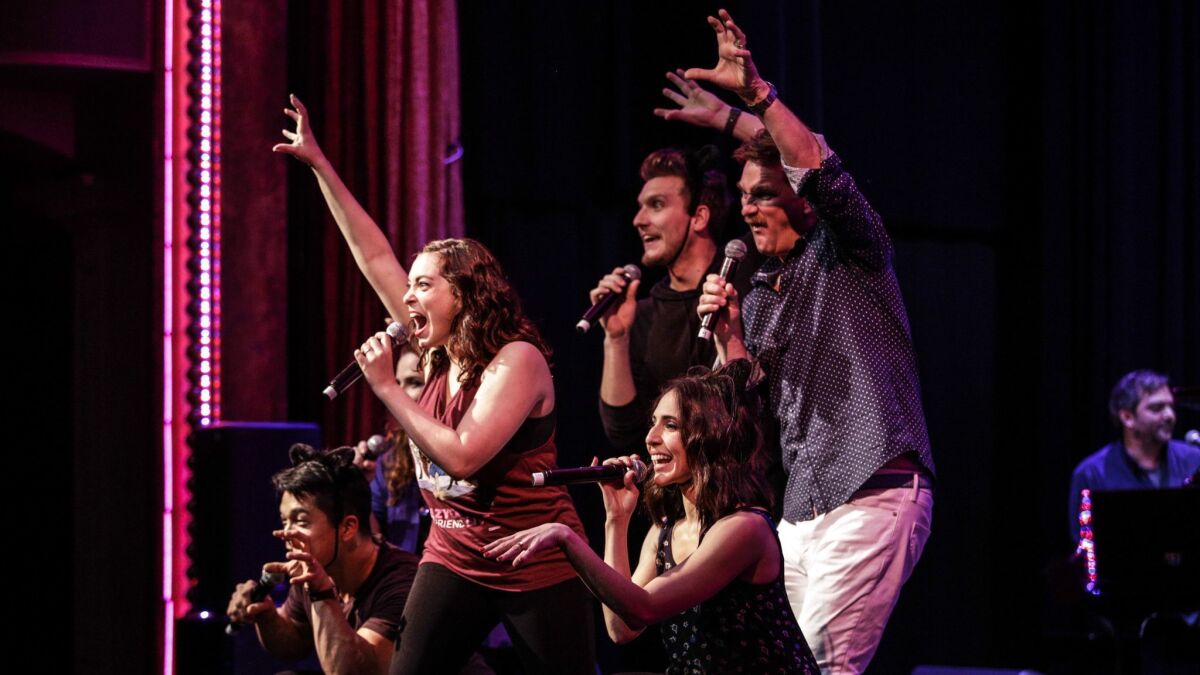 alejandra.reyesvelarde@latimes.com
Twitter: @r_valejandra
Get our L.A. Goes Out newsletter, with the week's best events, to help you explore and experience our city.
You may occasionally receive promotional content from the Los Angeles Times.