Newsletter: All about the Emmy Awards
The Emmys have come. And in the blink of an eye — well, actually, over the course of about three hours -- the Emmys have gone. What did you miss, even if you didn't take your eyes off the show last night? Here are some highlights:
NEW PERSPECTIVE
Let's start with the curious case of "The People v. O.J. Simpson: American Crime Story," FX's dramatization of the so-called trial of the century. Yes, it won five awards, but as Steven Zeitchik writes, those were somewhat beside the point, given how Hollywood has helped give a new perspective on the issues surrounding the case. Sarah Paulson, who played Marcia Clark, used her acceptance speech to thank and apologize to the former prosecutor.
Paulson had brought Clark along as her guest, and afterward the two went to the winners circle for the customary statuette engraving. "The women laughed and giggled as they watched the process," Gerrick Kennedy and Yvonne Villarreal report, "then Paulson showed some onlookers the secret of her statuette: Clark's name had been etched onto it as well."
"It was an amazing night," Clark said. "I'm so glad I could share it with her."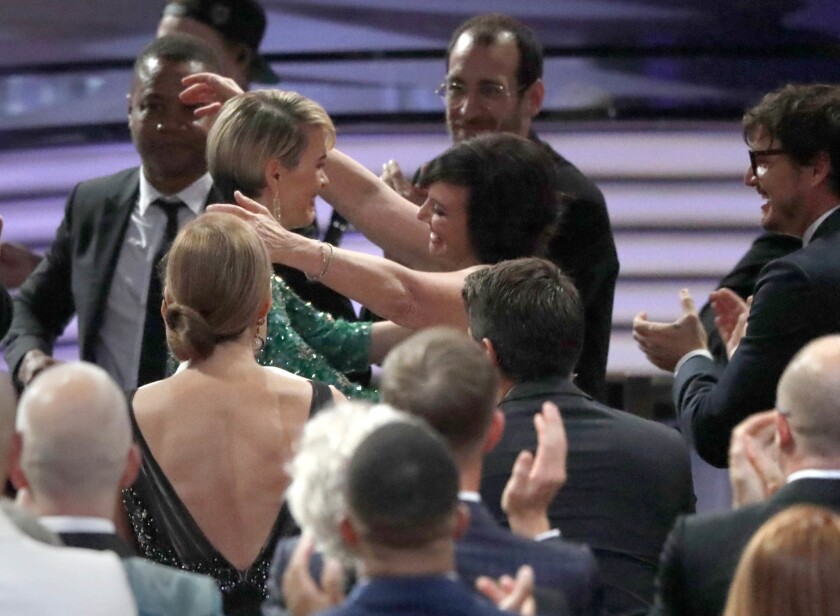 A NEW DAY
Another major story line was diversity, especially after two years of the #OscarsSoWhite controversy.
Emmys host Jimmy Kimmel wasn't shy about bringing that up: "Here in Hollywood, the only thing that we value more than diversity is congratulating ourselves on how much we value diversity. I'll tell you, the Emmys are so diverse this year, the Oscars are now telling people we're one of their closest friends."
"The night's big winners reflected television's move toward a more realistic and representative mix of shows, and away from the industry's very male, very white traditions," writes Lorraine Ali. Among them were "Mr. Robot's" Rami Malek for lead actor in a drama, "The People v. O.J. Simpson's" Courtney B. Vance for lead actor in a limited series or movie and "The Night Manager's" Susanne Bier for directing a limited series, movie or dramatic special.
OLD STAND-BYS AND FIRST-TIMERS
Though "Game of Thrones" and "Veep" repeated as the top drama and comedy series, some first-timers made a splash too. The odds were against Tatiana Maslany of "Orphan Black" and Malek of "Mr. Robot" winning in their acting categories, but win they did.
Backstage, Maslany talked about "digging deep to discover new instincts and impulses to color each of the characters" she plays, according to Times awards columnist Glenn Whipp. "It's a real point of pride for all of us on the show — there's so much positivity in terms of representation and the way young girls were seeing themselves portrayed on the screen," she told reporters. "The LGBT community reached out to us as well — there is an immense joy in getting to tell women's stories that we don't normally see."
Meanwhile, Times TV critic Mary McNamara found this year's Emmys reflected the changing nature of television. "In less than 10 years, television has gone from self-loathing despair to giddy disbelief over its elevated status, and now it appears to be entering an age of acceptance," she writes.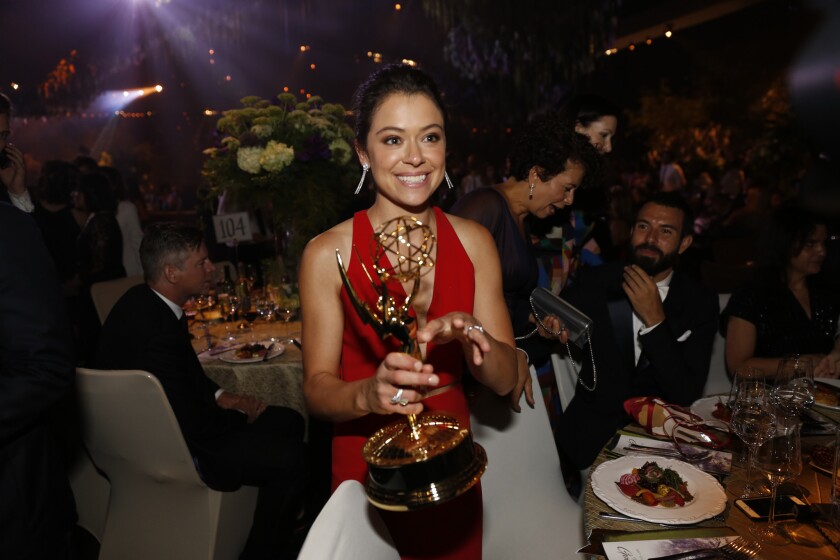 SANDWICH-GATE
On a much lighter note: It was peanut butter jelly time in the audience, as snack bags with peanut butter and jelly sandwiches, apples, cookies and juice boxes were distributed. Horror of horrors, they were not nut- or gluten-free.
THE GLITTERATI
Admit it: You watched the Emmys to honor the craft of great television and because you were deeply interested in who would win for multi-camera picture editing for a comedy series. And maybe you cared about the clothes. A little bit.
Times fashion writer Adam Tschorn reports that there was "an abundance of sparkle-embellished gowns, jewel-toned dresses and rich, velvet fabrics" on the red carpet.
So who was "the hands-down stunner of the night"? None other than Paulson, "in an emerald-green Prada gown with a plunging neckline that was fully embroidered in variegated crystals, stones, and plexi paillettes."
Naturally, she made it into our picks for the best- and worst-dressed at the Emmys.
For a break from the usual step-and-repeat shots, Times photographer Al Seib had a special position on the carpet for some candid photos of the stars before the show.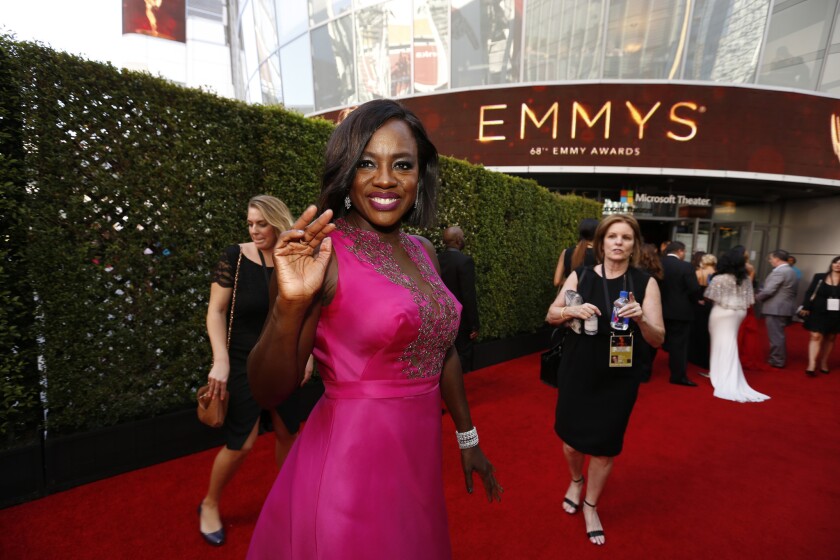 MORE EMMY GOODNESS
-- So you really want to know who won for multi-camera picture editing for a comedy series? It's in the complete list of nominees and winners.
-- You can now watch Kimmel's opening monologue in 360 degrees.
-- Julia Louis-Dreyfus made history by winning her sixth lead actress in a comedy Emmy for her turn as career politician Selina Meyer on HBO's "Veep."
-- Broadcast blues: The night reinforces the industry's view that cable and streaming services are at the vanguard of creativity in television, Stephen Battaglio reports.
-- "He gave me my career": Henry Winkler paid tribute to "Happy Days" creator Garry Marshall.
-- Inside the Governors Ball, which transformed the L.A. Convention Center with more than 700 floral arrangements.
-- What is it about Emmy winners who kiss their trophies?
-- One thing's for sure: It wasn't because of booze.
---
From the Emmys to the Oscars.
Get our revamped Envelope newsletter, sent twice a week, for exclusive awards season coverage, behind-the-scenes insights and columnist Glenn Whipp's commentary.
You may occasionally receive promotional content from the Los Angeles Times.