BBC America turn male-oriented genre on its head with 'Killing Eve' starring Sandra Oh and Jodie Comer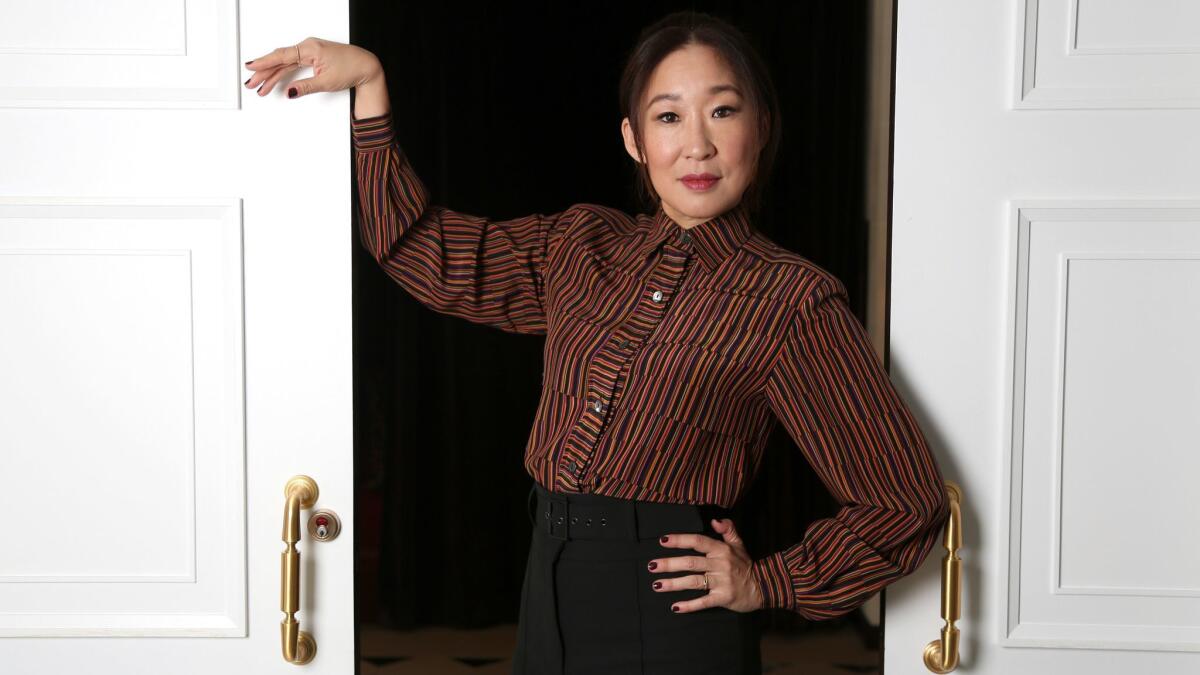 Listen to Sandra Oh, and she will say that BBC America is chock full of "righteous women" who have a relentless drive to upend gender stereotypes.
The former "Grey's Anatomy" star points to the sharp-edged "Orphan Black," a female-centric sci-fi drama that built a rabid cult following over five seasons, and the upcoming reboot of "Doctor Who," which will feature the first female lead in the storied franchise's 50-year history.
And April 8, Oh brings her own fearless factor to the network with the launch of "Killing Eve," a cop-versus-killer drama pairing her with Jodie Comer of "The White Princess."
"They're really in the business of making things I want to watch and be part of," Oh said recently of the network's female executive team that includes general manager and president Sarah Barnett, head of original programming Nena Rodrigue and "Killing Eve" executive producer Sally Woodward Gentle. "They're striving for something unique."
Written and executive produced by "Fleabag" creator Phoebe Waller-Bridge, "Killing Eve" is the latest example of BBC America's "galaxy of women" that's meant to reflect "all the many shades of women that exist in real life," said Barnett. The network has already given a huge vote of confidence to the series: It was renewed last week for a second season, days before its premiere.
While inspirational tales of strong, competent gals are part of that mix, there's also plenty of room for characters like Oh's Eve Polastri, a bored MI5 agent with spy dreams and a serial killer obsession, and Comer's Villanelle, a psychopathic assassin who relies more on her wits than her wiles to carry out her murderous missions.
Though "Killing Eve," based on novellas by Luke Jennings, has been in the works for a few years, the timing couldn't be better for its debut, with Barnett saying that in the #MeToo and #TimesUp era, "we're seeing a sort of chipping away at the assumption that big, serious main stories must have men at the center."
She was intrigued by the drama's twist on the traditionally male cat-and-mouse cop genre "simply by putting two women in these classically male roles. It felt super fresh."
Barnett described the eight-episode thriller, shot on location in London, Berlin, Tuscany and other European spots, as "subversive and darkly funny" with a mordant sense of humor that could be considered a risk. But she hopes to find an audience that's willing to laugh at its off-kilter moments.
"As TV viewing increasingly fragments, and there are 500-plus scripted shows," she said, "you have to take those kinds of risks."
"Killing Eve" focuses on Polastri (Oh), a desk-bound cop whose hobby of tracking female killers, one in particular, earns her a bump up to MI6, putting heron a collision course with the stylish and lethal Villanelle.
Returning to series TV after a 10-season stint on "Grey's Anatomy" that ended in 2014, Oh said she's glad for the abrupt departure from her "Grey's" character, Dr. Cristina Yang. Eve is kind of a hot mess, she said, but under that frazzled and disheveled exterior, lies a brilliant detective.
"She's not afraid of being schlumpy in a glam world," said Oh, who stuffed the character's handbag with the detritus of life and buttoned her blouses the wrong way to add to the chaos. "She doesn't pay attention to those things. But she is laser focused on this killer."
And vice versa, which gives an edge-of-the-seat feeling to a series where no one's safe from Villanelle, who Comer described as "an unpredictable, cold-blooded killer with no moral compass and no remorse." But on the flip side, she's "so mischievous and free and interesting."
"You kind of want to go on a night with her," Comer said in a phone interview. "But obviously you don't want to get too close."
The series mirrors Waller-Bridge's "slightly devilish" perspective, Barnett said, as it mixes black comedy with intense violence. In one episode, Villanelle poisons an asthmatic with toxic perfume, then hovers over her victim and playfully waves goodbye to herself with the dead woman's hand.
"You feel like you really shouldn't be laughing, but you are," said Oh, who also serves as associate producer on the project, which costars Fiona Shaw, Kirby Howell-Baptiste and David Haig. "There are so many witty, demented elements."
At the core of this good-versus-evil battle is a visceral attraction between the two main characters, who initially pass each other at a grisly murder scene and later become closely intertwined.
"It's like a lightning bolt," Oh said of the characters' first meeting. "That one look between them is so electric."
Though she may not be able to consciously articulate it, Eve is drawn to Villanelle's ruthlessness, attitude and flair, Oh said. The reasons for Villanelle's obsession with her pursuer aren't quite clear in early episodes, but chances are good that fans will find out by hour eight.
A genre-bending project such as "Killing Eve" highlights BBC America's sensibility in scripted storytelling, Barnett said, with the goal of undercutting convention and surprising viewers.
"We love the high-wire suspense of it, its burst of color and music and action and gorgeous scenery," Barnett said. "It aims to be a lot of glorious fun."
Get our L.A. Goes Out newsletter, with the week's best events, to help you explore and experience our city.
You may occasionally receive promotional content from the Los Angeles Times.