Classic Hollywood: Classic films fan Bill Hader back for more of TCM's Essentials Jr.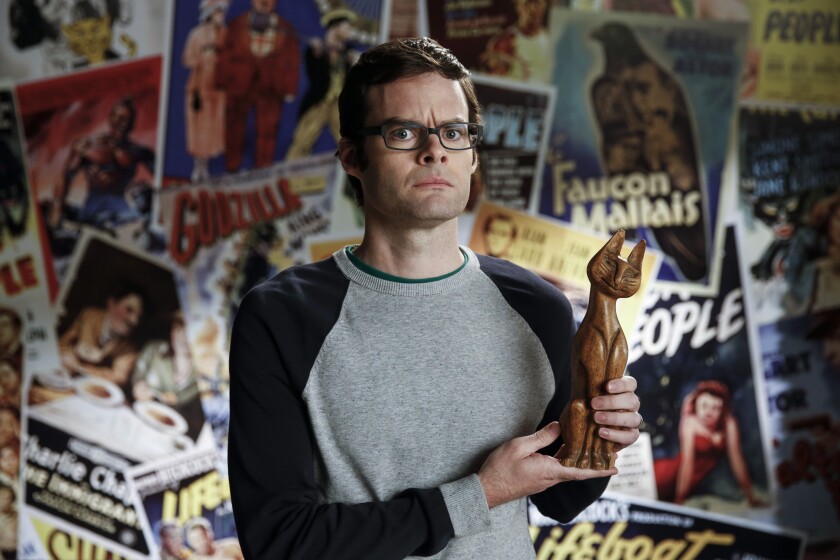 Growing up in Tulsa, Okla., Bill Hader became obsessed with movies.
"I would watch movies at night with my family and go to the movie theater," said the former "Saturday Night Live" funnyman. "That was my existence."
Hader, 35, especially enjoyed movie nights with his father, who would wake him up after the late news.
"He would let me come down and watch them with him — whatever was on Cinemax or HBO," said Hader, admitting in hindsight maybe these films were a bit too sophisticated for a youngster.
"I remember 'The Wild Bunch' and 'Clockwork Orange.' I had never seen anything like 'Clockwork Orange' before. I remember being in fifth grade and watching 'Taxi Driver" at night and it totally changing my world. Just going 'what is this?"'
Hader, who is the father of two young daughters, was about 13 when he became enthralled with old movies. "I remember when AMC was playing a night of Marx Brothers movie and watching them with my dad," said Hader, who also has fond memories of the award-winning 1953 western "Shane" and the Charles Laughton 1939 version of "The Hunchback of Notre Dame."
Watching movies, he added, was and still is a "comfort thing. Before I go to bed, I watch a movie. That's my way of unwinding."
Hader's been sharing his passion for films on Turner Classic Movies. The comedian, who has segued into acting — he earned strong notices at Sundance for the drama "The Skeleton Twins," which costarred "SNL" pal Kristen Wiig — approached TCM a few years ago to see if he could be a guest programmer.
His enthusiasm for cinema didn't go unnoticed by the TCM executives. Shortly after his evening as guest programmer with host Robert Osborne (Hader selected such eclectic films as Billy Wilder's 1943 "Five Graves to Cairo"; Robert Altman's 1970 "Brewster McCloud" and Akira Kurosawa's 1950 "Rashomon"), the cable network asked him if he would like to host its summer Essentials Jr. showcase that introduces younger audiences to seminal movies from the golden age of Hollywood and international cinema.
Charlie Tabesh, senior vice president of programming for TCM, said Hader is a perfect fit for Essentials Jr. because he has a "certain energy and appeal to younger people. He is very passionate about the subject. He isn't just reading a teleprompter. He really cares and knows the movies."
Hader kicks off his fourth year as the host of Essentials Jr. on Sunday evening with Howard Hawks' seminal 1938 screwball comedy "Bringing Up Baby," with Cary Grant and Katharine Hepburn.
The showcase continues through Aug. 31 with such classics as1946's "The Yearling"; the 1944 Alfred Hitchcock thriller, "Lifeboat"; the 1956 version of "Godzilla"; the 1939 Shirley Temple drama "The Little Princess"; and an evening of silent classic comedy shorts featuring such giants as Charlie Chaplin, "Fatty" Arbuckle, Buster Keaton and Harold Lloyd.
Essentials Jr. programming is a collaborative effort between TCM and Hader. This year, he was eager to show one of his childhood favorites, the 1964 cult comedy "The Incredible Mr. Limpet," starring Don Knotts as a milquetoast morphing into a talking fish.
TCM folks weren't as enthusiastic.
"The producer was like you want to do this movie?" said Hader, with a laugh. But Hader put forward a persuasive argument and got his wish.
"It didn't make a lick of sense," Hader admitted, "but I totally enjoyed it."
---
The complete guide to home viewing
Get Screen Gab for everything about the TV shows and streaming movies everyone's talking about.
You may occasionally receive promotional content from the Los Angeles Times.