TV Pick: 'Brett Gelman's Dinner in America' looks at race with a tragicomic eye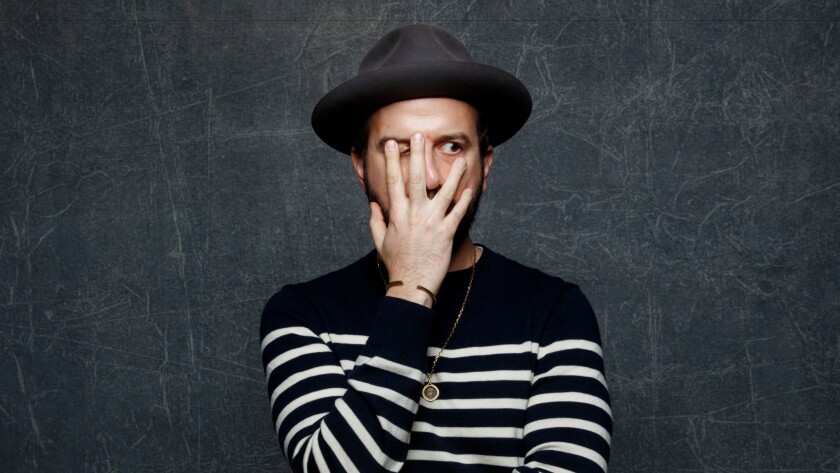 "Brett Gelman's Dinner in America" (Adult Swim, Friday); "Dinner with Friends with Brett Gelman and Friends," "Dinner with Family with Brett Gelman and Brett Gelman's Family" (AdultSwim.com). If you watch much television at all you have probably seen Brett Gelman; he gets around. From fairly conventional network sitcoms to small-batch cable weirdness, as a series regular ("Go On," "Married", "Eagleheart"), recurring character ("Love," "Another Period," "Blunt Talk"), utility player ("Drunk History," "Comedy Bang! Bang!"), to just-passing-through guest shot ("The Odd Couple," "Fresh Off the Boat," "Curb Your Enthusiasm," "Mad Men"), the list goes on and on. (Possibly you recall his appearance as "Annoying Hipster" on "Californication.")
With director and co-writer Jason Woliner ("Human Giant," "Eagleheart), he has created his own series of tragicomic specials for Adult Swim, that circus of humorous oddities: "Dinner with Friends with Brett Gelman and Friends" (2014), "Dinner with Family with Brett Gelman and Brett Gelman's Family" (2015) and now "Dinner in America," which purports to be an investigation into race. But nothing here is exactly what it purports to be.
A bearded balding person who projects an aura of size without being extraordinarily sizable, Gelman keeps you off balance: There is something about him that is almost sweet, and something about him that is kind of threatening, like a golden retriever who will lick your face, and then might rip your throat out.
In all three "Dinners," his character – putatively himself, though different in each – has a plan, which begins in apparent bonhomie and ends in chaos and violence, either because the plan goes wrong or because it goes right. Generally observing the classical unities of place, time and action, the specials have something of the flavor of one-act plays and progress in a theatrically familiar way from exposition, to tension, to revelation; it would be an exaggeration to call them Pinteresque, but not an unreasonable one. With minor adjustments, these texts could plausibly be played as dramas – their satire is in their seriousness.
In "Dinner with Friends," Gelman plays host to actors Alison Pill, Fred Melamed, Dale Dickey, Alex Karpovsky, Lance Reddick and Gilbert Gottfried. It begins as a riff on chew-the-fat, chew-the-food shows like Jon Favreau's "Dinner for Five" ("We are going to eat some delicious food, we are going to tell some showbiz tales straight from the tinseltown trenches," says Gelman) and quickly devolves into a horror story. In "Dinner with Family," featuring Tony Roberts and Patti Lupone, what seems to be an anniversary surprise party for Gelman's parents turns into a psychodramatic collision of play and play within play.
In "Dinner in America," which premieres Friday at midnight, guests Loretta Devine, Joe Morton, Mack Wilds and Shareeka Epps participate in what they imagine is a tribute to Sidney Poitier, hosted by Reddick (back from "Dinner with Friends"). But he hands them over to Gelman, who (after bursting through and setting fire to a paper Confederate flag), asks to have "an open and honest discussion about the racial problems in this country …. As I've become more and more successful I've noticed that racism has also become more and more successful." He points to the songs on his iPod as proof that black lives matter to him.
"I stand with you guys before I stand with my guys so you're in good hands, which unfortunately are white hands – but I wish they were black hands along with the rest of me, so give yourselves a round of black applause," he says, catching in a sentence the mix of narcissism, condescension, insecurity and entreaty that can make up what looks like concern. And it nods ironically toward current events in Hollywood: "I don't see how I ever could have thought that having an all-white crew for a special about race would be OK," Gelman says, self-accusingly. "I just thought hiring a couple of white women made it diverse enough."
They are not comedies to laugh at/with, exactly. That they're comedies is clear enough, but it's a comedy of brokenness and pain, deception and self-deception; they satirize certain sorts of seriousness, but with a grim deadpan. The jokes never break the tension. It's the Adult Swim way.
Have fun!
On Twitter @LATimesTVLloyd
---
From the Emmys to the Oscars.
Get our revamped Envelope newsletter, sent twice a week, for exclusive awards season coverage, behind-the-scenes insights and columnist Glenn Whipp's commentary.
You may occasionally receive promotional content from the Los Angeles Times.