NBC News standing by Brian Williams in Iraq war-embellishment issue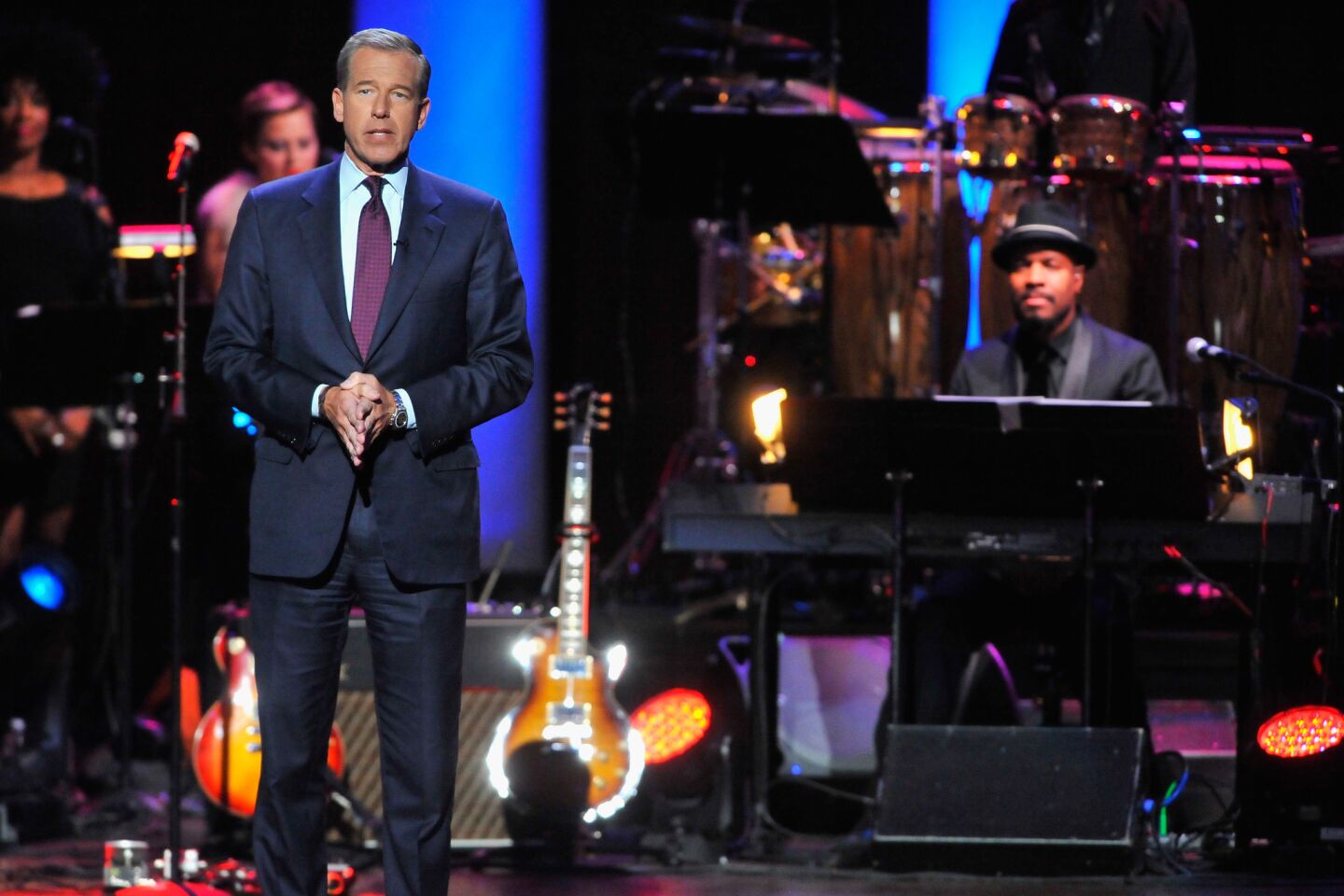 NBC News anchor Brian Williams hosts the Lincoln Awards: A Concert for Veterans and the Military Family at the Kennedy Center in Washington, D.C., on Jan. 7, 2015.
(Larry French / Getty Images for the Friars Club)
Brian Williams, his daughter, "Girls" actress Allison Williams, and wife, Jane Stoddard Williams, attend the "Girls" Season 4 premiere after party in New York on Jan. 5, 2015.
(Jamie McCarthy / Getty Images)
Newt Gingrich gives moderators Brian Williams, right, and John Harris a piece of his mind as Rick Santorum looks on during the GOP presidential candidates debate at the Ronald Reagan Presidential Library in Simi Valley on Sept. 7, 2011.
(Lawrence K. Ho / Los Angeles Times)
Brian Williams, right, and John Harris moderate the debate between GOP presidential candidates at the Ronald Reagan Presidential Library on Sept. 07, 2011.
(Lawrence K. Ho / Los Angeles Times)
Brian Williams attends an afternoon editorial meeting on Nov. 12, 2009.
(Carolyn Cole / Los Angeles Times)
Brian Williams reporting from New Orleans in the aftermath of Hurricane Katrina in 2005.
(Dwaine Scott / Associated Press)
Brian Williams in November 2005, nearing his one-year anniversary after taking over the anchor's chair at "NBC Nightly News."
(Carolyn Cole / Los Angeles Times)
"NBC Nightly News" anchor Tom Brokaw, right, and his successor Brian Williams prior to Brokaw's last broadcast on Dec. 1, 2004.
(Richard Drew / Associated Press)
NBC News is standing by Brian Williams after the anchor's admission that he embellished his role in a military incident during the Iraq war.
The network has not commented publicly, but an executive familiar with the matter says Williams will face no disciplinary action. His apology, delivered during the Wednesday edition of "NBC Nightly News," was accepted internally.
The anchor claimed during a recent broadcast that, while working as a wartime journalist in 2003, his U.S. military helicopter was hit and forced down by enemy fire. He had been telling a similar version of this story for several years.
Negative fallout from the apology could result in the anchor's appearances outside the newsroom being cut back, said an executive familiar with the situation who was not authorized to speak publicly on the matter. Slow-jamming the news on "The Tonight Show Starring Jimmy Fallon," as Williams has done on numerous occasions, may now be seen as inappropriate.
Of more immediate concern is an already scheduled visit to "Late Show With David Letterman" next week. Whether NBC News allows Williams to keep that booking remains to be seen.
Ironically, "Late Show" is one of the forums where Williams erroneously stated the circumstances of the Iraq incident. The appearance, in which a rapt Letterman expressed admiration for the anchor's courage, aired in 2013.
The incorrect version of the story was repeated again Friday in an "NBC Nightly News" segment in which Williams was shown attending a hockey game in New York with an Iraq war veteran.
The story caused a backlash among crew members on the 159th Aviation Regiment's Chinook that was hit by rockets and small fire in the incident Williams described. They told Stars and Stripes that the helicopter with Williams and his NBC crew was nowhere near the incident.
Williams did get some help Thursday. Richard Krell, a retired chief warrant officer who was the pilot of the helicopter that carried the anchor, said they were there "at the time of the attack." In the years that followed the incident, Williams always said the chopper he was in took fire. "That is a true statement," Krell told CNN.
Williams recently signed a new deal with NBC News that will keep him at "NBC Nightly News" for the rest of the decade.
Get our L.A. Goes Out newsletter, with the week's best events, to help you explore and experience our city.
You may occasionally receive promotional content from the Los Angeles Times.