Review: Hulu's 'Castle Rock' takes a deep and satisfying dive into Stephen King territory
Television Critic
"Castle Rock," which begins streaming Wednesday on Hulu, takes its name and setting from the fictional Maine hamlet that has provided a backdrop to a variety of novels, novellas and short stories by Stephen King, America's Master of Horror.
King is a producer of the show, along with J.J. Abrams, America's Master of Sci-Fi Franchises, and it is very much his milieu, but it is the work of Sam Shaw (creator of the A-bomb drama "Manhattan") and Dustin Thomason (also a vet of "Manhattan" and himself a bestselling novelist).
In every respect it's the equal of, and largely superior to, any of the actual King adaptations that have come to television lately — the ongoing "Mr. Mercedes," last year's "The Mist," the 2016 "11.22.63," of which Abrams was also an executive producer. There is perhaps an advantage in starting fresh.
André Holland ("Moonlight") plays Henry Deaver, a Houston-based death row attorney called back to Castle Rock when a strange person (Bill Skarsgard, who played Pennywise the clown in last year's film adaptation of King's "It") is found locked up in an abandoned portion of the local prison – Shawshank, if you must ask – and pronounces Henry's name. Ann Cusack plays the new warden, replacing old warden Terry O'Quinn, who disappears quickly from the present-day narrative, but not the series; she is not what you'd call a reformer.
The prison's dank and violent air infects the community — a place, according to one resident, where bad things happen "because bad people know they're safe here. How many times can one town look the other way?"
Henry himself left town under a cloud involving the death of his adoptive father and a mysterious disappearance in the dead of winter of which he claims to have no memory — his secrets are secrets to himself. Not everyone believes him; one who does is his childhood neighbor, Molly Strand (Melanie Lynskey), a real estate agent with a dream to revitalize Castle Rock's depressed downtown. ("This town is not Great Barrington, it's Fallujah," says her skeptical sister, played by Allison Tolman, who reportedly suggested her own, smart casting).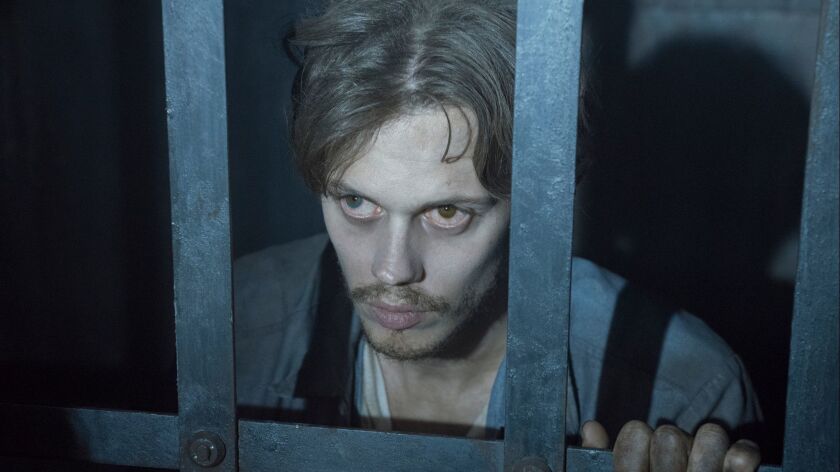 Molly is taking OxyContin – "half a pill once a day just to muffle other people's noise," she tells her sister, speaking literally. She is not crazy, except insofar as uncontrollable empathetic telepathy, which she refers to as "a medical condition," makes her so. Another character seems able to exert psychic control over other minds and bodies, and perhaps they will engage in an epic battle eventually — I am in no rush for that, and "Castle Rock" doesn't appear to be either.
There are hints of an apocalypse to come, and the suspense and horror are deftly executed – an incidental scene featuring a mock trial with kids in homemade masks I found especially disturbing – but it's the quality cast and solid writing, especially in scenes having nothing to do with horror or hocus-pocus, that make "Castle Rock" easy to inhabit.
Sissy Spacek (who was the title character in the 1976 film adaptation of King's "Carrie") plays Henry's adoptive mother, Ruth, who is at the near edge of dementia; her scenes with Scott Glenn as Alan Pangborn (a character in King's "The Dark Half" and "Needful Things"), now a retired sheriff and Ruth's live-in boyfriend are tenderly played, and though they account for a relatively small part of the story, enrich it immeasurably.
Likewise, whatever understanding is blossoming between Henry and Molly is handled in a way that makes one hope for a future beyond this series, perhaps sharing a coffee at some sunny sidewalk cafe, a world away from this world. There is an appealing, even necessary lightness in their complicated relations; Molly's stumbling speech to Henry might have been written by Nora Ephron, "OK, you know when you get a song stuck in your head and you can't think about anything else? … When we were kids you were that song for me, and I'm not saying you're a bad song, you're obviously a very handsome song, and charming and smart and you dress better than the rest of the songs in this town …"
It's quixotic I know to want to turn a horror story into a romantic comedy, but in a world where many strange things are possible, this cannot be the strangest.
ALSO:
Sissy Spacek talks about returning to the Stephen King universe in 'Castle Rock' at Comic-Con
We're in the throes of Stephen King mania, again. Here's why his scary stories resonate
The latest Stephen King adaptation, 'The Mist,' is creepy but lacks fun
Stephen King's 'Mr. Mercedes' hits TV in the slow lane, but that's not a bad thing
'Castle Rock'
Where: Hulu
When: Any time, starting Wednesday
Rating: TV-14 (may be unsuitable for children under the age of 14)
Follow Robert Lloyd on Twitter @LATimesTVLloyd
---
The complete guide to home viewing
Get Screen Gab for weekly recommendations, analysis, interviews and irreverent discussion of the TV and streaming movies everyone's talking about.
You may occasionally receive promotional content from the Los Angeles Times.