'Crazy Ex-Girlfriend' finale: The co-creators on ending Rebecca's story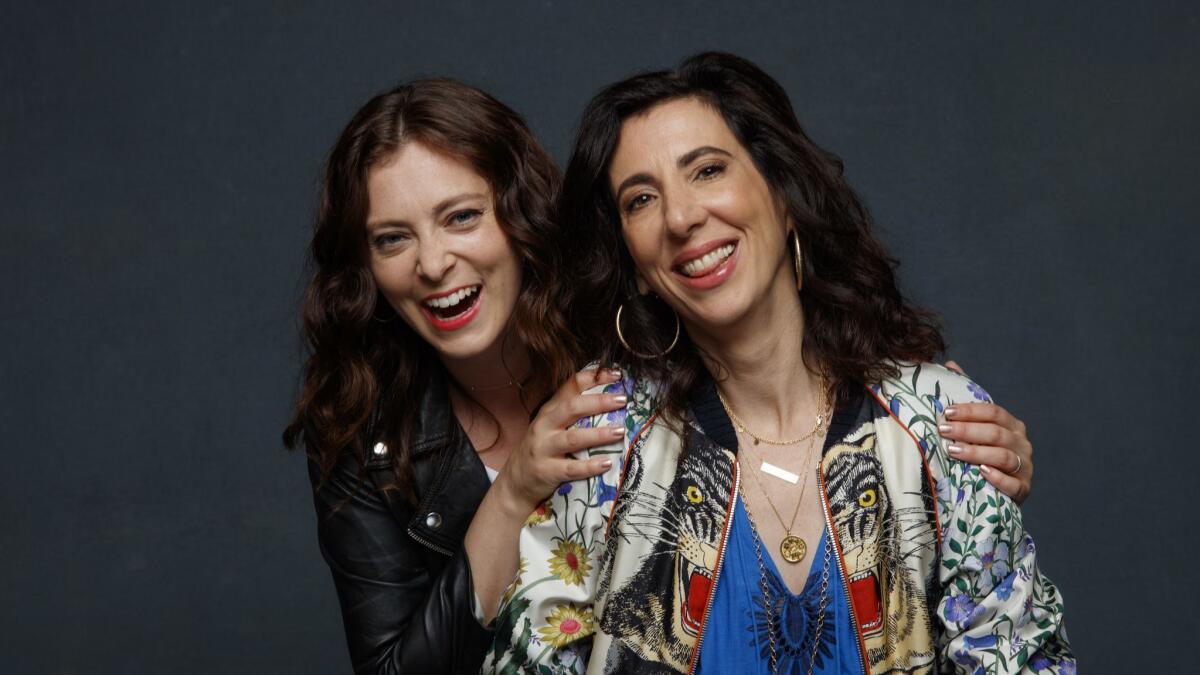 (Warning: This post breaks down the series finale of "Crazy Ex-Girlfriend," which aired Friday night.)
A songwriter was born in the series finale of "Crazy Ex-Girlfriend."
The CW musical dramedy ended its four-season run Friday night and set up a new chapter in the story of its titular heroine, Rebecca Bunch.
The series, often dubbed the anti-romantic comedy, premiered in 2015 and followed Rebecca (played by the show's co-creator Rachel Bloom) as she upended her high-powered lawyer life in New York to move to West Covina to chase after an ex. Along the way, it tackled issues of female sexuality, skewed romantic expectations, female agency and mental health.
Viewers might have expected a romantic ending to the series, but the finale, titled "I'm in Love," explored Rebecca's realization that first she needed to figure out who she is. Cue the music.
As 'Crazy Ex-Girlfriend' nears its end, Aline Brosh McKenna has a few things to say »
Remember those 100-plus songs that played out during the show's run? It was Rebecca spacing out, processing life's ups and downs through comedic songs. In Friday's episode, with encouragement from Paula (Donna Lynne Champlin), Rebecca sets out, over the course of a year, to tap into and hone her songwriting abilities through her journey of self-discovery.
A year after turning down Greg (Skylar Astin), Nathaniel (Scott Michael Foster) and Josh (Vincent Rodriguez III) on Valentine's Day, she invites her former beaus and friends to an open-mike night to make her public debut.
"I wrote this song," Rebecca says with a smile of anticipation before the credits roll.
The series finale was followed by a concert special, "Yes, It's Really Us Singing: The Crazy Ex-Girlfriend Concert Special," which was taped earlier this month.
The Times spoke with Bloom and fellow co-creator Aline Brosh McKenna, who also served as showrunner on the series, about those final words, Rebecca's decision and saying goodbye.
You've been making the goodbye rounds. You taped the concert special, did the documentary, now the finale is out there. How are you feeling about what you've created?
McKenna: I've been just excited and happy for people to see it. We've been working on it for a long time.
Bloom: There's so many emotions in it. I think the most surreal thing is that, when we pitched the show, we ended the pitch with her saying, "This is the song I wrote." I think because we always knew what was happening, the hardest thing in writing the finale was the debate of like, how do we get there?
I'm excited for people to see the end of the story and what we intended and then to see kind of how people judge the series as a whole. Every time I watch that last scene I start to cry. It's the first time in doing the show that I have felt that she is separate from me. I feel a lot of love for her.
One of the "I choose me" moments that's most memorable in my mind is from "Beverly Hills, 90210" — when Kelly turns down Brandon and Dylan. But we don't really know what that actually means, what's at play. Talk about the importance of giving that screen time.
McKenna: The reason for that year jump-ahead was because we felt like, if she just says, "Hey. I know what my purpose is in the world" and then, that same day, she was figuring it all out and it takes time! It's a process, and you commit yourself to this creative process. And she doesn't really know how it's going to go. We felt like, given the fact that we have watched her on the show struggle with her mental health, and kind of get to a grounded place, that we show that it's been a year where she's been doing the really hard work of taking the singing lessons and working at it because you can be bad at something as long as you need to before you get good at something.
Five things to know about 'Crazy Ex-Girlfriend's' final season »
The "choosing me, loving me, accepting me" saying is as almost a trope in itself for these stories, as much as picking a guy is. But what I haven't seen is this idea of what is the action item? Because I do think that everybody struggles with what they contribute to the world. And we don't want to reinforce the idea that there's one person that you're destined for, and that's who you should be looking for because we waste a lot of time on that instead of focusing on who we want to be in the world.
Bloom: It was a debate. It was a debate because there was a world in which we went down hard on the self-love pact and took it very literally, right where, "I'm not going to love these guys, I'm going to love myself," but what is that? What does that even mean? Aline and I are both in very happy relationships. It always felt a little hypocritical for us to go completely the "I don't need anyone else forever" route because we know that's not true. We know that a partner can be very, very valuable, but you have to like, you have to know who you are, you have to not be looking to your partner to fulfill you in the wrong ways.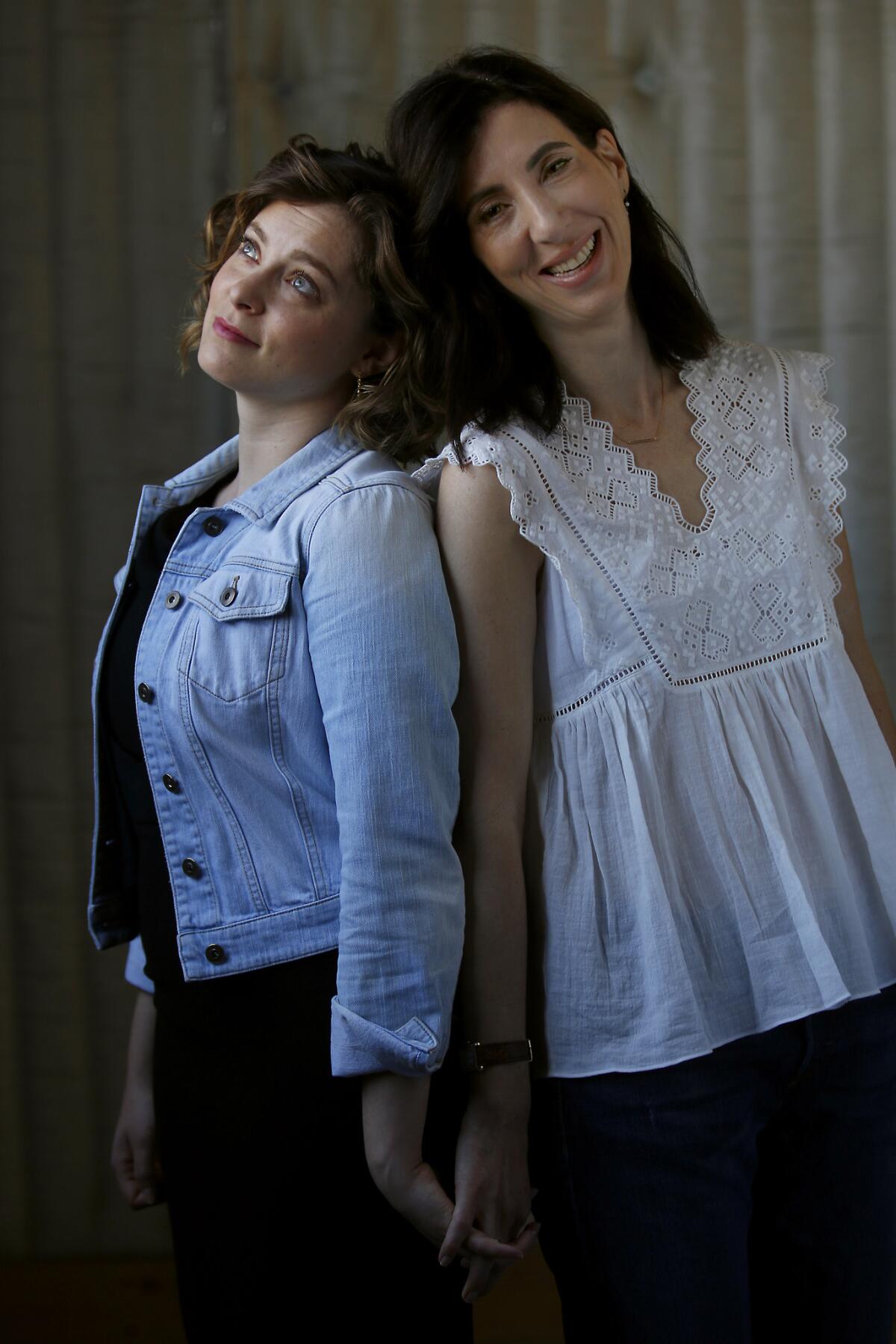 After we wrote it, it was a bit of a process because we realized self-love is a very vague concept, and it shouldn't be a choice between the self and someone else. Her real problem was identity. We debated. Because you could show that journey and reveal that she did choose someone, but we came to the conclusion that it would derail the message.
Really the idea is that the second she steps on that stage to play her own song, that's when she's born. That is when the adult Rebecca is finally born. It would be premature to date someone before then, because it would be her, in some ways, still as a 16-year-old dating someone. That kind of year of purgatory is kind of like her puberty.
What I'm excited for people to see is the fact that this whole show was a prequel, a prequel to a prequel that might never happen. This whole show was meant to show a crazy moment, a year or two in a young woman's life where she completely upended everything and came out the other side as the adult finally on a path to happiness. Which is why you never hear what she plays because this show is just everything leading up to that moment of rebirth.
Is there anything to be read into the fact that it was Rebecca in future fantasy with Greg that guided her to this realization and that we only see Rebecca tell Greg the whole story behind her decision not to choose him?
McKenna: Yeah, I think it was Greg who deserved the fullest explanation. Because in some ways they had gotten the closest to something resembling a relationship. And Greg has also kind of reached his destination point. And so we deliberately put the explanation inside the Greg scene. Although she probably told all three of them something similar. But we put the explanation inside his flashback.
Bloom: They have the most kind of grounded connection.
Let's talk about Rebecca's other grounded connection, with Paula. Their relationship is at the heart of the series, and it's Paula who helps Rebecca on her path of self-discovery.
McKenna: We really got emotional when we were writing that scene between them. We really felt like it made you understand why Paula had been in the show. What I love is it's a moment of huge evolution, not just for Rebecca, but also for Paula because Paula has also transcended the idea that a romantic partner is anybody's perfection. So we both got really emotional about that, and then obviously, because it's an older lady saying to a younger lady, "Do this. Commit to this. I see this in you. I see the value in this. Don't feel foolish about this." That's huge when you find the person who sees in you the thing you see in yourself but are afraid to admit. That's a huge and special important person.
Had there been thought about closing out with viewers getting to hear Rebecca's first official song?
Bloom: Yes, we did. There was a version where she plays "West Covina," but then we thought about it, and we said, well, "West Covina" is a song rooted in delusion. It's a comedy song because it's someone trying on a persona that doesn't fit them. So if she were to play "West Covina," she would be, in essence, playing out her delusions or be a comedy songwriter, which is not the story we're telling. Rebecca Bunch does not become Rachel Bloom.
The other thing we thought about was a blackout and then [show] her playing the song she wrote and it sucks. But it kind of undercut that moment. But, on the other side, you're faced with writing the unwriteable song, which is the kind of "A Star Is Born"-type song that she sings or do we kind of lean into what our impulse always was, which is it's not about the actual song. It's about her finding her voice. Because there are infinite possibilities about what that song is. But the show was about sending this girl off on her way. We've stopped intervening in her life. She now has the free will.
I don't know what Rebecca sounded like because she's writing legitimate songs. I think she's given it a lot of thought. And she could be, I mean, the joke was she could be writing like ragtime electronica.
How do you view this ending for Rebecca?
McKenna: I think it's the beginning of the next chapter of her life. I think she's embarking on a glorious journey. Who knows what that leads to? If that leads to falling in love with an Italian choir master and moving to Italy, or going to a graduate program in musical theater writing, or moving to New York and trying to go to music conferences — it's the beginning of a great adventure for her.
Bloom: I see it as a quiet victory because she's pursuing her truth. And I think that you can never go back from there. There'll be moments in her life where she probably will backslide and life is hard and she's still working through her [borderline personality disorder]. But I see it as a very happy ending. And a very realistic ending because she ended up in an open mike. It doesn't end with her being famous.
I see it as a quiet victory because she's pursuing her truth. And I think that you can never go back from there.
— Rachel Bloom on how 'Crazy Ex-Girlfriend' ends for its protagonist
What has you nervous or excited you about closing this chapter?
McKenna: It feels like we're graduating from college. It was four years. Coincidentally, while I was busily ordering and designing, with my writer's assistant, the letterman jackets for the writers, Rachel was making class rings. I think we were both very aware this was a four-year period of time in our lives where a lot of transformative things happened. I feel very at peace with moving on.
Bloom: Honestly, I did so much with the show that I'd been wanting to do as an artist. My question now as an artist is: All right, what next can I say to the world that hasn't already been said? How can I build upon myself and what's going to make me excited and challenged as an artist? I think that's scary, you know, you're leaving a sure thing. I'm leaving a thing and there's a little bit of starting over, not totally starting from scratch, but I'm leaving a successful show behind. So that's scary.
Do you think you'll ever stop thinking about this character and where she's at in life?
McKenna: For sure. We both really love her.
Bloom: I've become friendly with Fran Drescher, and I've been talking to her about this because I was at the final sound mix and I was sobbing — it was a good grief. And she was saying that, "oh yeah, when 'The Nanny' ended, it felt like a friend had died," and that she'd talked to other women and she talked to Valerie Harper, who said the same thing. And I think there is something about when you embody someone, especially when you embody someone and then create someone, they're not only a part of you, but they're a family member. It does feel like a personal death, and I know intellectually that's not true, but that's the only way I can really articulate it right now is it feels like a loss. And that's everything. Everything you love has to die at some point, right? Everything great ends.
Twitter: @villarrealy
Get our L.A. Goes Out newsletter, with the week's best events, to help you explore and experience our city.
You may occasionally receive promotional content from the Los Angeles Times.