Cybill Shepherd says Les Moonves thwarted her hit '90s sitcom after she rejected his advances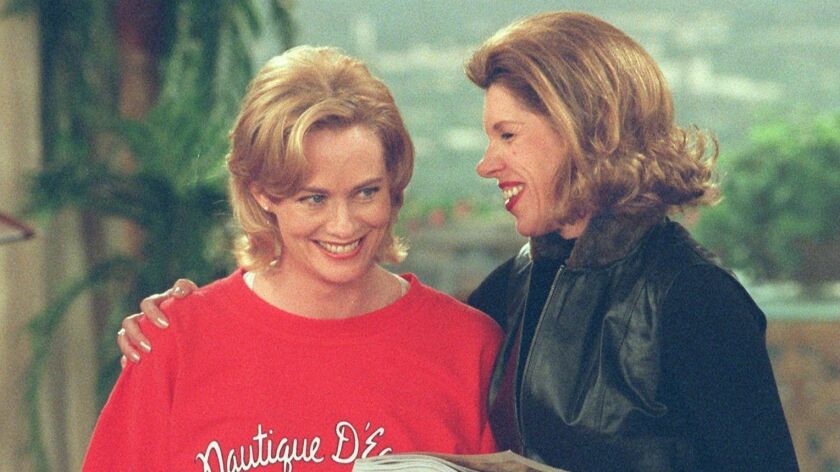 Actress Cybill Shepherd said that her 1990s hit TV comedy "Cybill" was thwarted after she rejected inappropriate advances by CBS Chairman Les Moonves back then.
She's now one of the highest-profile stars to denounce the disgraced mogul, who has been accused by multiple women of decades of sexual misconduct and was ousted from CBS in September.
"My show could have run another five years, but I didn't... fall on the right side of Les, Les Moonves," the 68-year-old star said on SiriusXM's "The Michelle Collins Show" on Thursday.
The semi-biographical sitcom, about a Hollywood actress past her prime, costarred Christine Baranski and ran on the network from 1995 to 1998. It earned 12 Emmy nominations and won three during its short run. Created by sitcom guru Chuck Lorre, who left after the first season over clashes with the star, the show was later benched by disappointed CBS officials.
But Shepherd, who appears in the new Orson Welles documentary "They'll Love Me When I'm Dead," now says that her show came to an end because of Moonves.
Moonves' spokesman, Chris Giglio, declined to comment on Shepherd's allegations when reached by The Times on Thursday.
"His assistant and my assistant made a dinner date and we went to it and he was, well, he was telling me his wife didn't turn him on, some mistress didn't turn him on," Shepherd told Collins. "And I'm watching him drink alcohol and ... he says, 'well, you know, why don't you let me take you home?' I said, 'No, I've got a ride' and I had my car outside with a good friend of mine who is an off-duty LAPD officer."
This, she said, occurred a few seasons into the show, and soon after that, she began receiving directives not to have gags involving her pretty character talking while she was eating, and she feuded with CBS about doing another episode on menopause.
"We had done one menopause episode, then we were going to do a second one. They said you can't use 'menses,' 'menstruation' or 'period' and I fought to say period and that ended up in Newsweek or Time just that year. I had had to fight to say period," Shepherd told Collins.
She asserted that "Cybill" could have lasted another five years, but she started to get pushback in the editing room when the show's executive producer and head writer (whom she didn't name) "didn't allow" her to come back to edit.
"We can all act stupid no matter how intelligent we are," she said, adding that Moonves' "crimes" were very painful for her.
Follow me: @NardineSaad
---
The complete guide to home viewing
Get Screen Gab for everything about the TV shows and streaming movies everyone's talking about.
You may occasionally receive promotional content from the Los Angeles Times.