Review: Emmys bear the Colbert stamp: Genial, pointed, exuberant and a little outrageous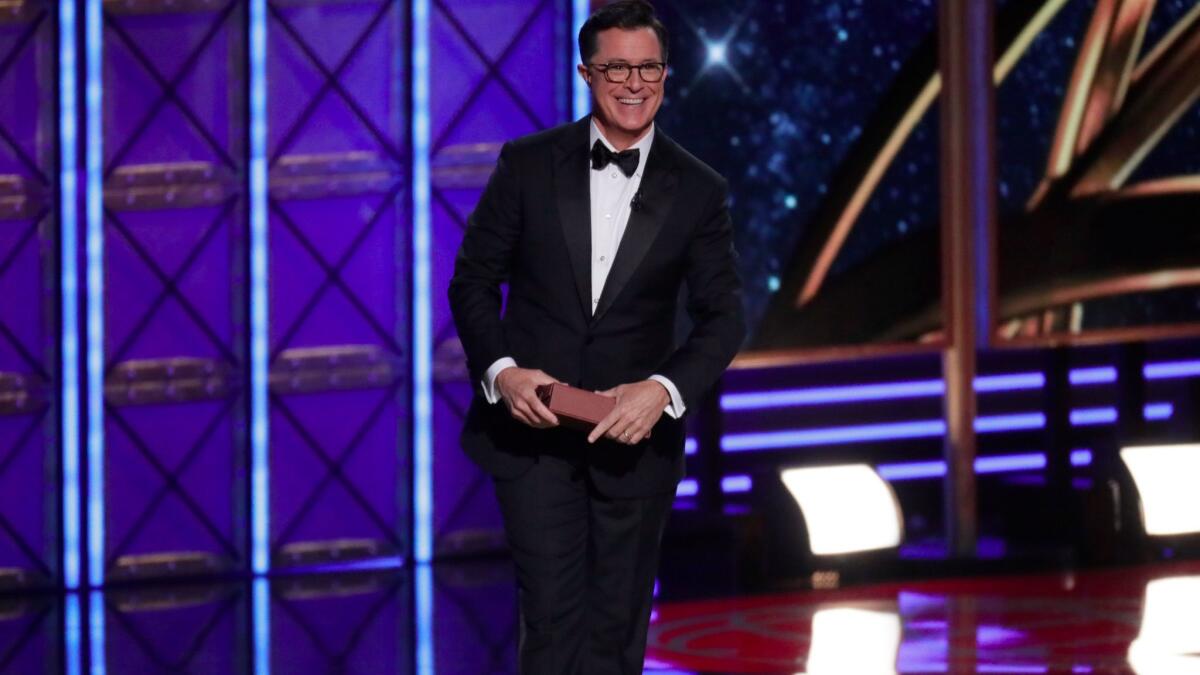 Television Critic
For its 69th festival of self-benediction, broadcast Sunday on CBS, the Television Academy brought on Stephen Colbert as its master of ceremonies. Already on the CBS payroll, already schooled in hosting — it is two years almost to the day that, having abandoned his ironic "Colbert Report" persona, he took over "The Late Show" — he was an obvious choice for this job. It was a choice made even easier, to be sure, as his numbers improved and the narrative surrounding "The Late Show" turned from disappointment to delight.
As a comedian, it's Colbert's job to take things apart, but he is temperamentally a thoughtful, philosophical, gracious, happy sort of humorist. Like "The Late Show," where Colbert shows himself more interested in philosophy than celebrity self-promotion, Colbert's Emmy show was, not surprisingly, genial, pointed, exuberant, just a little bit outrageous and marked by a kind of bemused patience with the vanities of Hollywood that did not exempt the host. When he led the audience in "the traditional Hollywood prayer: Lord, thank you for giving us talent and beauty and the gaping hole inside each of us that craves love and will never be filled," that was not meant just in fun.
FULL COVERAGE: Emmy Awards 2017 »
As much as it bore Colbert's stamp, Sunday's broadcast was not formally a great departure from previous years: a production number, a monologue built on the rhythms of what Colbert and his like present from night to night. An awards show is a 10-ton truck that every year tries to remake itself as a speedy sports car and never really succeeds. But a good host can at least bring an impression of lightness. And unlike the presenters, stumbling into banter the teleprompter offers them, he (and rarely, she) comes prepared, brings along a team, a plan, a gestalt.
The show opened with Colbert on film, forging Emmys himself and soon joined by Anthony Anderson and Allison Janney to note, comically, the importance of their work and the craziness of the world. "Look on the bright side," Colbert said, "television's never been better."
Challenged to "sing it," he did, in a filmed production number, that, in a fashion one might call traditional, ended on the theater stage, with a chorus of dancers — male and female — dressed as glamorized characters from "The Handmaid's Tale": "You can binge until your muscles start to atrophy/Till you can't tell the difference between fact and fantasy/Everything is better on TV."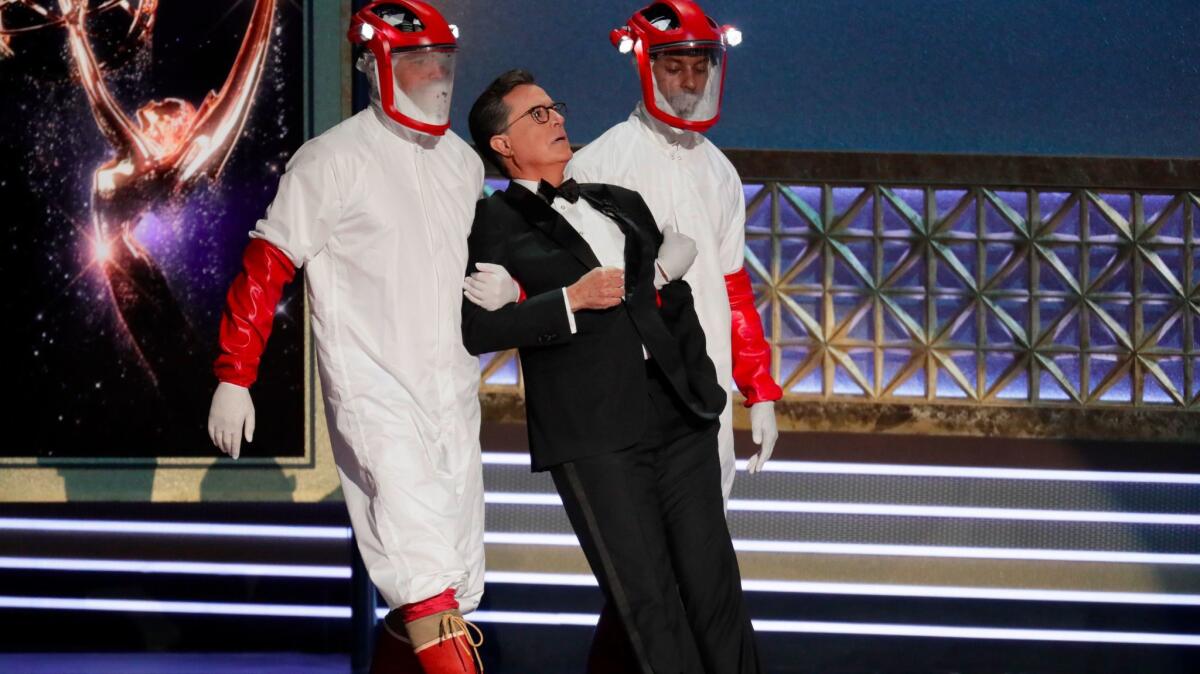 PHOTOS: Emmy Awards 2017 show highlights »
The monologue began as a mix of good and bad jokes, like any late-night monologue, mostly on lightweight topics. There was the usual engaging with selected stars in the front row seats. But it was the Trump jokes — the current administration being the source of much of "The Late Show's" invigorated focus — that one awaited.
"If we're honest with ourselves," Colbert said finally, "we know that the biggest TV star of the last year is Donald Trump," whom he grouped with television's other "morally compromised anti-heroes" as "Walter Much-Whiter." He read, in Trump's voice, an old Trump tweet about Seth Meyers hosting the Emmys: "He is very awkward, with almost no talent. Marbles in his mouth." Meyers, in the audience, opened his mouth, and marbles poured out.
"Unlike the presidency," said Colbert, "Emmys go to the winner of the popular vote." And then an aside, "Where do I find the courage to tell that joke in this room?"
"Why didn't you give him an Emmy?," he asked the room. "If he had won an Emmy, I bet he wouldn't have run for president. This is all your fault."
What did shock the room came next, as Colbert, noting Trump's obsession with ratings, and wondering whether there were a way to know how well the broadcast was doing at that moment, brought former White House press secretary Sean Spicer on to say, "This will be the largest audience to witness any Emmys, period, both in person and around the world."
"I can understand why you'd want one of these guys around," Colbert said afterward. "Melissa McCarthy, everybody, give it up! Beautiful."
Colbert later returned in filmed segments. There was a gossipy interview with the Emmy statuette ("A lightning-winged lady holding an atom of boron — it's got five electrons, look it up"), played by RuPaul. A "Westworld" parody found Jeffrey Wright interrogating Colbert as a (naked) glitching robot host.
"Have you ever questioned the nature of our reality?"
"Every day since Nov. 8."
"Do you know what the Emmys are?"
"A day when all the beautiful men and all the beautiful women gather to give statues to Julia-Louis Dreyfus," as indeed the case turned out to be.
Follow Robert Lloyd on Twitter @LATimesTVLloyd
ALSO:
The complete list of 2017 Emmy winners and nominees
The five funniest bits from Stephen Colbert's Emmy opener
Historic victories for Donald Glover and Julia Louis-Dreyfus at the Emmys
Sean Spicer arrived for a comedic bit at the Emmys, but many not ready to laugh with him
Get our L.A. Goes Out newsletter, with the week's best events, to help you explore and experience our city.
You may occasionally receive promotional content from the Los Angeles Times.