Tatiana Maslany talks Emmy nomination and the 12 women she plays in 'Orphan Black'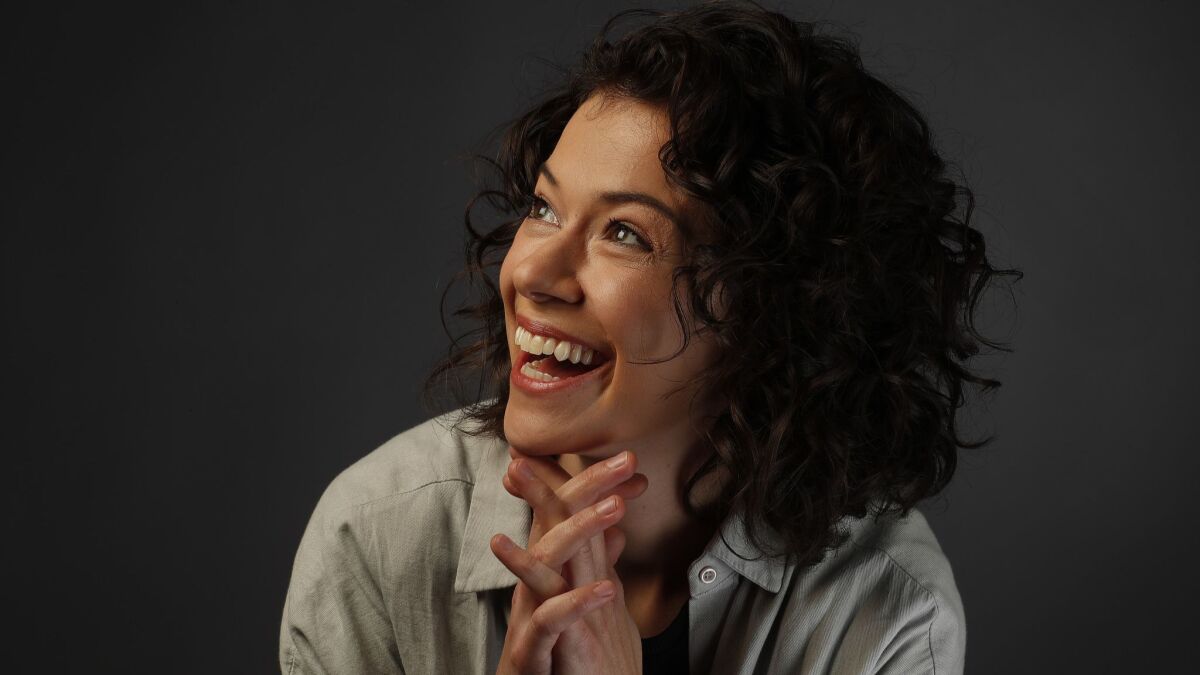 Canadian actress Tatiana Maslany won an Emmy in 2016 for her role in BBC America's "Orphan Black" as the rebellious Sarah Manning … and as the violent Helena … and as soccer mom Alison Hendrix, along with nine other characters, all clones.
On Thursday morning, she learned she'd again been nominated in the lead actress in a drama category for her work on "Orphan Black." But her mind was on another role — her New York stage debut that very evening.
Emmy Roundtables 2018: See interviews with your favorite stars and showrunners
On Now
Mandy Moore of 'This Is Us' and '9-1-1's' Angela Bassett on what drew them to their roles
3:10
On Now
Darren Criss on being a part of the Ryan Murphy orbit
1:36
On Now
Maggie Gyllenhaal is drawn to the 'sexuality, femininity, power, commerce' of 'The Deuce'
2:47
On Now
'Stranger Things'' David Harbour makes a connection to 'Gilligan's Island'
3:34
On Now
For Maggie Gyllenhaal, Darren Criss and David Harbour, the timing of landing a role is important
4:47
On Now
Jonathan Groff sees 'Mindhunter' as a head trip
3:45
On Now
Jonathan Groff, Angela Bassett, Maggie Gyllenhaal, David Harbour, Mandy Moore and Darren Criss on their latest roles
48:30
On Now
'I want that job,' says Eric McCormack
1:17
On Now
'We have all that history together': Sara Gilbert and Eric McCormack talk reviving 'Roseanne' and 'Will & Grace'
1:59
On Now
'Waiting for Guffman' meets 'Unforgiven': Bill Hader talks about the dark HBO comedy 'Barry'
1:33
Big day for you: The New York premiere of "Mary Page Marlowe" tonight at the Second Stage Theater, in which you play the title role, along with four other actors. And now the Emmy nom. How are you feeling?
I'm very nervous. I'm so excited, but really nervous. And everything that goes along with opening night. I can't believe I get to do it. And on top of it, to get this news this morning. It was a total shock. I didn't think people remembered the [TV] show. It's been off air for a while. And there's just so much amazing television right now. "Atlanta." "Handmaid's Tale" — which I find really difficult to watch. A lot of my friends are watching it and saying, sadly, it resonates so much with what's happening in our culture. But the Emmy nomination, I'm excited.
2018 Emmy nominations: The complete coverage »
Speaking of "Handmaid's Tale," what do you think the role is these days for narrative television, and actors in general, to address issues of the #MeToo movement? Or do you prefer TV as pure entertainment and escapism?
I don't think it's mutually exclusive. But as an artist, I feel we have to talk about the work, dissect it and reveal it and shed light on it in different ways and through different perspectives. That's so vital, and if we're not doing that, then I don't know what we're doing. I've always been very drawn to characters who don't fit into boxes, complicated characters.
Multiple complicated characters. You played 12 very different women in "Orphan Black." And Tracy Letts' "Mary Page Marlowe" is a splintered portrait of a woman from different, key moments in her life. Is fragmentation a theme for you?
Absolutely. I think it's very relevant to myself, and a lot of people I talk to, and women in general. How do we get splintered off so that we are more palatable, more easily digested, more easily put into a certain box of behavior and defined from the outside. I think that complexity and gray area and all that in our human nature is often sort of pushed to the side.
Emmy contender series 2018: Watch interviews with stars from your favorite TV shows
On Now
'Homeland's' Claire Danes talks about the 'magical creature' that is Carrie
31:02
On Now
Betty Gilpin and her 'GLOW' costars bonded in a 'feminist Montessori' pro wrestling way
1:25
On Now
Betty Gilpin binge-watched 'The Crown' and caught a case of British accent
2:04
On Now
'It's not coal mining, but it's not nothing,' Sarah Paulson of 'American Horror Story: Cult'
23:48
On Now
Sarah Paulson says, 'It was like I had a neck brace,' of her first acting job
2:12
On Now
"American Horror Story: Cult" plays on star Sarah Paulson's real-life fears
2:52
On Now
Daniel Brühl was 'blown away' just reading 'Inglourious Basterds'
2:07
On Now
Puzzling out the mysteries of 'Westworld'? So is Jeffrey Wright, and he stars on the show
32:11
On Now
Brendan Fraser on picking projects 'we care about'
3:09
On Now
'The Chi' star Yolonda Ross says it shows 'we're more alike than we think we are'
1:59
---
The complete guide to home viewing
Get Screen Gab for everything about the TV shows and streaming movies everyone's talking about.
You may occasionally receive promotional content from the Los Angeles Times.