'Feud: Bette and Joan' gets premiere date, stars Jessica Lange and Susan Sarandon talk ageism in Hollywood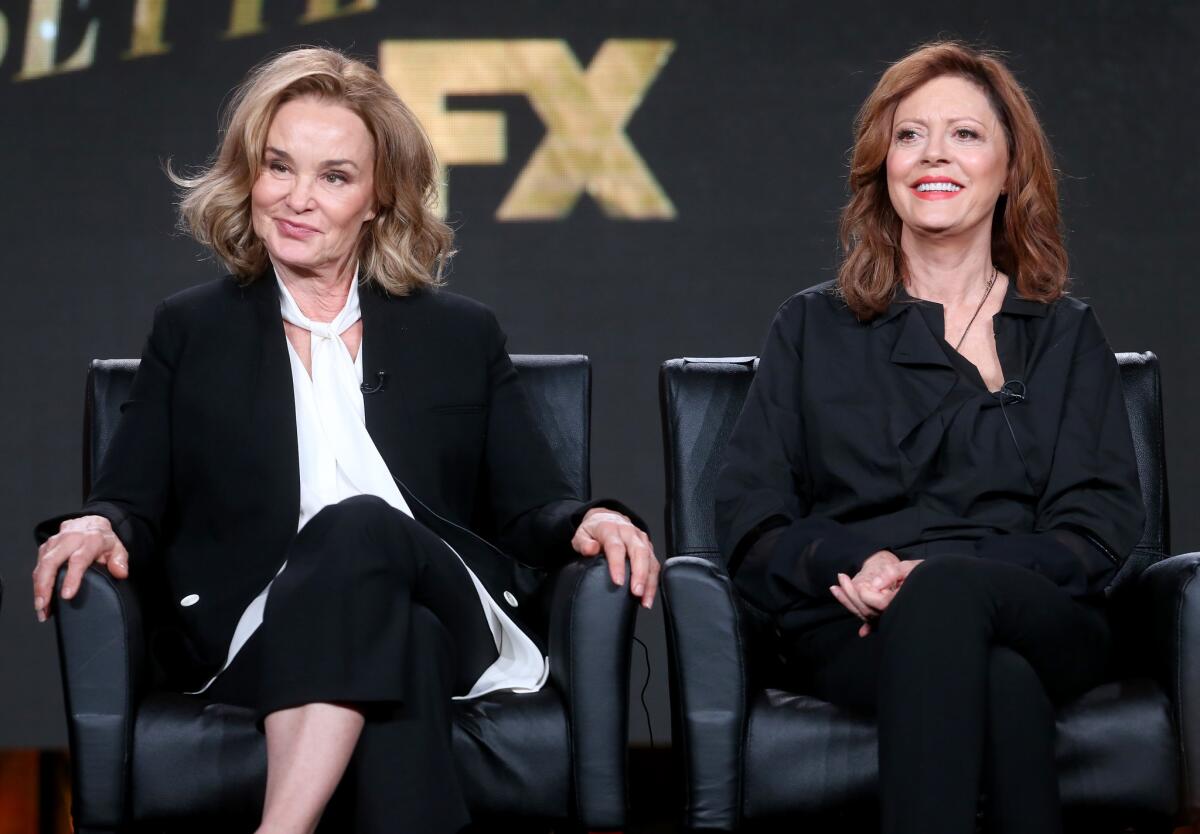 If FX's "People v. O.J. Simpson: American Crime Story" demonstrated that a decades-old landmark L.A. trial can feel current with its commentary on race and gender, then the network's newest anthology series, "Feud: Bette and Joan," is likely to ignite new conversations about ageism in Hollywood.
The eight-part series, which premieres March 5, chronicles the filming of the 1962 camp classic "What Ever Happened to Baby Jane?," starring Joan Crawford and Bette Davis — two actresses who famously despised each other. Beyond the friction, it highlights the challenges women of a certain age begin to face later in their careers.
Jessica Lange and Susan Sarandon, who portray Crawford and Davis, respectively, say the series' themes and issues remain relevant today.
"Aging actresses still have the same problem, I can guarantee that," Sarandon, 70, said Thursday during the show's panel at the Television Critics Assn. press tour in Pasadena.
Lange, 67, was in agreement, at one point referencing an Amy Schumer sketch — whose title is unsuitable to print — but let's just say it was about actresses discussing the point at which they lose their appeal in the eyes of Hollywood.
"I think that's a big part of ["Feud"]: what Hollywood does to women as they age, which is just a microcosm to what happens to women generally as they age," Lange said. "We've touched on that in a very profound way.
"Joan was 10 years younger when this takes place than I am now, and yet her career was finished because of her age. What we've tried to do is somehow investigate what that does to a woman… what happens when that beauty is no longer considered viable because it's equated with youth."
Like "People v. O.J. Simpson," "Feud: Bette and Joan" hails from Ryan Murphy. The producer said he was driven to do more stories for and about women — and that also featured more women in front of and behind the camera. The series boasts 15 roles for women over age 40, Murphy said.
"We weren't interested in doing a show about two women and their lives and the problems they had," he added. "I was interested in doing something deeper, and painful, because this was a painful experience for both women."
The most-read Entertainment stories this hour »
Twitter: @villarrealy
Get our L.A. Goes Out newsletter, with the week's best events, to help you explore and experience our city.
You may occasionally receive promotional content from the Los Angeles Times.