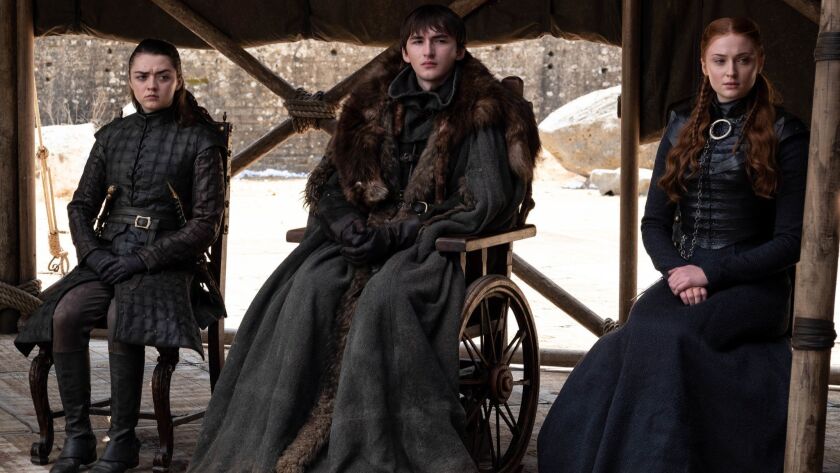 The "Game of Thrones" finale proved a bit less than disposable Sunday night after fans spotted a stray plastic water bottle lurking in a later scene.
Warning: Spoilers are coming.
And so it all began, perhaps, the plastic age of Westeros, where rulers were chosen, not born, and no person went without easy-access refreshment.
Seems nobody on the show was paying much attention to poor Khal Drogo, while lots of fans were looking for the next stray coffee cup to appear in the period piece.
The bottle could be seen behind the leg of Samwell Tarly (John Bradley) at the beginning of the scene where the muckety-mucks of Westeros decide who should lead the Seven Kingdoms. Er, six. Your guess as to what brand.
Who knew the meeting would be catered? And do Bran and Sansa have the plates of cookies and pinwheel sandwiches stowed beneath their skirts?
'Game of Thrones' finale recap: No one's very happy »
Then fans spotted a second bottle behind Ser Davos' (Liam Cunningham) leg in the same scene. This, however, was harder to spot — there was but a shiny glimmer of distorted sunlight that gave the bottle away.
Alas, Drogon had flown away earlier in the finale, so there was nobody around to melt those puppies down.
But we're guessing the bottles are destined for the digital recycling bin in short order, dragon or no dragon. HBO made quick work of that coffee cup, after all.
Some questions the 'Game of Thrones' finale left unanswered »
@theCDZ on Twitter and Instagram
---