Review: Think you know 'Get Shorty'? Well-made and beautifully played Epix series goes its own way with the story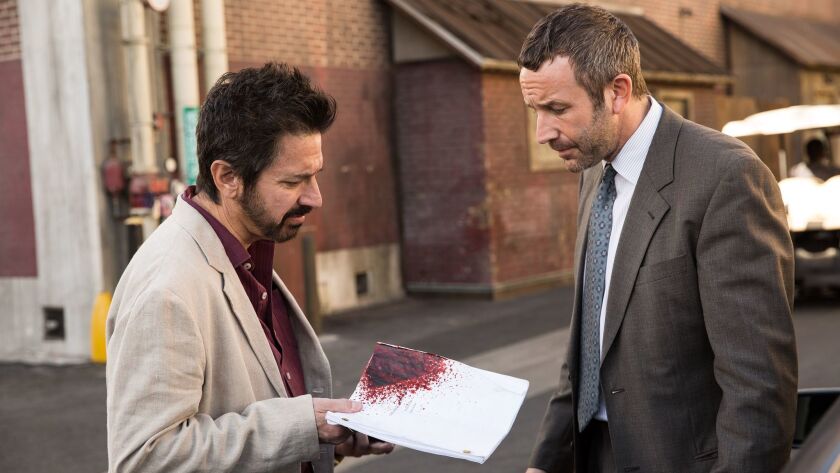 Television Critic
There is a moment about halfway through the 10-episode run of "Get Shorty," a new series premiering Sunday on Epix, when a guard wishes good morning to a "Mr. Palmer" as he drives through the gate of a Hollywood studio. It's a quick, rare nod to the 1990 Elmore Leonard novel on which the television show is "based in part," and Barry Sonnenfeld's popular 1995 film version with John Travolta as loan shark Chili Palmer.
As created for television by Davey Holmes ("Shameless") and written and directed by a variety of expert hands, the series preserves its predecessors' basic premise of a hoodlum mixed up with the film business and a down-on-his-luck producer of B movies. A gambling debt and a film script are central to the story.
But the characters are new in their particulars, their goals and their relationships. Tonally too, it departs from the Sonnenfeld film in different ways. On the one hand, as a comedy, it's sweeter, less sardonic and warmer toward Hollywood than even many films not involving gangsters; on the other, the parts that involve just the gangsters are dark and violent and not funny at all.
Chris O'Dowd plays Miles, a fixer working alongside best and only friend Louis (Sean Bridgers) for southern Nevada crime queenpin Amara (Lidia Porto) in the dustbin town of Pahrump. As we meet him, Miles, who is separated from his wife and yearning to have his family back, has grown critically dissatisfied with his station and occupation, work he was sure would be "temporary" but from which he has not been able to extricate himself.
Miles wants to "make something that lasts," rather than just bury the bodies that are a byproduct of his business. (He is not himself a killer or even temperamentally violent — though a back catalog of popular culture antiheroes leads us to fear he might be — that is crucial to his standing with the viewer.)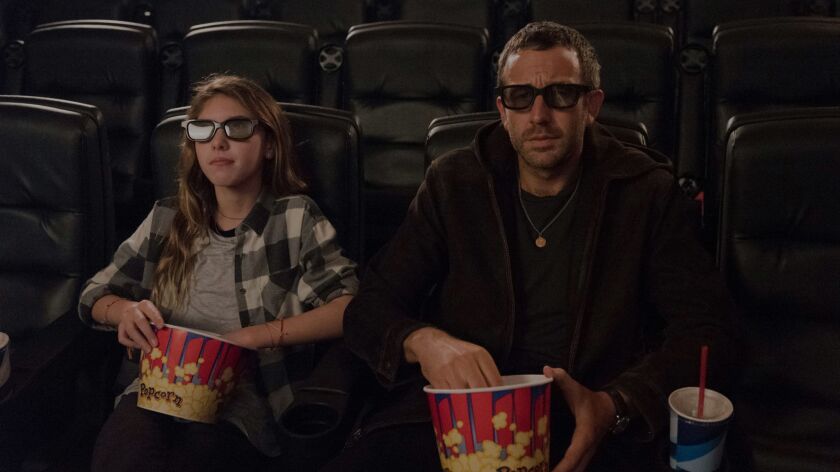 "Now, maybe in a movie, digging in a hole would be exciting," he says to Louis, as they're digging a hole (Miles is a fan of the movies, especially old ones). "There'd be a soundtrack, and actors, and a plot; it would lead somewhere. But in real life digging a hole is unpleasant and boring and a pain."
Miles and Louis are sent to Los Angeles, a city they don't know, to collect a debt from a screenwriter. The writer doesn't have the money, but he has an unsold screenplay, a period romance called "The Admiral's Mistress." With one thing and another, Miles leaves with the script and a vision of his future. This leads him to producer Rick (Ray Romano), a maker of cinematic schlock whose life is also in crisis. Rick had ambition once, but a passion project flopped and he has sworn off art.
"You want to make your money back," he tells Miles. "Don't get hung up on that quality thing."
But Miles has the ambition Rick lacks. A tale of a man who goes to war and comes back changed, "The Admiral's Mistress" feels personal to him: "It's about how we all carry around this image of a better person, you know, and we think if I could be that person I'd be happy. But all it does is … drive us crazy." Amara, who will also become involved with his project, sees herself there as well.
It's pat in a way, and yet at the same time it gets to the heart of the matter, to what moves us in the movies, those slivers of ourselves we find there. Indeed, the power of storytelling is the series' underlying incidental theme. Amara actually has her right hand Eddie (Isaac Keys, making an impression in a part notable for its stillness) read Miles' script aloud to her.
"That's the beauty of a story like this," says Miles. "Even if you're a psychopath, it touches your heart."
Romano, a stand-up comic turned sitcom star, has ripened into a fine actor; he is highly likable in a slightly depressive way. But this is O'Dowd's show more than anyones — all the major characters connect to him — Rick, Louis, Amara, Amara's loose-cannon nephew Yago (Goya Robles), skeptical wife Katie (Lucy Walters), affectionate daughter Emma (Carolyn Dodd) and film executive April (Megan Stevenson).
"What's an executive?" Miles asks when he meets her.
I've got nothing negative to say about "Get Shorty" that doesn't feel like nit-picking as I start to write it. (A side plot about Nevada turf wars feels beside the point and out of joint with the main story, but who knows if it may prove otherwise in the end?) It's well-made and beautifully played, and one welcomes, for a change, the story of a person attempting to pull himself out of a life of crime instead of one sliding into it. We have had quite enough of those.
'Get Shorty'
Where: EPIX
When: 10 p.m. Sunday
Rating: TV-MA (may be unsuitable for children under the age of 17)
Follow Robert Lloyd on Twitter @LATimesTVLloyd
Chris O'Dowd instills a hometown feel in Hulu comedy 'Moone Boy'
Film Review: Wise Guys in Producer Guise : 'Get Shorty' a Comic Look at Mobsters Trying to Break Into the Biz
---
Inside the business of entertainment
The Wide Shot brings you news, analysis and insights on everything from streaming wars to production — and what it all means for the future.
You may occasionally receive promotional content from the Los Angeles Times.