The story behind a former 'GLOW' writer's exit over alleged domestic violence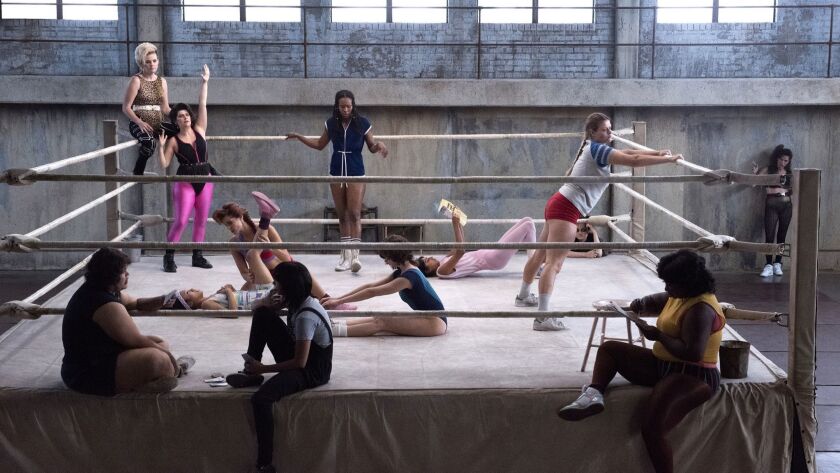 Nick Jones, a former writer for Netflix's "GLOW," says that he is "ashamed" of domestic violence allegations that resulted in him leaving the Emmy-nominated series.
In a statement issued Monday evening on Twitter, Jones broke his silence and admitted that during a "toxic relationship" last year, he struck his girlfriend at the time. The fallout led to his departure from the comedy several months ago.
He also publicly apologized to the woman, who has remained anonymous but whose identity The Times has confirmed, and to the "GLOW" team for being pulled into the subsequent maelstrom.
"My former colleagues should bear no brunt of any outrage," Jones wrote. "I was proud of my conduct and my life up until this point, both as a professional, and a human being. It is because of my values and not despite them that I am so deeply ashamed. I know I have a lot of work to do, and I'm doing it.
"I am sorry for the hurt I have caused. To my now ex, and to anyone else who has been affected," he added.
Jones' apology came after "GLOW" executive producer Jenji Kohan responded Monday to teeming online criticism of the show — on the same day that many in Hollywood and beyond walked out in support of women accusing U.S. Supreme Court nominee Brett Kavanaugh of sexual misconduct.
Jones' ex-girlfriend, an actress who has asked to maintain her anonymity, told The Times that there were several instances of abuse during their year-and-a-half relationship.
Jones' ex alleged that after a verbal argument, Jones was angered and punched her in the face in September 2017, an incident described in a November police report that she filed after alleging a second assault. The Times has obtained a copy of that report.
A representative for Jones directed The Times to Jones' statement on Twitter on Monday. On Tuesday, his rep did not immediately respond to additional requests for comment.
After filing the report, the actress contacted "GLOW" creators Liz Flahive and Carly Mensch via email detailing the allegations of domestic violence, but said she never heard back from them.
Flahive and Mensch confirmed that they received the email in January 2018, which was after Jones had wrapped on the show.
"She ended her email with: 'If you have any questions, please let me know, but there is no obligation to reply.' Which is an offer we took her up on," Flahive and Mensch said in an email to The Times on Tuesday.
The producers then spoke with Jones about the allegations and he resigned, which was detailed in Kohan's public statement as well as identical statements posted to Flahive and Mensch's private social media accounts.
Jones' ex-girlfriend said she kept the incidents quiet because she feared for her professional career. But her friends knew about it and started posting on Instagram after Jones showed up at a few Emmys parties.
Kohan, creator of "Weeds" and "Orange Is the New Black," said in the statement released on Instagram that during the second season of "GLOW," which championed a #MeToo narrative, staff members became aware that Jones was in a "toxic relationship." As the show wrapped, she said, Jones' ex-girlfriend contacted them to share her side of the story, which included allegations of domestic violence.
"Shortly thereafter, the executive producers addressed the situation with Nick, and he resigned from the show. He is no longer working on 'GLOW,'" Kohan said.
Representatives for Netflix also confirmed that Jones no longer worked on the show. (Season 2 began streaming in late June.)
Kohan, Flahive and Mensch also addressed criticism that Jones was representing "GLOW" at Emmy events (Season 1 was nominated for five awards and won one) despite staff knowing about the physical-abuse allegations by then. That criticism was leveled on Instagram over the weekend by comedian John Mulaney and writer-comic Andy Blitz, a friend of Jones' ex-girlfriend.
"As one of the nominees, [Nick] recently attended an Emmy party celebrating Season 1 of the show, and we took a group picture," Kohan, Flahive and Mensch wrote on Instagram. "We understand how that picture might seem to normalize what he did, and we regret it.
"We have consistently made clear where we stand on these issues, personally and professionally, and we are not okay with what he did," Kohan added. "We remain proud of the way we run our show as a safe place for women."
Times staff writer Meg James contributed to this report.
Follow me: @NardineSaad
---
Inside the business of entertainment
The Wide Shot brings you news, analysis and insights on everything from streaming wars to production — and what it all means for the future.
You may occasionally receive promotional content from the Los Angeles Times.