Holly Hunter and Tim Robbins convene in 'Here and Now'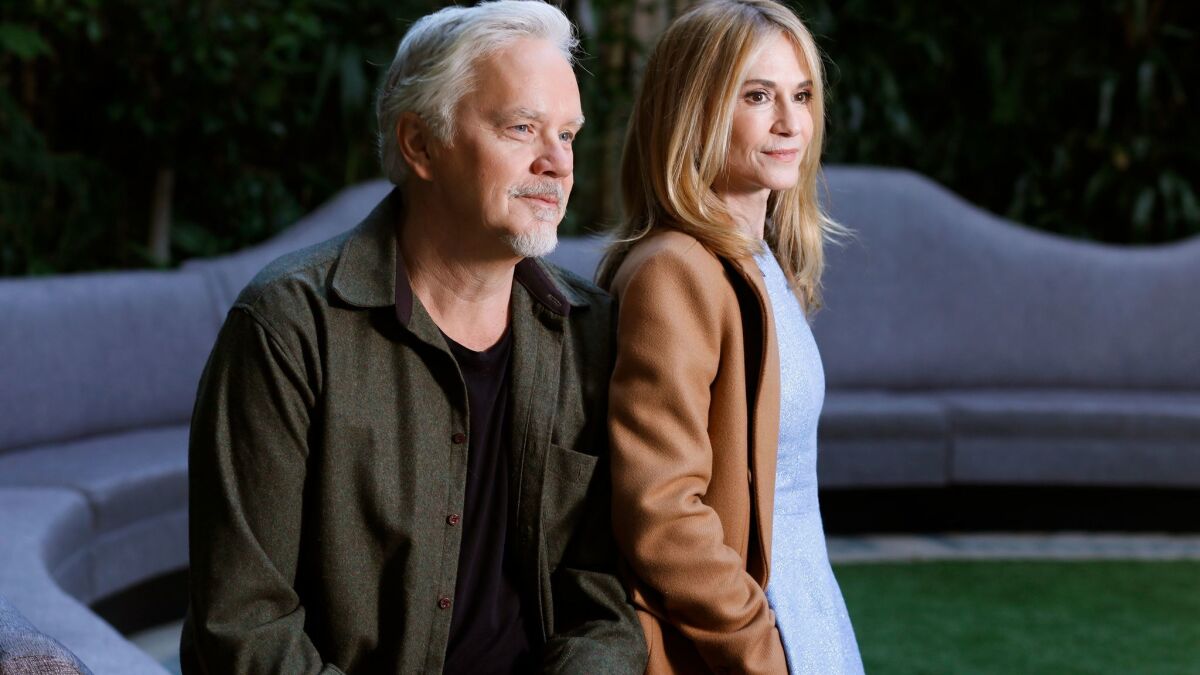 Tim Robbins narrows his eyes as he ponders where his new HBO series, "Here and Now," fits in the era of President Trump.
The drama, which premieres Sunday, pairs Robbins with Holly Hunter as the aging but still idealistic parents of adopted children from three different countries, now grown, and their conflicts in an America that elected a president who continually lashes out against people not born in the U.S.
Sitting in a Los Angeles hotel suite during a recent promotional tour for the series, Robbins finally flashes a small smile when asked how Trump supporters might react to the show.
"I think it's going to be tough for them, probably," he says. "But I like it, and I hope people respond because it is about something that is happening in our country right now."
His perspective is echoed by Hunter, who in a separate interview says a wide spectrum of viewers should be able to relate to the series. "It's very involving and provocative," she says. "It's a story of the zeitgeist, of the opposites, and it shows so well how the things that are tearing us apart can also pull us together."
"Here and Now" is the latest series from Alan Ball, the creator of two of HBO's flagship dramas, "Six Feet Under" and "True Blood." And although he admits that the project does have a topical bent, he was not intentionally trying to make a statement.
"This is not an overtly political show," Ball says in a phone interview. "For me, it's all about the characters and human behavior. But we do live in a world where there are Nazis in America, people are divided and there's so much hatred. We all are trying to live our lives in a world that insists on being insane."
The series, which is set in Portland, Ore., boasts a prestigious pedigree. Robbins and Hunter are celebrated Hollywood veterans with decades-long careers that include beloved films — "Bull Durham" and "The Shawshank Redemption" for him and "Broadcast News" and "The Big Sick" for her, to name just a few — and multiple Oscar nominations, with one win apiece. (He nabbed his for best supporting actor in 2003's "Mystic River," she scored as lead actress for 1993's "The Piano"). In addition to his HBO successes, Ball won an Oscar with his original screenplay for 1999's "American Beauty."
Although the Bayer-Boatwrights might appear at first glance to be an affectionate and bonded unit in "Here and Now," they are dealing with a multitude of fractures. College philosophy professor Greg (Robbins) is in the throes of depression as his 60th birthday party is being planned by his wife, Audrey (Hunter), a high school conflict-resolution counselor who appears to downplay her husband's dark mood. Greg is also carrying on an affair with a prostitute.
"It's not unusual for me to be offered roles of men whose lives are falling apart," says Robbins with another smile.
The couple's adopted children are grappling with various crises. Liberian-born Ashley (Jerrika Hinton) is struggling with her cultural identity and her marriage to her white husband, Malcolm (Joe Williamson). Duc (Raymond Lee), who was born in Vietnam, is a successful "motivational architect" but less successful in his love life.
The Colombian-born Ramon (Daniel Zovatto) has troubling visions that compel him to seek treatment with Dr. Farid Shokrani (Peter Macdissi), a Muslim therapist who is dealing with his own family issues, including a teen son who is gender fluid.
"Greg and Audrey were social justice warriors with a mind-set of giving back, so they chose to help children from countries where America was involved with morally sketchy things," Ball says of the brood. "That was their way to atone."
Greg and Audrey also have a biological child, 17-year-old Kristen (Sosie Bacon, the daughter of Kevin Bacon and Kyra Sedgwick), who constantly craves attention.
At its core, "Here and Now" is a sophisticated family drama, but Ball says he has also flavored the series with mystical elements.
"I like to try things that are new," he says. "I had looked into the supernatural well enough with 'True Blood,' but I really wanted to explore how the mystical and mysterious impact a family. Hopefully, there's something for everyone."
The project reunites Robbins and Hunter, who played cousins in the 1989 comedy "Miss Firecracker." "We were children," quips Hunter, adding, "I love working with him. He brings his whole history to the screen."
Robbins says Ball's vision and writing drew him to the series: "Alan's insight is ballsy and primal. He looks at the id behavior that is this uncontrolled something in human nature. I love that he is not afraid of showing that."
Hunter points out that setting the show in Portland gives the series an added edge. "Here and Now" positions the city in a different light from IFC's "Portlandia," which takes a humorous poke at Portland's hipster culture.
"Portland is one of the most progressive cities in the country," she says. "But it also has this genesis of unbelievable racism, of exclusion. That's an interesting mirror for things that happen in the show."
Robbins — who is developing and directing a new play, "The New Colossus," with his Actors' Gang theater group that features 12 actors telling personal stories as descendants of refugees and immigrants — believes "Here and Now" tackles issues that focus on the key question: Who are we as a country?
"Who are our better selves?" he wonders. "What should we be aspiring to? That's worth exploring."
'Here and Now'
Where: HBO
When: 9 p.m. Sunday
Rating: TV-MA (may be unsuitable for children under the age of 17)
Twitter:@GeBraxton
---
Get our L.A. Goes Out newsletter, with the week's best events, to help you explore and experience our city.
You may occasionally receive promotional content from the Los Angeles Times.