Review: Syfy's cliched but watchable 'Incorporated' envisions a disturbingly familiar future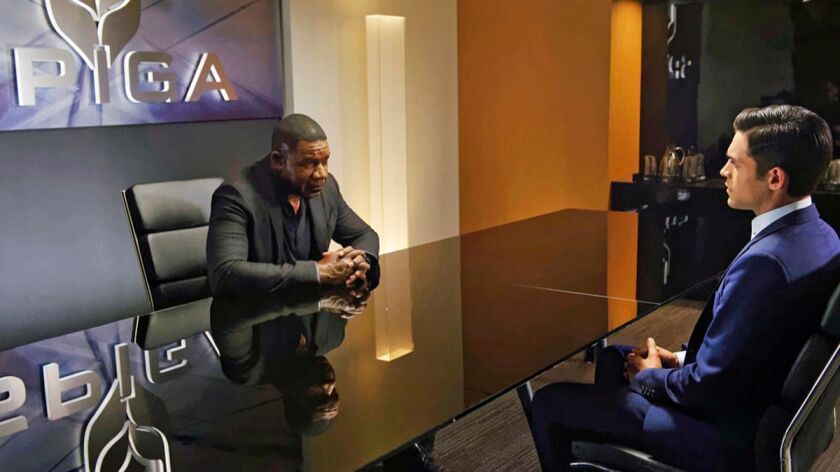 In the new Syfy series "Incorporated," it is the year 2074 and global warming has had its way with the world, 90% of which is controlled by multinational corporations who war over "dwindling resources." Some would say that this is already the case.
Premiering Wednesday, it is a sometimes clever, just as often clichéd mix of dystopian tropes, with performances ranging from nicely modulated to almost over the top, and some sly design that, along with some twisted PSAs, also accounts for most of the story's humor. It is quite watchable and nothing special.
Science fiction, it has often been noted, is all about the present and, besides the full-bore climate disasters we're rehearsing now, there are references to Canada building a fence to keep the Americans out, a declaration that "the system was rigged" (meaning the insurance business, but still), and midterm elections to which only 22% of voters turn out. (Not that those votes seem to count for anything.)
But this is less a meditation on the likely eventual ends of our own fecklessness than it is a thriller tricked up with futuristic doodads. There are corporate fat cats, underworld bigwigs, a woman in peril, a man running from his past, grifters, enforcers, human traffickers – in several respects, it's a sci-fi version of the second season of "True Detective," if you want to take that trip again.
The story is set entirely in Milwaukee, which I suppose climate change has made more desirable, while the coastal cities have been swamped and the old American bread basket has gone to dust. And the world's corporate warriors are embodied by just two rival concerns, Spiga Biotech and Inazagi, each in the business of genetically modifying crops to flourish in a degrading environment.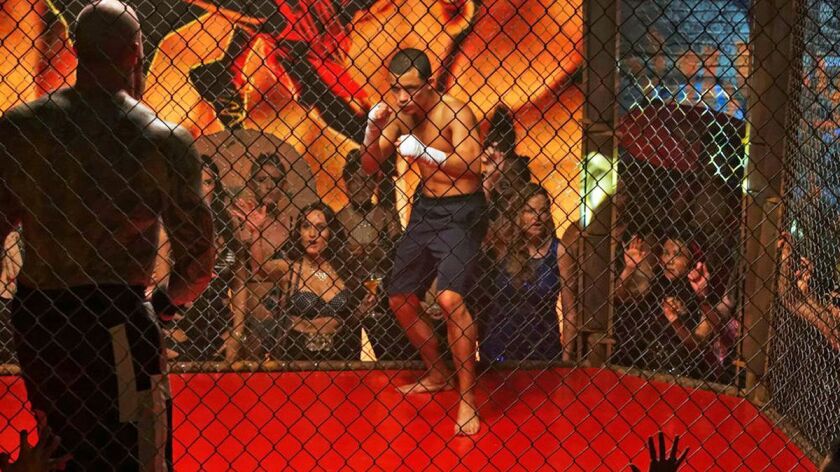 Rich folks live in the Green Zone, where there are nice houses and greenery and self-driving cars, along with cutting-edge cosmetic surgery and other visual cloaking devices to keep the ugliness at bay. Then there is the graffiti-covered, tumble-down, treeless Red Zone, where the poor people live and the upper crust goes for cheap thrills – the familiar mix of prostitution, cage fights, drugs and old-school techno.
Sean Teale stars as Ben, a junior executive at Spiga married to Laura (Allison Miller, sympathetic), the daughter of his boss, Elizabeth (Julia Ormond). His single-minded drive to find a lost love leads him to make questionable decisions — I'm not sure whether we're meant to disregard his own disregard for the collateral damage or charge him with it, but he had a hard life in the Red Zone before he managed to sneak into the Green. Now he is after a promotion that will allow him the access he needs to reach Elena (Denyse Tontz), whose brother Theo (Eddie Ramos) is also on her trail, by a lower road.
Meanwhile, the obvious villains — Ormond and Dennis Haysbert as the company's head of security and torturer-in-chief, who are also the series' biggest names — can seem more human (or "complex") when they act against type. Indeed, along with Miller, they provide the series' best company.
What else? Hurricanes, named alphabetically through the year, have gotten as far as Zoe. There are references to "the former Arctic ice caps" and "the most beautiful beaches right outside of Reykjavik." Bacon is $600 a pound; "food porn" (videos of people eating non-synthetic food) is an actual thing. "Golden ticket" is an expression still in currency, but "tip of the iceberg" requires explanation.
But English-speaking humankind has still not learned not to say "most importantly" when it means "most important."
'Incorporated'
Where: Syfy
When: 10 p.m. Wednesday
Rating: TV-14 (may be unsuitable for children under the age of 14)
Follow Robert Lloyd on Twitter @LATimesTVLloyd
---
Inside the business of entertainment
The Wide Shot brings you news, analysis and insights on everything from streaming wars to production — and what it all means for the future.
You may occasionally receive promotional content from the Los Angeles Times.