Jane Fonda on her new HBO documentary: 'You have to stay open, at any age, to finding out: How do I get better?'
The look on the face of the tourist riding down the elevator in a Beverly Hills hotel said it all. A mundane journey transformed into an "only in L.A." moment when she glanced up and realized that one of her fellow passengers was none other than Jane Fonda.
"Oh my … God, that's Jane Fonda," the woman mouthed to her friend in dramatic fashion — full emphasis on an expletive unsuitable to print — titling her head toward the actress just before the elevator doors opened to the lobby.
Love her or hate her — and Fonda is fully aware there are people out there who still fall under the latter category — there's little denying the polarizing figure continues to rouse people. Fonda, 80, hasn't slowed down long enough not to.
Take this day as an example. She's in the middle of a press blitz to promote the new HBO documentary that peels back the layers on her lifetime in the public eye — as the daughter of venerated actor Henry Fonda, an Oscar-winning movie star, fitness guru and enduring activist — and her journey to coming into her own later in life.
Titled "Jane Fonda in Five Acts" and premiering Monday, the film is directed by Susan Lacy, a veteran of edifying profiles of prominent figures. The film marks Lacy's second documentary for the network — following last year's examination of Steven Spielberg — since leaving her post at PBS, where she created the "American Masters" documentary series.
Sitting in a corner booth inside the restaurant at this Beverly Hills hotel, Fonda positions her dog, a Coton de Tulear named Tulea, beside her as she talks about the decision to participate in a documentary about her life.
"I've been approached numerous times," Fonda says. "But then Susan approached me with it. I had seen the documentary she did on David Geffen, which I thought was very, very well done. And I said to her, 'My only concern is that you don't make a documentary focused on movies, and my career as a movie actor. Because there's a lot more to me than that.'"
Much of the terrain the documentary covered is in Fonda's 2005 autobiography, "My Life So Far," but as Lacy said in a separate interview: "It's one thing to write a book and tell these things; it's another to talk about it with a camera, knowing millions of people are going to see you talking about the difficulty you have getting your father to tell you he loves you."
Besides, as Lacy tells it, "I didn't begin with the assumption that everybody knows everything about Jane. Not everybody read Jane's book. If you haven't, there's a lot about her you don't know."
The film digs into Fonda's personal turmoils — her complex upbringing as the daughter of a neglectful, famous dad and a troubled mother, Frances, who committed suicide when Jane was 12; as well as her own shortcomings as a parent — and her controversial moments, such as her involvement in the Vietnam-era antiwar movement that drew hatred from conservatives and resulted in the nickname "Hanoi Jane."
But there is also focus on her illustrious film career — particularly her standout roles in movies such as "They Shoot Horses, Don't They?," "Klute," "Coming Home," "The China Syndrome," "9 to 5" and "On Golden Pond."
"It's hard for me to watch it," Fonda says of the documentary. "But I thought [Susan] did a good job. You have to stay open, at any age, to finding out: How do I get better?'"
Lacy conducted 12 interviews — totaling more than 21 hours — with Fonda over the course of a year at various locations, including Fonda's home in New York and on the set of her Netflix series "Grace and Frankie." The film includes a trove of archival footage and features interviews with family and friends — former spouses Ted Turner and Tom Hayden; her son with Hayden, Troy Garity; stepdaughter Nathalie Vadim and adoptive daughter Mary Luana Williams; Robert Redford, Lily Tomlin and best friend and producer Paula Weinstein. (Fonda's daughter, Vanessa Vadim, and her brother, Peter, declined to participate.)
"It's such a personal film," Lacy says, "I didn't go after costars or that sort of thing. I wanted to focus on people with whom she has a close relationship, who could be revealing in some way."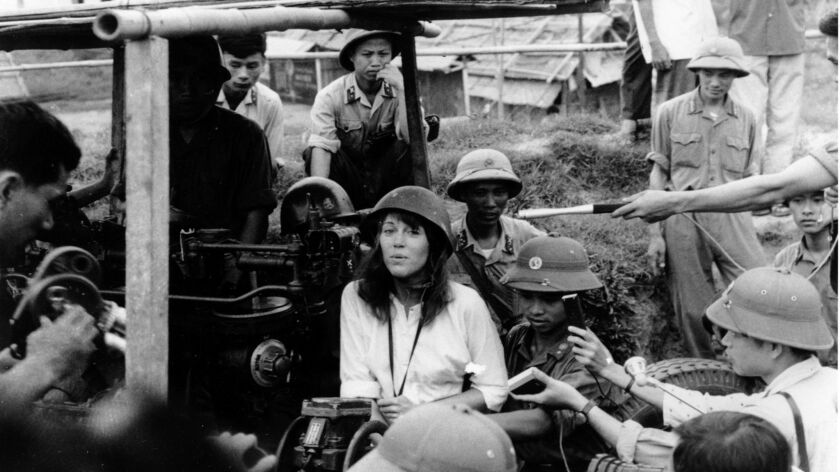 The result is a film is divided into acts — a theme in Fonda's memoir — that, here, are mostly named for the men who shaped Fonda in that period of her life: her distant father, Henry; and her three husbands: French filmmaker Roger Vadim, political activist Hayden and billionaire media mogul Turner.
"It became very clear that the first four acts in her life were dominated by four men: her father and three husbands," Lacy said. . "With each husband, she literally became a different person."
The final act, though, is all Jane's, exploring what Fonda calls her late-in-life feminist awakening.
"I can't deny that it's true that, up until my mid- to late 60s, I pretty much was defined by men," Fonda says. "But all that was in preparation for me to find myself … to come into my own."
Although not intended to be a timely portrait of a woman finding her voice, both Fonda and Lacy acknowledge that the film arrives at a poignant time.
"When we started doing this movie, #MeToo had not burst forth and become Time's Up," Fonda says. "But I think a woman claiming her own voice, after many decades of struggle to do that, and standing on her own two feet with some agency — this is a good time to show that, and the struggles that led to that. It's also a good time to show the transformative power, not just on the social landscape, but in your personal life, when you feel that your life has meaning and you feel a commitment to things that are bigger than you are."
Garity described "Jane Fonda in Five Acts" as providing one crucial takeaway: that it's never too late.
"Despite your circumstances, life is gonna give you some lemons regardless of your station," he says in a telephone interview. "And the great challenge is being able to turn that into lemonade. My mother was able to use a lot of her flaws and challenges and turn them into her strengths, and it's easier said than done. Maybe that's her survival mechanism, but her energy and enthusiasm is awe-inspiring."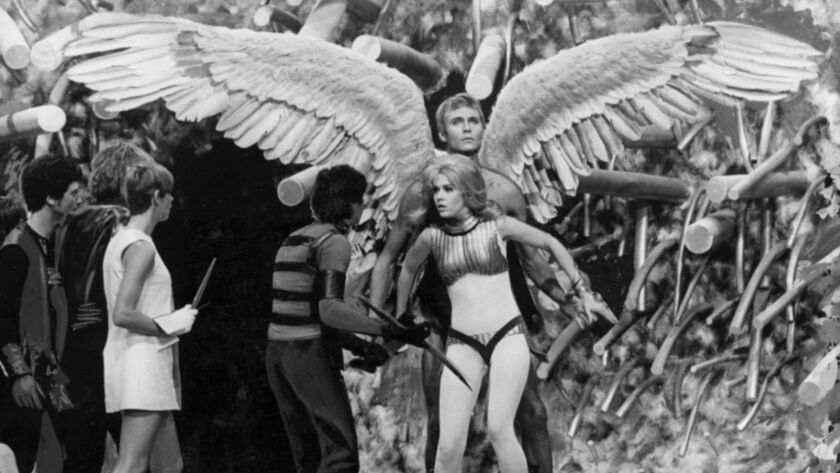 Not that all that energy doesn't have its drawbacks.
"Listen, do I wish that my mother was home cooking me meals and that we spent more time together? Yeah, I do," says Garity. "But that's not who she is. I'm a grown man now. I have my own family, and you have to learn from your situation and decide what you want for yourself and make it happen. Had I had a mother who was home every day and just doting on me, maybe I would wish for a mother who was out there pursuing her dreams. A lot of people will talk the talk. My mom walks the walk."
On the topic of slowing down, Fonda jokes: "I was gonna do that. But how can you garden and take vacations with what's happening now? Our democracy is being fundamentally threatened." (A day after this interview, Fonda was in Sacramento to advocate for a bill intended to help victims of on-the-job harassment and discrimination by banning forced arbitration agreements, under which workers waive their right to bring complaints against their employer to court.)
Fonda said the documentary, more than a decade removed from her memoir, helped her take stock of her legacy.
"I think that I give women hope, and I show that you can have faced problems and deep issues, and you can surmount them. Now, as those words are coming out of my mouth, there's another voice saying to me: 'Yeah, Jane, but you're white and you're famous and you're privileged.' That makes a big difference, and I understand that. Not everybody has the privilege, the time, the space, the physical wherewithal because of their circumstances, to do reflection… I hope I get to write another book before I am done."
Sky's the limit?
"Well, the sky, it's gotten much lower," Fonda says. "I don't have much time."
'Jane Fonda in Five Acts'
Where: HBO
When: 8 p.m. Monday
Rating: Not rated
Twitter: @villarrealy
---
Inside the business of entertainment
The Wide Shot brings you news, analysis and insights on everything from streaming wars to production — and what it all means for the future.
You may occasionally receive promotional content from the Los Angeles Times.