Why Gina Rodriguez is already crying before 'Jane the Virgin's' final season
"Jane the Virgin" doesn't launch its fifth and final season for another two months, but the farewell tour has already kicked into gear. And there were tears. Lots of tears.
Taking an afternoon break from production on an upcoming episode, creator and showrunner Jennie Snyder Urman and star Gina Rodriguez were at the Television Critics Assn. press tour in Pasadena on Thursday to talk about what's to come as the CW dramedy nears its end. Both Urman and Rodriguez were emotional during the 35-minute panel, wiping back tears and holding hands at various points as they reflected on the show's journey, as well as their own.
So, how much will the final season have viewers crying?
"I want you to cry throughout the entire season," said Rodriguez, who is starring in the action thriller "Miss Bala," opening Friday.
"I cried a lot in the editing room, if that's any indication," Urman said, "A writer in our room, Carolina Rivera, once described telenovelas to me as a 'pornography of emotion.' And that crystallized in my mind somehow. … And so we go through all the feels this season, certainly."
MORE TCA: CBS tries to turn the page on Moonves harassment scandal at TCA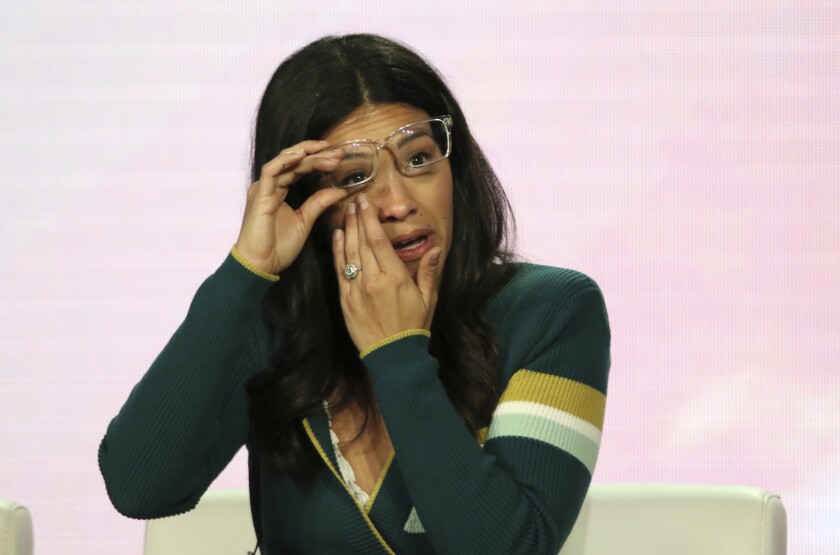 I want you to cry throughout the entire season
— Gina Rodriguez
Last season concluded with Jane (Rodriguez) and Rafael (Baldoni) headed toward an engagement — or at least, that had been the plan. But in the final moments of the season finale, as Jane arrived at Rafael's apartment anticipating the big question, what she got instead was a OMG-moment of a different variety. Michael (Brett Dier), her dead husband, was standing before her. The Season 5 premiere, which airs March 27 on the CW, will immediately address the Michael-looking elephant in the room. Here's what else viewers can expect: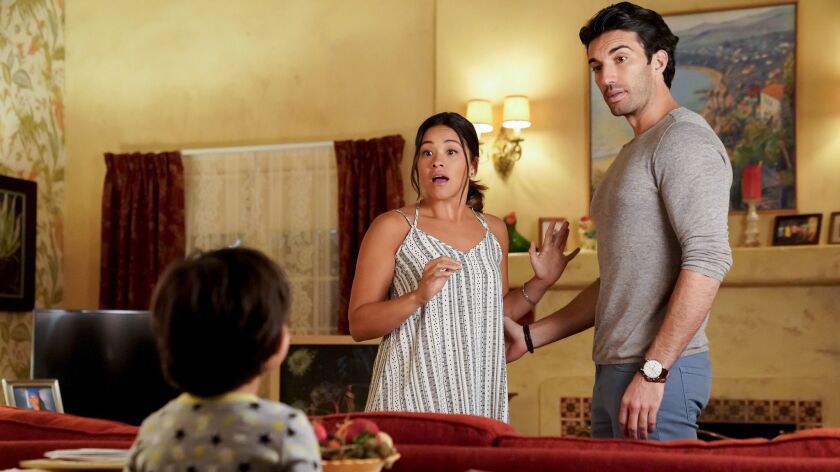 Full circle: The theme this year, according to Urman, is "things coming full circle." So expect moments that feel similar or mirror moments from "Jane's" beginning as a means of showing "how much these characters have grown and learned and changed," Urman says. For example, Jane will have another yellow-dress moment, a callback to the pilot. Urman also talked of plans to revisit issues that have come up with the couples that are handled differently because of growth from the characters. "I want a real sense of closure at the end," she added. "Our philosophy in the writers' room is: How can we have our cake and eat it too? How can this person die but then come back? How can this person cry and then laugh? … I'm really trying to push that into our last season where we can have it all and have these big family moments. I want to say goodbye in the right way. And I want to stick the landing."
Another OMG-moment: The Season 5 premiere includes a seven-page monologue delivered by Jane that will surely leave an impression with viewers. "It was a phenomenal challenge, especially because we wanted to do it [as a one-shot sequence]," Rodriguez said. "First it was about tackling it technically. … And then I was directing the episode, so it was like, OK, this is going to be interesting. So it was figuring out the choreography, it was figuring out the beats, it was hitting everything tonally that Jennie wanted me to hit. It was also making sure that it all flowed organically — and you were able to see my mom and my grandmother at the same time and move with me. It was a really great challenge."
ALSO: Gina Rodriguez says goodbye to 'Jane the Virgin' and hopes 'Miss Bala' opens the door to more Latino-led films
The love triangle: Urman was cagey about how much the love triangle plays into the ending now that Michael (?) is back in the picture — not wanting to give armchair detectives too much to piece together. She did say, though, that it's long been the goal in the writers' room to make both men worthy of Jane.
"We couldn't vilify one or make one seem less than because that is going to immediately reflect back on your heroine," Urman said. "We would work really hard each year; we'd focus on a different part of the love triangle, bringing it out and making sure the men were worthy of her."
Viewers know where Jane's heart was leaning when she was a widow … but now?
**Bonus info on that spin-off: The CW recently announced its pilot order for a "Jane the Virgin" spin-off called "Jane the Novela." It's set up as an anthology series, in which each season would be based on a different fictional novel written by Jane Villanueva and would be narrated by her too. Urman and Rodriguez are both attached as executive producers.
It's already confirmed that Rodriguez will serve as a narrator. And Urman is open to the idea of other characters from the original series appearing on the show — but "probably not the first year."
"Once we get a year where we establish new characters, then we can see what comes," she says. "I love [the "Jane the Virgin"] cast; I'd be lucky to work with every single one of them again, and I really hope to."
MORE TCA COVERAGE
Bryan Cranston to star in limited series 'Your Honor' for Showtime
'The L Word' revival will arrive on Showtime by the end of the year
Stephen King's 'The Stand' series adaptation picked up by CBS All Access
Twitter: @villarrealy
---
The complete guide to home viewing
Get Screen Gab for weekly recommendations, analysis, interviews and irreverent discussion of the TV and streaming movies everyone's talking about.
You may occasionally receive promotional content from the Los Angeles Times.