Judd Apatow and Pete Holmes get real about comedy in HBO series 'Crashing'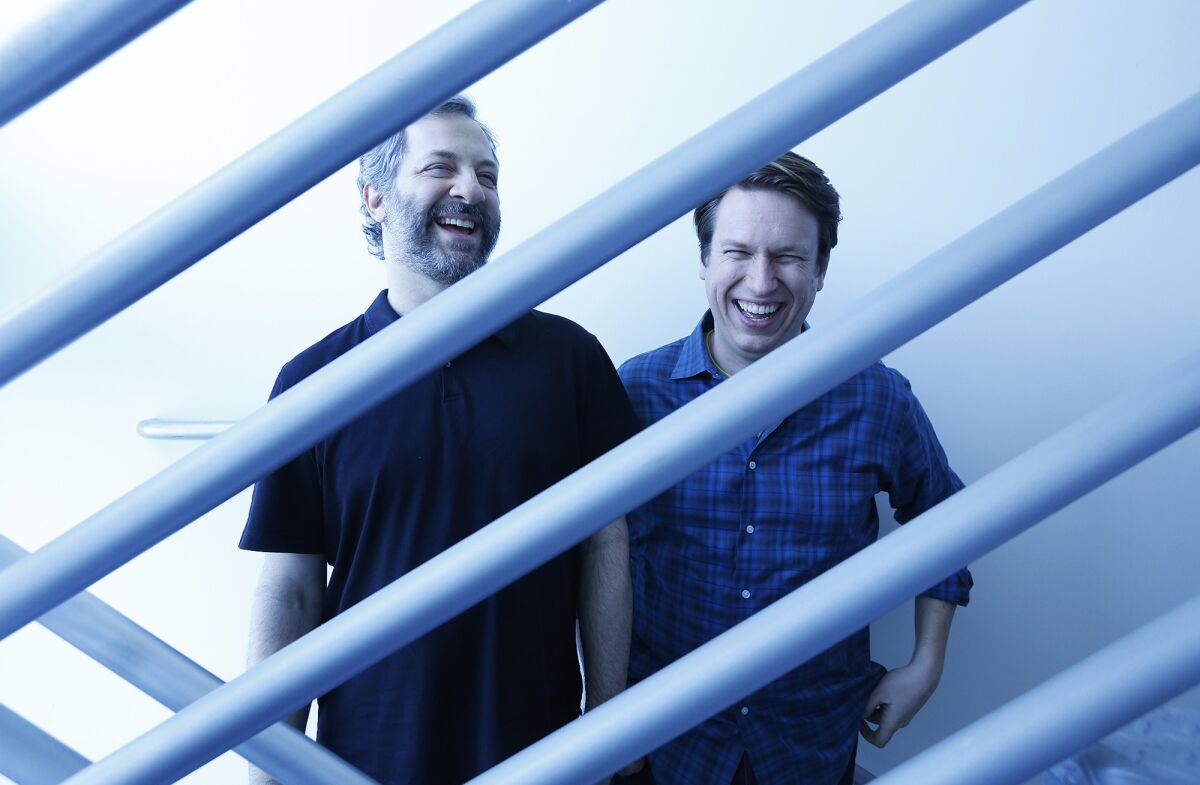 It's a few weeks from the premiere of his new HBO series, and Pete Holmes has almost reached his limit for answering questions.
"Not that I'm sick of it," he clarified, leaning back into a sofa as he settled in for a chat inside Judd Apatow's production offices in an aggressively nondescript stretch of West L.A. "But I'm kind of like, 'I think I've talked about myself enough,'" he said, pinching his voice to a sort of high, cartoonish wonder, a tone familiar to anyone who has listened to his comedy.
"Have you heard his podcast?" countered Apatow, seated nearby. "It's like three hours long."
The jab gets the first of the afternoon's many big laughs from Holmes, who as a comedian and the one-time host of a late-night variety show on TBS, has rarely seemed at a loss for words. But as star and creator of the half-hour comedy "Crashing," which premieres Sunday, Holmes is drawing from another time in his life as a struggling New York City comic named Pete Holmes, who is forced to commit to his comedy dreams after his suburban life falls apart.
Focusing on what Holmes describes as a version of himself from roughly 2007, the series offers a raw depiction both of the end of a marriage (Holmes' ex-wife is portrayed by "Orange Is the New Black's" Lauren Lapkus) and the beginning of a life in comedy. Far from depicting a romanticized ideal of the pursuit of show business dreams, the "Crashing" show hinges on a warts-and-all-portrait of the indifferent open mikes along with the hustle, humiliation and uncertainty required to become a comic.
With the Upright Citizens Brigade still drawing big crowds and stand-up comedy thriving around podcasts and the all-hours open mike workshop of Twitter, interest in comedy as a creative path seems as popular as ever. But for all the inside views of the job "Crashing" provides, it isn't the sort of series where open mike experience is required to find resonance in the story.
"One of my hopes for people with this show is, even if you're not interested, literally, in becoming a comedian, it's a good plight [to depict]," Holmes said. "Because a comedian just wants his thoughts to be accepted. And even if you're an architect or a dentist or whatever you are, I think people can relate to that desire to be appreciated in an authentic way."
Driven to pursue comedy since taking improv classes in high school and writing a humor column while an English major at Gordon College in Massachusetts, Holmes first tried stand-up during his junior year and from there was committed to making it a career. Now 37, Holmes has released two comedy albums and three stand-up specials since 2010, including "Faces and Sounds," which aired on HBO late last year.
Onstage, Holmes displays an earnest, goofy charm with a mix of self-deprecation and a determined upbeat outlook that aims to boost the audience's "joy quotient" while not shying away from tougher topics like sex, death and homophobia.
"What Pete's really good at is erasing the line between performer and audience," said fellow comic Kumail Nanjiani ("Silicon Valley"), whose career began alongside Holmes' as they worked the same open mike shows around Chicago. "When you're watching a show when Pete's performing, it sort of feels like you're all in it together, it really feels like a group. That's the big challenge of stand-up. It can't really feel like a person up there talking while everybody else just listens, it has to feel like a dialogue."
That facility for personal connection led Holmes to start his conversational interview podcast "You Made It Weird" on the Nerdist network in 2011, which eventually led to "The Pete Holmes Show." The series aired for 80 episodes before being canceled in 2014, but it was that disappointment that led Holmes to reach for something more personal in "Crashing."
"I was like, 'I love doing silly stuff, but what is the one story that makes me unique? What am I really here to do? What can I tell better than anyone else?'" Holmes said. "Well, this is the story of a religious guy who married the first person he slept with, very young and she left him. And then, in that kind of despair, got thrown into the unlikely canopy of fellow comedians. People that you might think are degenerates or misfits ended up being a very loving, unlikely group that saved me."
Holmes, who was raised in a devoutly Christian household and was married at 22 and divorced at 28, said he eventually drifted away from religion, which is another aspect he gave to his character in "Crashing." "It's an interesting story to tell, to see how losing your faith can actually yank it into the third dimension," he explained.
"It becomes something that you believe because you inherited it from Sunday school to something that, when the rubber meets the road, you see that you really do have an ethical core and, maybe even more interestingly, so do these atheist, misfit – and I say so lovingly – scumbag comedians," he said with a laugh.
Holmes immediately thought of Apatow and his brand of honest, often uncomfortable, comedy as the ideal collaborator. The two met after Apatow appeared on "You Made It Weird" in 2012, and later Holmes pitched him an idea that explored a comic's origin story while also examining and heightening Holmes' personal experience.
I always got a sense that we were doing it right when it felt a little bit uncomfortable.
— Pete Holmes
"I always got a sense that we were doing it right when it felt a little bit uncomfortable," said Holmes. "Certainly the show is called 'Crashing' because I'm staying on couches. But, Judd and I also think it's really funny when you have all these good intentions and how you want it to go and maybe it goes a little sideways."
"Nothing's funny about anything going right," Apatow agreed. "It seems you have to destroy people to make it funny and see them try to climb out."
And the show doesn't skimp on awkward moments. The dissolution of Holmes' marriage ventures into a surprising darkness that includes breaking the news to his parents, and the pilot episode – which Apatow directed – offers a raw, somewhat nerve-racking view of stand-up comedy with the camera positioned in a way that underscores the performer's isolation.
"Well, you're exposed," said Holmes. "Literally, your animal brain is going, 'There's 17 angles he can be assaulted from.'"
"Comedians watch from the back," Apatow added. "So it almost feels like the audience is watching from the back of the room with the comedians."
Holmes also had to unlearn some 15 years of experience to capture the deer-in-the-headlights terror of bombing. "We joke that I always take the mike stand out and put it to my right, which is a professional move," he explained. "I kind of wish that I hadn't done that [in the show], it would've been a nice little inside joke. It also would've looked terrible."
The series also showcases how a fledgling stand-up survives. Veteran comics Sarah Silverman, T.J. Miller and Artie Lange appear as out-sized versions of themselves to mentor Holmes' character as the season progresses, and a small group of his fellow open mike comics, including rising star Aparna Nancherla, help provide support through the occasional rough set.
If you 'make it,' next thing you know you're at a Best Western in Boise and you're alone.
— Pete Holmes
"I think that's one of the most interesting things about stand-up, when you start, it's you and 15 friends, and if you do bad, at least it's a good story," Holmes explained. "And then if you 'make it,' next thing you know you're at a Best Western in Boise and you're alone."
But there are also the moments where Holmes' character experiences the intoxicating success of a joke landing. It's the sort of self-sustaining rush that has an addictive quality, even for Apatow. After starting his career as a student of the craft (he hosted radio interviews with comics when he was a teenager), the prolific writer-producer of hits like "The 40-Year-Old Virgin" and "Trainwreck" has returned to stand-up and will join Holmes and Lange at the Regent Theater on Saturday for a benefit show celebrating "Crashing's" debut.
"You have to be so obsessed to learn how to do it because it's one of the only jobs that you learn how to do by doing it in front of people who pay to see it," Apatow said as Holmes chuckled. "And, you're terrible. You have to go through years of being awful, so you're definitely going to suffer and you realize that at the time, 'I'm learning a little every day,' and you feel the growth, but still most of the time it's an awful experience."
"A lot of people sell [stand-up] short and they're like, 'Oh, you didn't get attention as a kid,'" Holmes added, a little defensively. "No one says that to the guy making pottery, you know?"
See the most-read stories in Entertainment this hour »
Follow me over here @chrisbarton.
ALSO:
Comic Sebastian Maniscalco recounts his road from the Four Seasons to the Comedy Store (and beyond)
From refugee camp to Hollywood: Brothers who write for CBS comedy 'The Great Indoors' on their journey and the immigration ban
Comedian Michael Ian Black channels anger in his act and on social media
Get our L.A. Goes Out newsletter, with the week's best events, to help you explore and experience our city.
You may occasionally receive promotional content from the Los Angeles Times.