Comic Sebastian Maniscalco recounts his road from the Four Seasons to the Comedy Store (and beyond)
Hanging out with Sebastian Maniscalco as the comedian revisits his former job waiting tables at the Four Seasons and getting in sets at the Comedy Store.
"This is crazy, man," says a black-clad Sebastian Maniscalco, settling into a booth at the posh restaurant inside the Four Seasons in Beverly Hills. A massive light fixture evoking a cascade of bubbles hangs overhead amid the room's polished wood and air of assured California elegance.
Maniscalco's incredulous expression is the sort of humble "How did I get here?" observation you might expect from a rising comedy star, one who, in the 43-year-old's case, this month released his fourth stand-up special on Showtime. Called "Why Would You Do That?" the performance was drawn from seven sold-out shows at the Beacon Theatre in New York City. If you watch carefully, you'll see Jerry Seinfeld among those laughing in the crowd.
But this afternoon Maniscalco's comment isn't drawn from a realization that he's arrived, but more of a sense that he's back where he started. From 1998 to 2005, this is where Maniscalco made a living while trying to break into the L.A. comedy scene.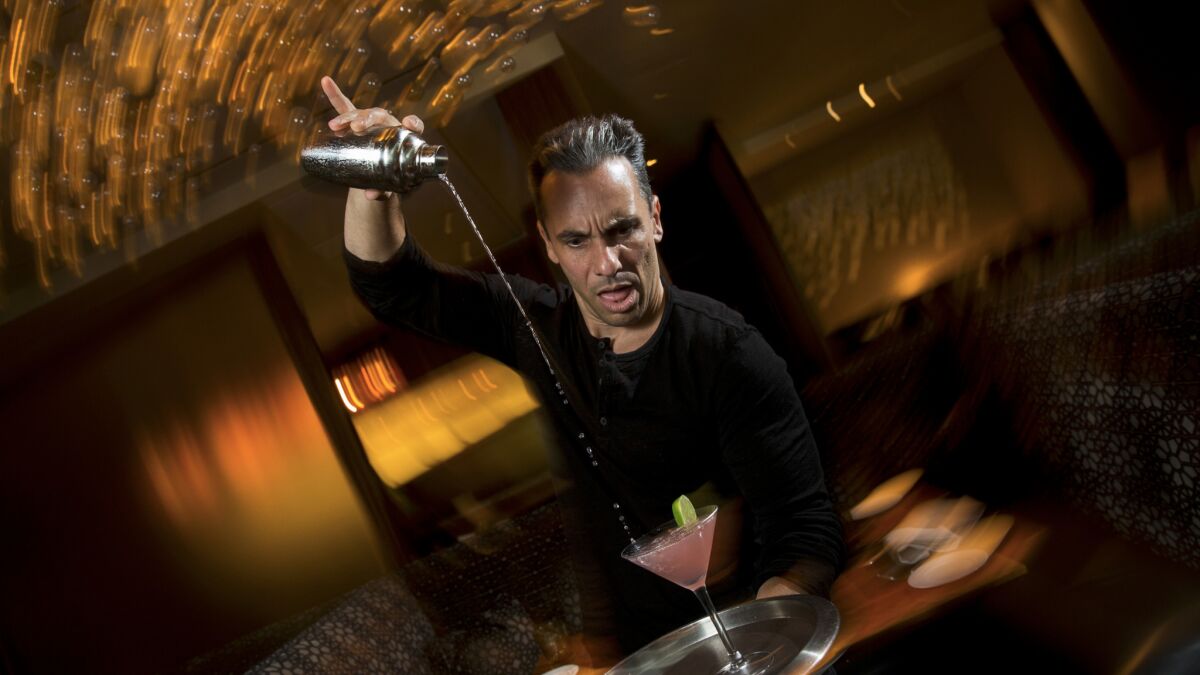 "When I was here it was like the hot spot for celebrities, power meetings. So everybody came through here, from Sean Penn to Shaquille O'Neal," Maniscalco says, noting that the restaurant has been remodeled since his time but the memories of pouring table-side martinis remain vivid. (Years ago, he briefly waited on Seinfeld, who eventually would become one of his biggest fans.)
"I always had it in my head: One day, I'm going to be on this side of the table," he says.
It's a vow that's no doubt repeated across the city's high-end restaurants, where any given member of the night's staff balances high-priced, high-demand tables with a head shot or screenplay stuffed into their locker.
When Maniscalco first moved to L.A. from outside Chicago 18 years ago, he would perform at open mics all over town. Coffeehouses, bowling alleys and "bringer rooms" — venues where you can get stage time if five people come along to watch — "whatever had comedy I was there," he says.
As his career grew, the balance between his day job and his stand-up aspirations expanded to include ducking out to grab a set at the famed Comedy Store on Sunset Boulevard during his shift. In his last year at the restaurant, Maniscalco coordinated with the club and his coworkers at the restaurant to time his set with his half-hour dinner break — no matter what.
"So I would have a full section and I would tell whoever the other waiter was working that area that I'm going," Maniscalco recalls. "This place, for my manager at the time to allow me to do that, it was unheard of."
Somewhere around 9:30 and 10 p.m., he would jump in his car, change out of his waiter's uniform, perform a 15-minute set, and drive back. (Once, he did a set while still wearing his name tag.) At its best, Maniscalco said he could do it all in 28 minutes. He never missed a set.
"I didn't know any of the wines of the day or the soup of the day, but I knew how to do this," he admitted not long after climbing into his car across the street.
Today, in the teeth of rush hour, he makes that drive again. It takes longer.
**
Riding with Maniscalco in his plush sports sedan, you can hear more of the quick, conversational style of his stand-up in his voice, which carries the loping, elastic cadence of the familiar big-city Italian American accent.
It's not the broad "fuhgeddabouttit" of Andrew "Dice" Clay's massively popular act forged in the '80s, but you can hear a spiritual connection — as could Clay, who brought Maniscalco on the road as an opener early in his career.
They're not there to see an opening act, so, for me, it kind of gave me tough skin. These people were aggressive to say the least."
— Sebastian Maniscalco
"It's the first time I performed in front of 1,000 or 1,500 people, and these are Dice fans," he says. "They're not there to see an opening act, so, for me, it kind of gave me tough skin. These people were aggressive to say the least."
Onstage, there's an impatience to Maniscalco's delivery as well, a hair-trigger exasperation with people and modern life, punctuated with baffled expressions, percussive thumps on the microphone and wide-swung leg kicks more associated with an Olympic speed-skater than a stand-up comic. Maniscalco credits the physicality to one of his idols, the late John Ritter, but admits there was a method to his movements as he honed his craft.
"The more comfortable I got onstage the more comfortable I got expressing myself in a physical manner," he explains. "And it almost shocked people — 'Oh, is there something happening?'
"I mean, especially in today's environment where people got no attention span? You've basically got to light yourself on fire up there for an hour for people to know what the hell's going on."
"I just love the level of exaggeration and outrage, and his irritability," Seinfeld says of Maniscalco's irascible stand-up voice during an interview by phone from New York. "It all to me is just a symphony of a very unhappy person, and that's my favorite kind of thing. It's the meeting of light and dark."
Driving to the Comedy Store in traffic, Maniscalco seems entirely at ease. But the irritability is revealed in spurts, like the release of a pressure valve. He remembers while waiting tables how often wine would be sent back if one table saw another do it first. He grimaces at the memory of what customers would call the bowls of mixed nuts at the bar. "People would go, "Ooh, can we get more of the pu-pu platter?" he says in a high, precious voice. "It's like, really? I don't know why it bothered me. But it did."
Then there's his story of one customer who sent back the glassware.
"She said the rim of the glass was too thick for her lips, so she was wondering if there was a skinnier glass we had so it would rest perfectly on her lips," he says, his voice dripping with disdain. "Again, at the Four Seasons you can't say nothing, you just say 'Oh yeah, yeah, right away.' What I wanted to say: 'You can't even feel that glass on your lips there's so much collagen.'"
He pauses as he creeps up La Cienega Boulevard toward Sunset: "There's a lot of pent-up anger I had working at that job."
**
After a U-turn on Sunset, he pulls into what he dryly calls "the worst parking lot in Los Angeles" behind the Comedy Store. "There's probably eight spots in here but for some reason at night they fit 33 cars."
Maniscalco is on the bill. In front, he points out where his name has been added in white script among the many adorning the dark exterior of the club, a sort of living wall of fame that lists the club's favorites (including Seinfeld, Sam Kinison and Jim Carrey).
He is a voice that really expresses what so many of us feel on a daily basis, whether it's people watching or dealing with the frustrations of everyday life."
— Adam Eget, talent coordinator at the Comedy Store
"I think he's always been a comic's comic," said Adam Eget, talent coordinator at the Comedy Store who has watched Maniscalco's profile rise while working at the club for the last seven years. "He is a voice that really expresses what so many of us feel on a daily basis, whether it's people watching or dealing with the frustrations of everyday life. He makes people laugh in ways that many other comics can't."
"I really am just a huge fan," Seinfeld said. (Maniscalco was also Seinfeld's guest on a recent episode of "Comedians in Cars Getting Coffee.") "He's really my favorite comedian these days." In April, Maniscalco will headline the Pantages Theater and he hits the couch on "The Late Show with Stephen Colbert" on Friday.
For most of Maniscalco's career he went by only his first name to avoid people mispronouncing his last, and he grins while noting it's only visible during the day on the cover of the club's outdoor bar, which is flipped down at night. However, he walks to another spot where his name appears high above us.
"Apparently somebody else was going by Sebastian before I got here, and it was on the side of the building, which I found crazy," he says. "Now my name is up on the [marquee]. So we got it three times, we got it on the bar, we got on the side of the building and we got up here."
Inside the club, it's impossible not to feel the weight of the Comedy Store's history. Entering from the back through the kitchen, there's a sign for the club's 15th anniversary in 1988, which featured a lineup that included Richard Pryor, Robin Williams and David Letterman. Vintage head shots line the hallway, including more classic comic greats that even at dusk combine with the black walls and ceiling to lend a foreboding atmosphere.
Maniscalco calls the Comedy Store his "gym," a sort of home base where he goes to stay sharp and work out new material. Like many comics who came up in L.A., he credits the club's longtime owner Mitzi Shore for his career. But the Comedy Store's anarchic vibe stood in stark relief to Maniscalco's day job.
"There were people who used to sleep here. It was the complete antithesis of the Four Seasons," he explained. "Back then . . . it kind of ran itself, it's like the comedians ran the damn place. The inmates were running the asylum."
Walking through the dark, neon-accented Original Room, Maniscalco remembers being recognized during his restaurant shift by a couple who had just watched him perform ("Next thing you know, I'm bringing them a cosmopolitan and chicken satay"). Often, the demands of his job kept him from reveling in the buzz of a good set. "I didn't even get to enjoy being a comic," he says. "I'd go right off the stage and back into waiter mode."
Maniscalco finally left the Four Seasons to focus on comedy full-time not long after Vince Vaughn's 2005 "Wild West Comedy Tour" launched him to bigger venues. Still, he regrets not taking better advantage of his time to learn more about food and wine and, in a testament to his work ethic, feels vaguely guilty for not giving the job his best.
"I do reflect on it sometimes going, wow, if I knew what I knew now I would be such a better server," Maniscalco said. "This place, the standard is so high, sometimes I feel I didn't live up to that standard.
"But, on the flipside, I had to do stand-up. That's where my head was." And if he had been a better waiter, he might still be on that side of the table.
See the most-read stories in Entertainment this hour »
Follow me over here @chrisbarton.
ALSO:
With four movies this year — including 'What Now?' — Kevin Hart's the hardest-working man in show business
Comedian Joshua Snyder uses 'Star Trek' to get his message across
Comedian Michael Ian Black channels anger in his act and on social media
---
The complete guide to home viewing
Get Screen Gab for everything about the TV shows and streaming movies everyone's talking about.
You may occasionally receive promotional content from the Los Angeles Times.