Appreciation: Ken Berry and the delightful lightness of being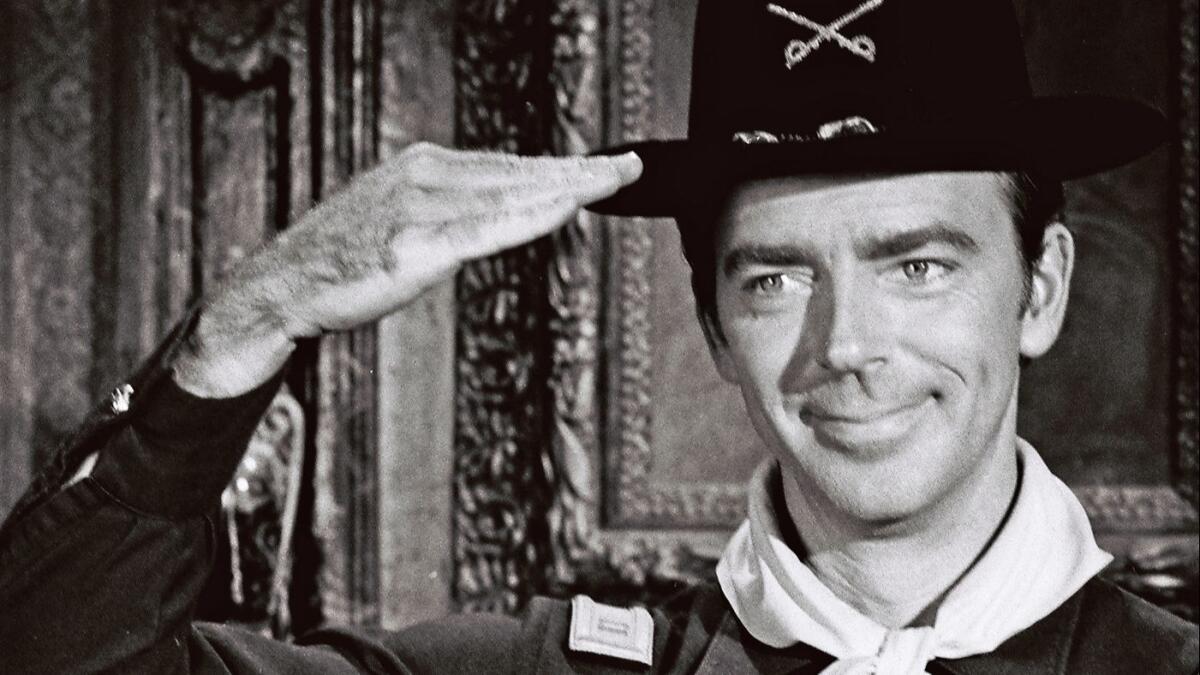 Television Critic
Lightness, because it is invisible, can be an undervalued characteristic in a performer. Effortlessness, which is to say the appearance of effortlessness — the result of the work that goes into ensuring that you do not notice the work — runs the risk of seeming like nothing at all. And yet, on some deep level, we recognize and value these qualities and mourn their loss, as with the passing of television's Ken Berry, who died Saturday at age 85. As one who grew up on his work, from "F Troop" onward, I can't think of him without a little buzz of happiness.
There was something attractively (if also deceptively) ordinary about him, a sweet, clean-cut type from Moline, Ill., enduringly boyish, with a wholesomeness that extends even to the name — Ken Berry seems just the sort of name one would invent for a character like Ken Berry. Still, it's a name the young and even middle-aged people of America may well not recognize; "Mama's Family," ended in 1990, and though there were excursions in regional theater, he was seen on screen rarely after that. He has no screen credits in the 21st century.

For the record:
9:25 a.m. Dec. 4, 2018This article states that the hometown of Jerry Van Dyke is Danbury, Ill. It is Danville, Ill.
Recurring roles in early 1960s series such as "Dr. Kildare," "The Ann Sothern Show" and "Ensign O'Toole" as well as numerous guest appearances, would have made him familiar to television audiences before he made a lasting mark on the medium in the 1965-67 ABC frontier sitcom "F Troop," in which he played cavalry Capt. Wilton Parmenter, innocent, incompetent, exquisitely accident-prone and something of a (shy) romantic lead (to Melody Patterson's bold Wrangler Jane).
Later, there was CBS' "Mayberry R.F.D." (1968-1971), in which Berry's widower-with-son Sam Jones was swapped in, almost as if by sleight of hand, for Andy Griffith's departing widower-with-son Andy Taylor; the more knockabout "Carol Burnett Show" spinoff "Mama's Family" (two years on NBC, and four in first-run syndication) followed, where he played Vinton Harper, the dim youngest adult child of Vicki Lawrence's title character.
Like the late Jerry Van Dyke, another comic actor with cabaret credits, and just two years his senior (and from Danville, Ill., a few hours drive from Moline), he entered show business by way of the military; like Van Dyke's, his first television appearances (on the Army-produced "The Big Picture," "Arlene Francis' Talent Patrol" and even "The Ed Sullivan Show") were in uniform. (Leonard Nimoy was his encouraging sergeant in Special Services, the delightfully named entertainment wing of the U.S. Army.)
In a way, Berry belonged to a time before his time, an age that was slipping away even as he entered it. Under contract to Universal Pictures in the twilight of the studio system — he was, not inappropriately, in line to replace Donald O'Connor, another comic actor cum singing dancer, in Universal's "Francis the Talking Mule" film franchise — "I realized," he told writer Jim Longworth, "that the studios weren't making motion picture musicals anymore. It's like aspiring to be a basketball player and things are coming along, then you pick up the newspaper, and it says, 'Basketball canceled.'"
Indeed, "F Troop" in its two seasons straddled an old world and a new, its first year being filmed in black and white and the second in color, while the comic back and forth of Forrest Tucker's Sgt. O'Rourke and Larry Storch's Cpl. Agarn, had its roots in Abbott and Costello (with whom Berry worked in Las Vegas) and burlesque.
The physical comedy that Berry practiced itself recalled an even earlier era. (Buster Keaton got in touch once to compliment him on a gag.) That he was a dancer by training and predilection — Fred Astaire and Gene Kelly were his idols — makes sense: One can feel the discipline that makes his slapstick a joy. You can't take a decent pratfall without being light on your feet, and Berry, who often devised his own business, was a minor master of the art.
Apart from his starring series, Berry remained a familiar figure in television across his career, not just as a guest star — there would be multiple trips to "The Love Boat" and "Fantasy Island" — but on variety shows as well, including his own brief, 1972 summer replacement series, "The Ken Berry 'Wow' Show," whose supporting cast featured Teri Garr and Steve Martin. Along with a 1972 television production of "Once Upon a Mattress," opposite Carol Burnett — they reunited in 1993 in a Long Beach Civic Light Opera show, "From the Top!" — these were occasions to remind the world, and maybe himself, that he was a song and dance man, first and always.
He did not quite have the weight for a film career — lightness being what it is — although there were a few movies, trifles like "Herbie Rides Again" and "The Cat From Outer Space." But television, we now recognize, is its own, not inferior universe, whose stars shine as brightly as any, and take the light with them when they go.
ALSO:
Ken Berry, star of sitcom 'F Troop,' dies at age 85
Actor Ken Berry comes full circle in 1986 interview
'From the Top!' a Good Idea Gone Up in Flames : Carol Burnett vehicle is an extended TV skit
Follow Robert Lloyd on Twitter @LATimesTVLloyd
Get our L.A. Goes Out newsletter, with the week's best events, to help you explore and experience our city.
You may occasionally receive promotional content from the Los Angeles Times.