Kim Kardashian's month off social media has led to introspection for the reality show family
In September, Kim Kardashian tweeted 162 times, posted 40 pictures on Instagram and sent out more than 200 Snapchat clips. But since Oct. 3, when five bandits robbed her at gunpoint in her Paris hotel and made off with $11 million worth of her jewels, she's been silent on social media. No fleshy selfies of her cleavage or world-famous behind. No photos showing off her luxurious ​Balenciaga, Balmain or Yeezy ensembles. Not even a tweet to promote her app, personalized emoji line or mobile game.
"If she decided never to return to social media, the world would mourn the loss of Kim Kardashian online," Niccolo De Masi, chairman and chief executive of Glu Mobile, which created her money-making​ game "Kim Kardashian: Hollywood," said in an interview. "But I personally hope — and expect — she'll return."
​The Silicon Valley executive has reason to be concerned. Sure, Kardashian's online followers — 85.9 million on Instagram, 48.7 million on Twitter — would miss the reality star's updates popping up in their timelines. But for Glu Mobile and the other companies Kardashian works with, including app developer Whalerock Industries and sponsor Sugar Bear Hair Vitamins, her retreat from the Internet is also a retreat from their potential customers. Her last tweet, for instance — sent Oct. 2 — included a video clip urging "Kim Kardashian: Hollywood" players to unlock a new surprise within the game.
Meanwhile, the robbery is having more personal ramifications on the Kardashian family, whose success has come in large part as a result of their transparency with fans. Since the incident in France, Kardashian — who had been attending runway shows during Paris Fashion Week the day thieves stole her 20-karat engagement ring — has mostly holed up inside her Bel-Air home. She stopped filming "Keeping Up With the Kardashians," quietly resuming work just last week as cameras trailed her to husband Kanye West's concerts at the Forum.
Her five siblings, however, continue to live very public lives, although they've taken new precautions.
"All of us upped our security, for sure," Khloe Kardashian acknowledged this month at the launch of her jean line Good American. She arrived at the outdoor Los Angeles mall the Grove behind a phalanx of bulked-up bodyguards.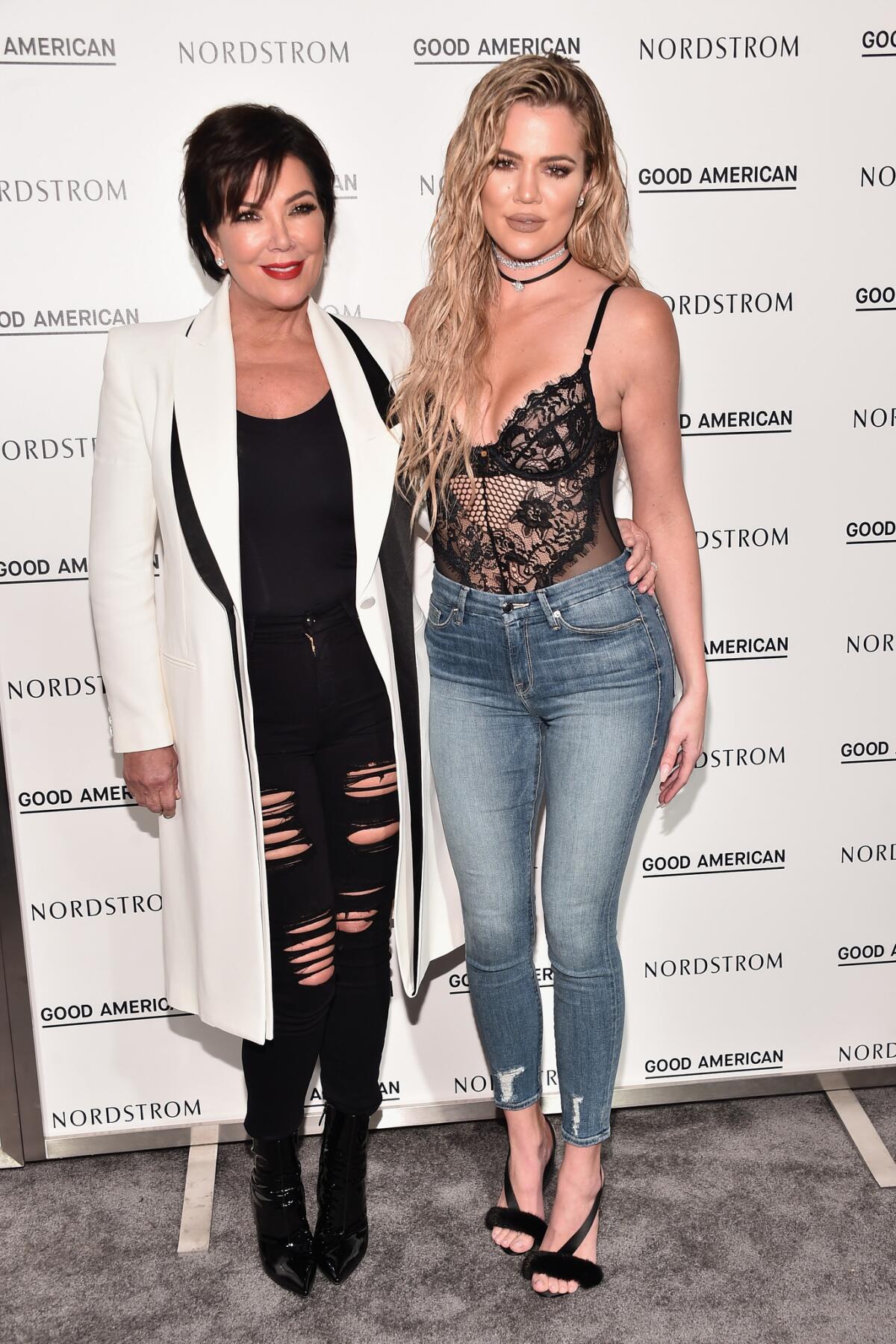 The youngest member of the family, Kylie Jenner, has been as active as ever on Snapchat, showing off her Kylie Cosmetics line and an intimate Halloween dinner she hosted inside her home. Kourtney Kardashian hosted an event at a West Hollywood restaurant with Manuka Doctor, a honey skin care line she has partnered with.
"I think because we're all in this together, we kind of didn't realize how weird people could get," said Khloe, who called the robbery a serious wake-up call for the family over how they should interact with fans.
"Sadly, we've all had stalkers. And that's not normal. But in our family, it was our normal."
Privacy concerns have often been broached on "Keeping Up With the Kardashians," which is now in its 12th season on E! In an April 2015 episode, family matriarch Kris Jenner answered the door at her Hidden Hills mansion to find 13 pizzas on the front step.
"This isn't funny," she scolded her children, assuming one of them had pulled a prank on her. But when she placed the Domino's boxes on her kitchen island and opened one up, she was horrified by what she saw: "Kylie, will you marry me?" had been written on the cardboard lid.
Kylie, then 17, was unfazed. She even tried to eat a slice. But her mother was so shaken by the anonymous delivery that she hired two armed security guards to patrol the grounds around her Hidden Hills estate.
​Soon after, w​hen Kylie began posting nonstop on Snapchat — revealing her location in real time — her sisters worried about her safety.
"We need to do something that will terrify her. Shall we hold her up at gunpoint?" Khloe actually suggested as a joke in one recent episode.
Since its inception in 2007, "Keeping Up With the Kardashians" has offered a candid look at the family's everyday life. Yes, it's reality television, and there are moments that inevitably feel scripted. But over the show's 12 seasons, the Kardashians have always been willing to share more with viewers than most celebrities would ever dare. Kris recorded herself getting a face-lift. Kim once tried to cure her psoriasis by spreading her sister's breast milk on her skin. And when Kylie was approaching puberty, her older sister showed her how tampons worked with the aid of a glass of water. So when the world started using Twitter and Instagram and Snapchat, social media quickly became a natural extension of the Kardashian brand.
Kim, who is by far the most popular Kardashian online, typically posts fairly personal material on social media. Last month, she tweeted about her obsession with new documentaries on JonBenét Ramsey and Amanda Knox and shared a photo of herself asleep with her daughter, North. But she also uses the Internet to promote her businesses — mostly her Kimojis, a line of downloadable emojis that correlate to her life, and "Kim Kardashian: Hollywood." According to a July cover story in Forbes, it's the game that has helped Kim amass the majority of her fortune. Since launching in June 2014, it has been downloaded 45 million times and made Kim $45 million, the magazine reported.
A big part of the reason that "Kim Kardashian: Hollywood" has resonated with fans is that the game is modeled heavily on the reality star's day-to-day life. The goal of the game is for players to become a star, trying to get onto the A-list while befriending Kim in the process. The animated version of Kim is decked out in clothes that real-life Kim has worn recently, and characters head to locations that real-life Kim frequents. So if real-life Kim stops posting pictures of her outfits online and hides out behind the gates of Bel Air Crest, the game loses its authenticity.
If she decided never to return to social media, the world would mourn the loss of Kim Kardashian online.

— Niccolo De Masi, chairman and chief executive of Glu Mobile, creator of the game "Kim Kardashian: Hollywood."
So far, "Kim Kardashian: Hollywood" has held up "perfectly fine," said De Masi. Before the robbery, he and Kim had worked out a road map for the game through the end of 2016.
"Next year, in theory, it could become an issue," acknowledged De Masi, who said he had been in touch with Kim via text message over the last few weeks. "But the reality is that the game will work even if she doesn't, because she's got 150 million social followers. It's obviously better if she's interacting with it live."
If she does opt to open up about the harrowing incident, some observers speculate she will follow in the traditional media footsteps of Caitlyn Jenner, formerly her stepdad Bruce Jenner, who did an in-depth interview with ABC's Diane Sawyer and appeared on the cover of Vanity Fair in 2015 to announce her name and gender change. Others say she'll turn to the social platforms she's used so effectively in the past, perhaps using her own app to post exclusive content. (On Oct. 18, Kim's assistant, Steph Shep, posted a picture of a handwritten note on the app, noting that "Keeks is taking some much-needed time off. But not to worry…we've called upon Kim's closest friends, fam, and yours truly to serve up some exclusives.")
"In trending celebrities since the 1960s, our data shows that when a negative event happens in a celebrity's life, they need to make some kind of public statement quickly in order to mitigate any negative long term effects," said Henry Schafer, executive vice president of the Q Scores Co., which measures celebrity awareness and consumer appeal. "If you don't say anything, you create skepticism, and people doubt the veracity of the situation."
Indeed, some were quick to label the robbery a publicity stunt or an insurance ploy, even though Parisian authorities have confirmed the legitimacy of Kardashian's account of the crime.
That doubt is not surprising to Schafer, who said Kardashian is one of the most polarizing celebrities his company tracks. Her positive Q score is 10% — meaning 10% of the total population over age 6 says she is one of their favorite personalities — and her negative Q score is 62%.
"She's someone people love to hate," said Schafer, who added that Howard Stern and Martha Stewart have similar profiles.
Love her or hate her, it's difficult to imagine a Kim Kardashian who doesn't share herself with the world. Her mother, however, implied in an interview last week that a return to public life would come soon.
"We've been able to adjust and make some changes in the way that we post [on social media], but in no way do I want this to affect the heart of the family," said Kris, who urged Khloe to promote her Good American jeans amid the Kim drama. "We have to think about safety first. You're putting your life out there in real time. We're now taking a lot more precaution, but the girls do enjoy their social media and the relationship they have with their followers and their fans. We just have to navigate it a bit differently."
See the most-read stories in Entertainment this hour »
Follow me on Twitter @AmyKinLA
ALSO
Khloe Kardashian fires back at 'cruel' Donald Trump remarks
Why Amanda Knox trusted two rookie filmmakers to tell her story in a new Netflix doc
Riding shotgun with actress Bel Powley, star of 'Carrie Pilby,' on the way to her first Toronto premiere
Get our L.A. Goes Out newsletter, with the week's best events, to help you explore and experience our city.
You may occasionally receive promotional content from the Los Angeles Times.