Why Amanda Knox trusted two rookie filmmakers to tell her story in a new Netflix doc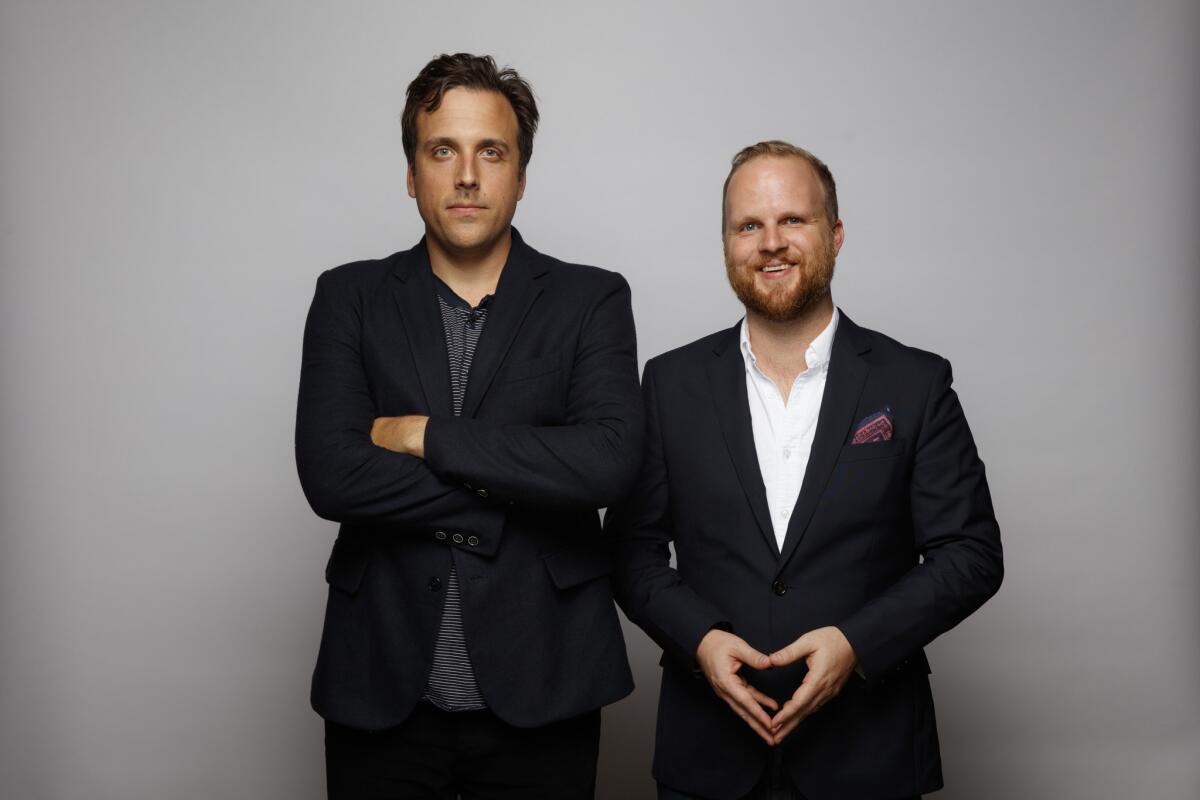 Reporting from Toronto —
A month after Amanda Knox was released from prison, a pair of rookie filmmakers flew to Seattle to meet her.
She had just spent nearly four years behind bars in Italy, accused of murdering a woman she shared a home with during a college exchange program. She and her onetime Italian boyfriend Raffaele Sollecito had been exonerated on appeal by a lack of DNA evidence implicating them in the crime.
Upon her return to Washington, paparazzi began to stalk her. On the nightly news, anchors questioned how she would capitalize on her newfound fame — might she join "Dancing With the Stars" or sell her life rights to a Hollywood director? Even though her name had been cleared, to many Americans, she was still "Foxy Knoxy," a tabloid staple — or even worse, a wolf in sheep's clothing.
So why, after being burned by the media, would she ever agree to be a part of a documentary about her ordeal? Brian McGinn and Rod Blackhurst knew it was a long shot. But they traveled to Seattle anyway, hopeful that Knox might hear them out.
They were young — McGinn is 31 now, Blackhurst, 35 — and they thought that their age might make Knox more inclined to trust them. A mutual friend made the introduction, and Knox agreed to a meeting.
"We just sat and listened," recalled Blackhurst. "I think she just saw us as two young guys, and we weren't the stereotypical people that were probably reaching out to her at the time. We didn't have any preconceived ideas about her or the case."
Still, it would take two more years for her to agree to take part in "Amanda Knox," McGinn and Blackhurst's documentary that had its premiere at the Toronto International Film Festival this week and debuts on Netflix on Sept. 30. And Knox wasn't the only subject the pair had to persuade to be in their movie. The film focuses on four individuals who were integral to the case: Knox, Sollecito, Italian prosecutor Giuliano Mignini and Nick Pisa, a journalist who covered the trial extensively for the Daily Mail.
In their interviews, all four look directly into the camera with a simple backdrop behind them. That was intentional, said the filmmakers, who wanted the audience to feel as if the subjects were speaking directly to them, sans distraction.
What is it that everyone really cares about? I think people love monsters.
— Amanda Knox
Neither McGinn nor Blackhurst was particularly familiar with the ins and outs of the Knox saga before they began working on the documentary. After the duo met in line at a 2010 Nathaniel Rateliff concert in Echo Park — McGinn needed a ticket, Blackhurst and his wife had an extra — they began working together on a handful of Funny or Die videos starring Dave Franco. But they wanted to transition to long-form content, and in 2011 a friend of theirs suggested Knox might make for an interesting subject.
At the time, four years had passed since the killing of Meredith Kercher, and on the surface, it seemed there was little left to mine. Dozens of journalists had long been camped out in the small Italian town of Perugia, following the trials ins and outs and broadcasting even the most minute developments.
McGinn and Blackhurst decided to head to Italy anyway.
"Once we got there and spent some time understanding who the people were and contextualizing things, we found that there was no clear understanding of what had happened," said Blackhurst, sharing a late breakfast with McGinn the morning after their premiere. "The humanity at the heart of the story had been lost. People had forgotten that there were real people whose lives were at stake. People had forgotten that someone had lost their life. It had become these headlines. And we were fascinated by that."
While "Amanda Knox" gives a detailed ticktock of how the case unfolded — using prison recordings and court documents to ground the story in facts — it also raises questions about the media's role in turning the story into a global phenomenon. At the premiere on Friday, members of the crowd seemed audibly disgusted by Pisa, the Daily Mail journalist, who at one point in the film likens getting a front page byline to the buzz one gets after having sex.
"And yet, he makes the point that it was consumers logging on to read the latest and the greatest — not that it's a way to explain it away, but it is this strange circle that exists," said Blackhurst, who grew up in upstate New York.
"Once Internet journalism started, headlines became so hooky that they almost created cliffhangers," added McGinn, a Palo Alto native. "Instead of wanting the next episode of 'Law & Order,' it was like, 'Can I get the next headline?'"
It's what the duo believes has driven the recent interest in the spate of true crime tales — from Adnan Syed's plight on "Serial" to Steven Avery's story in "Making a Murderer" to the re-exploration of the O.J. Simpson and JonBenet Ramsey cases.
"We use these people up, we spit 'em out and people move on to the next thing," said Blackhurst. "It's lost that something tragic happened — you've gone ahead and subjected all these people to your judgments, and they've suffered now too for it."
Knox, for one, seems deeply affected by the ordeal she faced in Italy. "I really thought that I was going to be OK," she says at one point in the film. "But I wasn't the same person to come back to Seattle."
But her life now, at age 29, is a bit of a mystery. The documentary gives only a glimpse of Knox's day-to-day in Seattle: Cameras trail her briefly as she returns home with groceries, heading into the kitchen to knead some meatballs for dinner. Three cats wander in and out of the room.
Knox traveled here this week for the film's premiere, though Netflix did not make her available for any interviews. At the screening, McGinn and Blackhurst noted her attendance, though she did not take part in the question-and-answer session following the film.
At the airport on her way to the festival, paparazzi took photos of her and her boyfriend. It's something, she says in the film, that still bothers her — being gawked at in public.
"What is it that everyone really cares about?" she questions. "I think people love monsters. And so when they get the chance, they want to see them. It's people projecting their fears. They want the reassurance that they know who the bad people are, and it's not them. So maybe that's what it is: We're all afraid, and fear makes people crazy."
Follow me on Twitter @AmyKinLA
Get the Indie Focus newsletter, Mark Olsen's weekly guide to the world of cinema.
You may occasionally receive promotional content from the Los Angeles Times.