Maria Bamford returns with a bang in 'Lady Dynamite's' second season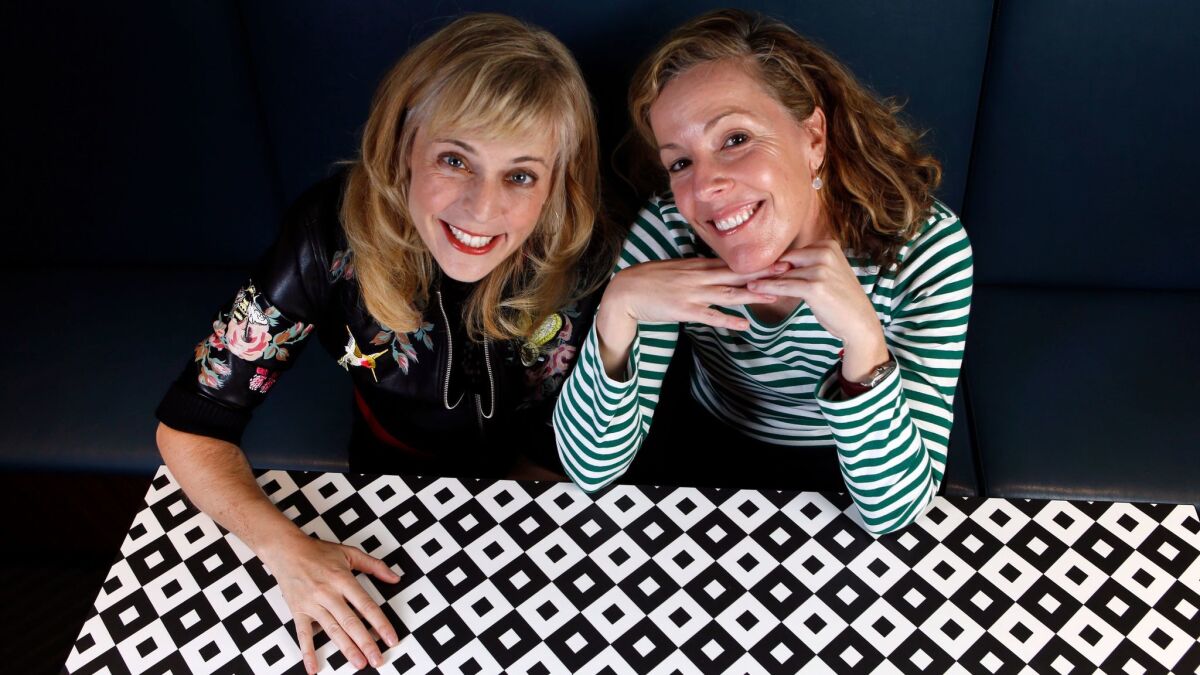 Television Critic
One of the great advantages to living in the 21st century is that Maria Bamford's "Lady Dynamite," a giddy comedy of mental challenges and spiritual optimism, is on TV. To remind you of this fact, a second season began streaming on Netflix last week.
Given that her series, a fractured reflection of Bamford's own experiences, is largely about what it means to do well in life and work, she has her own unique definition of success.
"There's what I say I hope success is," the comedian says as she sits on the back patio of an Altadena coffee house, "which is to be a regular, good human being. I hope that my friends and family and community are more important than … job stuff, but I don't know if my actions belie that. Because there is something very heady about feeling unconditional positive regard from strangers."
She continues in the friendly tones of a product of northern Minnesota. "There's a lack of intimacy. I don't have to take out the garbage or watch our old pug Betty so she doesn't commit suicide into the pool — everyday things that are much less interesting. From what I can tell real intimacy is, you're supposed to be committed and there's sort of a boredom and irritation with that. That comes with work stuff, too, but sometimes the reward, especially in show business, is so over the top that it's compelling."
Showrunner Pam Brady, who co-created the series with Mitch Hurwitz ("Arrested Development"), believes Netflix and Bamford, both of whom she calls "fearless," found one another at the right time: "What would happen if Maria put a show on NBC?" she asks rhetorically in a phone interview. "She'd be the goofy friend who works in an ad agency, maybe a cop. It just wouldn't work."
"Lady Dynamite" is something much better, if harder to grasp. Like Bamford's stand-up, it's a work of calibrated chaos, of swinging moods, different voices, shifting gears. Exuberant, smart, strange and surreal, it embodies an overactive mind triangulating its own position in the universe.
Developing that vision wasn't easy, Brady says. "How do we get the feel, because she does this better than anyone I've ever seen, of absurdity and reality? How do you get the feel of tragedy, almost, with her comedy being so grounded and at the same time Monty Python absurd, where animals talk and she can go to space? And also the slipperiness of memory — are we all unreliable narrators of our own stories, and how does that impact our present?"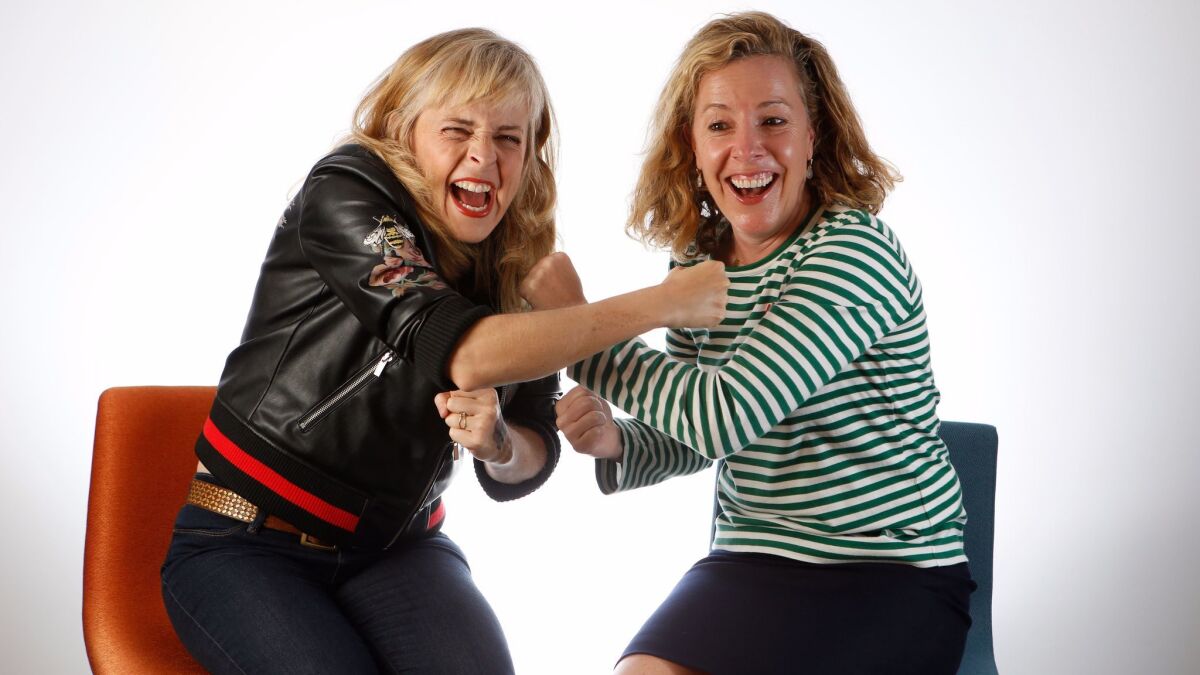 Like the first season, which skipped between timelines representing manic, depressed and healing phases in the onset and aftermath of a mental breakdown — based on Bamford's own experience of bipolar II disorder — the new one comes in three interlocking parts.
It reaches further back into the past, to her teenage years in Duluth, and jumps into a future in which she has a show of her own, "Maria Bamford Is Nuts!" on a Netflix-like streaming channel, belonging to inventor Elon Musk and run by a computer named Don Jr. ("This content will fulfill many quadrants of our algorithm.")
Much of the present-day section involves her learning to share living space with boyfriend Scott (Ólafur Darri Ólafsson). To amplify the metafiction, Bamford's actual husband, artist Scott Marvel Cassidy, plays the actor who plays the character based on the character based on him in the sitcom within the sitcom. (I think that math is correct.)
Similarly, her own parents — played in "Lady Dynamite" by Mary Kay Place and Ed Begley Jr., with Kurt Braunholer as her 1980s dad — appear as actors playing Maria's parents in "Maria Bamford Is Nuts!" ("Because you're in show business, you want to have everybody you love in it, too," Bamford says.)
Bamford, who began studying violin at 3, and recognized in herself a childhood liking for talking in front of people, started doing comedy in college. "Mostly performance art venues and women's-oriented things," she says. "It was extremely supportive. That's what I needed — and I'm still kind of like that. It's never appealed to me to appeal to everyone."
Still, she thinks of her work as "mainstream. I'm very much a people pleaser onstage. I love everyone to have a good time. And if you're not, oh my God, let me give you your money back and set you free. If there's one freedom left in this country, let it be that you can leave a comedy show."
Lately, she has been performing in the afternoons at the Clubhouse, an improv theater in a Hollywood strip mall.
"That's been so nice to have shows at 3 p.m.," says Bamford, who, more than some performers, needs her rest. "I don't have to stay out all night. I can just do an hour of material, and people genuinely want to hear it. The nice thing about stand-up, you can do it anywhere and you can create your own audience."
She speaks admiringly of YouTube star Colleen Ballinger and her character Miranda Sings, as now featured in another Netflix series, "Haters Back Off!" "She's a huge international star from her own material made on the internet, and she didn't have to go through the club circuit or pacify a bunch of white dudes — which still can be part of the process."
In "Lady Dynamite," Bamford ironically seems the sane one, surrounded as she is by characters obsessed with their own needs and agendas, including Fred Melamed as her dependent manager, Ana Gasteyer as her hectoring agent and Lennon Parham and Bridget Everett as her self-involved friends.
"We're telling the story of a woman with mental illness in a world that's crazy," Brady says. "But I think what the show more than anything is about is her progress into adulthood."
"I had a hypomania," Bamford recalls, "where I did get obsessed with ethical and moral things, but I did not have hallucinations or psychotic episodes. It's very tempting to act tougher than I am, but the truth is I was hospitalized three times, which isn't much compared with some people.
"I'm a union member, I earn a ton of cash — the majority of people with mental illness do not have access to that kind of help. I think it's more helpful to hear stories of people who are handling it on a limited income, unable to work, and face much more prejudice than in the entertainment industry. I told my manager what was happening and he said, 'I've got two other clients who are manic depressive. Just call me when you're ready to work again.'
"It's funny," Bamford reflects. "Some of the most popular material I've had is about mental health. But I've been feeling so good I don't really have anything to write about that subject matter. That's OK — it's OK if I run out."
Where: Netflix
When: Any time
Rating: TV-MA (may be unsuitable for children under the age of 17)
Follow Robert Lloyd on Twitter @LATimesTVLloyd
ALSO
Your next Netflix binge: Maria Bamford's inventive and intimate 'Lady Dynamite'
Maria Bamford's favorite self-help books
Get our L.A. Goes Out newsletter, with the week's best events, to help you explore and experience our city.
You may occasionally receive promotional content from the Los Angeles Times.