Review: 'Loudon Wainwright III: Surviving Twin' blurs the lines between father and son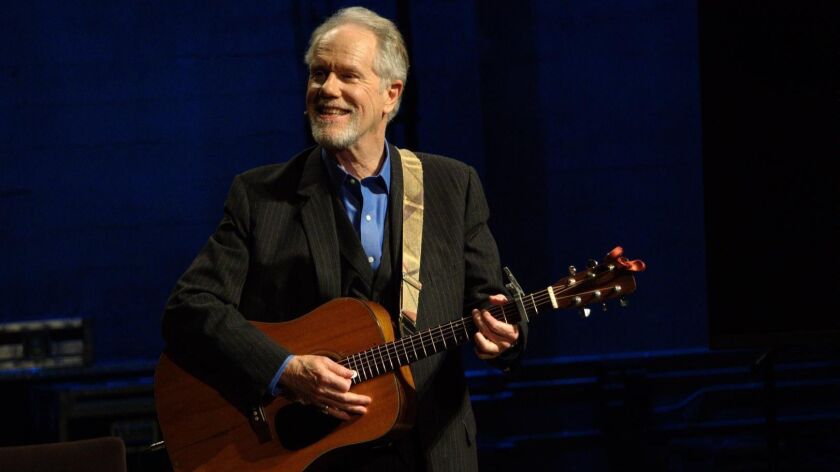 Television Critic
In his one-man show "Surviving Twin," first performed in 2013, singer-songwriter Loudon Wainwright III created a "a posthumous collaboration" with his father, Life magazine columnist Loudon Wainwright Jr., alternating his songs with his old man's essays.
A story of love and competition, the show has been recorded for posterity as a Netflix special, directed by Christopher Guest and executive produced by Judd Apatow, the latter of whom has used the singer as an actor in his TV series "Undeclared" and the movie "Knocked Up," which also included his songs on the soundtrack. (The actor Daniel Stern directed "Twin" for the stage.)
Wainwright, who studied acting and directing at Pittsburgh's Carnegie Tech (before it was Carnegie Mellon), has a decent string of screen credits, including "Big Fish," "Parks and Recreation," "The 40-Year Old Virgin," Guest's "For Your Consideration" and the TV series "M.A.S.H.," on which he briefly had a recurring role. That is to say, he can remember lines and deliver them with intention.
Filmed at North Hollywood's El Portal Theatre before an audience not entirely of Wainwright's generation — he turned 72 in September and is fit and in fine voice — the show premiered on Netflix on Tuesday.
At stage right, there's a piano, with a ukulele case atop it. At center, upon a patterned carpet, a table (holding a water glass and carafe), a chair flanked by stands for guitar and banjo, and a rack for a suit, which will eventually make its way onto the singer's body. Stage left, there's a video screen.
Wainwright has been releasing albums with impressive regularity since 1970 and had a brief flirtation with chart success in 1973 with the song "Dead Skunk." There is a satirical, even silly bent to many of his songs; at the same time, there is no one to match him for unsparing self-examination, clearly expressing his failings, as a husband, father and human in meter, melody and rhyme.
Sometimes the self-accusing stuff is also silly stuff; at other times it is gorgeous and heartbreaking. Wainwright also published a memoir, "Liner Notes: On Parents & Children, Exes & Excess, Death & Decay, & a Few of My Other Favorite Things," whose subtitle sums up his interests pretty well, and which has provided some passages in "Surviving Twin."
Because Wainwright is sometimes reading his father writing about his own father – that is, the singer's grandfather, who died when Wainwright Jr. was 17 – and sometimes reading his father writing about him, the characters become especially superimposed.
If he does not inhabit his father's skin, he does actually wear his clothes, putting on the Savile Row suit his father wrote about having made and doing a fine job impersonating a British tailor as he tells it. Wainwright III reads his father's wartime letters sent to his mother — the singer's grandmother — which also introduce the woman who would become his own mother.
One can forget which son is talking to which father and which father to which son. The singer Rufus Wainwright — Loudon III declined to make him Loudon IV — is in here too, first making an appearance in the prenatal address "Dilated to Meet You":
Life has a few unpleasantries / We may as well confess / We suppose you'll cry a lot / And that you'll be a mess / There is one thing you should note well / Of this there is no doubt / You cannot get inside again / Once you have come out.
But that is the point, in a way; the issues between the generations — the Wainwright generations anyway — are eternal and inescapable.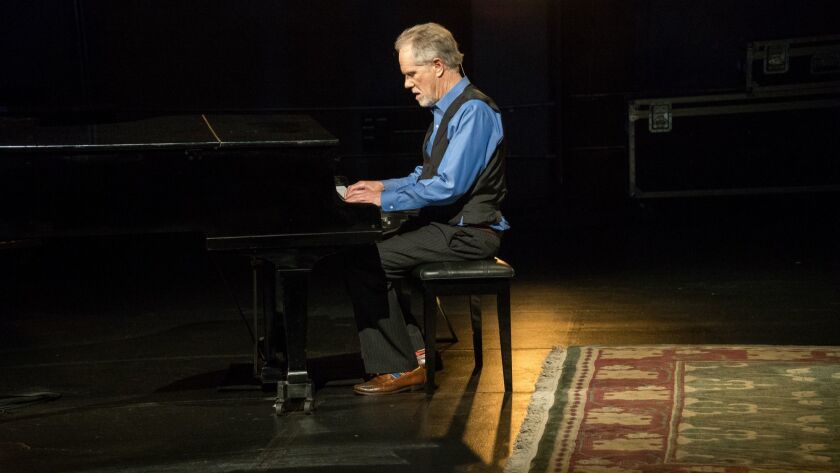 In the opening song, "Surviving Twin," he sings about his often-competitive history with his father: "I needed to be big enough to be someone someday / And I learned I had to beat him — that was the only way." Then, in "Father and Son," he sings to his own, then-teenage son: "It never really ends though each race is run / This thing between a father and a son / Maybe it's power and push and shove / Maybe it's hate but probably it's love."
In one essay, Wainwright's father writes about watching himself ice skating in a home movie his father must have taken, the "camera projecting a queer quality of love… . Even if we're late we can still reach out for fathers and find good moments for ourselves in what they left behind." The grandson of the cameraman has taken the skater's advice, and it turned it into this ghostly double act.
Guest directs without fuss. The cameras move continually but not quickly. You get a sense of him as a performer and a sense too of the audience. You feel the shared space, and when a singalong comes along, during "Being a Dad," you may feel compelled, even pressured to join in.
"If you don't sing along on this," Wainwright tells the crowd, "we're doing 'Kumbaya,' so you decide."
ALSO:
Video premiere: Watch an animated Loudon Wainwright III wrestle with demons while holed up at the Chateau Marmont in "Hollywood Hopeful"
'Liner Notes': Loudon Wainwright's first book goes deep where the singer-songwriter has often gone before—family
Loudon Wainwright III inaugurates new Sorting Room space with unsparing show
Loudon Wainwright III on family and 'Haven't Got the Blues (Yet)'
Follow Robert Lloyd on Twitter @LATimesTVLloyd
'Loudon Wainwright III: Surviving Twin'
Where: Netflix
When: Any time
Rating: TV-14 (may be unsuitable for children under 14)
Follow Robert Lloyd on Twitter @LATimesTVLloyd
---
From the Emmys to the Oscars.
Get our revamped Envelope newsletter, sent twice a week, for exclusive awards season coverage, behind-the-scenes insights and columnist Glenn Whipp's commentary.
You may occasionally receive promotional content from the Los Angeles Times.