Review: Amazon's entertaining and timely 'Marvelous Mrs. Maisel' is a bit too whimsical but resonates with the times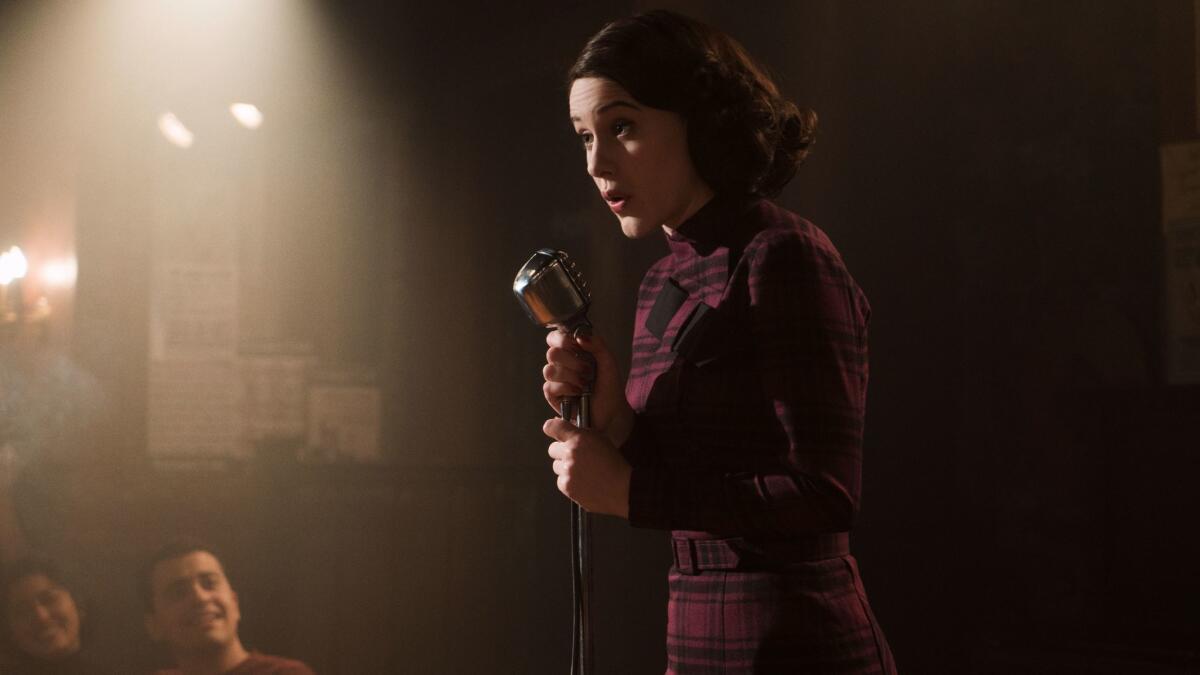 Television Critic
Sexism and empowerment are the main themes throughout "The Marvelous Mrs. Maisel," a '50s-era comedy drama about one woman's metamorphosis from pampered Upper West Side housewife to raunchy stand-up comedian in bohemian New York City.
We know the setting well now thanks to "Mad Men" and every other midcentury-obsessed show that followed — the furniture was streamline exquisite, people smoked on planes and sexual harassment was as prevalent as pencil sharpeners around the office.
Look how far we have, or haven't, come.
But thanks to recent events, this entertaining though sometimes too-whimsical series isn't just a comment on the past. It's among the first original series released on the streaming service since Amazon studio head Roy Price resigned in October amid accusations of sexual misconduct.
He was in charge when the well-received "Good Girls Revolt," which depicted the trials faced by female employees in 1960s-era magazine journalism, was canceled after one season. Series creator Dana Calvo said she believed Price pulled the plug because he personally did not like the show. "The show getting canceled in that way felt so horribly meta," actress Erin Darke told the Washington Post.
What a difference a year and countless scandals make. The series is reportedly being shopped for a second season, and Amazon has put its money behind a new series that flips a middle finger at the patriarchy.
"The Marvelous Mrs. Maisel" is not as earnest as its predecessor, but it does pick up thematically where that show abruptly left off — on the precipice of the sexual revolution. And Miriam "Midge" Maisel (Rachel Brosnahan) embodies that encroaching storm.
She's the picture of domesticity in 1958: two kids, a successful executive husband, Joel (Michael Zegen), and a sprawling upscale apartment big enough to host the family's Yom Kippur dinner. Her parents, Abe and Rose Weissman (Tony Shalhoub and Marin Hinkle), live on the next floor. The price for round-the-clock babysitting is that they're quick to remind her when her figure is slipping or she needs to "put her face on."
Midge supports Joel as he indulges his weekly hobby of telling jokes at an open mike night in a downtown beatnik club, bribing manager Susie Myerson (Alex Borstein) with homemade brisket for a better time slot. But when Joel leaves Midge for his secretary, the girl who has it all is left with very little … Until she finds her own power onstage delivering jokes so crude that Lenny Bruce (Luke Kirby) and the NYPD take notice.
In a show created by Amy Sherman-Palladino ("Gilmore Girls"), Brosnahan is full of the spit and vinegar that makes Midge a character worth watching. Performances by Shalhoub and Zegen help bolster the dysfunctional and oppressive family dynamic.
But the show would be better served by 30-minute episodes rather than hour ones. As is, there's a lot of time here to really break down why Bruce and that time period were so critical in the evolution of comedy, and this show doesn't possess enough nuance to do that. It reduces that moment to a battle between foul-mouthed performers and overzealous cops, rather than about the content of the material and the norms it challenged.
It's also heavy on the standard Jewish jokes — over-dramatic in-laws, chicken soup, hiding the couple's separation from the rabbi — that detract from the other unique charms of Brosnahan's performance and her character's arc.
Despite its shortcomings, "The Marvelous Mrs. Maisel" is entertaining and timely. Midge's rage is her power, and it resonates. It doesn't hurt that most of the time it's hidden under perfectly coiffed hair, ruby red lipstick and '50s-era foundation garments.
Midge's awakening, not the birth of modern stand-up, is the draw here. It's what Amazon's "Good Girls" were headed toward. It's what the patriarchy shut down. It's at the core of the TV revolution, where scripted narratives — even those set in the 1950s — connote a progress lost in today's headlines.
'The Marvelous Mrs. Maisel'
Where: Amazon Prime
When: Any time, starting Wednesday
Rating: TV-MA (may be unsuitable for children under the age of 17)
Get our L.A. Goes Out newsletter, with the week's best events, to help you explore and experience our city.
You may occasionally receive promotional content from the Los Angeles Times.