'The Masked Singer' costume designer takes us inside TV's most colorful closet
When you're the costume designer of Fox's "The Masked Singer" and the pièce de résistance of a unicorn mask — its soft glass spiraled horn — breaks off during filming, there's no time to panic. OK, you panic a little. But then ...
"You reach for the wire and glue," Marina Toybina says, recalling the scramble backstage to fix the damage.
It's a few weeks since the show's launch and Toybina, who recently became a first-time mother to a son, is having a brief reunion with her costume babies on a recent weekday inside the North Hollywood office space of the show's production company.
Her show-stopping creations — including a pineapple-headed surfer dude and an anthropomorphic peacock ready for its Vegas residency — have helped make the quirky musical face-off a hit with viewers. Borrowing from the South Korean format on which it's based, "The Masked Singer" features 12 disguised celebrities attempting to carry a tune while wearing over-the-top get-ups decked out in faux fur, feathers and felt — think "Dancing With the Stars" meets "The Voice" meets "H.R. Pufnstuf."
For Fox, which had been coping with an "American Idol"-shaped ratings void since the long-running series wrapped on the network in 2016, "The Masked Singer" has emerged as a formidable successor. Its premiere last month stands as the highest-rated debut for any new series in the 2018-19 season, and was the best debut for an unscripted series since 2011's "X Factor" premiere. After an expected dip, its most recent episodes have climbed steadily as the show heads toward its finale, with 7.85 million viewers for the Jan. 30 show.
TV REVIEW: Is Fox's 'The Masked Singer' a good time or a sign of end times?
In an era when television viewers love a good mystery, the guessing element of "The Masked Singer" is a major component to its appeal. And costumes, naturally, are critical to that suspense: Is it Gwyneth Paltrow in the lion costume or Rumer Willis? Could the peacock be Donny Osmond or Neil Patrick Harris?
Toybina makes it all look fun, but changing the look of singing competition shows in the U.S. isn't easy.
"These weren't just costumes I was creating," she says. "These are costumes that I have to bring to life — they have to have a sense of movement. It's a risk designing a show like this because it can either do really well or viewers can be like, 'What am I watching and why am I watching and I'm never watching this again.'"
Among the brain twisters Toybina had to solve: how to make it so the vocals could actually be heard. And how to keep contestants from overheating and fogging up their peepholes while belting out tunes like "Livin' la Vida Loca" and "I Will Survive."
Since the end of the filming portion of the series, the costumes have been boxed and stored at Endemol Shine North America, one of the production companies behind "The Masked Singer" (as well as "Big Brother, "MasterChef" and ABC's upcoming "Family Food Fight"). Today, however, they have come out of wraps so that Toybina can better explain the method behind the mad disguises.
Most of the masks have a foam base — a few are accented inside with blotches of dried celebrity sweat; others feature bike helmets as a foundation. And, sure, mothers don't have favorites, but it's clear Toybina takes pride in the lion mask — molded and cast, then dipped in gold, with intricately placed gemstone work on top — wanting to pose with it during a round of photos.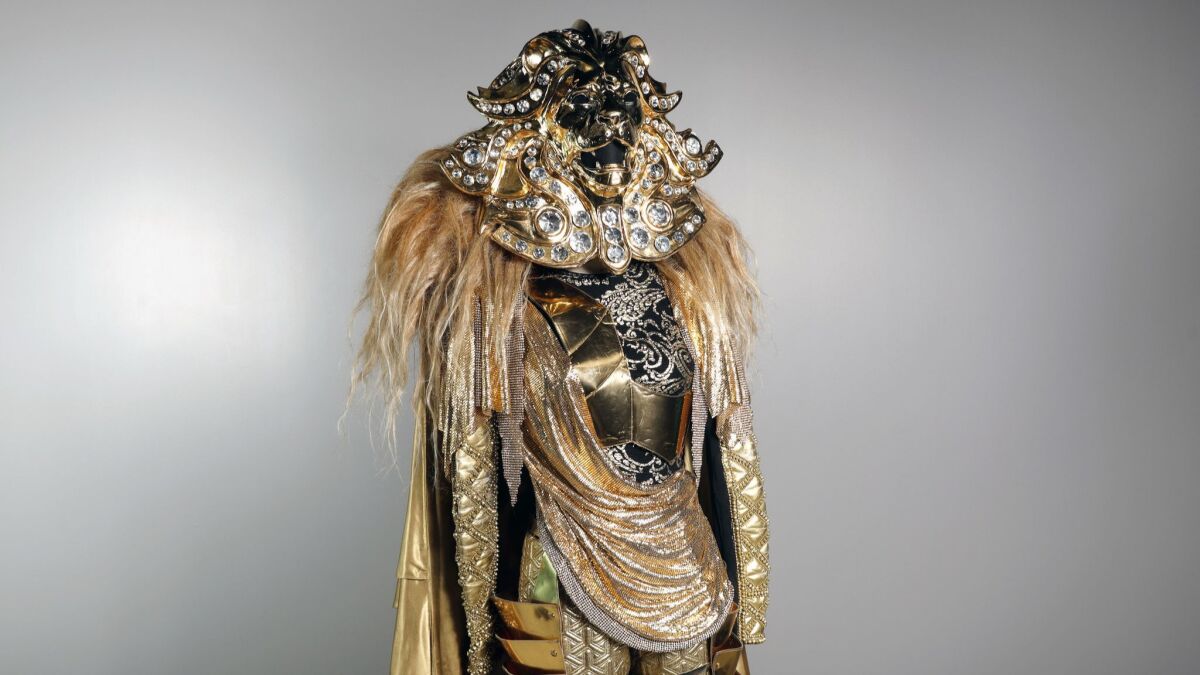 Fox renews wacky competition series 'The Masked Singer' »
And there's no turning off her critical eye — like when she spots a stray thread on the peacock costume.
"I know the average person doesn't see these things," Toybina says, reaching to fix it. "But it's all I see."
Toybina brainstormed a little more than 20 costume sketches before she and producers narrowed them down to 12. From there, she and her team, which averaged some 30 people, had two months last spring to finish construction of the costumes; roughly 11 people were dedicated to building the masks alone. There was no time for mock-ups or samples, leaving Toybina and her team as testers, trying on the masks and costumes to get a sense of their wearability.
"The hardest part was the beginning and thinking, 'Where do we start? How do I do this?'" says Toybina, whose other TV credits include "So You Think You Can Dance" and "The X Factor." "What's so great, though, is you use your imagination for this. It's very rare that you get a project where there are no rules and your creativity can run wild."
With four Emmy wins under her belt, Toybina was primed for the challenge. She's worked on music videos for superstars like Ariana Grande, Nicki Minaj, Dr. Dre and Carrie Underwood, and styled tour outfits for Taylor Swift, Fifth Harmony and Pink. She's also collaborated on live performances, most notably Katy Perry's 2015 Super Bowl halftime performance — you know, the one where an out-of-sync (or "goofy"-dancing) "left shark" stole the show.
For the record, Toybina wishes there had been more appreciation for some of the other players onstage: "I was bummed the beach balls didn't get the love, or the palm trees because those palm trees were 14 feet high and swaying and singing along and I was like, 'How did no one notice that?'" Television Academy voters, however, did take notice: one of her Emmys was for her Super Bowl XLIX costumes.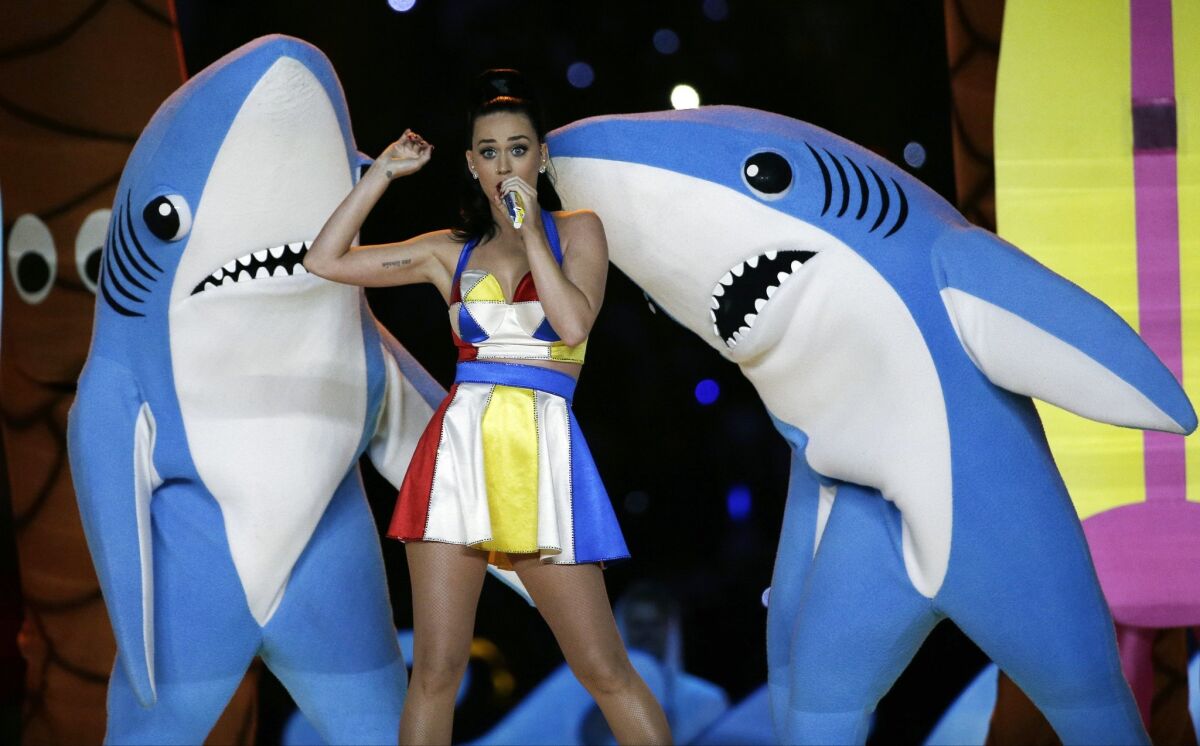 "I think having the opportunity to do the Super Bowl with Katy," she says, "and working on puppetry for the first time, and working with dancers for so many years, understanding performance, helped me make sense of what I needed to make the costumes work for this show."
One thing needed beyond the look of the costumes: They had to be built to last. "I've kind of learned how to keep costumes in shape," she says, "and how to make sure everything works over a long period of time, and under really fast and stressful conditions."
That doesn't mean the designs always worked the first time out. The weight of some masks made it so contestants couldn't look down, limiting their ability to jump around onstage or walk down stairs. The bee mask was so closed off in the face that it couldn't project sound correctly — a realization they came to mere hours before filming. The mouth had to be re-cut and composed with different materials to replicate the original mask as much as possible, since promotional photos had already been shot.
And the monster costume? Well, the single eye kept fogging up because of poor ventilation. The solution: mini fans inside the costume to circulate air. Then there was the wingspan on the raven costume that was too wide and tall to fit through a tunnel that led to the stage.
Tommy Chong of "Cheech and Chong" fame, who was revealed in the second week as the celebrity inside the pineapple costume, says the experience of wearing the costumes was "claustrophobic for me."
"Not only do you have to wear the costume, you have to sing," he says with a laugh by telephone. "You're singing with a puppet on your head! It doesn't come easy. They didn't put the head on until they needed to — and it was big and clunky. If I moved a certain way, I couldn't see — and I already have bad eyesight. I had to be led everywhere. Once you get performing, all your sense of direction goes out the window. It was like I had a chimney on my head." (Special air-conditioned containment rooms were constructed and located just off the stage so that when there was lag time, performers could go inside them and cool down with their masks off.)
Toybina, who grew up in Moscow and studied at the Fashion Institute of Design & Merchandising in downtown L.A., hopes viewers can sense and appreciate where she pulled inspiration from in creating the looks seen on the show — "There's a little bit of "Edward Scissorhands" and "Donnie Darko," and a little bit of Steve McQueen's draping from the runway."
"Starting my career in fashion helped me understand how to make this a little bit different than your typical costuming — how to not make it too Halloween-ish," she says. "How to bring the essence of the runway and the higher level of design to these costumes."
The way the costumes captivated viewers is what initially had veteran reality TV executive Craig Plestis convinced that "The Masked Singer" would work. The president and CEO of Smart Dog Media, which produces the U.S. show with Endemol Shine North America, was out at dinner with his family at a Thai restaurant when he reluctantly caught a glimpse of the Thai version of the show playing on TV screens after multiple pleas from his daughter.
"I'd had a long production day on another show and the last thing I wanted to do was watch any more TV," Plestis says. "I looked around the room and everyone was starting at the TV. On screen, there was a black pleather kangaroo character and this crow-like character singing. It was bizarre. And it was genius. And I called up my agent to get the U.S. rights."
He adds: "The costumes are extremely critical for a show like this to work. We invested so much money and so much time in these outfits."
As a result, Toybina is fielding a lot of interview requests to talk about her creations. The recognition, she says, is a welcome outcome.
"Sometimes you just need a little bit of reinforcement that it's all done for the right reasons," she says. "Costume design is a tricky thing because you're always behind the scenes. Often, our names are never mentioned. I'm just excited my team can feel a sense of pride. This is a big show that revolves around our work — and people enjoy it."
And there's more of that work to come. Fox has announced that the show will return for a second season. Even before it was official, Toybina was thinking ahead.
"I'm still learning what we can do better," Toybina says. "What can I create that gives it a little bit more ease to the costume that would make it even more body friendly?'"
Whatever she decides, we're guessing wire and glue will be ready for backup.
------------
'The Masked Singer'
Where: Fox
When: 9 p.m. Wednesday
Rated: TV-14-DL (may be unsuitable for children under the age of 14 with advisories for suggestive dialogue and coarse language)
Twitter: @villarrealy
Get our L.A. Goes Out newsletter, with the week's best events, to help you explore and experience our city.
You may occasionally receive promotional content from the Los Angeles Times.