Reporting from New York —
To meet Jonathan Groff and Holt McCallany, stars of the Netflix series "Mindhunter," you'd never suspect they recently spent 10 long months consumed with the darkest reaches of the human psyche.
Groff, a charmer known for playing the lead in HBO's "Looking" and King George in the original Broadway version of "Hamilton," laughs generously as McCallany, a seasoned character actor and gabby raconteur with a booming voice, shares a story about training to throw out the first pitch at a Mets game.
Yet given their obvious rapport, it's easy to see why they were cast as the leads in "Mindhunter," which debuts Friday. The psychological drama, executive produced by David Fincher and Charlize Theron, follows a pair of trailblazing FBI agents as they interrogate notorious real-life murderers in an effort to understand — and maybe prevent — the senseless urge to kill.
Groff stars as Holden Ford, a clean-cut but open-minded young agent intent on shaking up the hidebound agency, while McCallany plays Bill Tench, a cynical veteran who asks what might be the series' central question: "How do we get ahead of crazy if we don't know how crazy thinks?"
In 2017, when criminal profiling has long since become standard practice — and spawned an entire pop culture subgenre in the process — the need to understand the origins of violent behavior seems obvious.
But "Mindhunter" is set in the 1970s, an era when the starchy culture of the FBI still reflected the narrow worldview of longtime director J. Edgar Hoover, says McCallany.
"The FBI was one of the most conservative law enforcement agencies in the world, so empathizing with killers to try to understand the traumas they experienced in their childhoods and how that gives us insight into their behavior was not something Hoover was interested in."
Yet the nature of crime itself seemed to be changing radically at the time. The social turmoil of the '60s and '70s also brought with it what appeared to be a terrifying new breed of criminal — brutal murderers like David Berkowitz (a.k.a. "Son of Sam"), Ted Bundy and Richard Speck who killed repeatedly and without apparent motive other than bloodlust. Establishing "means, motive and opportunity," as law enforcement officers had been trained to do, was no longer enough.
The series is based on the book "Mind Hunter: Inside the FBI's Elite Serial Crime Unit," a nonfiction account written by John E. Douglas, a pioneering FBI profiler who interviewed and studied some of the country's most notorious violent offenders over the course of a 25-year career. (Groff plays a fictionalized version of Douglas, who's also said to have inspired characters in "The Silence of the Lambs" and "Criminal Minds." McCallany is a fictionalized version of FBI agent Robert Ressler, believed to have coined the term "serial killer." )
Theron became familiar with Douglas' writing when she was researching serial killer Aileen Wuornos for her Oscar-winning role in Patty Jenkins' 2003 film "Monster."
A few years later, she optioned "Mind Hunter," envisioning it from the beginning as a five-season television series, one that would take a more unsettling view of criminality and human nature than your standard catch-the-bad-guy-in-an-hour procedural.
Douglas and his colleagues were "really climbing an uphill battle with the FBI at that time, which just really did not function on any kind of empathy or understanding of these people," Theron says by telephone. "I think a huge part of where we are in understanding aberrant behavior is because of his work."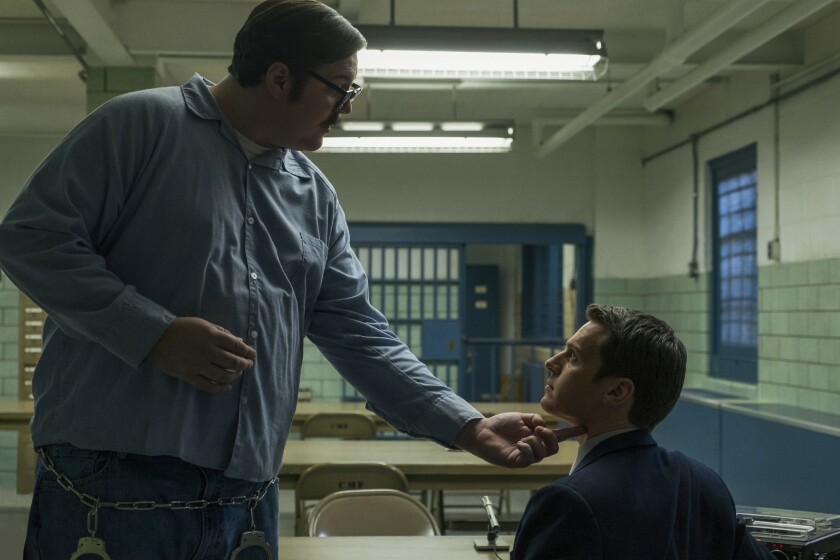 The "Mad Max: Fury Road" star, who says she's fascinated by "any kind of severe behavior," was drawn to the material despite its disturbing nature.
"I always want to know why. Why is it that somebody has the need to control in the ultimate way like Berkowitz did or [so-called 'Co-ed Killer'] Ed Kemper did? A lot of people think it's really strange, my mother included, but I think it's healthy to want to turn the light on and want to understand something that's scary."
She immediately brought the project to Fincher, a storyteller known for delving into the homicidal mind in such films as "Se7en" and "Zodiac."
"I just thought he must be somewhat obsessed with serial killers the way that I am, and I was happy to find out that he was," she says with a note of self-deprecation.
Theron and Fincher spent several years developing the project with writers Joe Penhall and Jennifer Haley, putting together 10 scripts and a series bible and formulating an approach that blends fact and fiction. The decision was made to take creative license with Groff and McCallany's characters, while adhering scrupulously to the real-life biographies of the killers portrayed in the series, such as Kemper.
Eventually they brought the project to Netflix, which had successfully partnered with Fincher on "House of Cards." Fincher directed four episodes of "Mindhunter" and is, by all accounts, very much its creative leader.
"One of the amazing things about this experience is that finally a TV show that is director-friendly," says McCallany, who was eager to work with Fincher again after small parts in "Fight Club" and "Alien 3." "When a director is empowered on a television set the same way he would be on a film set, it's an incredible thing."
Groff, a Fincher newbie, says the director has "no blind spots." "Some directors are good with writers, and some directors are good with cameras, and some are good with actors. The sort of chilling thing about David is he can do everybody's job better than they can do it, so there's this immediate level of respect and hard work."
Unlike some of his collaborators, Groff says he was "not a serial killer person. When I first picked up the book, it took me a long time to get through it because I found it so disturbing."
Groff recalls that, from the outset, Fincher "wanted to blow up the comic-book villain idea of a serial killer" — the notion of an urbane evil genius à la Hannibal Lecter who drinks fine wine and listens to classical music.
"One of the things that is so chilling about 'Mindhunter' is that it humanizes the serial killlers, these sad, [messed-up] guys with damaged pasts and mental problems. It's so much scarier to look at them as human beings," he adds.
For a show about serial killers, "Mindhunter" is a psychological deep-dive that features a lot more talking than gore — as Theron puts it, "there is nothing about this that is fast-burning." One of its most riveting early scenes features two men conversing over egg-salad sandwiches in a prison cafeteria.
"We'll be the only two FBI agents in TV history to go multiple seasons without pulling out our guns and going 'Stop!'" jokes McCallany. "People looking for gunfights and car chases gotta look elsewhere."
But for anyone interested in psychology rather than splatter, "Mindhunter" may prove to be highly binge-able.
"Selfishly, I just really forced David to make me my own TV show that I, as a viewer, would want to watch," says Theron, who is nevertheless confident there are many out there like her. "I can't be the only freak."
'MINDHUNTER'
Where: Netflix
When: Anytime, starting Friday
Rating: TV-MA (may be unsuitable for children under the age of 17)
Follow me @MeredithBlake
---