With help from Melissa McCarthy, life imitates art as three 'Nobodies' from the Groundlings get their shot on TV Land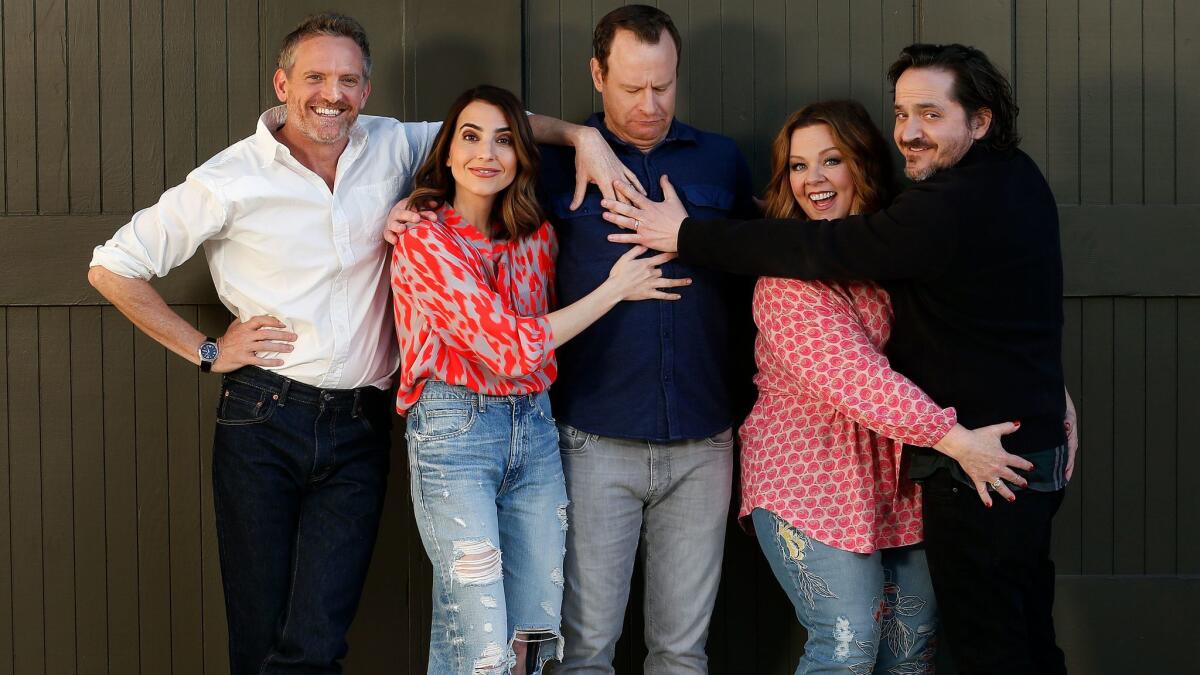 "You want to take that phone call?"
Rachel Ramras is midway through explaining how the idea for the new TV Land comedy "Nobodies" sprang out of a failed movie pitch to fellow Groundlings alums (and series executive producers) Melissa McCarthy and husband Ben Falcone when she catches cast mate and series co-creator Larry Dorf checking his phone.
"No, I'm good," Dorf insists, grinning sheepishly as the room— which includes McCarthy, Falcone and fellow "Nobodies" co-star Hugh Davidson — lights up with laughter. The cast has been together for only a few minutes before it feels as if an episode of the show has broken out into real life.
Fresh from an appearance on "Ellen" and gathered in a khaki-colored conference room on the Warner Bros. lot in Burbank, the five comics and longtime friends recount a journey that began a few years ago in a way that sounds, well, a lot like the series.
Ramras, Dorf and Davidson are the "Nobodies" of the title — three veteran improv comics and writers who exist in the shadows of more familiar Groundlings grads, including McCarthy, Kristen Wiig, Maya Rudolph and Jim Rash, who all also appear as themselves. Though working on what's depicted as a showbiz purgatory of a children's animated program, the three longtime partners connive their way, through multiple schemes, to get their script, "Mr. First Lady," into the hands of McCarthy and Falcone and into production. Complications, of the cringingly self-sabotaging and often very funny variety, ensue.
In a case of art imitating life, the trio really did pitch "Mr. First Lady" to Falcone over lunch with the idea for McCarthy to star as the president, but they passed.
"In the show we have a script," Dorf said, explaining some of the artistic license taken in the series. "In real life we were too lazy to do that. So we just had a vague idea."
But six months later, there was another meeting. "I believe it was Larry who said 'We'd like to meet for a lunch,'" Falcone recalls, dipping his voice to emphasize the seriousness of the approach. "And I was like, oh jeez."
"Way to make it weird, Larry," McCarthy says dryly.
The idea, however, had shifted to what would become "Nobodies," which premieres Wednesday at 10 p.m. McCarthy and Falcone then brought it to TV Land with the stipulation that the series had to feature these three leads — and personalities — to work.
"I do think Natalie Portman would have played me well," the petite Ramras says. "For the record."
"You have 20 years of chemistry," McCarthy says, gesturing at the group. "They were all at our wedding."
"I was a groomsman in Larry's wedding," Falcone adds.
"Is that when Larry gave away all those pocket watches?" Davidson asks.
"That your cat had urinated on," Ramras says to Dorf.
"These [terrible] pocket watches," Davidson remembers, his voice rising. "Like who wanted a pocket watch? They were all so affected..."
Soon the conversation good-naturedly devolves into the three of them arguing about the details of the story on opposite sides of the table.
McCarthy beams and shakes her head: "None of it's fake," she says.
The series makes sense for TV Land in the wake of the recently concluded "Jim Gaffigan Show," which starred the popular stand-up comic as a version of himself. "Nobodies" has already been renewed for a second season by the network, and the series goes a little further as a slice-of-life comedy by building upon the intimacy that comes with years of friendship and collaboration.
"I didn't know until way into [production] that they had done a fairly crazy-interesting exercise where they paired in groups of two and wrote everything horrible and everything good about each other," McCarthy says. "And they all had this weird sit-down of 'Here are the things that are awful about you,' and put it all up for fodder in the show. It's pretty exposing, but you're also getting this point of view from three really funny, good writers."
While that sounds harrowing, the longtime friends took it in stride. "It's like when somebody who doesn't know you makes fun of you, it hurts your heart," Ramras explains. "But [when it's] people who you know love you … then it's endearing and funny."
"Also none of these things were revelatory," Davidson says. "We had already seen this behavior with each other. So it wasn't like, 'Oh my God, I get mad easily?'"
"Larry is cheap? Rachel is terrified?" Ramras adds with mock surprise.
While McCarthy said the end result stretches the cast's true selves "by a whisper," she and her husband were able to more broadly lampoon themselves and their celebrity, which in McCarthy's case has seen her become one of the biggest comedy stars on the planet in films like "Ghostbusters," "The Heat" and most recently as an unhinged version of White House Press Secretary Sean Spicer on "Saturday Night Live."
"Playing monsters is super fun," she says of her "character" on "Nobodies." "I always think it's a good sign if after some of the lines that they had me say I was literally like 'Oh my God!' Like, can you bounce back after being that gross?"
The early episodes offer multiple opportunities for monstrous behavior, including brutally persistent attempts on the part of Dorf, Ramras and Davidson to pitch Allison Janney in an elevator and Jason Bateman on the basketball court and multiple awkward moments that dispel the myth that the Groundlings is a guaranteed path to fame. Then there's an excruciating sequence in which the trio crashes an Emmys after-party thrown by HBO and Ramras has more than a few too many drinks.
"What's so fun about that, and everyone who is a friend of mine knows, my biggest fear would be to be drunk and out of control in public," Ramras says. "I'm such a control freak and am constantly worried about what I'm doing and what people are thinking about me."
"So she's a lot of fun," teases Davidson.
The episode was particularly tough on McCarthy to watch. "My neck got all red, my chest got red. I was like flushed and I was like 'God, please stop it, Rachel,'" she says. "It's like, I'm aware that it's not real —"
"She has a lot of trouble separating reality from the show," Falcone explains.
"I really do," she says.
See the most-read stories in Entertainment this hour »
Follow me over here @chrisbarton.
ALSO:
Overrated/Underrated: Netflix moves to interactive storytelling, and going overboard on 'Overboard'
Judd Apatow and Pete Holmes get real about comedy in HBO series 'Crashing'
CMT's 'Sun Records' aims to show a time when rock 'n' roll was 'cons and hustles'
Get our L.A. Goes Out newsletter, with the week's best events, to help you explore and experience our city.
You may occasionally receive promotional content from the Los Angeles Times.