Light on laughs, TV Land comedy 'Nobodies' offers up familiar show-biz premise
"Nobodies," which premieres Wednesday on TV Land, is a comedy about being less successful than the friends you started out with.
Like a lot of contemporary series that have to do with the entertainment business — or with sports, which is also the entertainment business — it features characters playing versions of themselves. It is a stratagem grown so common that one can foresee a day when no one will bother to think up original characters at all anymore or write about anything but show business.
Hugh Davidson, Larry Dorf and Rachel Ramras play Hugh, Larry and Rachel, who — like Davidson, Dorf and Ramras — once were members of the Los Angeles improv troupe the Groundlings, alongside the likes of Melissa McCarthy, Kristen Wiig and other notable contemporaries. By contrast, the trio have been writing a Nickelodeon cartoon called "The Fartlemans," which seems to consist mostly of jokes about flatulence and diarrhea, while collaborating on a screenplay of their own. There is a little bit of an undeserved negativity about kids' TV here — in real life, the stars all wrote for Cartoon Network's "The Looney Tunes Show" — especially given that the script they're peddling is something called "Mr. First Lady."
"It's a classic fish out of water story," Rachel tells Allison Janney, whom they encounter in an elevator.
Larry: "You've seen it a million times."
Janney, ironically: "That's always fun for the moviegoers."
Unlike Rob, Buddy and Sally writing sketches for Alan Brady on "The Dick Van Dyke Show," we never actually see our heroes at work. So it's hard to tell just how talented they're supposed to be, whether they are mediocrities who have risen to their level or merely losers in the lottery that is Hollywood success. At their day job, they spend most of their time arguing with one another or rolling their eyes at more dedicated co-workers. (Steve Little and Brendan Jennings are funny in those parts.)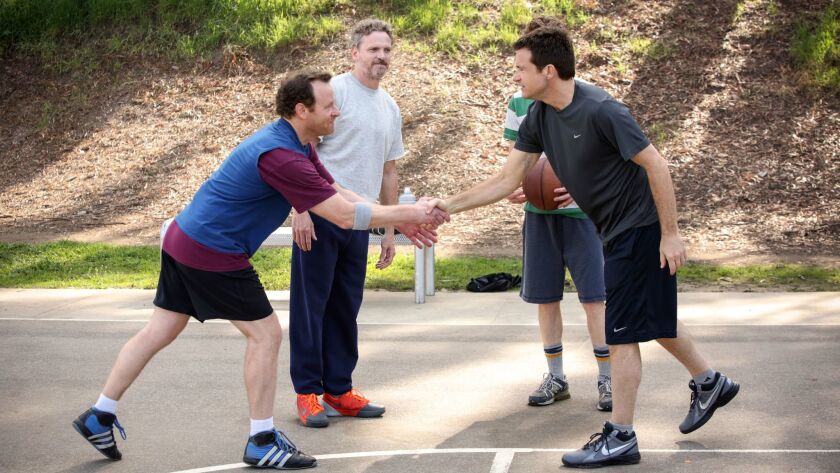 And for middle-aged professionals who have been knocking around Hollywood for years, they can seem remarkably naive about how things work there, as if this were a Three Stooges short about breaking into pictures. Rachel is a bit of a flibbertigibbet with a poor grasp of colloquial expressions. Larry is an excitable basket case feeling pressured by "a wife who wants a pool and two kids who are always getting sick." And though Hugh, the Moe of the trio, is relatively clear-eyed — "For one second, let's just think and not do one more dumb impulsive thing" is the sort of thing he gets to say — his life too is in disarray.
The show is an odd reflection of its premise. Just as our heroes — writers of the series as well as within the series — are seeking to attach McCarthy to their screenplay in order to sell it to a studio, "Nobodies" gains credibility by, and may owe its existence to, the fact that McCarthy is actually attached to it as an executive producer. Her husband, Ben Falcone, who has a recurring role as himself, sort of, directed the pilot.
Cameo players more famous than the stars include McCarthy, Janney, Wiig, Jason Bateman, Bob Odenkirk, Cheryl Hines, Jim Rash and Nat Faxon. They do not play against type, as is often the case in these Rolodex comedies, but project just enough of the authority that success confers to draw a line between themselves and Rachel, Larry and Hugh. That is not to say that Hollywood is left off the hook; it hangs where it usually does, rife with pomposity and pretense; anyone who has spent much time in local coffee shops or cafes will have heard conversations not unlike some presented here.
Still, the central business of selling "Mr. First Lady" is not all that compelling, and the integration of the real and fictional worlds is so familiar that it offers no charge on its own —- not that it isn't nice to see Bateman or Odenkirk or any of them. Early on, one wants it to be more daring, or darker, or simply funnier; later episodes, as personal business between the leads come into play, and wholly fictional characters arrive, do perk up. In any case, the series has been given the gift of time; even before its premiere it was renewed for a second season. Success!
'Nobodies'
Where: TV Land
When: 10 p.m. Wednesday
Rating: TV-14-L (may be unsuitable for children under the age of 14 with an advisory for coarse language)
Follow Robert Lloyd on Twitter @LATimesTVLloyd
---
Inside the business of entertainment
The Wide Shot brings you news, analysis and insights on everything from streaming wars to production — and what it all means for the future.
You may occasionally receive promotional content from the Los Angeles Times.