Pamela Adlon almost walked away from 'Better Things' without Louis C.K. Here's how she came back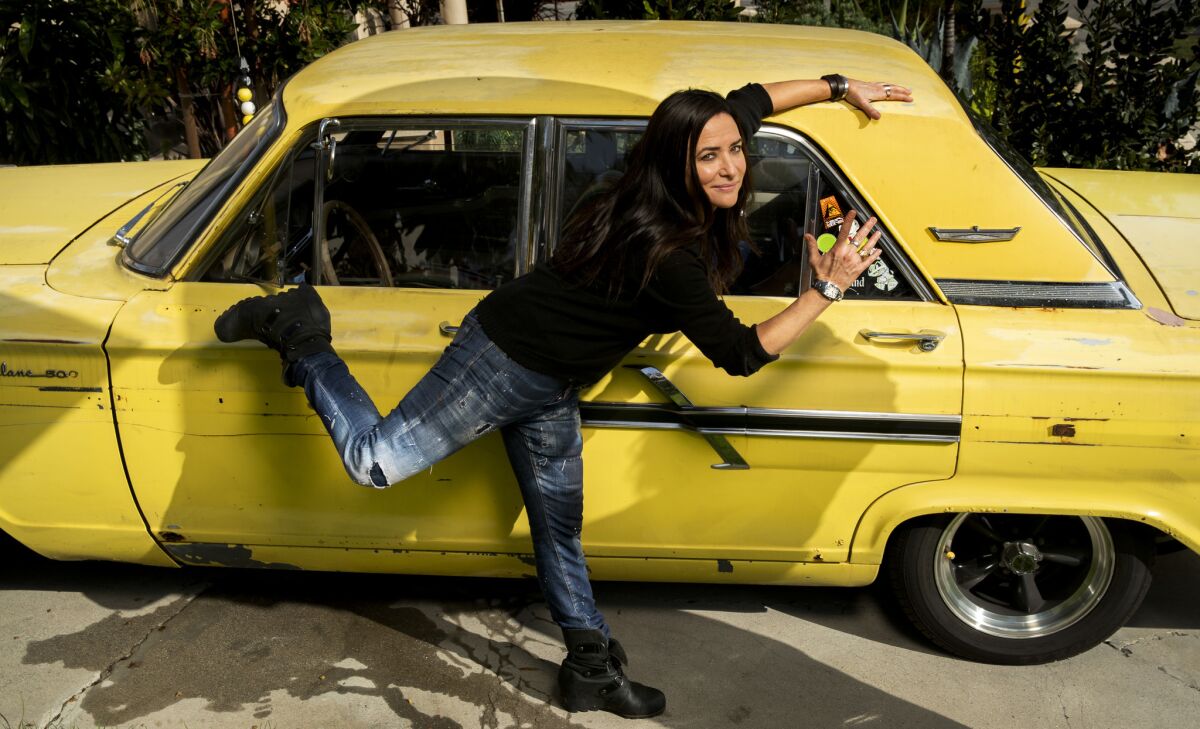 Pamela Adlon is an inveterate list-maker. Groceries, goals, to-do, got-done — you name it, she lists it.
For her FX television series "Better Things," which returns for its third season Thursday night, Adlon likes to catalog what she calls "Better Things" things. Sometimes it's a song she wants to work into an episode, like Rod Stewart's "Mandolin Wind." Often it's an idea, like having Sam, her single mother character, reading "A Raisin in the Sun" with one of her three daughters.
Adlon has hundreds of these ideas, cataloged in journals, drafts folders, scraps of paper. They're everywhere, and there are enough of them to carry "Better Things" through a dozen seasons if she wanted to go that route, which, given that she produces, directs, writes and stars in the show, maybe she doesn't.
A year ago, there was a real possibility that none of these "Better Things" things would ever see the light of day and that the series itself might not return. In November 2017, news broke that several women were accusing Louis C.K., Adlon's longtime writing partner and the co-creator of "Better Things," of sexual misconduct. The New York Times story, in which five women described inappropriate conduct, including masturbation (C.K. admitted to the misconduct), appeared the same day "Better Things" aired the penultimate episode of its second season. Adlon's Twitter feed immediately went dark. She was devastated.
"I was in trauma for such a long time," Adlon says. "I really couldn't imagine doing the show again. And it was a long road to recovery, like a 2319 hazmat situation. I lost the drive to do my show. Personally, professionally, I just didn't understand how I could move forward."
C.K. had a writing credit on all but one of the 20 episodes that aired in "Better Things'" first two seasons. He and Adlon would trade emails, write scenes and occasionally find themselves in the same place to work together. It was a partnership.
In Adlon's mind, that's how good writing worked. Her father, Don Segall, was a TV writer and novelist who worked alone until toward the end of his career, when he partnered with Phil Margo. Adlon grew up thinking that television writers rooms — places where a show's staff would gather, brainstorm ideas and then break them into episodes — weren't intimate or personal enough. And "Better Things," loosely based on Adlon's joyful and weary life as a single mother, is a show that's intertwined with its creator's heart.
"Imagine facing the prospect of knowing you need collaborators but having never hired a writing staff and having never even been hired on a writing staff," FX CEO John Landgraf says, adding that he always believed the show would continue once Adlon processed what moving forward could look like.
"When you get those first strikes, you don't see how you can continue because you just feel so wounded and it feels overwhelming," adds longtime friend Robin Ruzan. "But if you take a breath and give it a minute, life goes on. Pamela just needed to take that breath."
That doesn't mean it was easy. Regarding C.K., Adlon's feelings were all over the place. She had empathy for the women accusing him while simultaneously feeling bad for her longtime friend. Nevertheless, in a phone call, she told C.K. that she'd have to sever ties with him. She also fired Dave Becky, who managed her and C.K. Adlon hasn't spoken to C.K. in a "long time."
Sitting on a sofa in the Beverly Hills Spanish colonial home she uses as an office, Adlon, with some distance, is able to joke a tiny, tiny bit about that time. Impressionist paintings done by her mother, including one of Adlon as a child, surround her, reproductions of which can be seen in Sam's home on the show.
"I remember asking friends, 'What do I do? Do I change the name of my show? Do I call it "Schmetter Schmings?" "Mo' Better Things?" ' " Adlon, 52, says. "It was just a lot of agonizing questions and trying to do the right thing to keep my show afloat. I'm very much a creature of habit. Change is … hard."
I lost the drive to do my show. Personally, professionally, I just didn't understand how I could move forward.
— Pamela Adlon on parting ways with Louis C.K.
Longtime friend Phil Rosenthal, creator of "Everybody Loves Raymond," offered advice about assembling a writers room, as did Ruzan, who was Adlon's first hire. She was soon joined by Sara Gubbins, Joe Hortua and Ira Parker. On their first day together, Adlon admitted she was nervous, but Hortua says he didn't sense that. The quintet spent their initial days simply having long conversations about their lives. Sometimes Adlon would sense the need to break the routine and would email the group at night, telling them to wear sneakers to work the next day. Then she'd lead them on impromptu field trips to places like the Hollywood Forever Cemetery or Beverly Hills' Edelweiss Chocolates.
"That's right, we learned how they make chocolate," Ruzan says, laughing. "I remember turning to her, saying, 'You actually are Willy Wonka now.' And she is. It's always, 'Come this way, look.' She has such a curiosity about things, and you see that reflected in the show."
Ultimately, "Better Things'" third season (eight of the 12 episodes were made available before this interview) feels like another step forward, partly because Adlon, once again directing every episode, is even more assured behind the camera. The series' singular mix of the drudgery, drama and deep satisfactions that come with parenting (and just being a human on this planet) remains the same. If anything, Adlon's commitment to showing the richness of life's small moments is even more present, whether it's detailing the realities of menopause or the pleasure of a meal at the Apple Pan.
"I like to put little things in my show where you see me cooking or doing something in a way that maybe can be of service to people," Adlon says. "I like to get inspired myself, so why not make that a part of the fabric of the show without sounding like an ..." She finishes with a profane, self-deprecating description because she has caught herself using the words "I like to be of service." She's allergic to flattery and is bracing for people calling her "brave" because she's candid in dealing with the physical decay that aging brings.
But Adlon does see Sam as an important representation of a middle-age woman trying to juggle life's demands and indelicacies (one episode this season sees the character coping with preparing for her first colonoscopy) and still maintain a sense of perspective. Adlon does it by embracing those "Better Things" things, like in the season's first episode, in which an exhausted Sam trades off reading aloud the first act of "A Raisin in the Sun" with her high school daughter to complete a class assignment. And as the scene plays out, yes, "Mandolin Wind" plays in the background.
When Adlon showed a rough cut of the episode to the crew, she says "everyone was crying hysterically at the end. We cry all the time." You might too. The scene underscores time's fleeting nature and the importance of recognizing moments when they're happening and seizing and savoring them.
"As your kids get older, the asks get less and less," says Adlon, whose own three daughters are 15, 18 and 21. "And for me, now that my kids are getting older, I want them every second I can be around them. It used to be I could not get far enough the … away from them. I needed a break. I needed my time. And now I'm like, 'Is anybody going to be home? Does anybody want Mom to cook?' So that's what that scene is about — being patient, taking a breath."
And writing it, Adlon crossed two "Better Things" things off her list. But she has so many more. And she's again hungry to share them.
Twitter: @glennwhipp
Get our L.A. Goes Out newsletter, with the week's best events, to help you explore and experience our city.
You may occasionally receive promotional content from the Los Angeles Times.