Television Critic
Lately I have been regulating my brain by watching videos of people making or modifying or repairing guitars. It's calming somehow, as well as interesting and informative, to watch people who know what they're doing take things apart or put them back together. There is a Watch Repair Channel I find quite soothing, too.
Knowledge and competence — have they ever seemed more necessary, and yet less demanded? It's not just the celebrated ignorance of the powerful that seems so wearying; most of us tend to get defensive about what we don't know, because it's easier to take that stand than to do the homework. Yet to watch capable people get on with their woodworking or wiring or making an omelet from broken eggs is to remember that things can be fixed, patience is a virtue and paying attention gets results. You may not be able to do what they do but you can do something. Proficiency is hot.
The web teems with demonstrations of expertise, but plain old television has a long and wide history with hammers-and-saws programming as well. Old houses have been rehabbed, cars customized. Though it was not a how-to or makeover show, building things was central to the mission of Discovery's "MythBusters," and no one on TV did more for the practical side of STEM than its hosts Adam Savage and Jamie Hyneman. (It continues on Science Channel with new hosts Brian Louden and Jon Lung.) The series, which tested various forms of received wisdom, historical legend and whether things that happened in the movies were possible in life — as well as exploring the most extreme uses of duct tape — coincided with and helped inspire a growing national interest in science and engineering and the rise of DIY "maker" culture.
Savage and Hyneman split in 2016. Hyneman was happy to leave the spotlight, while Savage, who studied acting in college and worked in theater when he first moved to San Francisco, is irrepressibly a performer. Earlier this year he hosted the first season of "Mythbusters Jr.," and he has maintained a busy online presence at Tested.com and his YouTube channel Adam Savage's Tested, with video series like "One Day Builds." There's a podcast, too, "Still Untitled: The Adam Savage Project," which covers subjects from "sharing knowledge" to "Fleabag."
His new series, "Savage Builds," which premieres Friday on Discovery (and repeats Wednesdays on Science Channel), shares the go-crazy-in-a-workshop ethos of "Mythbusters" without adhering to any particular format. In the three episodes I've seen, Savage — with help from various experts, assistants and organizations — tries to make a successful version of a failed British weapon from the Second World War, the Panjandrum; attempts to build a "real" Iron Man costume, able to fly as well as withstand bullets and explosions; and stages a "Mad Max"-style vehicular showdown, with cars, armor and weapons sourced from junkyards. ("A post- apocalyptic fantasy is the most pure form of in situ resource utilization," says Savage.) His opponents in the last endeavor are two younger-generation makers with sizable online followings, Laura Kampf and Simone Giertz, whose respective YouTube channels supply the same pleasures I'm describing here. (You may have seen Giertz demonstrating her ridiculous and tragic robots to Stephen Colbert on "The Late Show.")
Failure was always acceptable in "MythBusters." ("Busted," "plausible" and "confirmed" were the possible outcomes of any inquiry.) If everything worked there would be no show. The lesson that, in science and other disciplines, getting things right usually comes on the back of first getting them wrong would be lost. Indeed, a spectacular failure brings its own kind of pleasure: "Frankly, this thing could do almost anything and I will be happy," Savage says of his Panjandrum. He is obviously having a great time.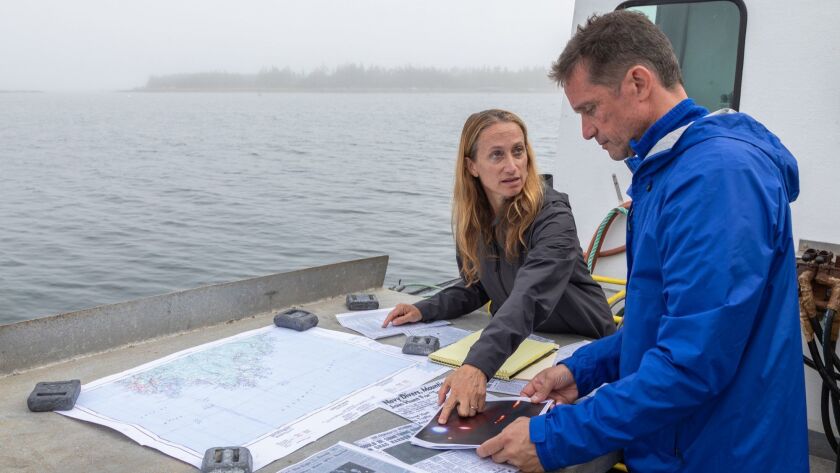 Sister and brother Céline and Fabien Cousteau, grandchildren of the great undersea explorer, inventor, filmmaker and science culture hero Jacques Cousteau, are the hosts and stars of "Legends of the Deep," which debuted Sunday on Science Channel. Unlike the films that made their grandfather's name, "Legends" is largely unconcerned with undersea life; the fish are just bystanders — byswimmers, I suppose — as the Cousteaus nose around shipwrecks, investigate a UFO story and explore the good old Bermuda Triangle. (You will not be surprised to learn that cell coverage there is not good.) In the one episode of four that does concern undersea life — a "sea monster" spotted in the Great Blue Hole off the coast of Belize — the creature is conspicuous in its absence.
He is handsome; she is beautiful. As in other "in search of" reality shows, there is some staging and play-acting. Indeed, with its exotic locations and colorful cast of supporting characters — old salts, conspiracy theorists, record keepers — the show can seem at times like a sketch for a fictional feature film. And there is real danger under the sea.
You would have heard, of course, if either sibling had died making this series; it's not the sort of information a basic cable channel would suppress just to avoid a spoiler. The Cousteaus, who have long individual careers in documentary filmmaking and oceanic environmental activism, are not reckless; diving is patently second nature to them. And yet there's something genuinely nerve-racking when human beings go down into the sometimes murky, sometimes swirly deep and fit themselves into underwater caves or the disorienting, tight spaces of a sideways wreck.
In asking a question and attempting to answer it through research and practical investigation, "Legends of the Deep" is very much in the mode of "Savage Builds," and as on that show, definitive or positive results are not necessarily forthcoming. Sometimes what looks like the hull of a ship might be just a big wrong; sometimes a sea monster is probably a … well, that would be telling.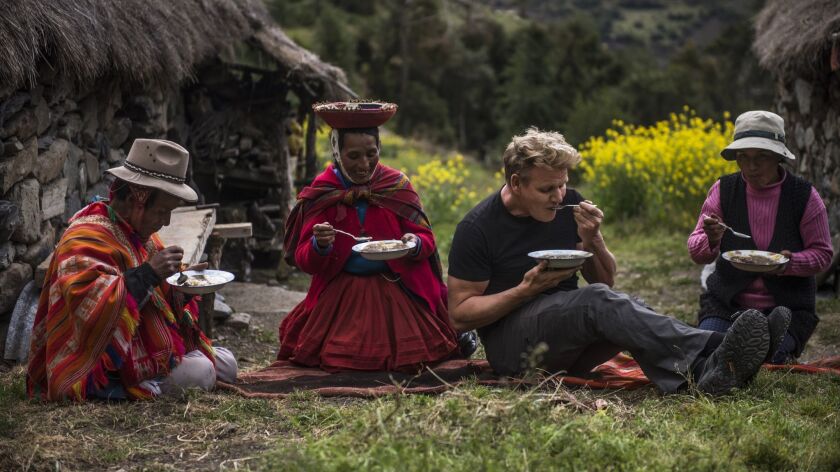 Cooking shows, too, run on a narrative of learning, process and accomplishment. Gordon Ramsay, who is both an accomplished chef and plays one on television, has an entertaining, informative new series, "Gordon Ramsay: Uncharted," premiering in July on National Geographic Channel. The show seems crafted in part to occupy a space left by the death of Anthony Bourdain — the title of Ramsay's new series even recalls Bourdain's last, "Parts Unknown." Like "Legends of the Deep," it has an adventure-story arc, as Ramsay ventures into cultures outside his steak-and-kidney Anglo-American comfort zone — high-altitude Peru and Maori New Zealand, in the episodes I've seen — "ditching the chef whites and getting hands-on." (It is the rare chance to see the strenuously coiffed cook literally with his hair down.)
Because it's Ramsay, there's a competition element — he will cook for locals alongside a top regional chef, to see whose food goes down better — and various reality-television challenges and time constraints. But he really does climb mountains and trees, wade into streams and free-dive in the sea to gather ingredients. (There is a hunting and fishing element to the show; you may want to watch with a finger on the remote.) And there is an opportunity, at least, for failure. Although the focus is very much on Gordon's Big Adventure, Ramsay, as humble as he ever gets, puts himself in the care of people who know things he does not. And we all learn something in the end.
'Savage Builds'
Where: Discovery
When: 10 p.m. Friday
Rating: TV-PG (may be unsuitable for young children)
'Legends of the Deep'
Where: Science Channel
When: Sunday, 6 and 9 p.m.
'Gordon Ramsay: Uncharted'
Where: National Geographic
When: Starts in July
Follow Robert Lloyd on Twitter @LATimesTVLloyd
---