Rocky road: Roseanne Barr's rollercoaster Hollywood ride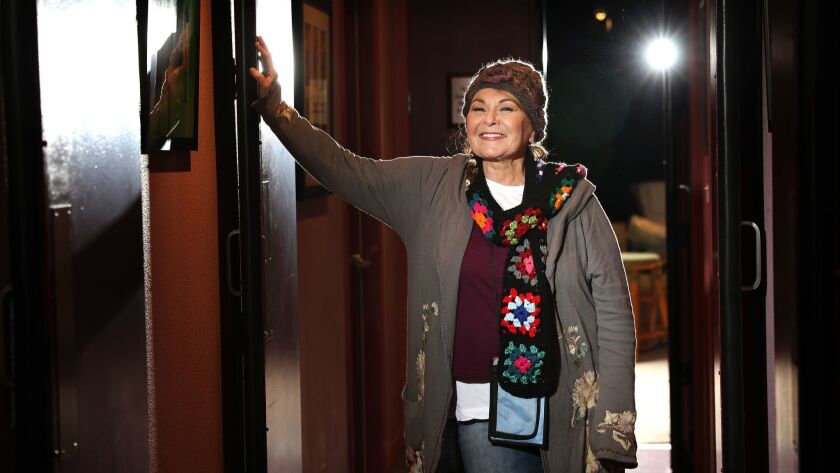 Roseanne Barr is making headlines once again — and not just because the revival of her long-running ABC sitcom is a bonafide hit. Her controversial commentary on social media has been as much a part of the conversation as the show's ratings. First there was a baffling statement about Donald Trump breaking up sex trafficking rings (the tweet was subsequently deleted) then she accused Parkland, Fla., high school shooting survivor David Hogg of raising a Nazi salute (also since deleted.) The Nazi reference seemed especially tin-earred; a 2009 magazine shoot that shows Barr dressed like Adolf Hitler pulling burned people-shaped cookies from an oven has been making the rounds, despite (or because) the producers of her series urged the public to forget the images exist. But that's what you get when you hire Roseanne. Stirring the pot is old hat for the Emmy winner. Here's a look back at some of her biggest past controversies.
Offstage shuffle
It didn't take long for the original "Roseanne" to take off in the ratings but fireworks also quickly ignited behind the camera, specifically between Barr and series creator Matt Williams, who Barr said didn't know how to write about women. She threatened to walk off after 13 episodes if Williams remained; he eventually exited over "creative differences." His replacement, Jeff Harris, also clashed with Barr, who subsequently failed to show up on set in December 1989. Harris lasted only a year before he announced his departure in March 1990 in a full-page Variety ad in which he said that instead of returning to the show, he would take a vacation in "the relative peace and quiet of Beirut."
Barr announces an exit plan
While promoting her feature film debut, the black comedy "She Devil," Barr put producers and ABC on high alert when she said she planned to leave television after just two seasons. "I'm outta there," she said on the "Today" show. However, she would eventually return for Season 3.
'America's worst nightmare'
A year after their courtship began, Roseanne Barr married Tom Arnold at their Beverly Hills home — a ceremony preceded by a visit from FBI agents (over a death threat made to Arnold) and followed by a reception in which he proclaimed, "We're America's worst nightmare: white trash with money!" Arnold was soon made an executive producer on "Roseanne;" just as his new bride was splitting from many of those closest to her, including her sister (more on that later), her manager, her publicist and her lawyer. The couple ended 1990 by appearing on the cover of Vanity Fair, complete with photos of them mud-wrestling each other. "We are still the wildest people we've ever known that aren't in prison," the couple said at the time. The couple grew a reputation — People magazine branded them "the terrible two" in a 1992 cover story — and their marriage eventually spawned not one but two TV movies.
Barr butchers the national anthem
The writer-actress attempted to add singer to her resume when she performed the national anthem at a San Diego Padres-Cincinnatti Reds baseball game. ("Roseanne" co-executive producer Tom Werner owned the Padres at the time.) In addition to being off-key, she further insulted fans when she spit and grabbed her crotch. President George H.W. Bush called her performance "disgraceful." She later claimed she was trying to mimic professional baseball players with her mannerisms, but this wasn't her first offense to Major League Baseball fans. She and Tom Arnold had mooned the crowd at a World Series game to show off their matching tattoos.
Family feud
Shortly after parting ways with her sister and longtime manager Geraldine Barr, the stand-up appeared on the cover of People magazine claiming to be an "incest survivor" and accusing her parents of physical and sexual abuse. Her parents denied the allegations. A decade later when appearing with her sister on "The Oprah Winfrey Show," Barr said the term "incest" may have been incorrect to use. "I just wanted to drop a bomb on my family," she later said.
The other sister
Geraldine Barr later filed a $70.3 million breach of contract lawsuit against Roseanne, in which she claimed that she had promised half of the profits from the sitcom because she had helped craft the "Domestic Goddess" image on which the show was built. The suit was dismissed after failing to meet the statute of limitations.
The scarlet letters
When Tom Arnold stepped in front of the camera for his own ABC sitcom "The Jackie Thomas Show," the series premiere garnered the highest ratings since "Twin Peaks" in 1990. But that wasn't enough for Barr, then Roseanne Arnold, who was nonplussed about the new show's lukewarm reviews. She quickly took matters into her own hands, sending angry faxes to three TV critics, including the Los Angeles Times' Howard Rosenberg. "I call these letters self-defense," she said at the time. "Generally what emerges in these reviews is fear and loathing of women. It's very misogynistic. Something needs to be done."
On the move?
When ratings began to fall on "The Jackie Thomas Show," Roseanne Arnold then clashed with ABC over the network's handling of the series and specifically its indecision about whether to renew the half-hour show. The network refused to make a decision before its May upfront and Arnold declared her relationship with the broadcaster "absolutely over." She also said she intended to pull "Roseanne" from the network the following year. However, Tom exited the comedy a month later to develop a comedy for CBS and declared "The Jackie Thomas Show" dead.
Sealed with a kiss
Roseanne and her husband and executive producer Tom Arnold waged war with ABC executives over a same-sex smooch between Roseanne's leading lady and another woman, played by guest star Mariel Hemingway. Despite last-minute concerns from the network, the kiss did air, albeit with a parental discretion advisory at the beginning of the episode titled "Don't Ask, Don't Tell."
Splitting image
Roseanne filed for divorce from Tom Arnold not once but twice in 1994 after four years of marriage. The first time, she claimed she was the victim of "battered wife syndrome." She soon withdrew her motion and recanted her claims against Arnold, who was an executive producer on "Roseanne." She filed for divorce again 22 days later, and Tom did not return as a producer the following season. It would take 18 years for the two to be in the same room together when they were fittingly reunited at the Comedy Central's "Roast of Roseanne" in 2012.
Second chances
During the ninth season of her ABC sitcom, Barr and producers Tom Werner and Marcy Carsey began plotting a potential new incarnation, which would see her and son D.J. move to Las Vegas into a predominantly African American neighborhood. Rival broadcast networks passed and when ABC tried to commit to 13 episodes rather than the normal 22-episode season, talks died and "Roseanne" said farewell on May 20, 1997.
New day job
Barr returned to television a little more than a year after the end of "Roseanne" as the host of the daytime syndicated talk show "The Roseanne Show." Always one to chart her own course, "The Roseanne Show" strayed from the normal fare, mixing in live calls from viewers, skits like Judge Roseanne and even a cyber sidekick, a role inhabited by her TV son, Michael Fishman in Season 2. Guests included Joan Jett and Paula Jones (a scheduled interview with Sex Pistols lead singer Johnny Rotten was canned at the last minute.) However, the show was axed after two seasons.
Reality interrupted
Barr returned to the small screen packing a double punch: a new cooking show called "Domestic Goddess" for ABC Family — a title playing on her persona crafted on Johnny Carson's "Tonight Show" in the early '80s — and a reality show about the making of the cooking show called "The Real Roseanne Show" for ABC. In the wake of her canceled 1998 daytime talk show, Barr declared that these efforts would mark the end of her TV career for better or worse. "This is the last thing I'll ever do," she said. "I'll never go on TV again." However, only the latter made it to air. Production was halted on both series Aug. 13 when the Emmy winner had to undergo a hysterectomy. The two shows were canceled days later because she labeled "Domestic Goddess" as "unfit to air" but said she would need eight weeks off for recovery — making it impossible to complete re-shoots before the show's scheduled Sept. 20 debut. (Despite her comments, Barr would go on to headline the 2011 Lifetime reality show "Roseanne's Nuts," which was canceled after one season.)
Race to the White House
Years before Donald Trump was sworn into office, another TV star attempted to segue from Sunset Boulevard to Pennsylvania Avenue. Barr announced her intention to run for president on "The Tonight Show." Running on the Peace and Freedom ticket, she appeared on the ballot in only three states and earned roughly 67,000 votes nationwide. Her campaign also produced the documentary "Roseanne for President."
Return to sender
In the midst of her presidential campaign, Barr started a firestorm when she tweeted the address of George Zimmerman's parents weeks after he shot unarmed teenager Trayvon Martin. "At first I thought it was good to let ppl know that no one can hide anymore," she said in the since-deleted tweet. Zimmerman's parents sued her in 2014, alleging "intentional infliction of emotional distress" and "invasion of privacy." A summary judgment ruled in Barr's favor the following year.
Already a subscriber? Thank you for your support. If you are not, please consider subscribing today. Get full access to our signature journalism for just 99 cents for the first four weeks.
---
Inside the business of entertainment
The Wide Shot brings you news, analysis and insights on everything from streaming wars to production — and what it all means for the future.
You may occasionally receive promotional content from the Los Angeles Times.