Roseanne Barr leaves her Trump-tweeting behind — somewhat — in a stand-up stop in Vegas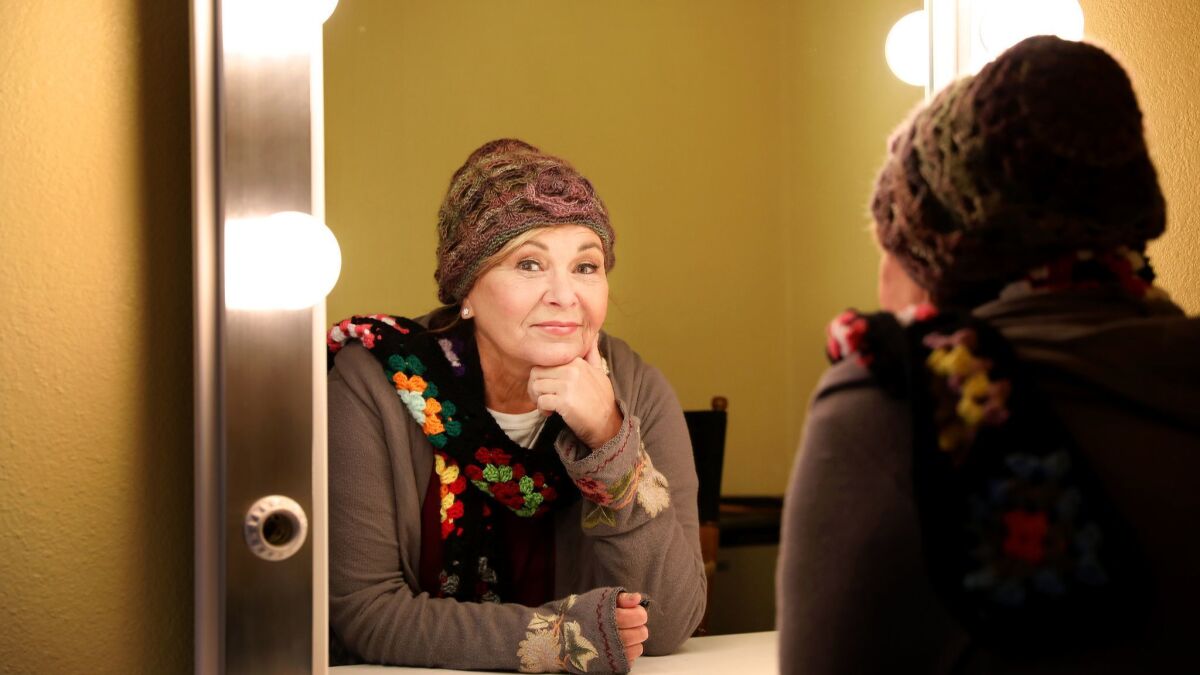 Reporting from Las Vegas —
"I'm not about making people happy, as you might be able to tell," Roseanne Barr told the crowd in her familiarly dry drawl near the end of her Saturday set at the Orleans Hotel & Casino in Las Vegas.
It was a touch of comic understatement that nodded toward a career built on various forms of rebellion and provocation, which of late has grown to encompass the embrace of some divisive political views on Twitter, where the comic has, among other things, shared the occasional far-right conspiracy theory.
And yet the admission comes at a time when the comic has been making a lot of people happy with the rebooted "Roseanne," a series that shifted the TV landscape in the '80s and '90s and returned this spring to record ratings numbers. Though the series has been mostly well-received by critics, it too has received criticism for its occasional dips into politics, which began in the first episode with Barr's alter-ego Roseanne Conner being revealed as a supporter of President Trump.
The resulting friction helped establish the ABC sitcom as another political football on a divisive pop-culture landscape, one where support for a show can become the equivalent of support for a wider ideology. And although the popularity of the reborn "Roseanne" surely contributed to Barr's Vegas date selling out days in advance, there was also a seeming hunger in the crowd for the comic to further embrace her newfound political profile.
Although her nearly 90-minute set — one of the last dates of a tour that started last month — teased such a shift with a few jabs toward Hillary Clinton and a vague dissatisfaction with former President Obama (which came in the service of a Tom Arnold joke), Barr seemed reluctant to embrace that turn.
At one point, she asked the crowd what they thought of Trump, which earned vigorous cheers and applause. "You like our president, that's wonderful," she said, remarking on how much that kind of response had changed from her previous appearances. "See? I'm not the only one."
Of course, a Vegas showroom doesn't offer the kind of statistically significant results polling data is typically built on, especially given the demographics of the audience, , which for the most part looked a lot like the Conner household.
But rather than stirring up some kind of rally, she quickly transitioned toward her own presidential campaign in 2012 and its more inclusive positions about marijuana legalization and poverty. "I would have been a way better president than any of them," she said. "The only time they're telling the truth is when they're calling each other liars."
It was the kind of bipartisan message that pointed to the more complicated political perspective of Roseanne Barr the comedian, whose dips into social issues may not have always meshed with her conservative-leaning audience. Sure, there was the slightly encrypted ideological red meat of references to participation trophies and Rosie O'Donnell, but Barr didn't seem eager to toe anyone's party line.
To a somewhat more tepid response than the Trump question, she touched on her support of LGBT rights, something she called a "moving ahead of civilization," and gay instructors in public schools.
"Do we really want straight male teachers shoving their heterosexual agenda down our teenage daughters' throats?" she asked in a sideways glance at the current "#MeToo" moment. "And I think that if lesbians were teaching our sons, well, then our sons might learn some valuable life lessons. Like how to take orders from big, bossy women who find them completely irrelevant."
Cheers, predominantly female, erupted.
"It will help to prepare them for life as it is in the real world," she added, sounding onboard with a future that keeps "men's rights" activists up all night on the internet. A later joke about Caitlyn Jenner's transition wasn't the most sensitively rendered in the setup, but came in the service of the sharp perspective that's always been central to Barr's act. "They take you in this room and they cut your pay in half," she said.
However, there was a sense in her performance that Barr shared more than a few traits with the president, which included enjoying a similar benefit of the doubt from fans. Some material mocked Hollywood elites such as the Kardashians — jokes that maybe landed more squarely among conservatives before the Trump-supporting tweets of Kanye West — while other jokes drew from one of her kids attending the same treatment center as Lindsay Lohan. Roseanne Conner may be just like them, but Roseanne Barr, a little less so.
And for the most part, Roseanne Barr the comedian stuck to more far-reaching fare that helped launch her from comedy clubs to television networks — such as aging, her family and the pleasures of the McRib. Still, the audience that came to see the Roseanne Barr from social media wouldn't stay silent.
At one point, Barr asked a woman in the crowd if she was a friend from Twitter. The woman responded with a Stormy Daniels reference, a callback to the recent social media spat between the comic and the alleged Trump mistress.
Barr cackled, but wouldn't take the bait. "I've been silenced, I can't say nothing about Stormy Daniels. I've already been warned," she said with some resignation, eliciting a few disappointed groans as the crowd goaded her on. But she (mostly) held her fire. "You guys just want me to get fired from my TV show," she said.
Still, the warmth of the connection between her and her fans remained evident from both sides. The crowd gave her two standing ovations, and despite a divisive social media presence and earned reputation as a provocateur, Barr struck a predominantly genial tone here. She opened by expressing gratitude for the positive response to her relaunched TV series, and closed with an earnest reminder of the importance of laughing at yourself.
See? Every now and then, Roseanne can make people happy.
See the most-read stories in Entertainment this hour »
Twitter: @chrisbarton.
ALSO
Rocky road: Roseanne Barr's rollercoaster ride in Hollywood
Roseanne Barr celebrates 'Roseanne' renewal with tweets about child sex-trafficking ring
Get our L.A. Goes Out newsletter, with the week's best events, to help you explore and experience our city.
You may occasionally receive promotional content from the Los Angeles Times.