The battles of Roseanne Barr and why a spinoff show could lead to another epic fight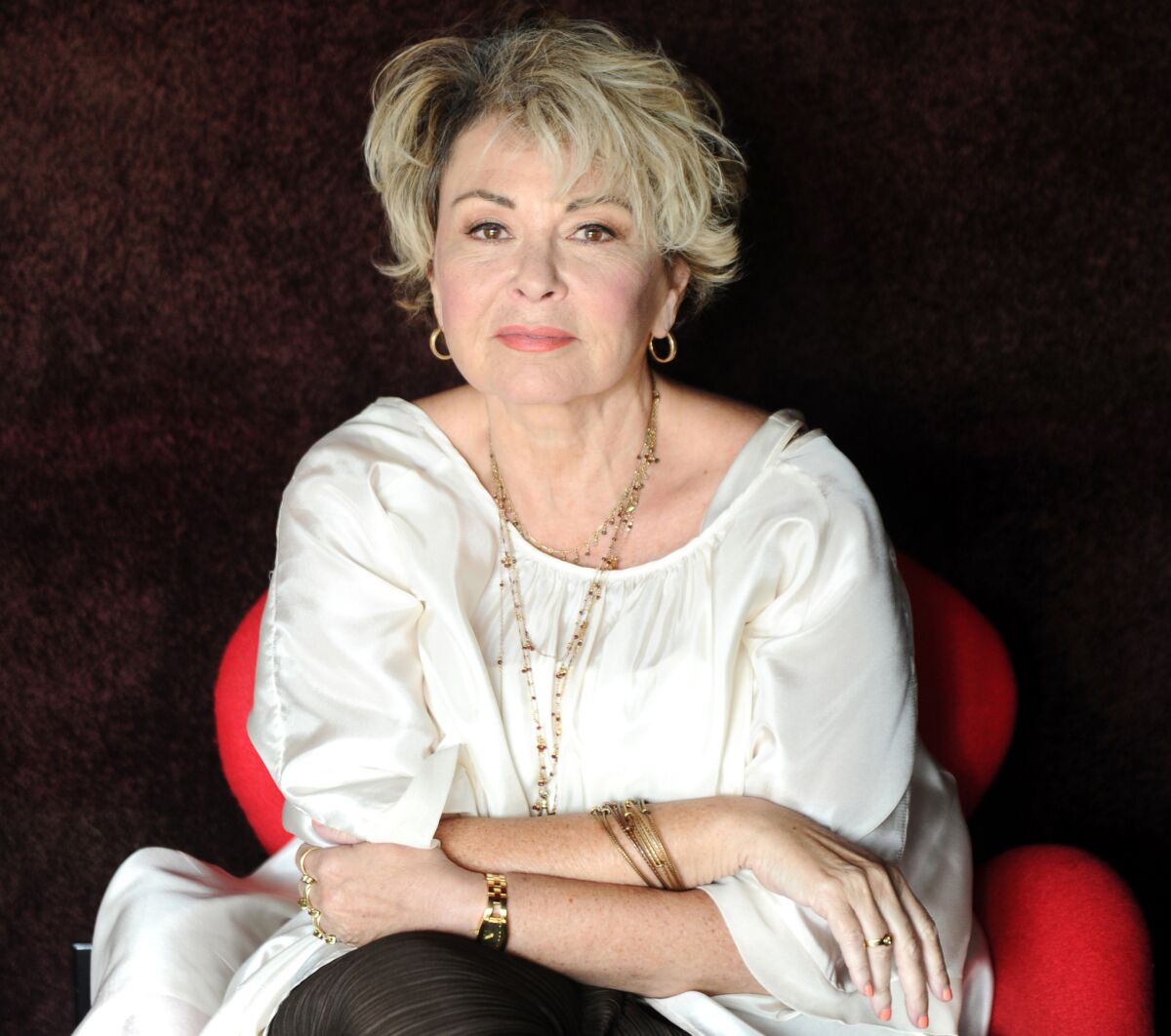 The entertainer who often goes by one name — Roseanne — was ready for a fight. She was furious at ABC. Feeling deceived and disrespected by the network behind her immensely popular sitcom, a linchpin of its prime time slate, she was determined to rally her outspoken fan base to save the series she'd worked so hard on and make ABC pay.
That explosion, however, was not fallout from the cancellation of her series last month after a racist tweet. It was actually part of the Roseanne-versus-ABC era of 1993, when Barr was going by her married name Roseanne Arnold. Her uproar was ignited by the network's indecision over the fate of "The Jackie Thomas Show," starring her then-husband, Tom Arnold. The couple were executive producers of the series, which had performed poorly despite having "Roseanne" as a lead-in. But that mattered little to Roseanne Arnold. She dared ABC to cancel it.
In a declaration of war, Roseanne announced that her relationship with ABC was "absolutely over" and threatened to take "Roseanne," her groundbreaking series about the blue-collar Roseanne Conner family, to another network.
"This show is my best work," she proclaimed in interviews about "The Jackie Thomas Show." "It's a great show, very dark, sinister and cutting edge. It's a lot more cutting edge than anything David Lynch and Oliver Stone can bring to television."
Her 1993 outburst shares many parallels with her current breakup with ABC, which at press time was contemplating a plan to make a "Roseanne" spinoff — without Roseanne.
Then, as now, "Roseanne" was a top-rated show starring an unpredictable force of nature whose talent, charisma and creativity were accompanied by a fiery, often-caustic personality that would not be shut down.
Following ABC's swift action to yank the highly rated "Roseanne" reboot on May 29 within hours of Barr's tweet about former President Obama advisor Valerie Jarrett, the star initiated a Twitter storm that moved from apology to pleas for forgiveness to complaints of being treated unfairly and then, buoyed by an outpouring of online support from fans, hints that she was exploring options to fight back.
It was the latest chapter in a decades-long firestorm that has engaged and consumed Barr ever since she transitioned during the 1980s from the snarky stand-up comedian who defined herself as a "domestic goddess" to one of the most iconic stars in the pop culture arena, simultaneously adored, derided and feared.
Barr even exhibited her appetite for uproar during her unsuccessful campaign for president in 2012.
In the 2015 documentary "Roseanne for President," Barr said at one point that she wouldn't be shut up "by networks or nothin' else. I won't be shut up here either. But I don't wanna just attack..." She continued and turned to the camera with a mischievous smile, "I really just wanna attack."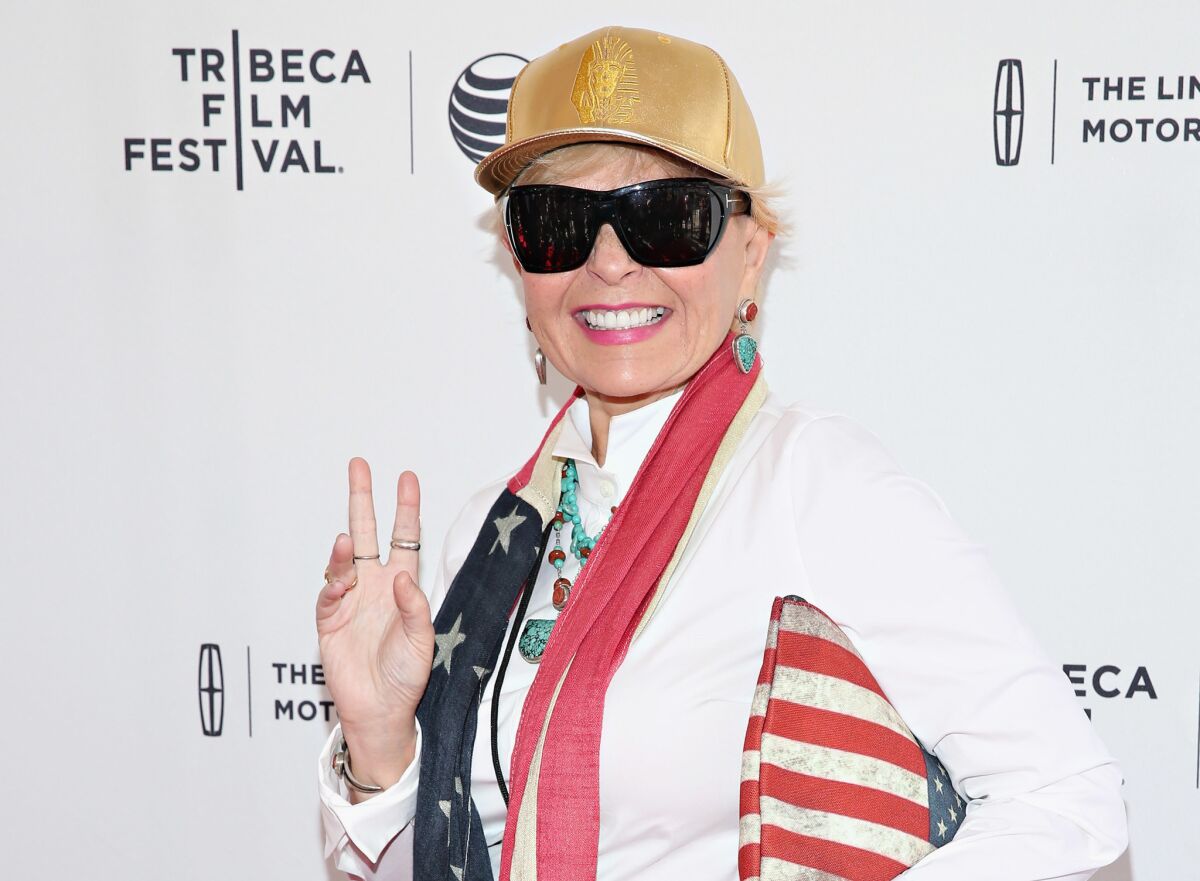 Ready to fight
Hollywood is often referred to as a land of dreams and fantasy. But Barr's Hollywood has always been a battlefield waged on personal and professional fronts. Like President Trump, whom she supports and admires, her targets through the years have varied widely — network honchos, producers and writers on her shows, husbands, ex-husbands, family members, the media, politicians, lovers of "The Star-Spangled Banner."
Even when she scored clear victories — hit shows, an Emmy award, a blockbuster reboot — the battles always found a way to flare up anew. There's always a new fight for Roseanne.
After being overwhelmed by the loss of her show, apologizing to Jarrett and going off Twitter for a few days, Barr resurfaced on Twitter with a retweet of a conspiracy theory that took aim at Jarrett. Since then, her tweets have fluctuated between the bellicose and contrite.
Those who have followed her through the years see a pattern of contradiction. Her combativeness contrasts with her alarming vulnerability and insecurity. She has said in the past that much of the upheaval in her life is connected to her inner demons marked by multiple personalities, bipolar disorder, child abuse and other family turmoil.
Many familiar with Barr's volcanic nature have wondered why ABC executives ventured back into business with her for the reboot after weathering the tumult of the original "Roseanne."
Bob Iger, chairman and CEO of the Walt Disney Co, the parent company of ABC, was one of the key network forces who supported pulling the plug on the reboot. He was also one of the few executive holdovers from the era of the original "Roseanne." During that era, she credited Iger, who was then president of ABC Entertainment, with calming her down during her infamous clashes with producers.
"He really was for me, and he understood what I was doing," she said in a 1990 Times interview. "I am really grateful to him,"
Iger, in a 1990 interview before "Roseanne's" third season, blamed much of Barr's temperament on fatigue. He said Barr was "tired from the whirlwind nature of the last two years — an overnight success, the No. 1 show on TV, she got divorced, she got married, she wrote a book and went on tour, and she was in a movie ['She Devil']. And the advice I gave her as we approached summer was to take it easy and conserve her energy so when she came back this season, the spark would be there. And it is."
When the original "Roseanne" ended in 1997, she said that the series was more than a high mark of her career. Realizing her vision of the Conner family, and of her character Roseanne Conner, a decidedly unglamorous, working-class mother, had become her obsession, her life.
"This is the most important thing that I've done up to this point, and it might be the most important thing I wind up doing," she said in a 1997 L.A. Times interview just before the series finale. "I was possessed by it. It's like I was driven to do it, as if it didn't come from me… I got to tap all those parts of myself that I wouldn't have gotten to do without this show. It was a life preserver at low points."
It was also a war zone. Matt Williams, the show's creator, and Barr butted heads constantly. They couldn't agree on the direction of the series and from the beginning even fought over the name. Williams wanted it to be an ensemble show called "Life and Stuff"; she wanted it to be a star vehicle called "Roseanne." Once in production, there were numerous accounts of a nightmarish backstage atmosphere. Barr also bashed the production company of Carsey-Werner, which produced "Roseanne."
Williams left the show midway through the first season after Barr threatened ABC, telling the network it was her or him. Williams' replacement, Jeff Harris, left after a year. He took out a full-page ad in Daily Variety that said that instead of returning to "Roseanne," "my wife and I have decided to share a vacation in the relative peace and quiet of Beirut."
In a 2003 interview, Barr said her volatility was due to her anger at the Hollywood system, which she said rewarded laziness.
"I'm a working-class person," she said. "Where I grew up, if you didn't do the job, you got fired. You didn't get promoted. It's so ass-backwards, this system. It was beyond any personal thing, I didn't get it. I just wanted to be with people who were excited and wanted to be there."
There were also eruptions off-screen. She prompted a national outcry in 1990 at a major league baseball game when she belted out an off-key version of the national anthem, scratched her crotch and spit. She said it was a joke.
In 1991, Barr clashed publicly with her parents and sisters after saying she was an incest survivor.
The storm escalated when Barr married Arnold in 1990. Their outrageous off-screen behavior was gold for tabloid covers — they once mooned a camera at a sporting event with their rear-ends — and the two fired off angry faxes to TV critics who blasted "The Jackie Thomas Show." Arnold also took almost total control of Barr's career.
In 1993, she filed for divorce, saying Arnold subjected her to physical and psychological abuse. She dropped the proceedings less than a week later and withdrew her accusations. Within a month, she petitioned for divorce a second time. Their divorce became final the following year.
Recalling the turbulence of the marriage, Roseanne said in a 2003 interview, "It was a hurricane. I got caught in the middle of something. There was a lot of turmoil, fear of just flying through space with no anchor at all."
Calm before the storm
Between the end of the original "Roseanne" in 1997 and the start of the reboot last May, there were fitful periods of calm. A daytime talk show in 1998 quickly fizzled. In 2003, she took on two connected shows — "Domestic Goddess," a cooking/lifestyle show that offered up her world view and search for spirituality and "The Real Roseanne," a reality show that chronicled the making of her lifestyle show.
"I guess I just got bored with being at peace," she said in a 2003 interview with The Times. "I had to go out and find more chaos. Then I thought that I would underline something, that we're all fighting the devil and trying to be nice. So that's what I've been doing, trying to become a genuinely nice person."
With "The Real Roseanne," she also wanted to offer audiences a glimpse of her life battling her inner demons: "I want to talk about my spiritual journey, fighting the angel and devil in me."
But TV critics were not kind to "The Real Roseanne," suggesting that a kinder, gentler Roseanne was a less funny Roseanne. She was stung by the observation.
"This is my farewell tour, this is it," said Barr in the 2003 interview at her home. "Some of the writers were so cold, so mean, and I wasn't prepared for that. It's like a personal attack, that I have a new job. I'm too old to take this again."
She had a few initial reservations last year when "Roseanne" costar Sara Gilbert approached her about reviving "Roseanne." But she realized that it would offer her another opportunity to move in a more positive direction.
"I'm getting a second chance to clean up bad habits and trash left lying around," she said in an interview before the launch of the reboot. "I thought I would be able to clean up a lot of dirt that I left, that I would be a leader in a better way. That I would once again be the boss but be much more tempered and old and wise. I have life skills that I feel I was not great at before. I felt that this was karmic and spiritual."
But even when the show became a huge hit, Barr continued to get into hot water with her Twitter posts about right-wing conspiracy theories and attacks against various politicians. Executives at ABC and Disney, which owns the network, were increasingly nervous, but Barr would not be silent. The Jarrett tweet was the last straw for ABC. Her long-standing war with Hollywood may have finally ended through the most surprising tactic of all — pushing the self-destruct button.
But that assumes that ABC and Barr are done fighting. The arc may reach its crescendo if ABC goes through with the "Roseanne" spinoff plan proposed by a group of the show's executive producers, including Tom Werner, Sara Gilbert (who also starred as Darlene) and Bruce Helford (who was fired as showrunner in 1993 and came back for the reboot).
Werner's former partner Marcy Carsey, who is currently not working in TV, told an audience last week that a spinoff is a bad idea.
"I would just move on," she said.
Others like the idea, but don't want Roseanne to profit off a new series.
"If Williams is considered the sole creator of the series, with Barr only credited for originating the character that became Roseanne Conner … one could make an argument that Barr is not entitled to profits," Deadline's Nellie Andreeva reported on Monday.
But if the show is revived without its biggest star and inspiration — and without compensation to her — many feel certain she would sue. Roseanne, after all, has never backed down from a fight.
ALSO
ABC would consider a reboot of 'Roseanne' without Roseanne, sources say
'Roseanne' minus Roseanne? Nine other shows that soldiered on without their star
'Roseanne' cancellation means hundreds of crew members are about to be unemployed
Readers react: 'Roseanne' without Roseanne: How everyone else on the show can keep their jobs
No, Samantha Bee's vulgarity isn't equivalent to Roseanne Barr's racism
'Roseanne' cancellation a huge blow to ABC, but network praised for swift action
Twitter:@GeBraxton
Get our L.A. Goes Out newsletter, with the week's best events, to help you explore and experience our city.
You may occasionally receive promotional content from the Los Angeles Times.