All the royals TV you need before Harry weds Meghan and the best way to watch on the big day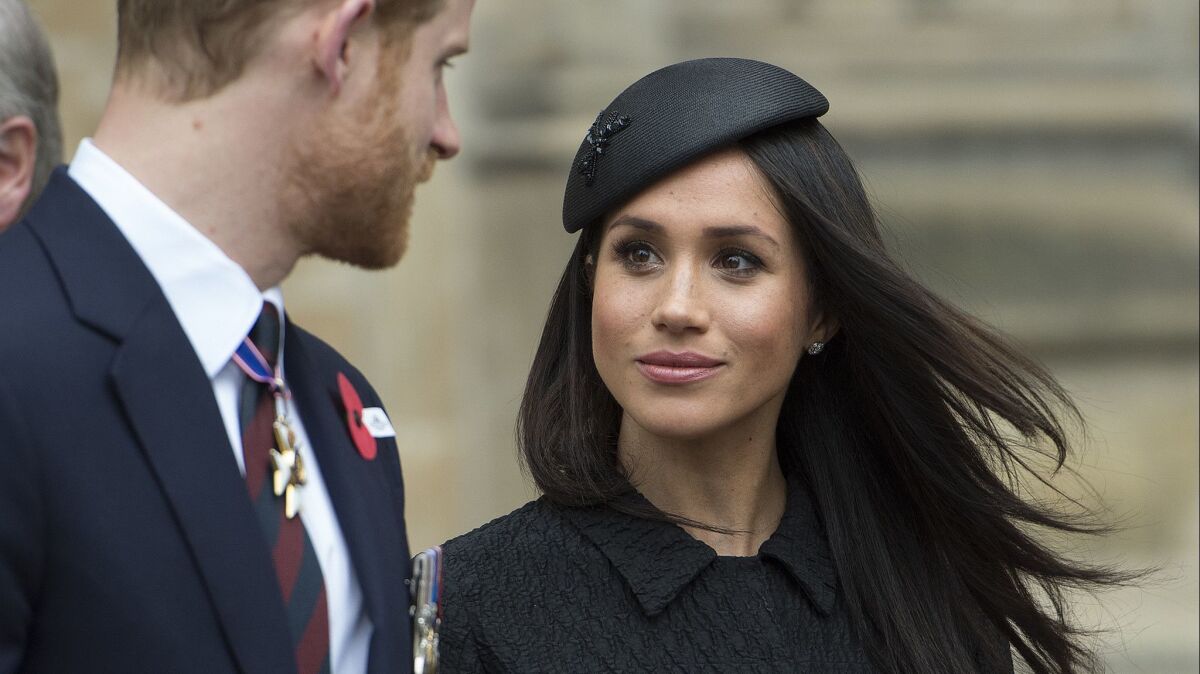 Television Critic
Though we long ago thrust monarchy from our shores, Americans still grow up on kings and queens, princesses and princes. We are raised on stories of King Arthur and parodies of stories of King Arthur; on Prince Hal and King Lear, on lords and ladies and dukes and duchesses and barons and earls. On King Friday XIII and Queen Sara Saturday. We take weird pleasure in calling Paul McCartney "Sir Paul" or Judi Dench "Dame Judi," even though we fought a revolution in order to not have to do that.
Not every royal wedding gets major media coverage over here: Since Charles married Diana in 1981, his brothers Andrew and Edward and sister Anne have all wed, as Charles has again, with little local hullabaloo. (There are non-British royal weddings, of course, though unless they involve an American movie star, we don't want to know.) But when the big ones come along, they cause a stir, sending ripples through the media and causing writers on every platform to dust off terms like "fairy tale" and "fascinator." This has been so at least since the present queen married Prince Philip (see Netflix's "The Crown," Season 1).
There was Diana, once upon a time, in a dress that was enough for two dresses; and her son William a few babies back. Now it's brother Harry's turn to make a person a princess (well, a duchess). And that the person, Meghan Markle, is an American makes this a truly local foreign event, as well as cementing the relationship between two great nations.
We are less than a week away from the happy day — Saturday, May 19, if you need to write that down — and television will be there, and there for you. The wedding itself, to take place at Windsor Castle, in the modest enormousness of St. George's Chapel, will be covered live not only by all four big broadcast networks, but by Fox, PBS, E! and BBC America, which will simulcast the BBC's own feed. CNN and HLN are sending troops. On the West Coast it will be a toss up between staying up late and getting up early — the ceremony begins at 4 a.m. Pacific Time. Wear your formal PJs.
Most exciting for some viewers will be HBO's "The Royal Wedding Live With Cord and Tish!" featuring "Pasadena broadcast legends Cord Hosenbeck and Tish Cattigan," the Rose Parade veterans who bear a strong resemblance to Will Ferrell and Molly Shannon. Coverage begins at 4:30 a.m. PT with a replay at 6:45 p.m.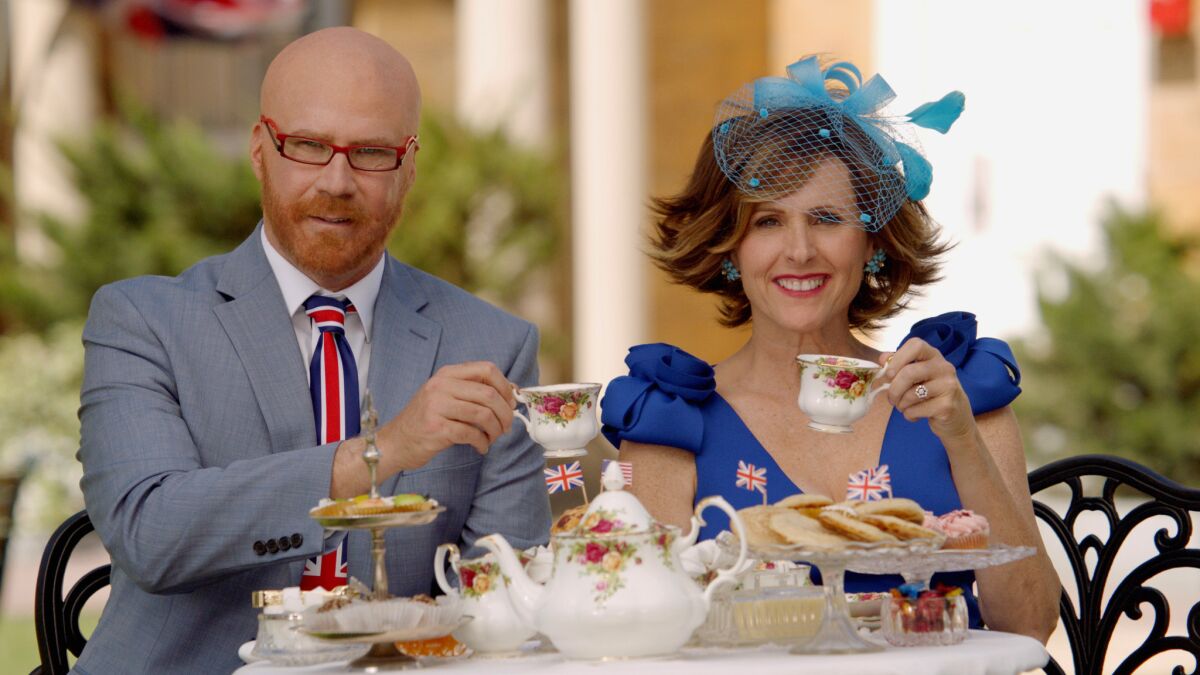 But the coming week will provide programs to wet your whistle, including several documentaries on the paths that led Harry and Meghan to their engagement and the meaning of it all for the future of the kingdom and the nation. (All signs, seemingly, are good; the royal family has grown up enough to accept an American biracial divorced actress into the family, and the U.K. goes wild.) These variations on a theme come with similar titles, overlapping information and some of the same film clips arranged with different emphasis.
Of the ones I've seen, BBC America's imported "Harry & Meghan: A Very Modern Romance" (Tuesday, 10 p.m.) is in some ways the most interesting, because it hasn't been made for an American audience, but for viewers who have a more immediate, long-term interest. It has some concern for the future Duchess Meghan, as well, whom it admiringly explains as a modern woman — a feminist, an activist — to the people whose hands she has already begun to shake and shoulders to hug with enthusiasm and ease. Yes, people are reminded of her fiancé's mother.
Smithsonian Channel has framed the wedding within the context of its "Million Dollar American Princesses" series (next airing, 1 p.m. Tuesday), which is usually about rich American women rescuing British aristocrats from penury by marrying them. (You may be familiar with the arrangement from "Downton Abbey.") This is not what's happening here; "Suits" can't have paid that well. The royal weddings of Hollywood brides Grace Kelly (a common comparison in these shows) and Rita Hayworth are examined for context in this episode on Markle. Some dramatic re-creation included.
"Today" co-anchors Savannah Guthrie and Hoda Kotb host NBC's cheery "Inside the Royal Wedding: Harry and Meghan" (Wednesday, 10 p.m.), prowling Windsor while real English correspondent Kier Simmons takes a sneak peek inside the chapel and visits florists and bakers and tailors and hostlers whose hard work will make this party more than a quick trip to City Hall. Friends and colleagues of the bride are deposed, certain that Markle can handle whatever the queen and her country have to throw at her. If she is Cinderella, she is Cinderella come to rescue the prince.
TLC has three hours of original wedding programming Friday, the nuptial eve, featuring the same enthusiastic commentators throughout. (Britain's overnight Meghanologists I find especially delightful — "Can we ever remember a time when there wasn't a Meghan Markle?" wonders journalist Andrew Morton.)
The bride and groom get a special apiece, "Prince Harry: Wild No More" (8 p.m.) for him, "Meghan Markle: A Royal Love Story" (9 p.m.) for her. The focused attention given each makes room for clips and tidbits other documentaries can't — including an appearance by Markle "first love" Joshua Silverstein, whom she kissed at camp, and the fact that Harry "quietly" dated Jenna Coleman, who has played his great-great-great-great grandmother in "Victoria" — while adding a layer of seriousness to the biographical accounts. The highly speculative "Secrets of the Royal Wedding," which follows at 10 p.m., might better be titled "Guesses About the Royal Wedding," but it efficiently rounds up what's known about the preparations and details and where Harry and Meghan have already broken from tradition.
What else? Lifetime has an imaginative feature docudrama, "Harry & Meghan: A Royal Romance," with lookalikes Murray Fraser and Parisa Fitz-Henley in the title roles (Tues. 8 p.m. and available to stream at www.mylifetime.com, along with the merely documentary "Harry & Meghan: Royal Rebels.") And local PBS outlet KOCE has a "Royal Wedding Watch" every weeknight at 10 — sure to be educational!
Even for someone who rarely spares a thought for royalty and its big book of silly rules and regulations, these shows can be moving: It's evident from nearly every scrap of footage of Meghan and Harry that these mature young people are crazy about each other, and as the programs above also make clear, impressive in their own rights. No dummies. Socially conscious. Well-spoken.
Yes, I choked up, as if at the climax of a Richard Curtis rom-com. I didn't expect to. But love, it seems, conquers all.
ALSO
Live updates: Countdown to the Royal Wedding
When Harry Met Meghan: the royal wedding is the perfect Hollywood ending for a very Hollywood story
Meghan Markle's rise to Hollywood stardom
Where to watch the royal wedding at L.A.-area pubs and tea parlors
Accidentally royal: 11 films to watch before Prince Harry and Meghan Markle's big day
Find out how Meghan Markle bid farewell to 'Suits' ahead of royal wedding
Follow Robert Lloyd on Twitter @LATimesTVLloyd
---
UPDATES:
May 14, 1:10 p.m.: This story was updated with additional details on TLC's royal wedding programming. The article was originally published May 12 at 6:30 a.m.
Get our L.A. Goes Out newsletter, with the week's best events, to help you explore and experience our city.
You may occasionally receive promotional content from the Los Angeles Times.