Meghan Markle's rise to Hollywood stardom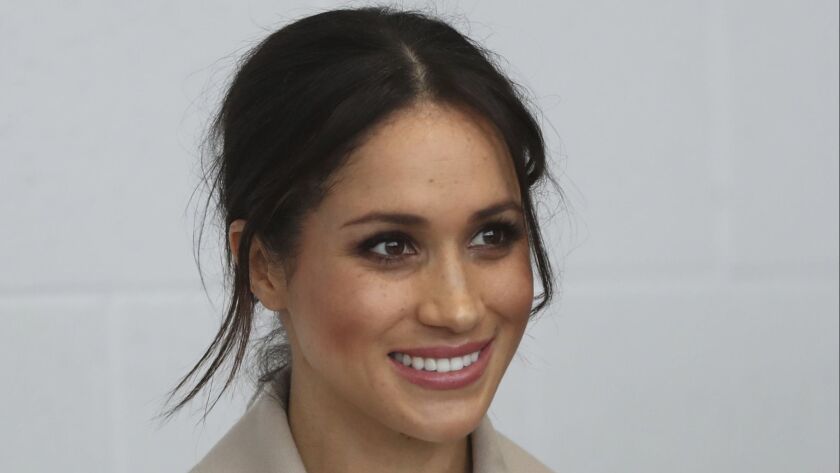 Meghan Markle is about to become British royalty in a matter of weeks, but she's no stranger to the spotlight. The Los Angeles native has been acting for more than a decade, most famously as Rachel Zane on USA Network's "Suits" for seven seasons. However, Markle's impending nuptials with Prince Harry also mean her days in Hollywood are numbered. She recently exited the legal drama as she prepares to retire from acting to focus on her humanitarian work. With her acting days officially in the rearview mirror, it's time to take a closer look at her star-making climb.
2002
<h3 class="benton-title timeline-title">&#8220;General Hospital&#8221;
Markle's first official credit was playing a woman named "Jill" on the long-running ABC daytime soap. Her other early roles included a 2004 guest stint on the futuristic CBS drama "Century City," starring future Oscar winner Viola Davis,and a 2005 role on the Shannon Elizabeth UPN comedy "Cuts."
2005
<h3 class="benton-title timeline-title">&#8220;A Lot Like Love&#8221;
Markle's first film role came courtesy of this Ashton Kutcher-Amanda Peet rom-com, in which she played "Hot Girl." (Hey, still better than "Hot Girl No. 3"?) However, it's TV roles that would keep her busy, including the 2008 ABC pilot "Good Behavior" (not to be confused with the TNT drama starring Michelle Dockery). Her role as "Sadie Valencia" introduced her to to her future "Suits" love interest Patrick J. Adams, who also starred (as twins!).
READ MORE: From L.A. girl to British royalty: Meghan Markle is now the talk of the town
2006
<h3 class="benton-title timeline-title">&#8220;Deal or No Deal&#8221;
In between acting roles, Markle landed a steady gig as a briefcase model on the first two seasons of the NBC game show "Deal or No Deal." Hosted by Howie Mandel, the series ran for six seasons before ending in 2009. CNBC announced plans to revive the competition series in 2018, but it seems safe to say Markle is too preoccupied for a return visit.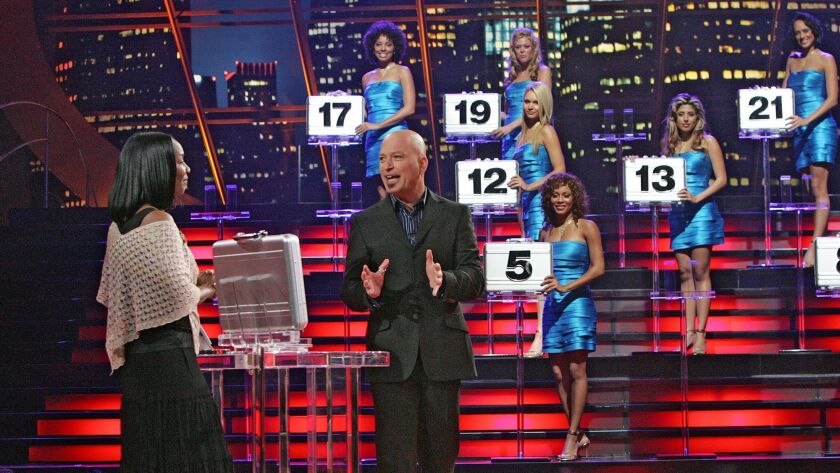 READ MORE: Not invited to Prince Harry and Meghan Markle's wedding? Here are five places where you can feel like a royal
2008
<h3 class="benton-title timeline-title">&#8220;90210&#8221;
In addition to booking her first pilot, 2008 also brought her first recurring role on The CW's reboot of the soapy high school drama. Markle made a, ahem, memorable first impression when she was depicted as having just performed oral sex on one of the lead male characters. In addition to her two-episode stint at West Bev High, she appeared on two episodes of the Fox sci-fi drama "Fringe" as a junior FBI agent.
READ MORE: Meghan Markle's father lives in a quiet Baja town; but the British paparazzi have come knocking
2010
<h3 class="benton-title timeline-title">&#8220;Remember Me&#8221;
Markle played — big twist — "Megan" in this Rob Pattinson romantic drama. Her then-boyfriend, Trevor Engelson, served as a producer on the film and the two went onto marry the following year. They eventually divorced in 2013. A year into her relationship with Prince Harry, Engelson sold a TV pilot to Fox in 2017 about a man whose ex-wife marries into the British royal family. The two must then navigate how to share joint custody of their children with the added complication of the public spotlight. (In real life, the couple had no children.) The project is in early development.
2011
<h3 class="benton-title timeline-title">&#8220;Suits&#8221;
After a string of one-episode stints on everything from "CSI: Miami" to "The League," the USA Network drama marked her first series regular role. In the hourlong series, Markle played paralegal Rachel Zane, the love interest of faux lawyer (and eventual real lawyer) Mike Ross (Patrick J. Adams). In the early years, Rachel was relegated to paralegal work after failing to pass the LSATs. However, thanks to encouragement from her beau, she eventually passed the test and began studying part-time at Columbia Law School while still working at the show's fictional law firm. The same summer that "Suits" premiered, Markle also appeared in the hit box office comedy "Horrible Bosses."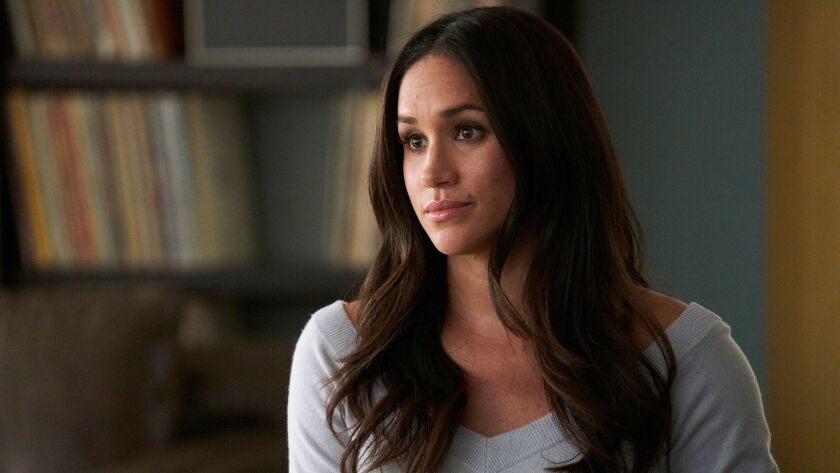 READ MORE: Meghan Markle has another big wedding day coming
2014
<h3 class="benton-title timeline-title">&#8220;When Sparks Fly&#8221;
As her star rose on "Suits," Markle went onto headline not one but two Hallmark movies. The first, "When Sparks Fly," saw Markle play a Chicago journalist who returns to her small hometown for a story on the Fourth of July only to fall back in love with her ex.
The second, 2016's "Dater's Handbook," cast Markle as, according to the official description, "a woman who changes her personality according to a dating guidebook to find a husband but realizes the man she wants is the one who loves her for who she is."
2018
<h3 class="benton-title timeline-title">Farewell to acting
The same day that Markle's engagement to Prince Harry was announced, USA Network confirmed that she would exit "Suits" at the end of the show's seventh season. Markle's departure coincided with that of her onscreen love interest, Adams. The season finale, which aired in April 2018, saw their will-they-or-won't-they characters tie the knot and move to Seattle together to head a new firm.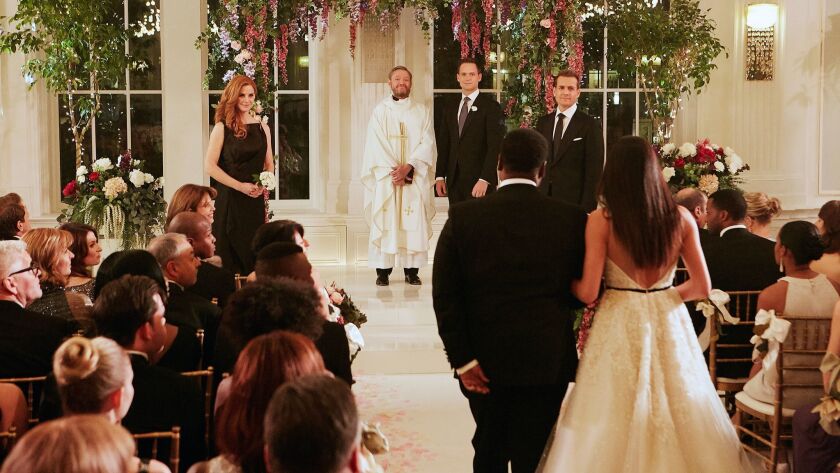 ---
The complete guide to home viewing
Get Screen Gab for weekly recommendations, analysis, interviews and irreverent discussion of the TV and streaming movies everyone's talking about.
You may occasionally receive promotional content from the Los Angeles Times.