When Harry Met Meghan: The royal wedding is the perfect Hollywood ending for a very Hollywood story
In Hollywood, the best love stories are the ones that involve an unlikely couple — two people so divided by family or fate, time or class, personality or geography that it seems impossible they will ever get together.
The royal wedding on May 19 provides a happy ending made possible by Hollywood, so it makes sense that it involves a couple who faced most, if not all, of those obstacles. Certainly, from the viewpoint of a storyteller, Meghan Markle and Prince Harry of Wales are the unlikeliest couple of all.

For the record:
8:00 a.m. May 11, 20188 a.m. May 11: An earlier version of this article said the royal wedding is Saturday. It is May 19.2:55 p.m. May 14: An earlier version of this story identified George VI's daughters as Elizabeth and Anne; they were Elizabeth and Margaret.
Until fairly recently, Meghan, 36, was a little-known star of "Suits," a popular but by no means prestige show on USA. She is from Los Angeles, and she is divorced; her first husband is a television producer. She is into yoga, avocados and the beach. She identifies as a feminist; before "Suits," her biggest claim to fame was that by writing to then-First Lady Hillary Clinton at age 11, she helped change the sexist language of a dish detergent ad.
A former "briefcase girl" on the game show "Deal or No Deal," she began her television career with an appearance on "General Hospital"; her first film role was "Hot Girl #1" in an Ashton Kutcher project.
For many years, she had a lifestyle blog, and an Instagram account that focused on food, fashion and her dogs. Before that, she served frozen yogurt in the Valley and earned money as a calligrapher.
Harry, on the other hand, is a 33-year-old prince, grandson of the reigning monarch, son of the beloved Diana. The boy who walked so bravely behind his mother's flower-laden coffin on which balanced a card that he had addressed to "Mummy."
Not the first son, mind you. Not the heir but "the spare," to use the phrase that occupied so many unfortunate headlines announcing his birth. And he knew it. His childhood was incessantly chronicled as part of, and in contrast to, the world's most bitter and most famous divorce.
While his older brother, William, grew into modern majesty, with his mother's eyes and his father's hairline, Harry, the red-haired child of the family, ran around getting into trouble, dating women and dropping them, until he straightened himself out and began taking this prince thing a bit more seriously.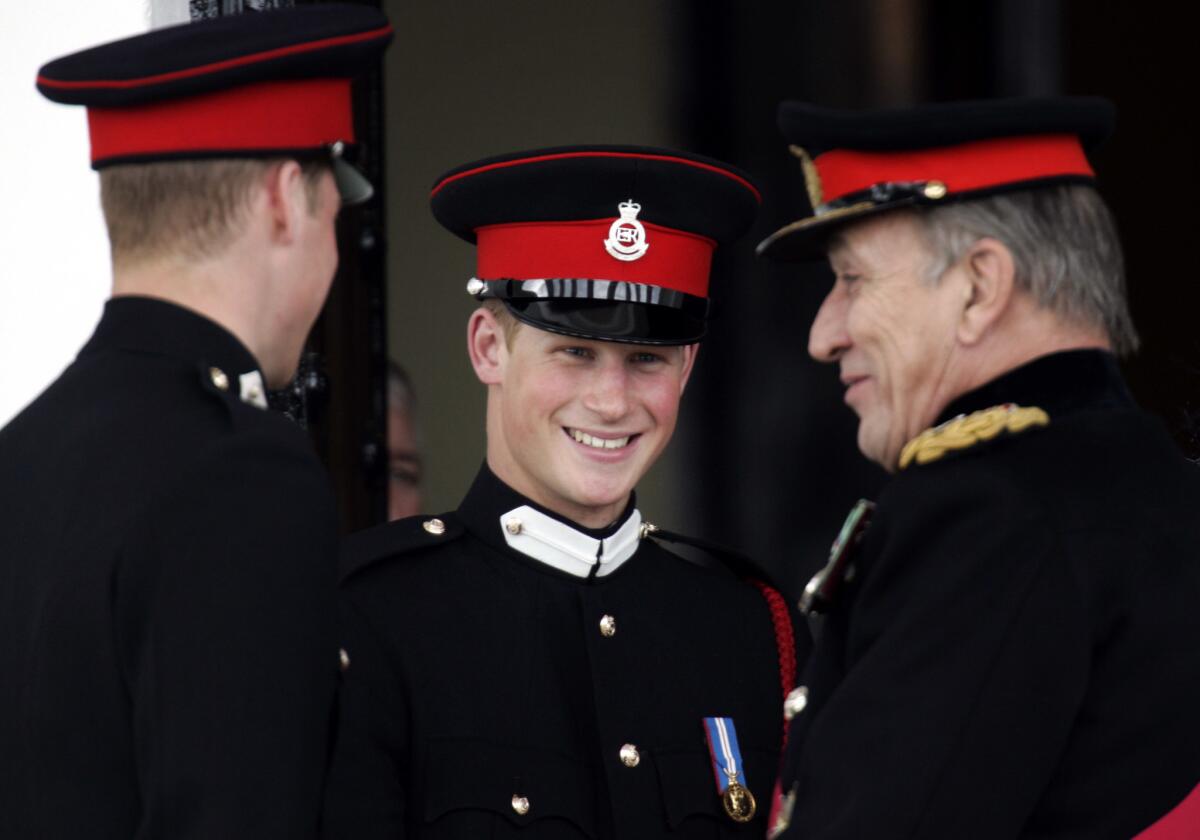 Still, he was one of the more beloved members of the royal family, and one of the world's most famous people. Honestly, even with Harry and Meghan's highly publicized, televised and millinerized wedding just days away, it seems impossible to believe that they met at all.
But if the newest royal couple did not meet classic-cute — her saving a handsome guy, say, from further embarrassment in some Vegas bar only to discover he was a prince — it was Hollywood that made the match possible.
Countdown to the royal wedding » Your complete guide to the royal wedding 2018
Meghan is not just from Los Angeles, she's from Hollywood, spiritually if not literally. Her father, who now lives in Baja California, was a successful lighting director ("General Hospital," "Married … With Children"), her mother a makeup artist turned yoga instructor. After they divorced when she was very young, Meghan bounced between her mother's home in View Park-Windsor Hills and her father's place in Santa Monica and then Woodland Hills. Like many Industry kids, she went to the Hollywood Schoolhouse, a pricey private grammar school known for progressiveness and famous parents, before moving on to Immaculate Heart Middle and High School, also in Hollywood. Both institutions stress public service, so even as she starred in high school plays and became homecoming queen, Meghan worked on skid row and developed an interest in gender politics.
She also faced her own battles. With a father who is white and a mother who is black, she is part of a new America that grows more interracial every year, but she lived in a city that struggles, often violently, with racism. She remembers the L.A. riots and has written about her mother being mistaken for her nanny and, on one occasion, called the N-word by an angry motorist.
Meghan is beautiful, and in Hollywood that always helps, but after she graduated from Northwestern University and joined the teeming multitudes yearning to be cast, her looks often worked against her — she was considered neither black enough nor white enough. It took seven years for her to land a steady gig, as Rachel Zane on "Suits," and that wound up costing her a marriage. Her then-husband, Trevor Engelson ("Heathers," "Snowfall"), didn't want to move to Toronto, where "Suits" is filmed; they divorced in 2013.
"Suits" was a hit for USA, and Meghan became part of Hollywood in her own right; she was friends with tennis star Serena Williams, her blog had thousands of readers, she was a celebrity in Toronto and something of an international activist working for the One Young World Summit and the World Vision Clean Water Campaign.
So, really, when she took a brief vacay in London, it made perfect sense for a friend from Ralph Lauren to suggest a blind date … with the prince of Wales.
Who had not that long ago gotten himself into trouble for, among other things, casually using racist terms like "Paki" and "raghead," choosing to dress as a Nazi for a costume party and getting caught playing strip poker in Las Vegas.
#RoyalWedding watch 2018: All the specials to see before the big day »
But Harry was in full renovation mode by the time he met Meghan. Now, with the birth of an adorable nephew, he was no longer the spare heir, which meant he had to be something else. After serving in the army, he began to fight the ravages of war, continuing his mother's campaign against land mines and founding the Invictus Games for wounded veterans.
He also began talking about wanting to settle down.
After two dates with Meghan, he invited her to Botswana, as you do when you are the prince of Wales, and she went, as you do when you are a TV star/international activist who is friends with Serena Williams. The rest is nuptial history.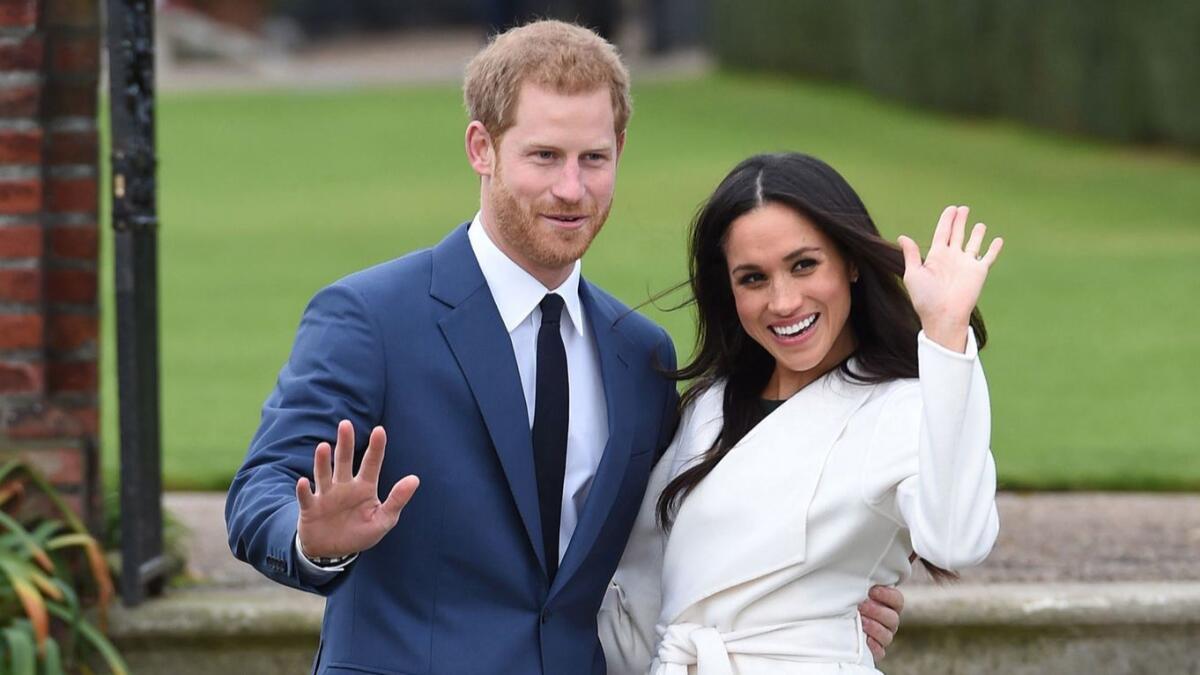 A friend of Meghan's, agent Gina Nelthorpe-Cowne, believes — as she has said many times on many platforms — that Botswana sealed the deal. There, she says, Meghan and Harry told each other that they would change the world.
Which, in the small but still significant corner that is Windsor Castle, they will on May 19. A divorced, biracial American actress will become part of a family that historically would have refused to mate with a person wielding even one of those descriptors, a family that just a generation ago tested a royal bride for her virginity.
Harry, the wild young prince, has already proved the new British emotionalism by opening up publicly. When the press began hounding Meghan and her family (which one tabloid referred to as being almost "straight out of Compton"), Harry and the palace issued a blistering and unprecedented message to the press, denouncing the "racial undertones" of some of the coverage. Harry has since discussed his many problems with anger and depression following his mother's death and, with his brother and sister-in-law, promoted discussions of mental health among a group of islands that has produced some of the greatest depressives, alcoholics and mad men in history.
What we learned from Prince Harry and Meghan Markle's engagement interview »
But the trick about a love story involving an unlikely couple is that, in the end, it turns out they were not so unlikely as it seemed. And so it is with Meghan and Harry, even given the rather strict set of historical precedents they faced.
Harry is, after all, marrying a glamorous woman who can walk in stilettos over cobblestones and pull off a jaunty fascinator at the same time. Meghan may be smart, ambitious and "real," but she's not too busy, say, composing a symphony to meet the local preschoolers. Nor is she irritated by the crowds, the endless photographs, the inevitable parsing of her words and body language. Harry is a modern prince marrying an actress with an interest in international politics, a skill set far more valuable than anything found on a family tree.
Taking a long view, this love story is as inevitable as it is unlikely; it closes the tightening loop of ritual and performance, Hollywood and royalty.
The power of the royal family has long been dependent on really good branding. The image of King George VI accepting the crown with stoic reluctance after Edward's abdication (the last time a royal married an American), and of the young princesses Elizabeth and Margaret walking through Blitzed-out London because they would not leave their mother, their mother would not leave their father and their father would not leave his people brings people to tears to this day. Just ask Colin Firth, with his "King's Speech" Oscar, or the multitudes glued to "The Crown."
No doubt Meghan and Harry are blissfully in love — why shouldn't they be? And no doubt they will use their fame to do good things — why wouldn't they? — while still providing amazing photo-ops in splendid locales while wearing fabulous clothes.
But there is also no doubt that both Hollywood and Buckingham Palace can bask in a union that is a love story and also an excellent brand extension.
Happy endings all around.
Get our L.A. Goes Out newsletter, with the week's best events, to help you explore and experience our city.
You may occasionally receive promotional content from the Los Angeles Times.