Has Hollywood wised up to San Francisco's gentrification crisis?
Reporting from San Francisco —
Hollywood is writing love letters to San Francisco again. They come in various shades of loss, from devastating to nostalgic to humorous, telling stories of communities in danger of being erased with a tenderness that resonates — though not all manage to fully explore the city's painful realities.
In "The Last Black Man in San Francisco," a semi-autobiographical elegy for the city's decimated black community from locals Jimmie Fails and Joe Talbot, Fails plays a version of himself alongside his best friend, Montgomery (Jonathan Majors). Fails' father, we learn, lost the family's ornate Victorian home in the Fillmore district to a crack habit, and we watch as Jimmie clings to his memories before saying goodbye — to the house and to the fast-changing physical and demographic landscape of the city.
For the record:
12:30 p.m. July 3, 2019An earlier version of this article said that Marilyn Elmore-Taylor's mother and niece died of cancer. Her mother and niece's grandmother died of cancer.
Other recent releases framed against that backdrop include Netflix's revival of "Tales of the City," which featured the first man-on-man kiss on American television when it premiered on PBS in January 1994. The latest installment — two others ran on Showtime in 1998 and 2001 — updates the goings-on at Barbary Lane, a haven for the diversifying queer community. Meanwhile, Ali Wong and Randall Park's Netflix rom-com "Always Be My Maybe," with a predominantly Asian cast, explores the city's widening wealth and culture gap and tackles the question of authenticity through the lens of food.
However, none seems to touch a nerve as deeply as "Last Black Man." San Francisco's African American population has shrunk by half since 1970. The middle class is largely gone, and most families that remain struggle with poverty: Nearly a fifth live in public housing or get rental subsidies.
So when the community and its far-flung diaspora gathered in Fillmore on a recent Saturday for the annual Juneteenth parade and festival, "Last Black Man" was on plenty of minds.
REVIEW: 'The Last Black Man in San Francisco' is a gorgeous, moving ode to a city in flux »
For Elnora "Dodie" Truvillion, 60, who arrived at age 6 from Mississippi, buzz about the film evoked her own "bittersweet" memories of the black cultural hub the neighborhood once was. Truvillion belongs to San Francisco's only remaining black chapter of the Order of the Eastern Star — a benevolent organization with ties to the Freemasons. Only about five of its members still live in the city, she said, and she isn't one of them.
"I thought I'd never have to leave, but so's life," she sighed, as she and fellow members decorated a cherry red GMC Sierra with paper streamers.
Truvillion's family was first priced out of Fillmore four decades ago; 11 years later, they were edged out of Bayview-Hunters Point in the city's southeast. Now, Truvillion lives in San Mateo, on the peninsula. But after her impending retirement as a San Francisco parking and traffic supervisor, she's almost certain she'll have to leave again for somewhere more affordable. Even her public servant's salary, she pointed out, "ain't worth a quarter here."
Both Fillmore and Bayview-Hunters Point feature in "Last Black Man." Jimmie and Mont sleep side by side in a cramped garage at Mont's grandfather's house not far from a waterfront polluted by the idled Hunters Point Naval Shipyard.
ALSO: 'Last Black Man in San Francisco' and capturing the magic of home and fraternal love »
For Marilyn Elmore-Taylor, 50, who strolled the festival with her husband in matching Adidas track suits — hers black, his burgundy red — those references hit hard. Her family lived in the area after the city demolished their Fillmore public housing. In their new neighborhood, Elmore-Taylor's mother and niece's grandmother died of cancer. She herself is a two-time survivor. Community activists and neighborhood groups believe contamination from the shipyard has played a role in the area's high rates of cancer, asthma and other health issues.
But "Last Black Man" isn't just a protest of injustice. It's a heartfelt tribute. As Jimmie's character tells two white women — newcomers — complaining on a bus: "You don't get to hate San Francisco unless you love San Francisco." And Elmore-Taylor does.
"It used to feel all free," she said, recalling childhood evenings spent running up and down Fillmore Street.
The film's focus on displacement comes at a time when black leadership here is resurgent. The San Francisco Unified School District's superintendent and school board president are black men, both raised here, and Mayor London Breed, the first black woman to hold the post, grew up in Fillmore public housing. Shamann Walton, meanwhile, was elected to the city's Board of Supervisors in 2018, alongside Breed.
Walton, a former school board member, called the film "strikingly realistic." When his grandmother and her sisters came west from Rodessa, La., they planted roots in Bayview. Two great-aunts bought houses within walking distance of each other, and he'd gather there with his extended family every Thanksgiving and Christmas.
Their adult children sold during the tech-fueled real estate boom, and Walton's family scattered to Sacramento and the far East Bay communities of Vallejo and Antioch — just like Jimmie's aunt in "Last Black Man."
The loss of those physical anchors, so full of memories, is devastating, said Walton. "Not having that family connection, not having that place where people gathered for decades… to lose that is reflective of what's happening across San Francisco."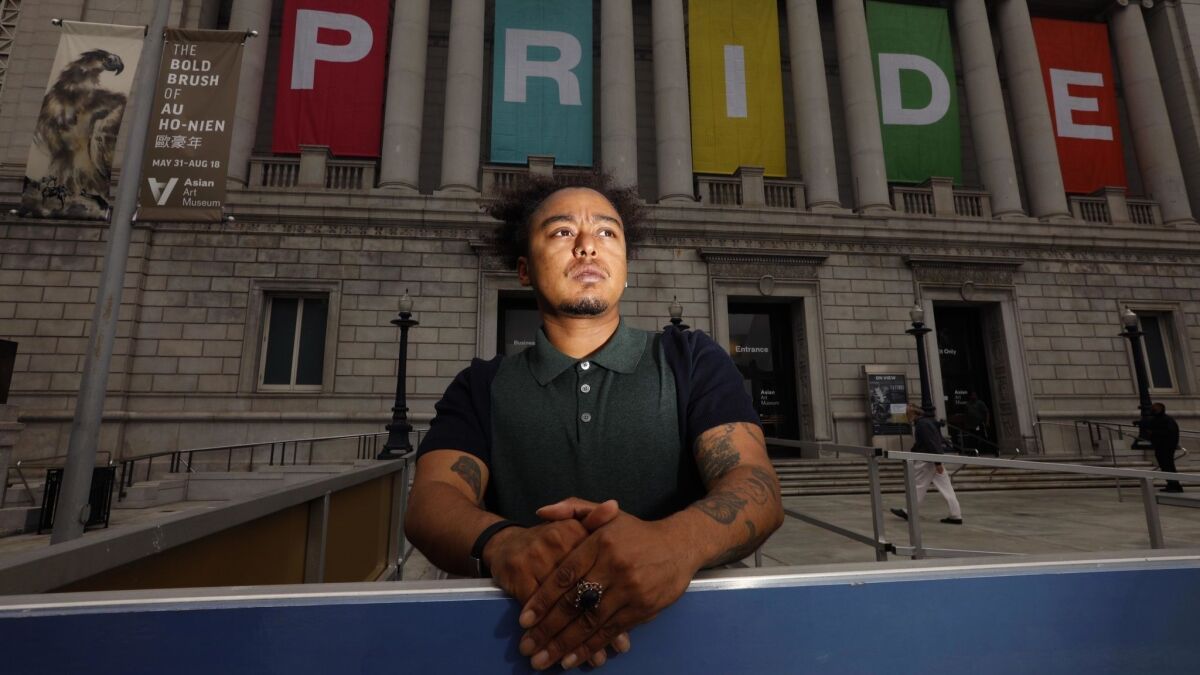 ALSO: 'Tales of the City's' Lauren Morelli on her LGBTQ writers room and lessons from Jenji Kohan »
The city's LGBTQ community faces a similar tipping point — and scramble for self-preservation. With a hard-won contribution from the developer of a new high-rise hotel, transgender activists helped form the city's Compton's Transgender Cultural District, considered the world's first such legally recognized district. It aims to carve out new safe spaces for the community while honoring old ones, among them Compton's cafeteria, where the nation's first transgender civil rights uprising took place in 1966.
The district makes a powerful cameo in the new "Tales of the City," based on the writings of San Francisco gay icon Armistead Maupin. The original miniseries was set in the joyous pre-AIDS days of the 1970s and, along with Maupin's novels, drew countless LGBTQ people in search of acceptance and "chosen family." The characters' home is 28 Barbary Lane, a residential community headed by trans matriarch Anna Madrigal (Olympia Dukakis).
The latest installment, set in today's San Francisco — the Salesforce Tower marks the era of tech — has received acclaim for honoring Compton's trans trailblazers while reflecting the new generation's ethnic diversity and widening tent of identities. Other than Dukakis, trans characters are played by trans or nonbinary actors, and showrunner Lauren Morelli assembled an all-queer writers room.
Former San Francisco Supervisor Bevan Dufty, 64, now a board director for the regional commuter transit agency, devoured the series. After all, Maupin's chronicles lured him home to San Francisco from Capitol Hill to build a life that read like a "Tales" cheat sheet.
Maupin's world "was just so unquestionably positive about being gay, and it spoke to the importance of chosen family for people in our community," said Dufty, who went on to have a child with a lesbian friend he met in exercise class.
"I would giggle at that," he laughed, "and we'd say, 'Yeah we're having our own 'Tales of the City.'"
He, like many, praised the new "Tales" for taking on the generational divide between gay men who lived through the worst of the AIDS epidemic in the 1980s and '90s and those who have come of age since.
Yet some question whether the series does enough to tackle the challenges of today's San Francisco, where about half of homeless youth identify as LGBTQ.
"Tales" includes references to economic realities: When Barbary Lane faces a pending sale, its denizens scramble — mostly without success— to find new housing. Mason J, a trans queer artist, writer and oral historian who works at the San Francisco Public Library's James C. Hormel LGBTQIA Center, applauded the characters' depth and diversity. But J's circle has noticed the absence of the most uncomfortable truths of queer life in current San Francisco: substance abuse, chronically unstable housing and relationships with biological families poisoned by homophobia.
"There's this idea that we're in this bubble here," said J, 31. "But we had three hate crimes in the last few weeks alone." (In one case, a trans woman was reportedly assaulted by an unknown male within view of the Castro District's rainbow flag; in another, two young gay men were reportedly attacked shortly after leaving the California Democratic Party's convention. According to the Bay Area Reporter, the two victims told police that the suspect used homophobic slurs before the alleged assault.)
In a recent interview with radio journalist David Boyer, Morelli said the series' fictional San Francisco is "a little magical, it's a little shinier than the real world, and it's also a safe place." Though it felt "very important to represent San Francisco," she said, the tone of "Tales" called for a "cozy place that you want to really snuggle into."
To J, the resulting nostalgia is almost dangerous. The "beautiful idea" of San Francisco portrayed by "Tales" still draws young people here "without a dollar to their name, thinking, 'Oh, this is where I'll escape,'" but most get funneled into the social service system or leave within a few years.
"They come here with stars in their eyes, thinking they're going to find an Anna Madrgial, but she doesn't exist," J said. "She's stuck in an SRO [single-room occupancy hotel] struggling to pay her rent."
The hollowing of the middle class afflicting black, Latino and other communities hasn't spared queer San Francisco, Dufty acknowledged. He and his partner recently moved to the Castro district to, as he puts it, "re-gay the gayborhood." With storefronts sitting empty and homelessness increasingly visible, the city's Board of Supervisors will vote next month on whether to establish the Castro LGBTQ Cultural District with the goal of "preserving, sustaining, and promoting" its queer history and culture.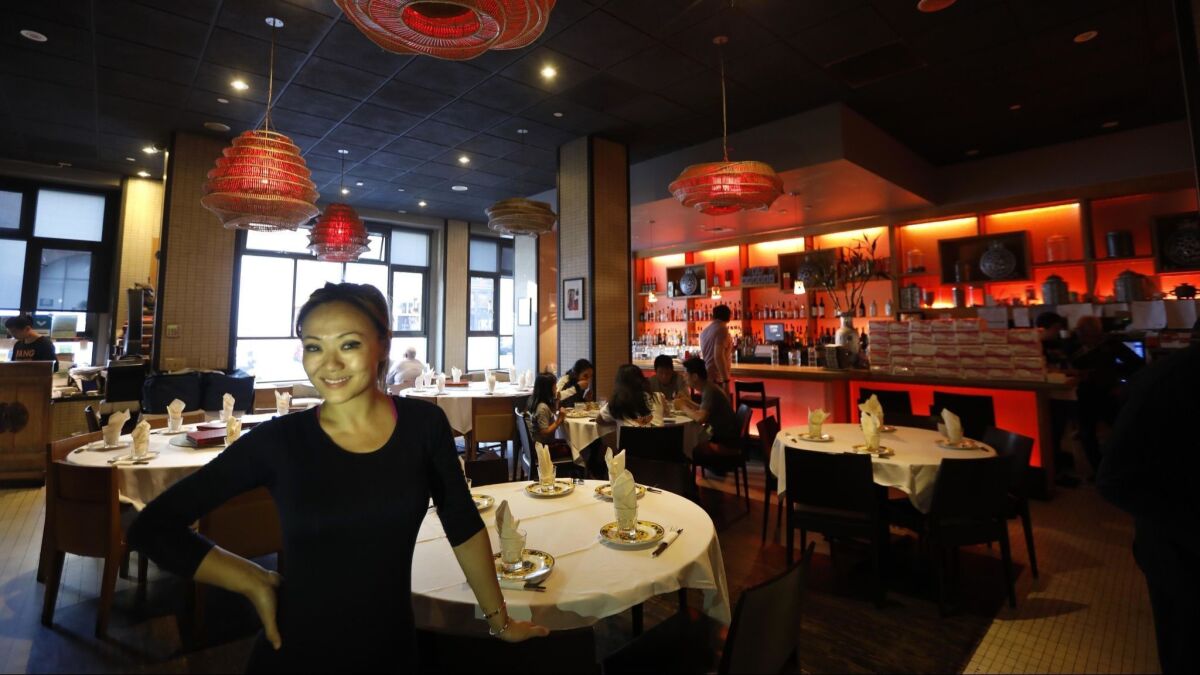 ALSO: Keanu Reeves' 'Always Be My Maybe' role has everyone obsessing: Here's why »
The galloping change such efforts are meant to resist, or at least slow, is portrayed more lightly in "Always Be My Maybe." Neglected as a child while her Chinese parents spent countless hours working at their store, Sasha (Wong) grows up to be an elite chef. When she returns to the city from Los Angeles to open a restaurant, she reconnects with her childhood best friend and secret flame Marcus (Park), who clings to the past. Marcus works in his dad's heating and air conditioning business. His band still plays the same hole-in-the wall club. And he dines at the same "authentic" dim sum restaurant, disdaining Sasha's world of wealth.
The movie takes a humorous approach to the changes rocking the city, gently mocking a foodie culture that can border on absurd — Keanu Reeves, in a cameo as a rival for Sasha's affections, asks the server at a new "it" restaurant if they have a dish that plays with "the concept of time." While it steers clear of deeper treatments of the city's changes, it pays them heed in a way that San Francisco chef and restaurateur Kathy Fang found familiar.
Fang, 37, grew up at House of Nanking, the wildly popular Chinatown restaurant her parents opened in 1988 and still run. Like Sasha, she was often home alone, honing her cooking skills. She and her dad went on to open Fang, a higher-end restaurant in the South of Market district that caters to an audience of international tech workers with its creative interpretations of Chinese standards.
She and her husband, Caleb Sima, a self-described twinkie of Chinese, Japanese and Eastern European descent, cracked up during the film's restaurant scene, Fang said, having sat through plenty of five-hour, $400-a-head meals where her husband walked away hungry.
Fang's own menu never strays that far, she said, because she's grounded in both worlds. Still, the movie evoked a certain sadness. The corner store that Fang and her husband frequent is closing to make way for a chain-owned mixology bar, while most of the Chinatown restaurants she went to in her youth are gone too. And her old friends from elementary and high school?
"I'd say 95% of them don't live in the city anymore, because people can't afford it," Fang said. "Unless you're in the VC [venture capital] world or have a big tech job, there's not a lot of space."
For all the variation among the three film and TV projects, that is the sentiment that rings truest in this changing city. As a wildly diverse crowd of protesters chants near the end of "Tales," "Done being erased. Done being erased."
---
The complete guide to home viewing
Get Screen Gab for everything about the TV shows and streaming movies everyone's talking about.
You may occasionally receive promotional content from the Los Angeles Times.